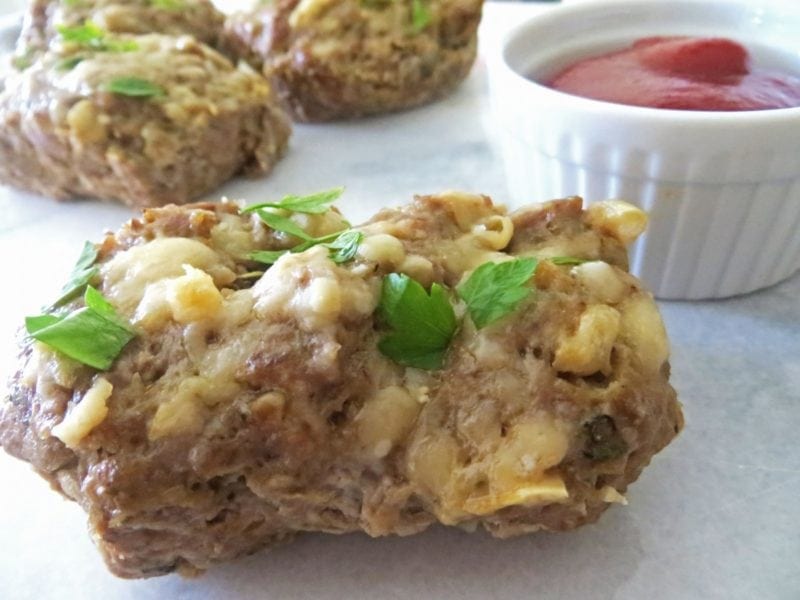 Every once in a while I feel the need to throw in a traditional comfort food recipe… Meatloaf is comfort food, right? The only downside to meatloaf is that it takes an hour to cook. This recipe solves that problem. Minis make meatloaf a weekday meal by reducing cooking time to about 20-25 minutes. I admit that I do serve meatloaf with ketchup for dipping. Ketchup is processed and has a lot of sugar! However, when I tried to get rid of the ketchup, my family started plotting a coup. So we opt for an organic brand with the least amount of sugar and serve it in little ramekins which tends to limit it a bit (sometimes). I also skip pouring sauce or ketchup over the top of meatloaf to reduce the amount of sugar. Nobody seems to mind because (a) mini-anything is fun to eat and (b) they get to dip it in something which is also fun to eat.
Every heritage in the world seems to have some variation of meatloaf – I think it is interesting that the variation that most of us are accustomed to eating evolved during the Depression. As a child of the Depression , my grandmother learned to stretch the expensive ingredients by adding daily staples. My guess is your grandmother learned the same thing. When times were tight, you used what you had available to you. From old bread, to crackers, to oatmeal, the staples that ended up in meatloaf were as varied as the people that had to makes their meals do more while using fewer resources. Perhaps that is why everyone you know makes meatloaf a little differently – meatloaf is one of those recipes you tend to learn from your mother and her mother before her. (Cornbread is that way too – check out my post about cornbread and our ongoing family disagreement here.)
Now generations away from the Depression, when I look at all of the options available to my family – aisles and aisles of food available anytime I want them – I never worry about where the next meal is coming from, which makes our family very blessed. But instead, I worry about the excess – about the overwhelming volume of food choices available to our family. Not only because of its impact on our health but also because of its impact on my values and the values my children will learn to embrace. My grandmother learned to be industrious and creative and how to balance the adversity of her generation with the simplest pleasures – pulling hot biscuits out of the oven, opening vegetables in winter because she was able to can them in the summer, and of course having a way to stretch meatloaf so that it feed all 4 teenage sons. Those things were enough. And they became values she passed down to her children. I see it in every part of my father's personality and the choices he makes every day. (My dad is kinda awesome!)
When food is easy, do you still find the same thankfulness in sharing a meal? Are my kids learning what it is to have enough?
On the other side of my middle class story, I watched a mother in the grocery store last week explain to her son and daughter over and over again that they could only afford bananas this week, they could not afford oranges too. The son begged and begged. I rarely shop in the grocery store – because I choose organic food and the price of organic food in the grocery store is just crazy. But there I was, needing just a couple of things, shopping in the expensive organic section – worrying what these prices were going to do to my beleaguered grocery budget for the week – listening to a little boy beg for oranges (not organic oranges, just plain old oranges). I couldn't figure out how to buy the oranges without embarrassing the mother because there were a lot of people around. Then they left the store and I lost the chance. How did we get to this place where processed food is cheaper for that mother than a bag of oranges? And how did I get to a place where I could see someone who could use some help and choose not to give it.
I regret not sharing what I had with them. I have spent a lot of time wondering what my grandmother would have done. I think she would have bought the oranges and given them to the mother and walked away. I know she would not have let the silliness of embarrassment or pride get in the way of sharing what she had with someone who needed help.
Things are certainly different from my grandmother's generation. Feeding our families is both easier and more difficult. But I do think my grandmother's values; industriousness, creativity, balance – perhaps most importantly recognizing the value in "enough" is a step towards making better choices in how we feed our families. And valuing "enough" might help us all to better recognize those who don't have it, especially me.
Note: I love this mini-loaf pan for making these. But it will also work in a muffin pan. Just make sure to adjust your cooking time based on the size of your muffin pan. You can also make these free-form on a baking sheet.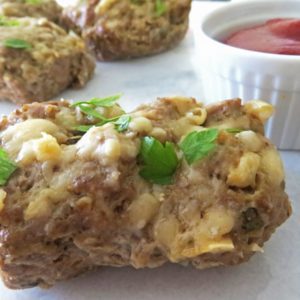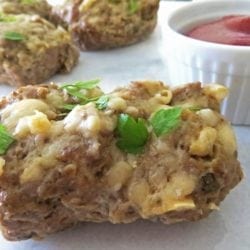 Meatloaf Minis
Note: I do not buy bread crumbs. I keep bread ends, leftovers, or sandwich crusts in the freezer in a big bag. When the bag gets full, I toss it all in the food processor. Voila! Breadcrumbs without preservatives. Keep any leftovers in the freezer. By the way, they taste much better than the stuff you get in the can at the grocery store. If you ever do it once, you'll never pay for breadcrumbs again!
Ingredients
1

lb

high quality loose sausage

1

lb

ground chuck

3/4

cup

whole wheat bread crumbs

see recipe note above

1

egg

1

tbsp

Worcestershire sauce

1 1/2

tsp

kosher salt

1

tsp

black pepper

1

tbsp

garlic powder

1

tsp

cayenne pepper

more or less to taste

1/2

tsp

dried oregano

1

tsp

dried thyme

1/2

cup

Greek Yogurt, Plain

2/3

cup

Parmesan Cheese, grated

plus a little extra to grate on top before putting in the oven
Instructions
Preheat oven to 400 degrees. Lightly oil a mini-loaf pan (or baking sheet or muffin pan).

Combine all ingredients in a large bowl until mixture is uniform. Divide and drop meatloaf mixture into the mini-loaf pans. Make sure you handle and for the meatloaf mixture gently. Do not press it down in the pan or the meatloaf will be dense. Top wish extra Parmesan cheese if you desire.

Cook for 20-25 minutes, or until meat is no longer pink on the inside.

Serve warm and enjoy! Keep leftovers in the fridge!