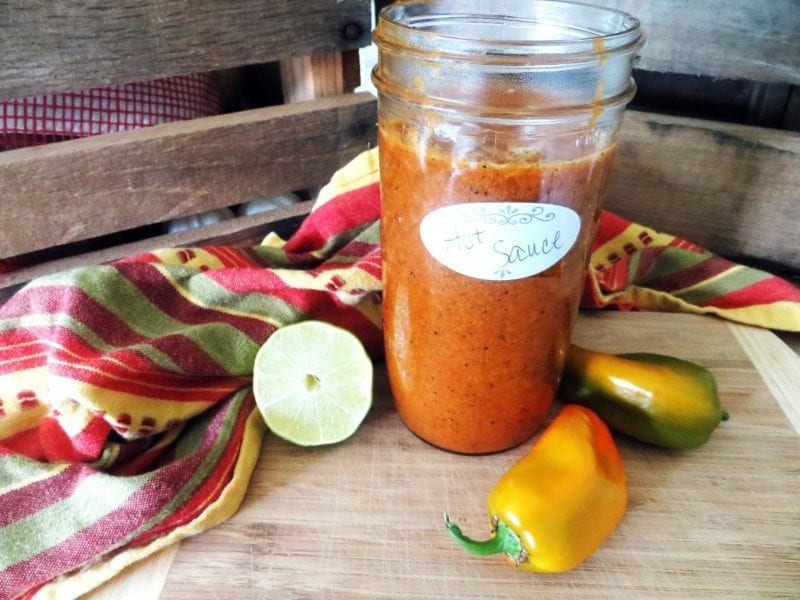 Note the name of this recipe is Roasted Pepper Hot Sauce, not salsa. I just wanted to point that out up front. Makayla – who started as my sometimes babysitter but is now my sometimes babysitter, sometimes sous chef, all the time adopted 4th child, all the time comedic relief – does not like spicy food and did not get the memo that we were making hot sauce, not salsa. When we make salsa, she eats the mild version I make for my little kids.
Before I publicly make fun of Makayla, I will say that she is a terrific person. She makes my children laugh. She makes me laugh. She is the hardest working, most positive,  most disciplined young person I have ever met. When she walks in my front door (without knocking, we're way past that) the entire level of positive energy increases palpably. So I love her. I keep trying to talk her parents, who are also wonderfully wry people themselves, into selling her to me but so far they have refused. But I haven't given up.
Makayla is also a weird and picky eater. (I can hear her yelling "I am not!" while I am writing this.) She hates everything new when she tries it for the first time. She tries to hide it now because I have made fun of her about it so much – but she scrunches up her nose the minute any new food goes in her mouth. Somehow her proclivities around food work for us. When I am trying a new recipe, Makayla is the perfect taste tester. If she likes it, chances are other people will too. Also whatever comes in her brain comes out her mouth, which is helpful when seeking feedback as long as you keep your sense of humor. (It is also helpful that she is totally comfortable chopping vegetables while Peyton, my baby, sits on her feet.) But spicy food is in a totally different category. She lives firmly in the population of people who just can't do spicy food.
So because Makayla is a good sport and has a vested interest in seeing the food created in my kitchen turn out well, she watched carefully as I roasted peppers under the broiler, peeled the blackened skins off after slipping on gloves, and watched as we blended the peppers into a beautiful hot sauce. Then she dipped the tip of her organic corn chip into the sauce. "That's not too bad." Then she didn't dip, she dunked. And popped a chip covered in hot sauce into her mouth. For a second, I thought it would be okay. Then she pushed her glasses to the top of her head so she could rub her eyes. Then her face got red. Then she started uttering unintelligible things – I'm not quite sure what all she said but around the time I heard the word HELP, I poured her a glass of milk and pulled some leftover homemade ice cream out of the freezer because that is what my dad taught me would help stop the burning.
Then I did the worst thing ever. I started laughing. Not giggling. Laughing, belly laughing. And I took a picture and text it to her boyfriend so he could make fun of her too. I still feel a little guilty about that last part.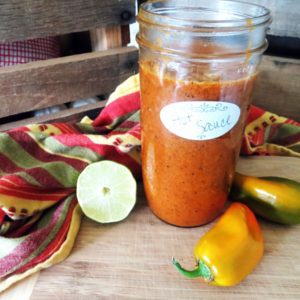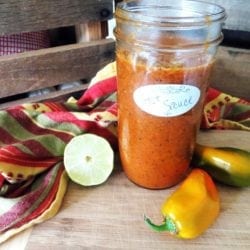 Roasted Pepper Hot Sauce
Always wear gloves when handling hot peppers. If you don't and you have a reaction to the capsaicin in the peppers, I told you so.
Course:
Spices, Dressings & Marinades
Ingredients
1

red bell pepper, halved and seeded

1

lb

mixed peppers

I like 1 part sweet peppers to 3 parts hot peppers for depth of flavor

1

cup

white vinegar

1

tbsp

kosher salt

1/2

lime, for juicing
Instructions
Preheat your oven's broiler, line a baking sheet with foil, and put on disposable gloves.

Cut the stems off all peppers. Cut the red bell pepper in half and removing the stem and seeds. With regard to the hot peppers: some people like to remove the seeds, but because this is hot sauce and the seeds make it hot, I leave mine in but use your own discretion. I also like to use a mix of peppers - Jalepeno, Serrano, Cayenne, Tabasco, Habanero. I also like to toss in a few sweet peppers, along with the bell pepper, because I like the depth of flavor. I really like the smokey, roasted taste of the sweet peppers along with the heat of the hot peppers.

Put all peppers on the baking sheet and slip them into the oven at the closest position to the broiler. Broil 5-10 minutes or until the peppers are blackened and bubbly. Flip the peppers over with tongs and put them back into the broiler for another 5 minutes to blacken the other side of the peppers. Remove from oven.

Once the peppers are cool enough to handle, remove the skins of your peppers. I usually leave the skins on really thin peppers, like Tabascos - Mostly because when you try to peel off the skin, all that are left are the seeds! Toss all peppers into the blender. Add vinegar, salt, and juice half of a lime directly into the blender. Puree until completely liquefied and uniform.

Mason or Ball jars make great storage. Keep in the refrigerator or freeze for later. Thaw frozen hot sauce in the refrigerator. Enjoy!