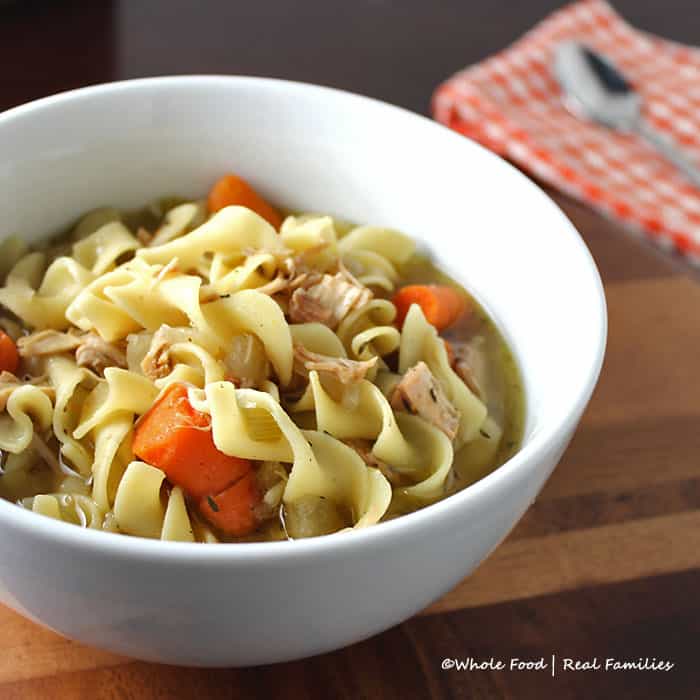 This recipe for Slow Cooker Chicken Noodle Soup is rich and filling but requires nothing to be done outside of the slow cooker. Cozy up with a cup for dinner – or very large bowl – and let it keep you warm all winter.
Things have been pretty quiet around the blog for the last couple of weeks. That is because yours truly has been sick.
My beautiful children brought home germs and shared with everyone. Thankfully they have all returned to health but have left me with pneumonia. (Yes, they are well and I have pneumonia. Now how is that fair?!)
Slow Cooker Chicken Noodle Soup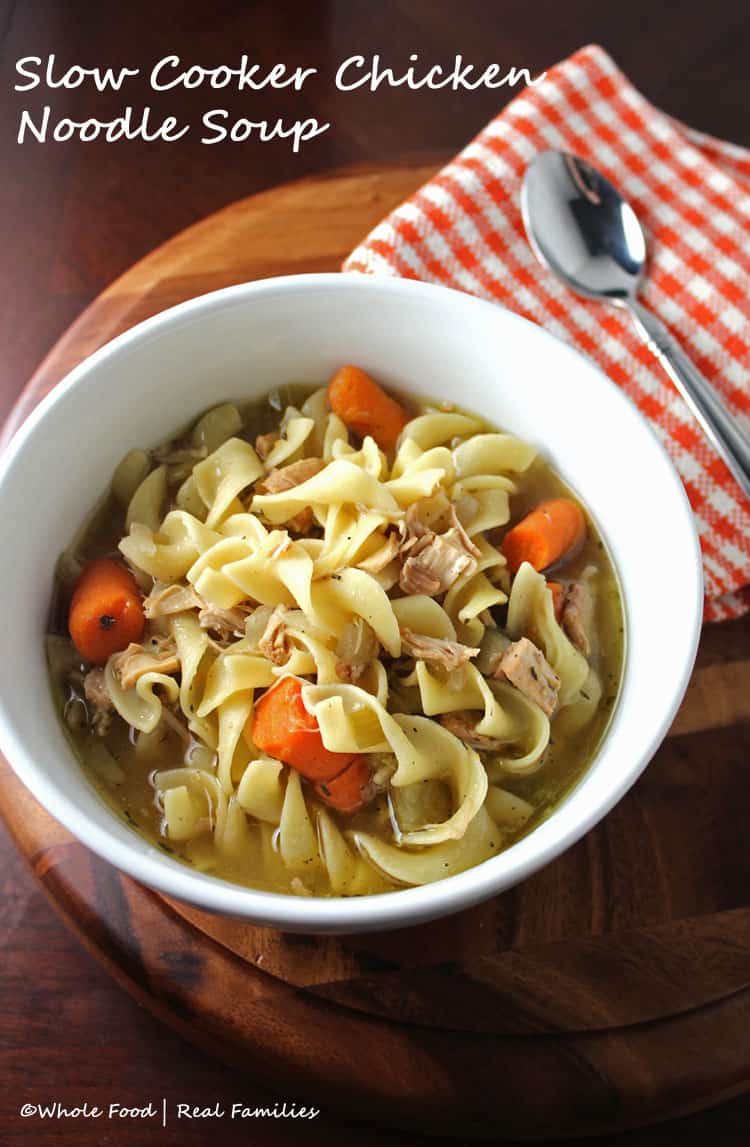 Needless to say, feeding my herd healthy meals has been harder than normal. We have had lots of simple dinners and more than a little boxed cereal for breakfast.
And lots of things I could stand up, throw in the crockpot, close the lid and lay back down.
Praying that chicken Soup really is good for the soul and it does cure all that ails you, this easy Slow Cooker Chicken Noodle Soup recipe was born – not out of cooking finesse or creativity – but from the fact that I could buy most of the ingredients in the over-priced, pre-chopped veggie section in the closest grocery store's produce aisle allowing me to return to my comfy chair and binge watching Homeland.
Easy Crockpot Chicken Noodle Soup Recipe
I am happy to say that the soup was delicious and literally required nothing to be done outside of the slow cooker.
This is a large batch of soup so if you plan to freeze any for later meals, do so before adding the pasta. It won't return to its noodle fabulousness after freezing.
Also, I used chicken breast and chicken thighs for the soup. But either or both will do. Chicken thighs are cheap, give a nice richness to the broth, and they were in the freezer. (See above note about returning to my comfy chair as soon as humanly possible.)
I will admit that I cheated a little and added turkey broth that had been hanging around my freezer since last Thanksgiving. I always make turkey broth ahead of the holiday season so I am never without the good stuff for the cornbread dressing.
Generally I turn my leftover turkey bits into broth after the holiday and freeze it for soups through the year.
Make Your Own Broth for Soup
If you have never made your own broth, don't be scared. It is also all done in the slow cooker. You can check out this recipe for Turkey Wings for an easy weeknight meal, it includes how to turn your leftovers from that meal into a rich broth to get you ready for Thanksgiving cooking.
Leftover chicken works just the same. We often make whole chicken in the slow cooker for one meal, make broth overnight in the slow cooker, then make soup from the broth for dinner the next day. Two meal, one crockpot cleanup, WIN!
You can also make Vegetable Broth in the Instant Pot with your veggie scraps and use it in this recipe too!
Thick chicken noodle soup recipe is in competition for one other for the slot as my favorite soup meal of all time. Fresh Tomato Soup from garden tomatoes is easy to make and tastes more magical than anything you will ever get out of a can… and I like canned tomato soup a LOT!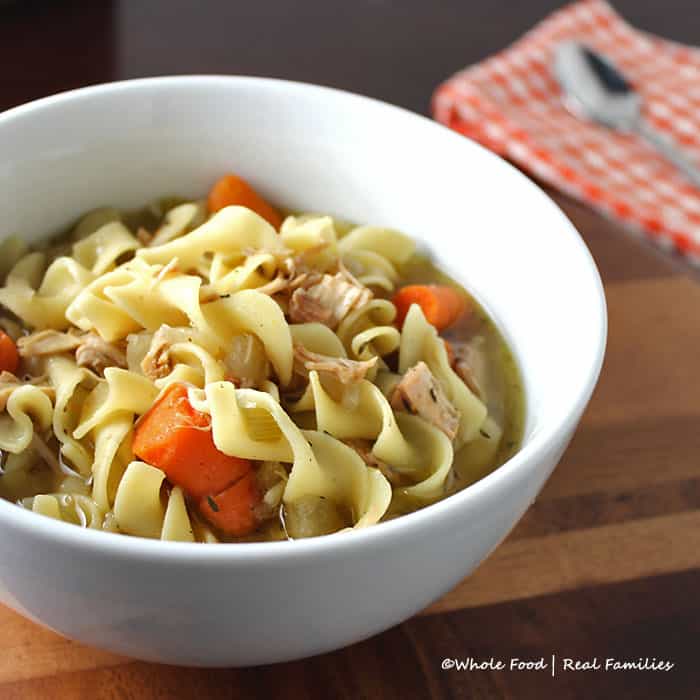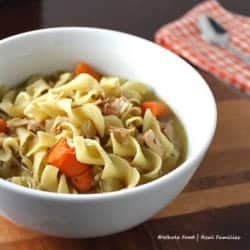 Slow Cooker Chicken Noodle Soup
Course:
Main Dishes, Soup, Salad & Sandwich
Ingredients
1

tbsp

olive oil

1

cup

onions, chopped small

1

cup

celery, chopped small

2

cups

carrots, cut into bite sized pieces

1

lb

chicken breast

1

lb

chicken thighs

1

tbsp

kosher salt

1

tsp

black pepper

1

tbsp

dried thyme

2

bay leaves

1

12 oz package

egg noodles

or your favorite noodles

8-10

cups

chicken broth

based on how much broth you prefer
Instructions
Turn large slow cooker on high. Add olive oil to the bottom of the bowl. Add uncooked chicken thighs and breast. Add chopped celery, onions, and carrots. Add salt and pepper, add thyme and bay leaves. Pour chicken broth over the chicken, vegetables and spices and cook on high for 4-6 hours or on low for 6-8 hours.

Remove whole chicken pieces from the slow cooker, dice or shred based on your preference, return to slow cooker. Discard bay leaves.

Just before you are ready to serve the soup, add egg noodles and stir them in. Recover the slow cooker and allow the noodles to cook for the amount of time listed on the package.

Serve hot and enjoy!