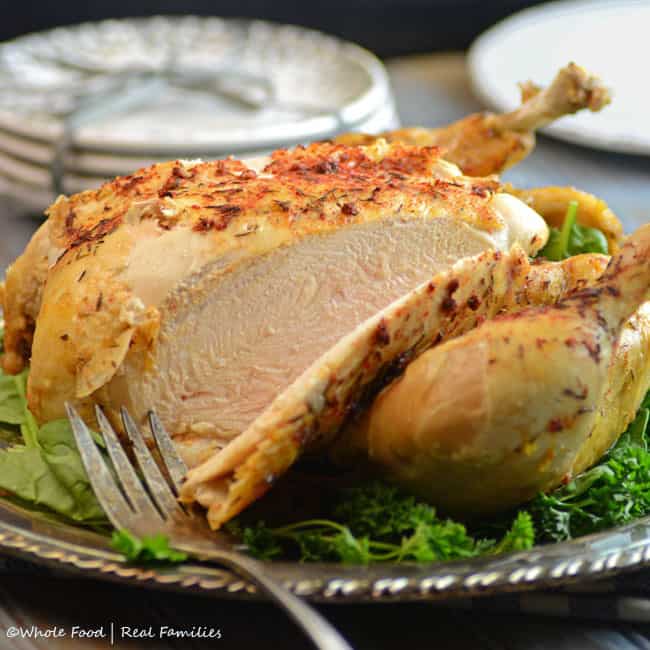 Dinner doesn't really get any easier than putting a Whole Chicken in a Crock Pot. But it is also really hard to make chicken dinner more delicious. This is so easy, it is going to become a staple at your house too.
Whole Chicken in a Crock Pot
I first tried this recipe for Whole Chicken in a Crock Pot from 100 Days of Real Food on a cooking day – which for me means I had 5 or 6 recipes going on in my kitchen at the same time. I wasn't sure about a whole chicken in the slow cooker. I had never tried it before but the reviews for this recipe were excellent so I gave it a go. Everything was loaded into the slow cooker and ready to go in less than 5 minutes and done cooking in about 4 1/2 hours. It really is excellent – and everyone in my family really liked it including the adults, the teenager, and the babies. That is a feat by anyone's standards!
Turn Whole Chicken in a Crock Pot into Chicken Stock
Since the chicken tasted so good, I followed the advice on 100 Days of Real Food and turned the leftover bones and cooking liquid into chicken stock by leaving it all in the same slow cooker, adding in a few veggies and herbs and cooking it overnight. The chicken stock was very flavorful! It soon became a Chicken Vegetable Soup, which after having a healthy sampling, I froze in two cup servings. Now when I have leftover pasta, rice or quinoa, I thaw out soup in the fridge overnight, heat it and pour it over the leftovers to make dinner or lunch the next day. So all in all, my chicken made leftover stock, that made leftover soup, that uses leftovers. Excellent! Now that is thrifty planning!
How we Buy Whole Chickens
We prefer to buy our meat locally from the butcher. We are very lucky that our butcher sources a great deal of their meat locally from family farms. If that is not a choice, we usually opt for organic chicken. If you choose that as well, you will notice that they tend to be smaller than conventionally raised chickens. (Antibiotics in their feed make them grow faster and larger.) So keep that in mind as you plan for how much to buy for your family.
There are lots of opinions and a hefty dose of politics associated with the use of antibiotics in farm animals. If you really want to understand more about the issue at hand, check out the CDC's web resources on Antibiotic Use in Food-Producing Animals. I won't go into more detail than that – other than to say it is beneficial to understand where your food comes from as you choose. But I do believe the right choice is the one you make for your family. We are all in different places and have different budget priorities. Raising a family is not cheap – and neither are organic chickens. 🙂

Freeze the Extras from Your Whole Chicken in a Crock Pot
If you have a large family, like we do – you may find that you need more than one chicken. I have two slow cookers – I am not ashamed! The extra slow cooker is one of the best $40 I have ever spent! This is the one I have – it is huge and I love it! Hamilton Beach 8 Quart Slow Cooker
.
One chicken is never enough and two is too much, so I have learned firsthand that the leftovers freeze great for later meals!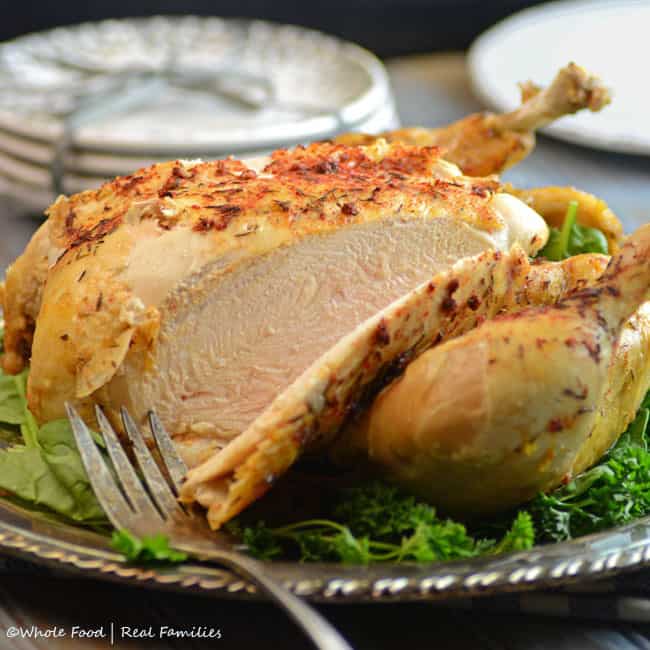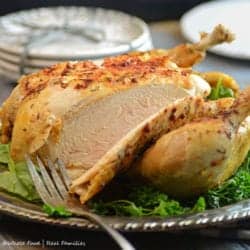 Whole Chicken in a Crock Pot
Ingredients
2

tsp

paprika

1

tsp

salt

1

tsp

onion powder

1

tsp

thyme

1

tsp

garlic powder

1/2

tsp

cayenne pepper

1/2

tsp

black pepper

1

onion

1

whole chicken
Instructions
Combine the dried spices in a small bowl.

Loosely chop the onion and place it in the bottom of the slow cooker.

Remove any giblets from the chicken and then rub the spice mixture all over. You can even put some of the spices inside the cavity and under the skin covering the breasts.

Put prepared chicken on top of the onions in the slow cooker, cover it, and turn it on to high. There is no need to add extra liquid.

Cook for 4 – 5 hours on high (for a 3 or 4 pound chicken) or until the chicken is falling off the bone. Don't forget to make your homemade stock with the leftover bones!