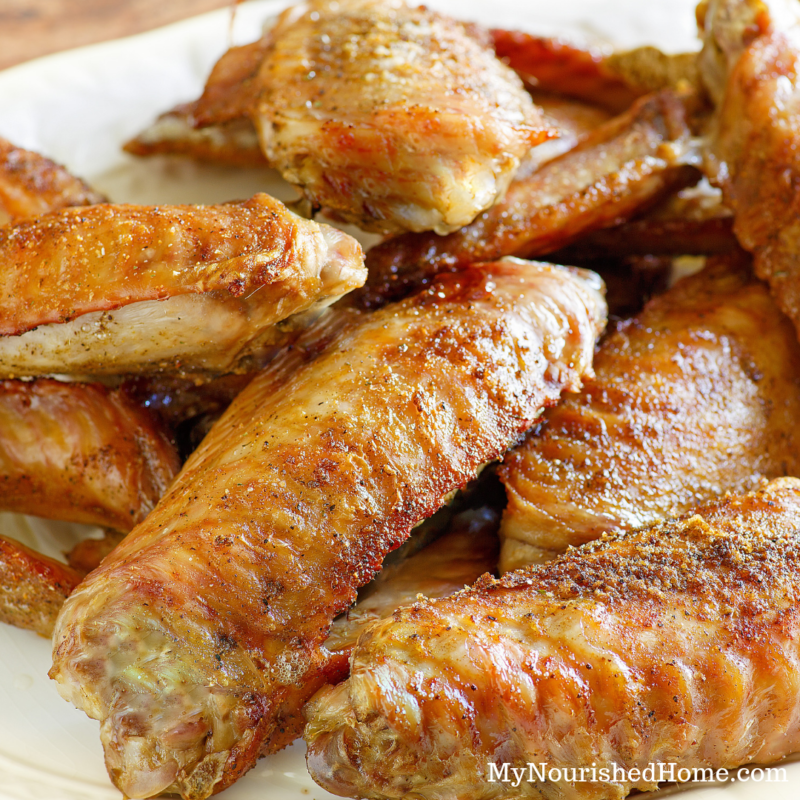 Baked Turkey wings have become a staple in my kitchen every Thanksgiving.
I wish I could find turkey wings year round – but I can only find them easily during the holiday season. We treat them like gigantic holiday chicken wings. They are so meaty, crispy, and flavorful ! And there is a lot more meat on a turkey wing so it feels a little like cheating. 🙂
These are also baked (there is a trick to getting them crispy in the recipe!) so no splattered greasy mess to deal with… And just a bit healthier than their fried alternative. A must try for Thanksgiving leftover ideas.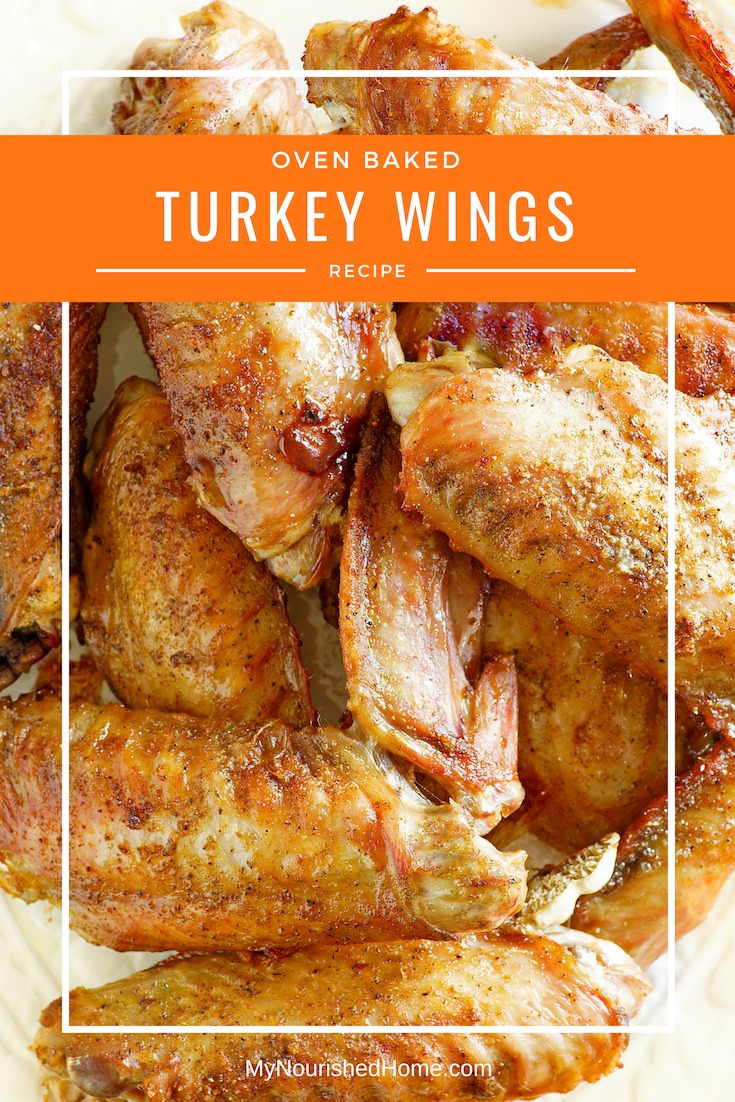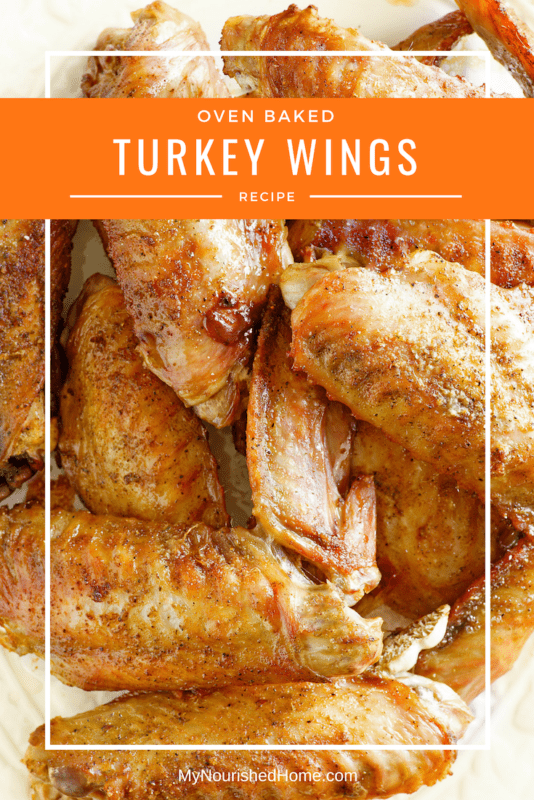 How to cook turkey wings in the oven
Baking turkey wings is a lot like baking chicken wings. The turkey wings are obviously bigger and will take a bit more time, but the key is to raise the oven temperature at the end of the bake to make them nice and crispy.
Preheat your oven to 375 degrees.
Pat your turkey wings dry, brush them with olive oil, then season them with poultry seasoning and kosher salt and pepper.
Place your turkey wings in a casserole dish. The wings are going to release their juices so you want them in a pan with sides so the juice doesn't run over! Cover them in foil and place in the oven.
Bake for 30 minutes.
Remove the turkey wings from the oven, raise the oven temperature to 425 degrees, remove the foil and put them back in the oven for an additional 30 minutes. SO IMPORTANT!
When you remove them from the oven, you should have nice, crispy wings! Dress them just like you would chicken wings! Toss them in your favorite sauce with carrots and celery or eat them just like they are right out of the oven.
Sauce them and spice it up
We like these turkey wings right out of the oven, tossed in Roasted Pepper Wing Sauce – or sprinkled with what we Southerners call pepper sauce. It is not hot sauce, though it is hot and it is a sauce. Basically, it is the hottest peppers you can find (like so hot they would make you cry), halved with the seeds left in, a little salt for pickling, some whole peppercorns – and time for the peppers to flavor the vinegar. Sprinkle the hot vinegar over anything you would like to be hotter. Be careful if you have never done this… just sayin'.
I also like this recipe from Everyday Family Cooking for Buffalo Sauce.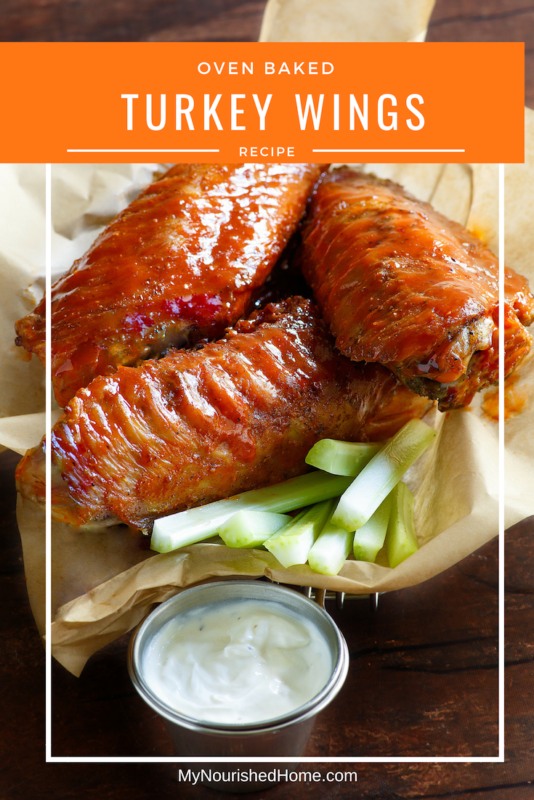 Helpful Tips for Perfect Turkey Wings
Thaw ahead of time : You can definitely bake turkey wings that have recently been, or are currently frozen. The temperature can remain the same, but the cook time will extend by 30 minutes or so. For really tender and juicy wings though, thaw the wings 24 hours before you cook them. Keep them refrigerated, while thawing and about 30 minutes before you cook, place them covered on your counter to come to room temperature all the way through.
Marinate if you like : It's not completely necessary, but if you want to marinate turkey wings it's simple to do overnight in a ziplock bag. Just add in your marinade of choice. A simple apple juice, wine, or standard wing marinade will work great!
Cook them on high to make them crisp : To avoid bland wings that have a mushy texture, heat that oven up to 425 and allow them to really sear under the intense heat. That will give it a BBQ type texture. Of course, if you have a BBQ, finishing them on a hot grill is amazing! Bake first, then finish on the grill.
Use a thermometer for perfection : You will want the wings to be 165 degrees at the meatiest part. Use a meat thermometer to check in multiple places to make sure they are done.
Let them rest : As with any meat, it's important to let their temperature come down just a bit and allow them to reabsorb their own juices. I recommend a 20 – 30 minute rest if you have the will power!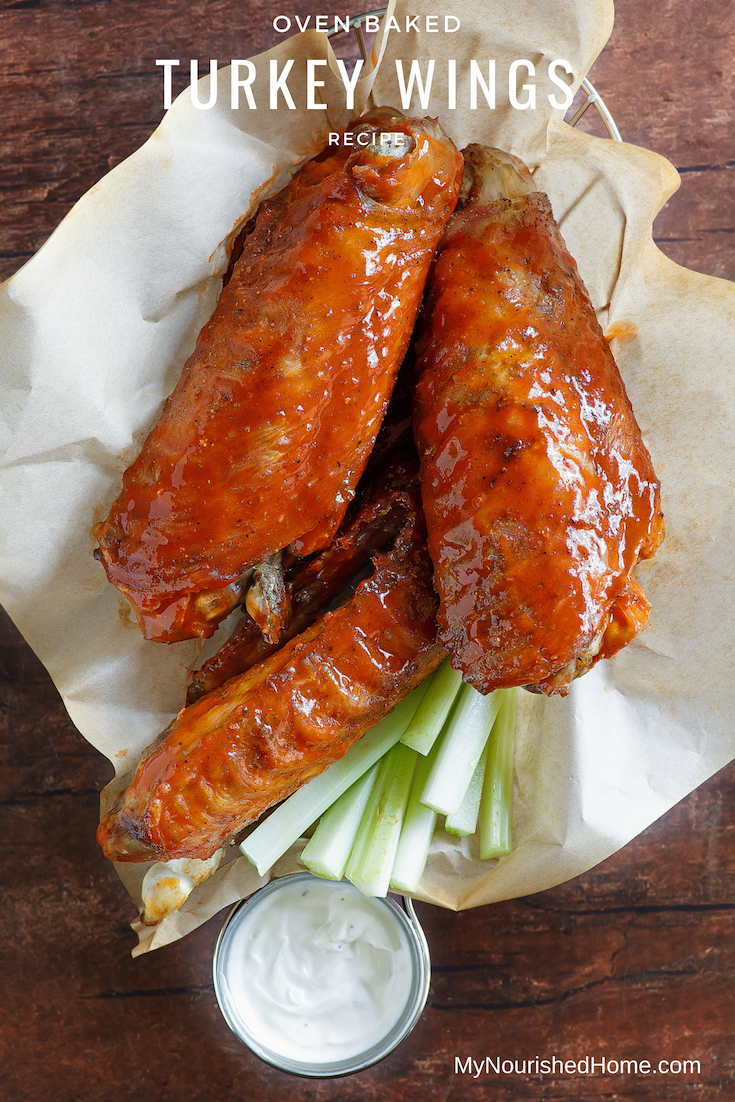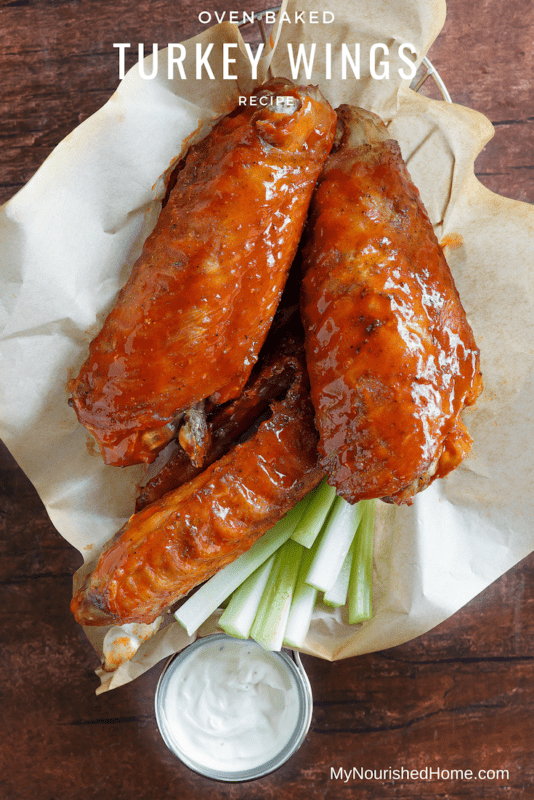 Frequently Asked Questions
Can I make poultry seasoning?
Yes. If poultry or turkey seasoning is not something you keep handy in your spice drawer, it is easy to make yourself. Here is a quick recipe for homemade poultry seasoning!
Do you cook turkey wings up or down?
When cooking wings in the oven, initially it doesn't mater that much which way they are facing when baking them. Once they come to about 160 degrees, it's important to flip them skin side up and cook them at a very high temperature to make the skin more crisp.
How to make turkey wings fall off the bone?
Slow cooking the wings will help to make the meat more tender. If you have extra time, you can reduce the oven temp to 325 or less and increase your cook time by about 30 minutes. Keep an eye on your thermometer so you can take them out when they reach 165 degrees. Don't forget to turn the heat up at the end for a crispy skin. Once they are fully baked, let them site for 20-30 minutes to ensure they reabsorb all of their own juice. Viola', truly amazing wings.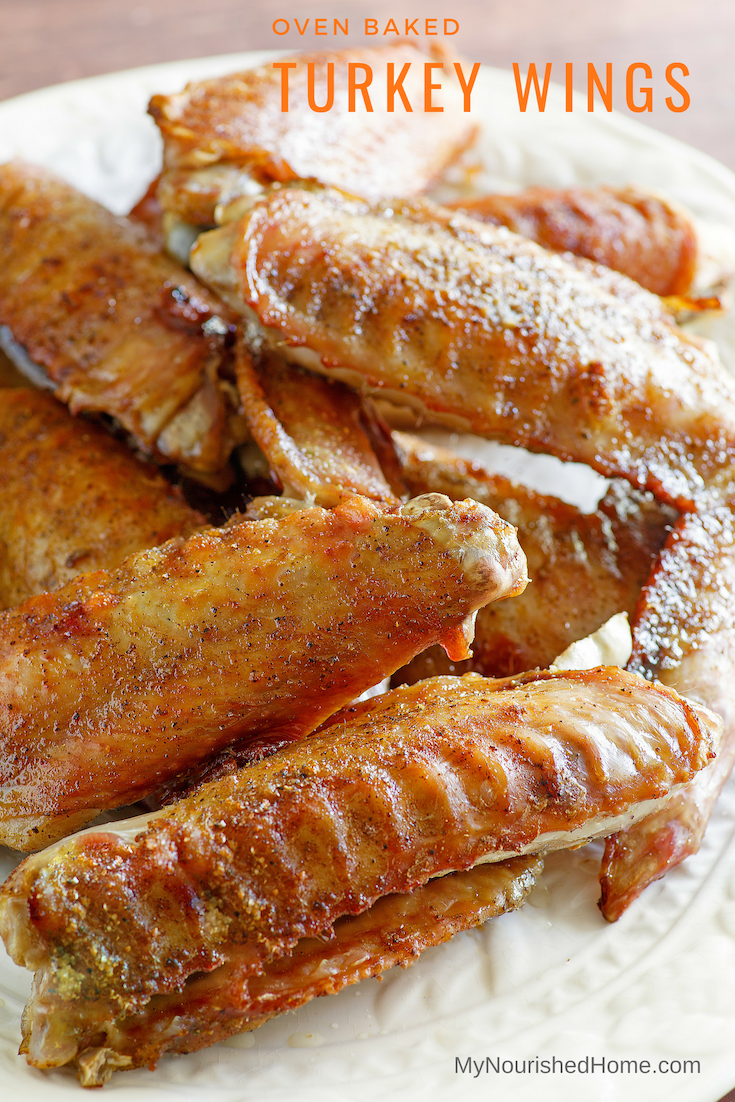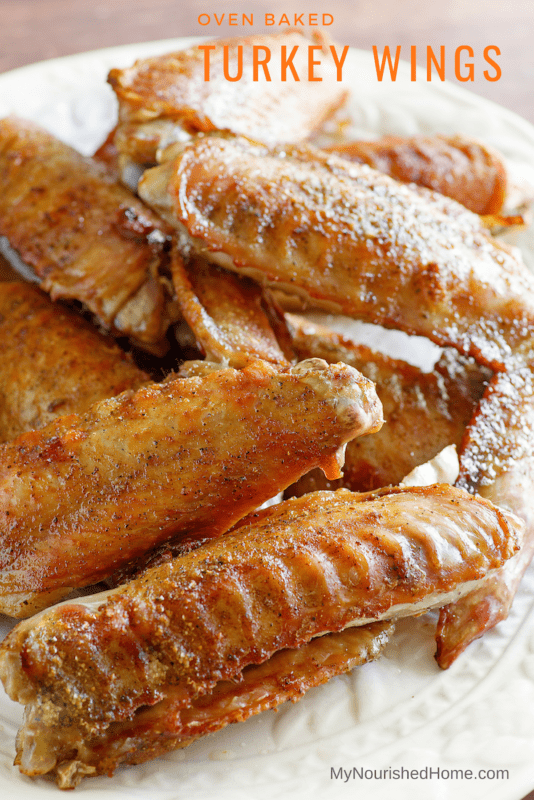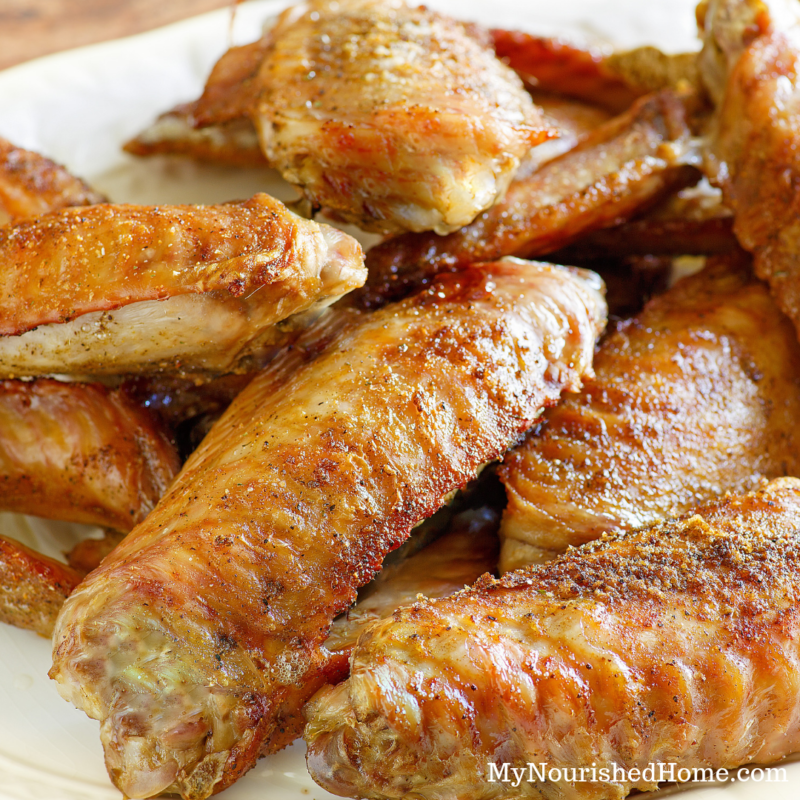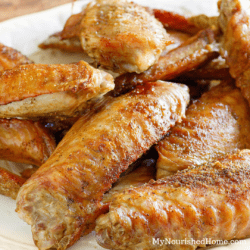 Baked Turkey Wings
These baked turkey wings are a healthy version of their fried cousin. They are still super crispy and rich tasting. Easy to make and a wonderful Thanksgiving leftover meal.
Keyword:
holiday, turkey, turkey broth, turkey stock, turkey wings
Ingredients
8

Whole Turkey Wings

1/4

cup

olive oil

3

tbsp

poultry seasoning

kosher salt and pepper to pepper to taste

carrots, onions, celery, parsley, if making turkey stock
Instructions
Preheat oven to 375 degrees.

Place turkey wings in a large casserole dish or on a baking sheet, keeping in mind that the turkey will release its juices and you don't want them to run over – so it should be a pan with sides!

Brush both sides of the wings with olive oil. Sprinkle with poultry seasoning, salt and pepper. Cover wings with foil and place them in the oven for 30 minutes.

Remove wings from the oven, raise the temperature of the oven to 425, remove the foil and put them back in the oven for an additional 30 minutes. This should give you nice crispy wings! Treat these just like you would chicken wings.

Toss them in wing sauce, hot sauce, whatever you like. But these are also delicious right out of the oven!!
Recipe Notes
Note: turkey wings vary in size. Larger wings will take a bit longer. Make sure your poultry reaches 165 degrees when the temperature is taken in the thickest part of the wing. Meat should be white not pink. 
Nutrition Facts
Baked Turkey Wings
Amount Per Serving
Calories 804
Calories from Fat 504
% Daily Value*
Fat 56g86%
Cholesterol 240mg80%
Sodium 190mg8%
Potassium 844mg24%
Carbohydrates 2g1%
Protein 70g140%
Vitamin A 117IU2%
Vitamin C 0.4mg0%
Calcium 78mg8%
Iron 5mg28%
* Percent Daily Values are based on a 2000 calorie diet.