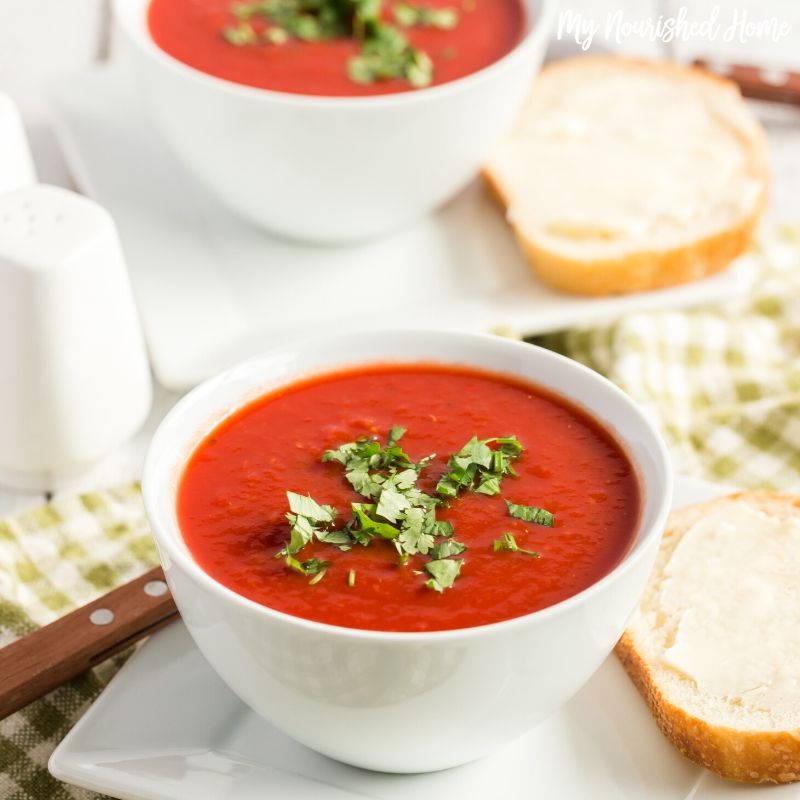 If I am honest about my childhood, Fresh Tomato Soup for me came out of a can. If you are of a similar age, you know which can I am talking about. This tomato soup fresh tomatoes is all grown up and is a star all by itself, no grilled cheese required.
Though I do love a good grilled cheese for dipping into this soup recipe. If you are looking for a solution that lets you feed everyone at once rather than making a million grilled cheese sandwiches one after another, try this Family Style Grilled Cheese. Cook once in the oven and slice it into triangles. Voila… magical grilled cheese for dipping into this tomato soup.
Fresh Tomato Soup from Garden Tomatoes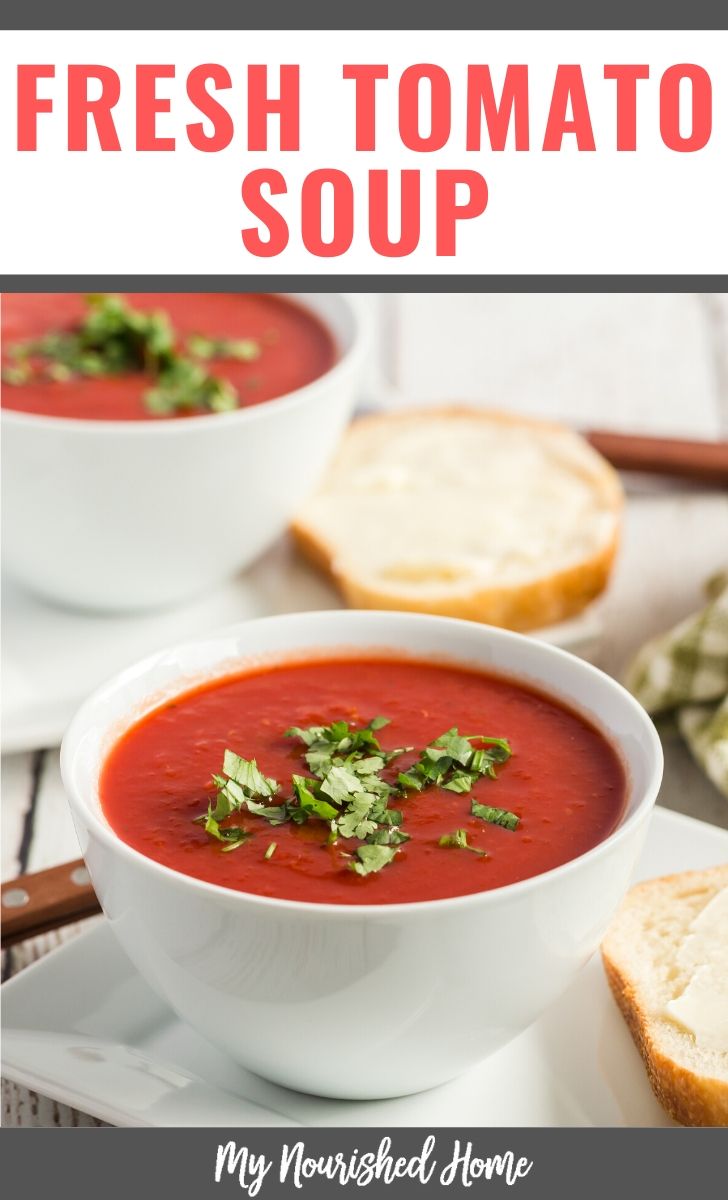 It is not difficult to make fresh tomato soup from garden-fresh tomatoes. Perhaps the most difficult part is actually finding enough tomatoes in one place without spending a fortune. Farmers' Markets are the best!
Look around at the farms that are flush with tomatoes and ask if they will sell by the case. You'll usually find that the per case price is very different than the per-pound price. But you can also ask your regular grocery store about ordering and pricing by the case. Most are usually happy to help.
I keep roasted tomatoes in my freezer to use in place of canned tomatoes as long as they hold out. (We eat a lot of tomatoes!) I love the tomatoes out of a can too and they certainly require less effort but fresh tomatoes feel like a treat! And I love roasting them because it turns them so sweet – that brings something special to any recipe.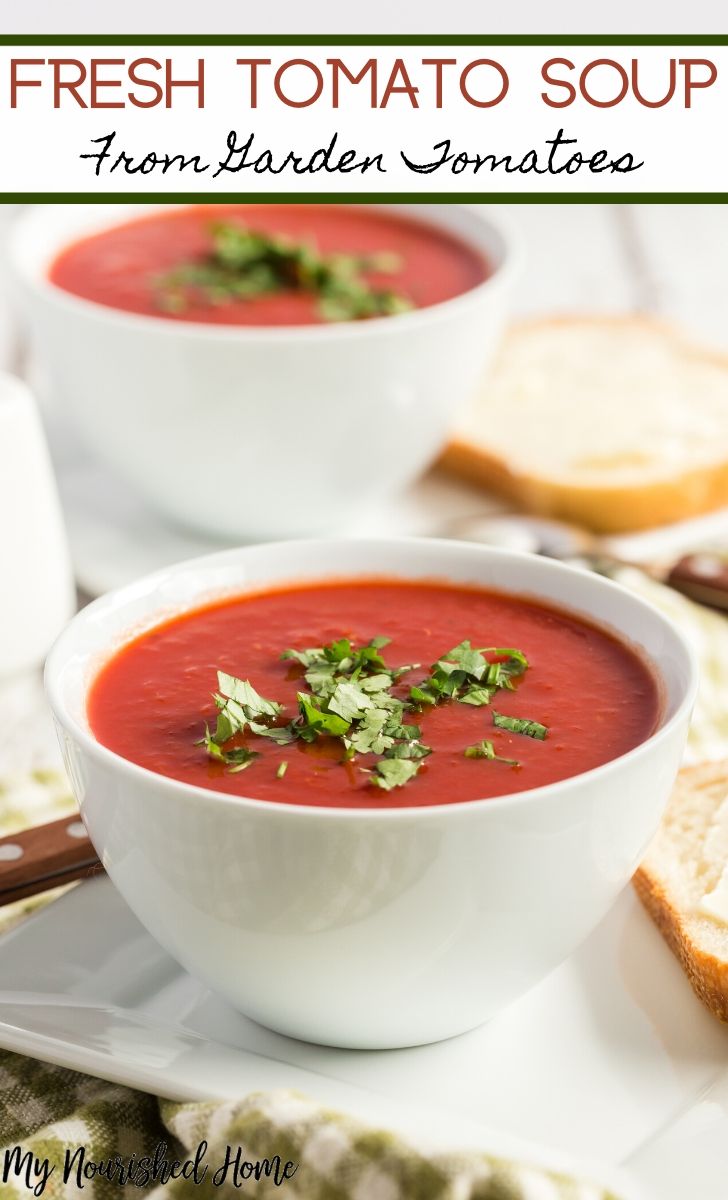 Tomato Soup Recipe with Fresh Tomatoes
Make a huge batch of this tomato soup, freeze it in family-friendly portions or as individual servings. You will be so happy you did when Fall arrives. Of course, I live in Savannah. So Fall means 80 degrees. We eat soup whenever we want it rather than when it is cold because it is hot here 10 months a year.
This soup also makes a great lunch for school-aged kids. Pour it into a stainless steel thermos and it stays hot until lunch.
The advantage to Fresh Tomato Soup over other soups with noodles or rice is that there is no starch to absorb liquid and swell. Just thaw whatever you need the night before in the refrigerator. Heat the next morning, pour into a thermos and pack. Easier than making a sandwich.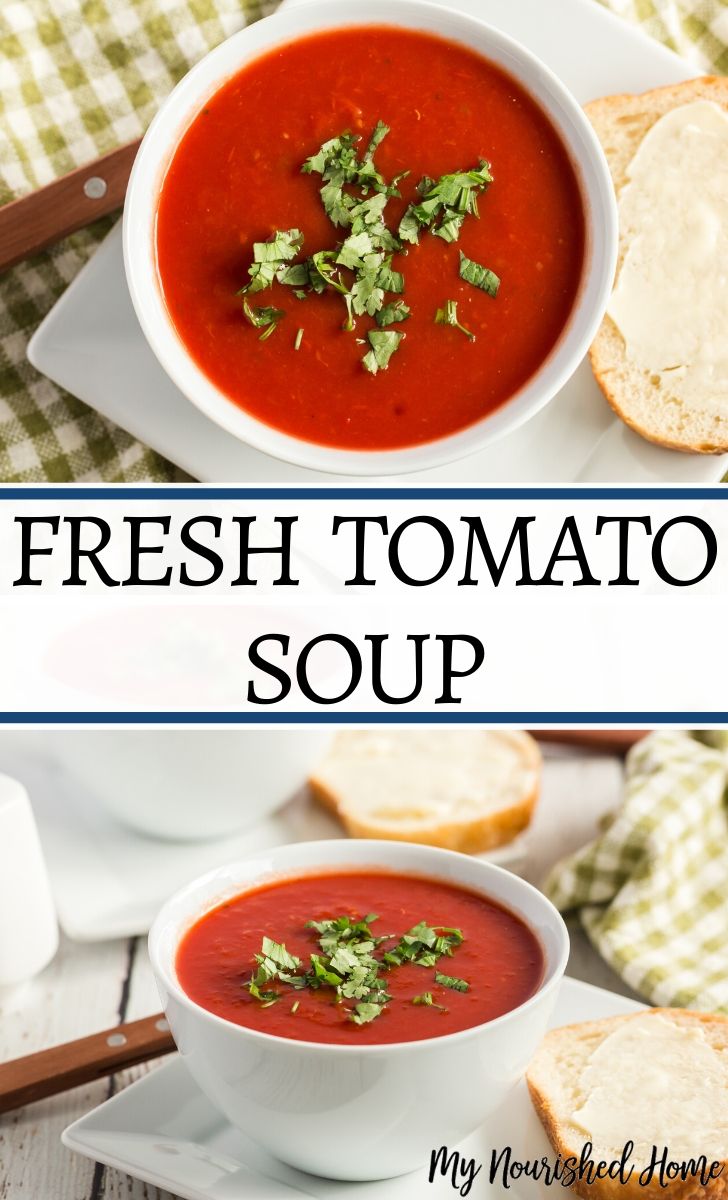 Fresh Tomato Soup Recipe
You'll need 9-10 pounds of whole tomatoes that are halved and cored — that is approximately 3 quarts of tomatoes once they are roasted. You'll also need an onion, garlic, 4 carrots that are cleaned and grated (the carrots make it a bit sweet without adding sugar. You will also want fresh basil, thyme and good chicken broth.
While you can make tomato soup without roasting the tomatoes, you'll never have one that tastes naturally sweeter (without adding sugar!) If you are going to take the time to cook tomato soup from your garden's glut of tomatoes, you definitely want it to taste fabulous. Roasting the tomatoes first takes the whole dish up a notch without any fussy ingredients or difficult techniques.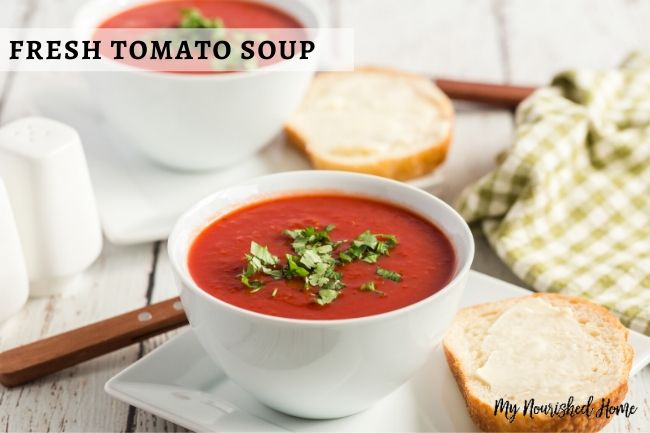 How to Make Fresh Tomato Soup
You are going to need a large Dutch oven or stockpot. This recipe makes a LOT of soup. You will have enough to feed your family and have leftovers to spare.
This soup freezes incredibly well. We usually eat it for dinner when then freeze the remainder in 2-3 serving portions for quick lunches during the week. Thaw in the refrigerator overnight and reheat when you need it!
No fancy freezing instructions or containers here. I just wait until the soup is cool and ladle it into freezer bags that I can lay flat to conserve space in my freezer.
More Fresh Recipes with Tomatoes
Like the idea of roasting your own tomatoes? This tomato tart is fabulous and makes a fantastic light dinner paired with a salad. Tomato and Roasted Red Pepper Soup is a fun twist on tomato soup too. My kids call it pizza soup… that is what it tastes like. And when we have piles of cherry tomatoes, we eat this Simple Tomato Salad.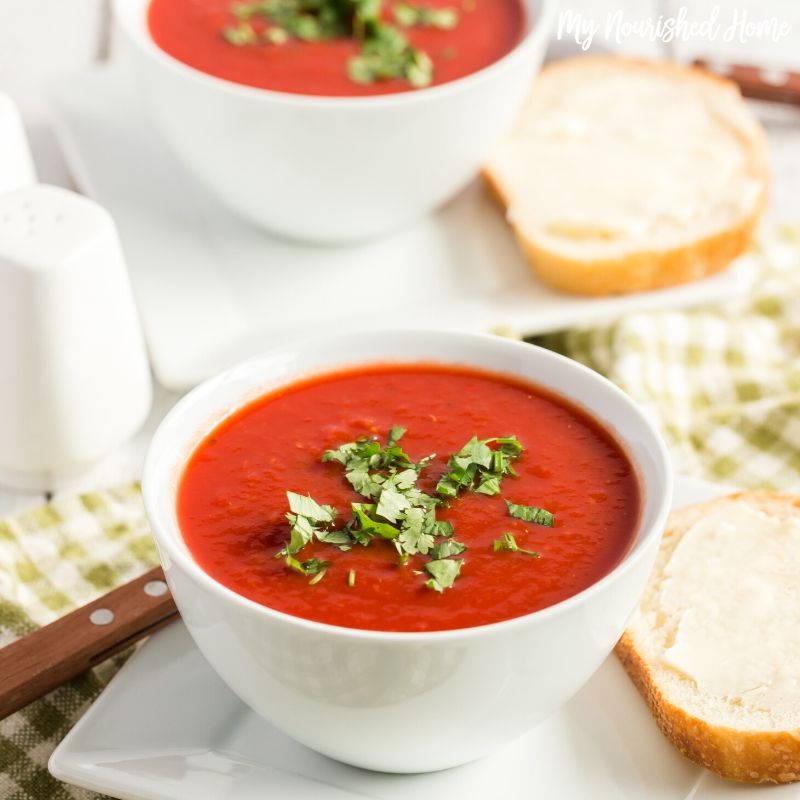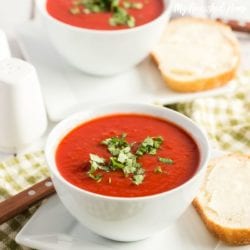 Fresh Tomato Soup from Garden Tomatoes
The final volume of soup will depend on how much broth you add and the type of tomatoes you use. Different types of tomatoes have differing water content, much of which cooks off during roasting. It is a big pot of soup. Eat it for dinner and freeze the rest. You'll be glad you did on a night you don't want to cook!
Course:
Soup, Salad & Sandwich
Ingredients
9-10

lbs

whole tomatoes, halved and cored

approximately 3 quarts of roasted tomatoes

3

tablespoon

olive oil

1

large

sweet variety onion, diced

I like red onions or Vidalia onions

4

carrots, grated

3

garlic cloves, minced

2

cups

chicken or vegetable broth

2

tbsp

dried basil

3-4 tbsp fresh basil

1

tbsp

dried thyme

2 tbsp fresh thyme

kosher salt

freshly ground black pepper

to taste
Instructions
Preheat oven to 450 degrees.

TO ROAST TOMATOES: I roast tomatoes in bulk and keep them in my freezer. So I just thaw mine when I need them. If you do not, lightly oil a sheet pan (or 2 if needed). Cut in half and core all tomatoes and place them cut side down on the sheet pan. Place pan(s) in the oven and roast until the skins are black and bubbly. About 30 minutes. Remove from oven and allow them to cool until you can comfortable pinch the skins off of the tomatoes. The skins will pull off easily. Discard the skins. Drain of the water that cooked out of the vegetables while roasting. Either discard or reserve for a different use.

In a large Dutch oven or stock pot, heat olive oil over medium heat. When the oil is shimmering but not smoking, add diced onions and grated carrots. (I just grate my carrots on a box grater.) Add salt and pepper to taste and allow the vegetables to cook until the onions are translucent and the carrots begin to soften, about 8 minutes. Add garlic and allow to cook until fragrant, about 1 minute. Stir frequently to prevent garlic from burning.

Add tomatoes and broth to the stock pot. Pulling apart the tomatoes with your hands as you add them to the pot. Add basil and thyme. (I prefer the taste of fresh herbs but have never let their absence stop me from cooking!) Stir well to combine. Allow the soup to cook for 25-30 minutes for all of the vegetables to soften and flavors to combine.

Using an immersion blender, puree the soup to your desired consistency. We like ours to remain a little chunky but if puree to smooth if that is your preference. Taste and adjust salt and pepper. Serve hot with fresh parsley for garnish!

This soup freezes incredibly well. We usually eat it for dinner when I make it then freeze the remainder in 2-3 serving portions for quick lunches during the week. Thaw in the refrigerator overnight and reheat when you need it!
Nutrition Facts
Fresh Tomato Soup from Garden Tomatoes
Amount Per Serving
Calories 133
Calories from Fat 45
% Daily Value*
Fat 5g8%
Sodium 211mg9%
Potassium 1130mg32%
Carbohydrates 21g7%
Protein 4g8%
Vitamin A 7498IU150%
Vitamin C 62mg75%
Calcium 82mg8%
Iron 3mg17%
* Percent Daily Values are based on a 2000 calorie diet.
Feeling Beefy? Try this Oxtail Soup Recipe too!