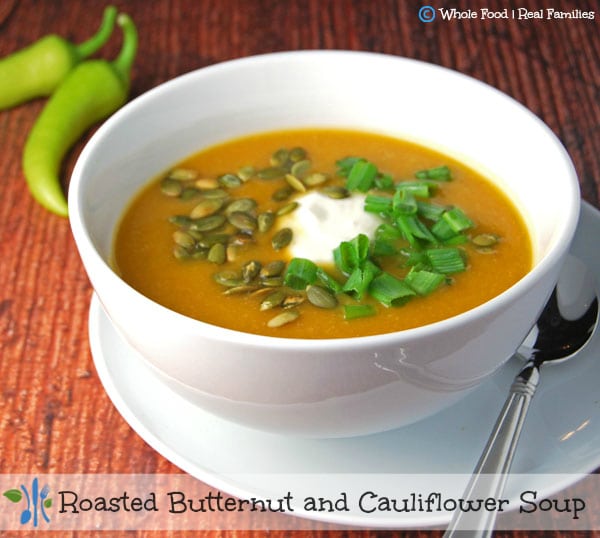 This Roasted Butternut and Cauliflower Soup is my special gift to myself every fall. My family are not really fans of Butternut Squash Soup, which is fine by me! More for mom! Historically I have made Butternut – and only Butternut – Squash Soup but this year couldn't help but stare at the 4 heads of cauliflower in my house and wonder just how much of that we were going to be able to eat before it headed south. So as necessity is the mother of invention – my Butternut Squash Soup was experimented with this year. (Butternut, meet Cauliflower, you guys play nice.) It is so delicious that my kids tried to eat some… go away kids, you don't like this soup. I make a big pot, portion it, and freeze if for when I want a quick lunch.
Though you could easily just boil the squash and the cauliflower in the broth, I love the extra sweetness that roasting the veggies first brings. Also smoked peppers are a household staple for us. We throw piles of hot and sweet peppers on our smoker until they are wilted and ugly (and smokey  and delicious) then separate the hot from the sweet and freeze them. From there, I pull out smoked peppers any time I want to give a dish as savory, smokey flavor. The smoked banana peppers are unbelievably good in this soup – truly worth pulling out your smoker if you have one – they do not add any heat, just sweetness and smoke. But if you don't have smoked peppers on hand, make sure you cut the tops off the peppers and throw them on the pan with some of the other vegetables to get a nice roasted flavor (you can leave the seeds in). It makes a huge difference. If the skins bubble up and turn brown on your peppers, never fear, they are supposed to! Just peel off the skins after they cool and toss them in the pot to be blended later!
Make sure you garnish your soup with sour cream or a dollop of plain Greek yogurt, some chives or green onions, and toasted pepitas! Keep in mind that this recipe makes a TON. If you are not planning to freeze some, cut it in half!
Looking for other soups to warm you up? If you have never had Tomato Soup from Fresh Tomatoes, you are missing out. And this Slow Cooker Chicken Noodle Soup is delicious and done completly in the slow cooker – no cooking noodles or chicken in a different pan.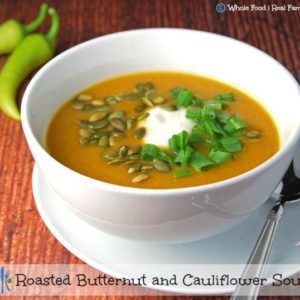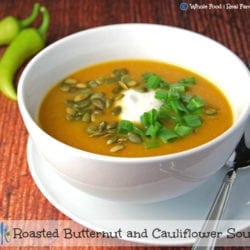 Roasted Butternut and Cauliflower Soup
I have tried to allow some flexibility in the ingredient measurements to allow for what is local, fresh and good in soup!
Course:
Soup, Salad & Sandwich
Ingredients
1-2

large

red onion, diced

olive oil (enough to cover the bottom of your pot)

2

tbsp

butter

2

medium

Butternut squash, peeled, seeded, and cubed for roasting

1-2

medium

head of cauliflower, cut into pieces for roasting

12

cups

chicken or vegetable stock (+/- 4 cups)

will depend on how big your vegetables are and the texture you prefer for your soup

4-6

smoked banana peppers

or roasted

kosher salt and fresh black pepper to taste

sour cream, toasted pepitas, and chopped green onions for serving
Instructions
In your largest soup pot, heat enough olive oil to cover the bottom of the pot, add butter and let it melt. Add red onion and stir to coat the onions in oil and butter. Leave them alone and let them cook on medium low. It takes a while to caramelize onions but their sweetness is great in the soup so don't rush it!

Preheat oven to 400 degrees. Drizzle olive oil, salt and pepper onto the diced Butternut Squash and toss to coat. Roast for 25-30 minutes until the squash is tender and the edges are starting to brown. Remove from oven and add the Squash to the onions. Toss to combine them. Add 8 cups of stock to the pot and stir to combine.

Place cut pieces of cauliflower on the same pan you just used for the Butternut Squash, drizzle in olive oil, salt and pepper and toss to coat. Put the pan back into the 400 degree oven until the cauliflower is tender and browning. If you are using roasted instead of smoked banana peppers, toss them on the pan with the cauliflower. Transfer roasted cauliflower (and peppers) into the already cooking pot of soup.

If you are using smoked banana peppers, dice them frozen and add to the pot now. The level of stock should be even or a little above the vegetables. You may have to add additional stock at this point. Cover the pot and let the soup cook for about 20-30 minutes, stirring occasionally.

When you uncover the soup, all of the vegetables should be falling apart tender. Use an immersion blender (or carefully transition to your blender in batches) to puree the soup. Add broth to make the soup thinner if desired and adjust salt and pepper to taste.

Garnish with sour cream, green onions, and toasted pepitas! Enjoy!

Don't forget to freeze the leftovers for dinner another night!