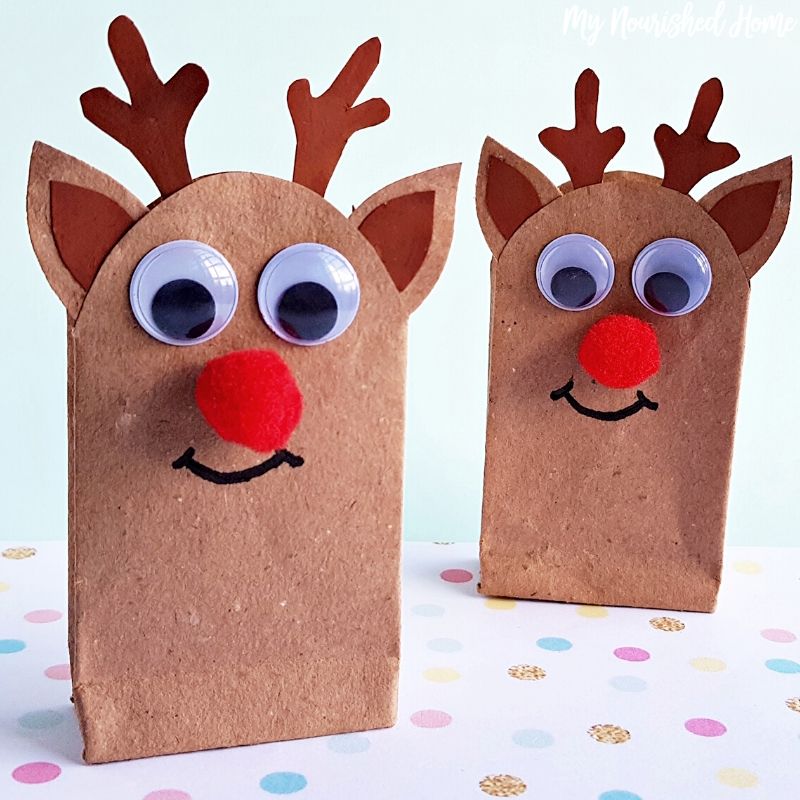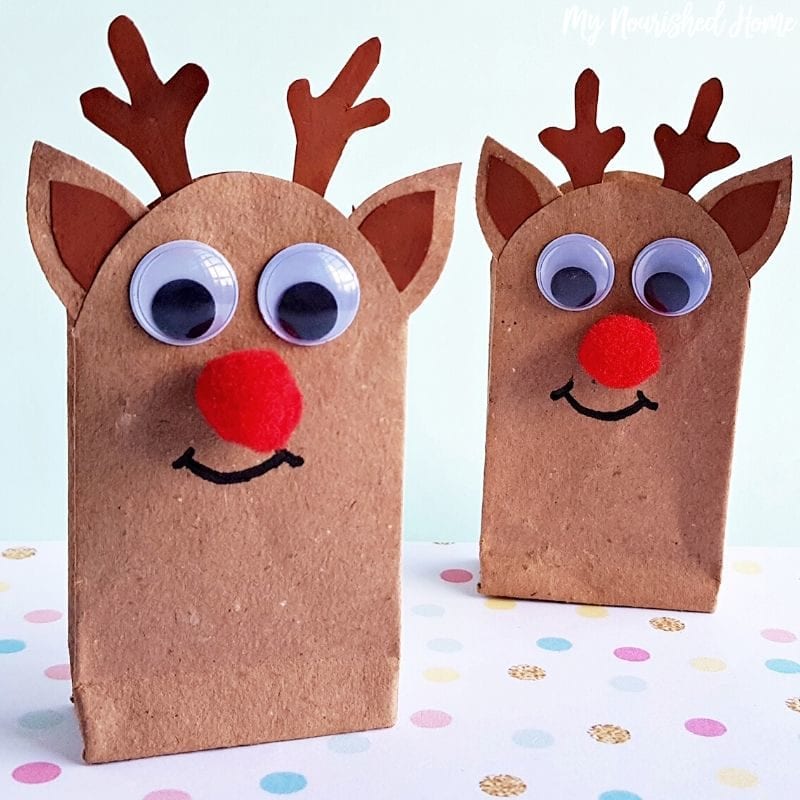 Fill this cute gift bag reindeer craft with toys and goodies! It is a finishing touch to gifts for the kids in your life, teachers, neighbors and friends.
It is also really fun and easy to make with kids of all ages. Allow your kids to use their creativity to make their very own gift bag to place homemade holiday gifts inside.
We also love these Gingerbread House Gift Bags!
DIY Reindeer Craft Gift Bags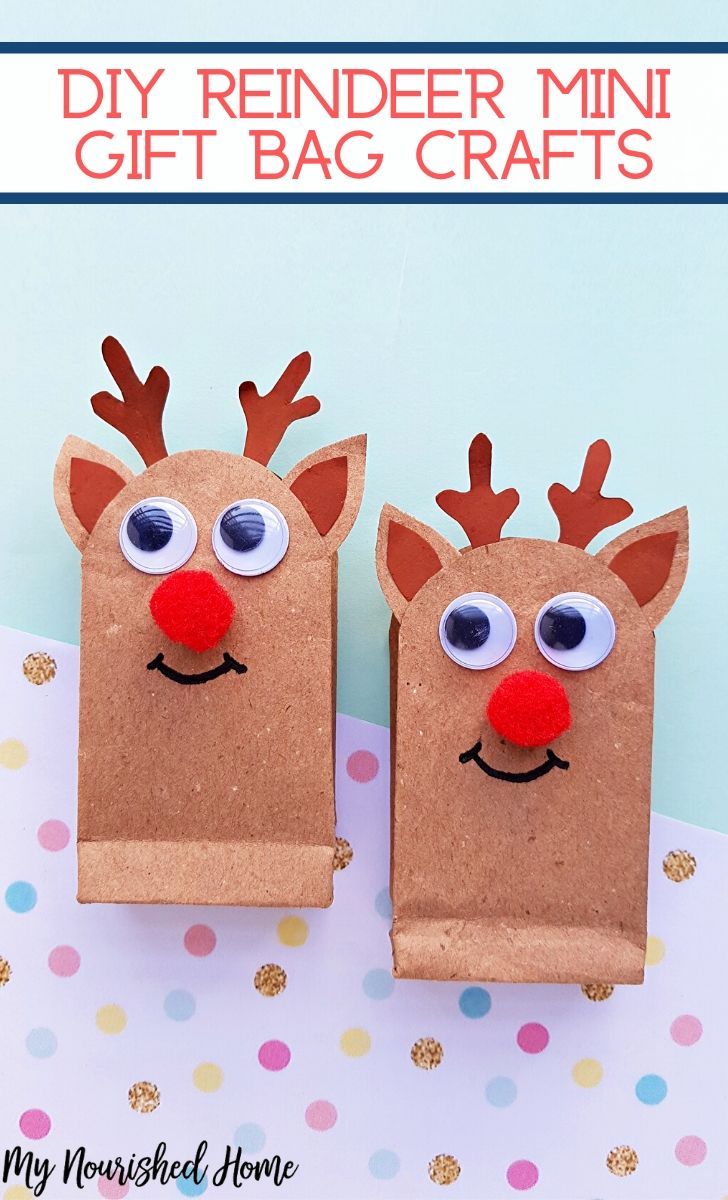 This gift bag reindeer craft is a gift bag made from a flat sheet of paper. Below you will find a step-by-step photo tutorial and written instructions. Supplies are simple and probably in your craft bin already!
Gather brown paper, dark brown craft paper, a red pom-pom, googly eyes, craft glue, scissors, and a pencil.
If you don't have googly eyes, you can purchase them at your local craft store or online.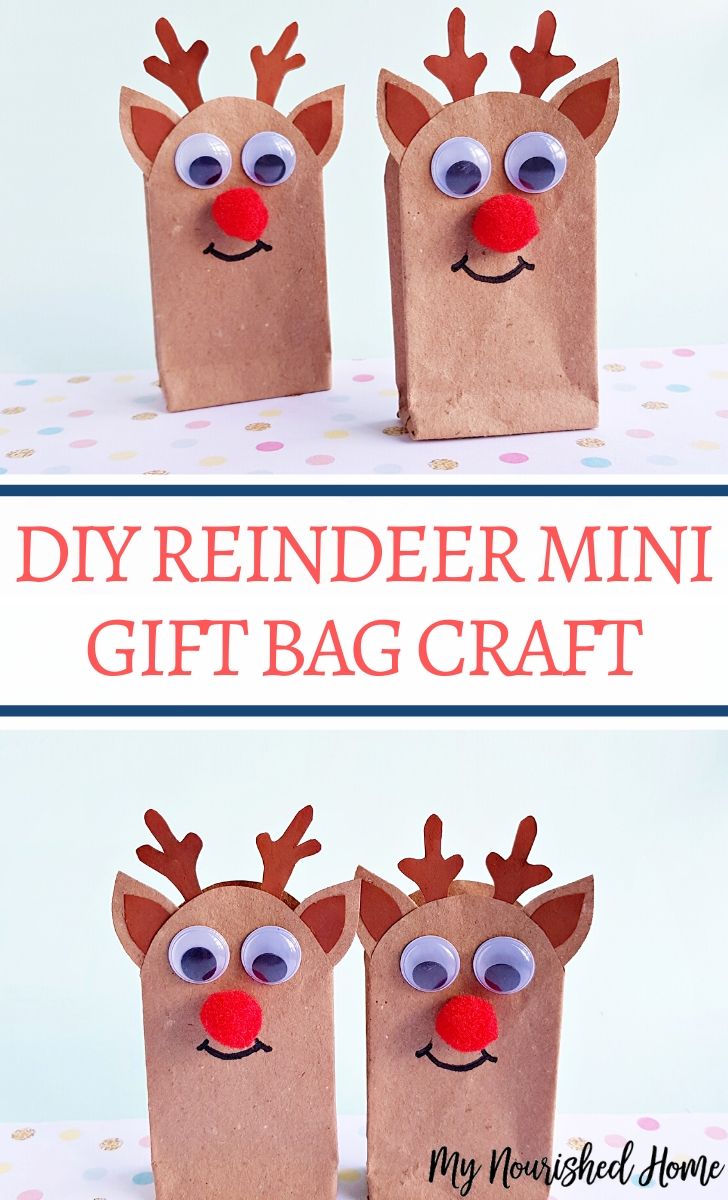 This Christmas craft is easy to make. Older kids can easily fold the craft paper as shown below into a magical reindeer shape. Younger kids may need some adult hands but will love turning the shape into a real reindeer. As your kids work to fold the craft paper into a gift bag shape, they'll get excited to see their homemade gift bag nearly complete. You can then use the other supplies, such as the red pom-pom and googly eyes to make your gift bag reindeer craft complete.
Making crafts with kids helps boost creativity, imagination, and confidence. Crafts is one of the easiest things to do with kids that helps expand their mind and utilize fine motor skills. Your kids won't even realize that during the process of making their own gift bag reindeer craft that they're building their creative thinking skills and enhancing their fine motor skills.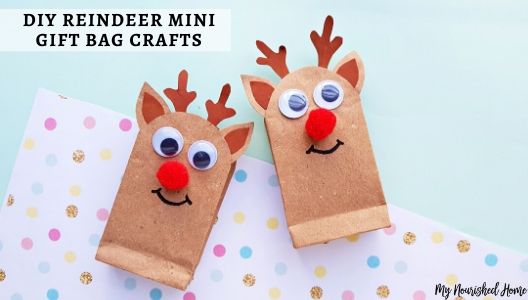 How to Use This Reindeer Gift Bag
Once you've completed your gift bag, fill them with cookies and treats for family friends and neighbors. We love gifting these Cranberry White Chocolate Oatmeal Cookies! Homemade holiday gifts are always truly appreciated because the recipient feels that there was some extra love put into making their holiday gift.
You can't forget how popular reindeer are during the holiday season! With this gift bag reindeer craft, you'll have a blast creating a personalized gift bag to use for your homemade gift ideas. This homemade gift bag will keep your kids busy for hours and provide an added touch for any gift-giving event!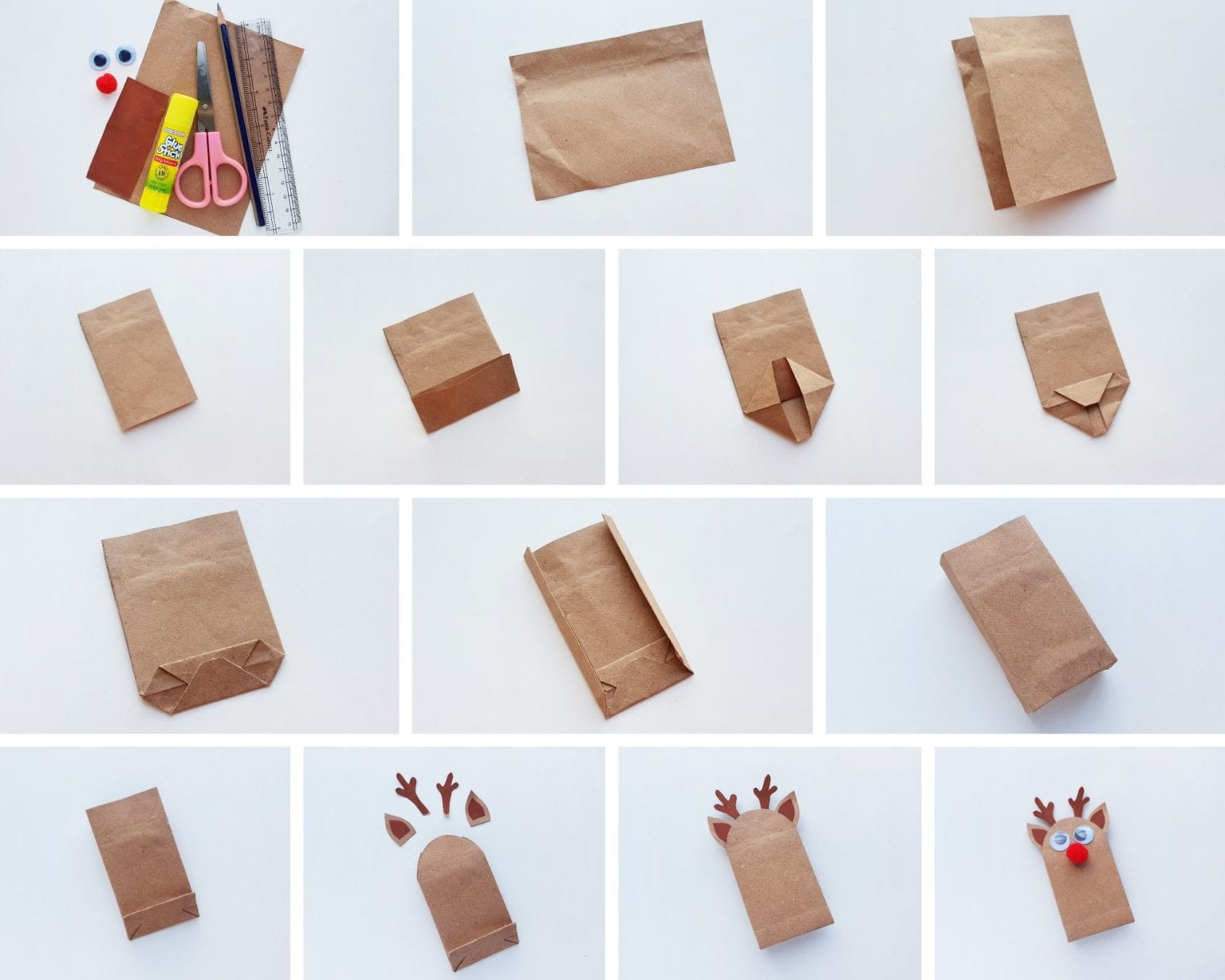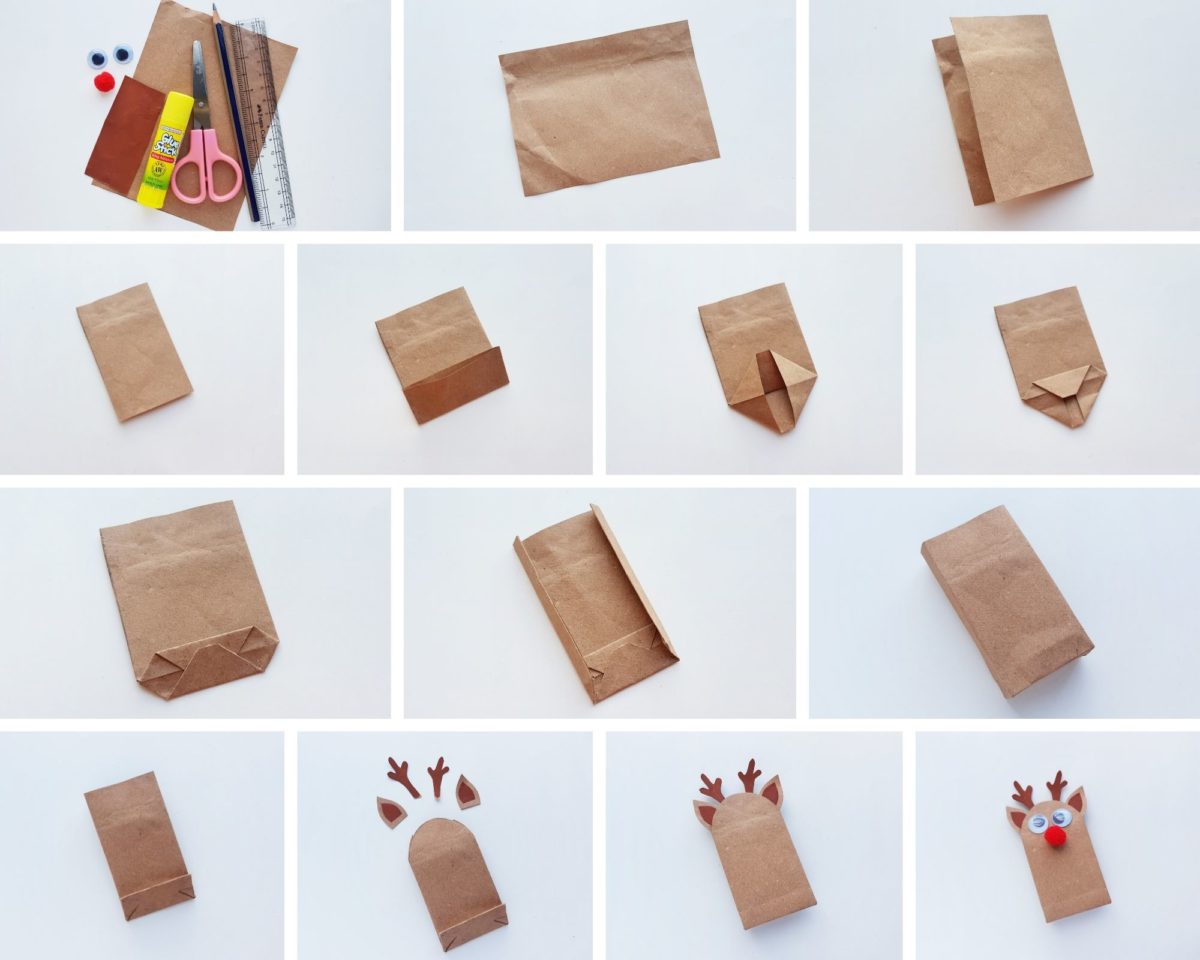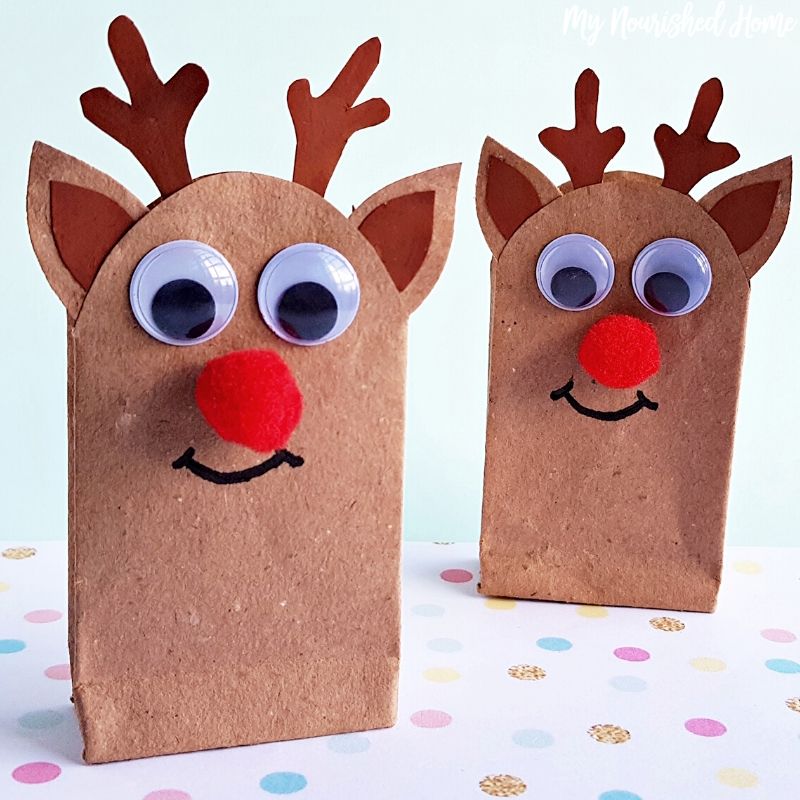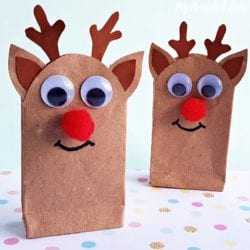 DIY Reindeer Gift Bags Christmas Craft
A fun Christmas craft for kids during the gift giving season!
Ingredients
Brown paper

Dark brown craft paper

Red-colored pompom

Googly eyes

Pencil

Scissors

Craft glue
Instructions
I've cut a brown paper of 8.5 inches X 5 inches to make the reindeer gift bags, but you can choose any size you want but make sure the ratio is similar to mine.

Leaving the 0.5 inches along the longer side, fold the 8 inches part into half.

Apply glue along the extra 0.5 inches part and fold the glued part to attach it with the other open end of the folded brown paper.

Fold up 2 inches (of the 5 inches side) from any 1 open ends of the paper.

Open up the folded-up part and nicely flatten the 2 sides evenly. This will form 2 open sides, 1 on the top and 1 on the bottom. Also, notice the line along the middle.

Fold down the top open end towards the middle line and overlapping the middle line by a cm.

Now, fold up the bottom side of the open end and overlap the middle line by a cm again. Both sides will overlap each other. Apply glue on the overlapped parts to attach them. This will secure the bottom side of the paper bag.

Notice the 2 square parts on both sides of the bottom. Create folds on both sides of the paper bag by using the opposite corners of the squares as a guide.

Now open up the paper bag from its flattened position.

Fold in the side middle lines of the paper bag and flatten the bottom side of the bag.

Use scissors to cut a semi-circular shape on the top side of the paper bag. Cut out ear patterns (2 inner ear parts from dark brown paper and 2 outer ear parts from light brown parts), and 2 horn patterns from dark brown paper.

Attach the horns and ears along the top end (front side) of the paper bag.

Attach the googly eyes and pompom nose to complete the reindeer bag.

You can use a black sharpie to draw a smiley face!