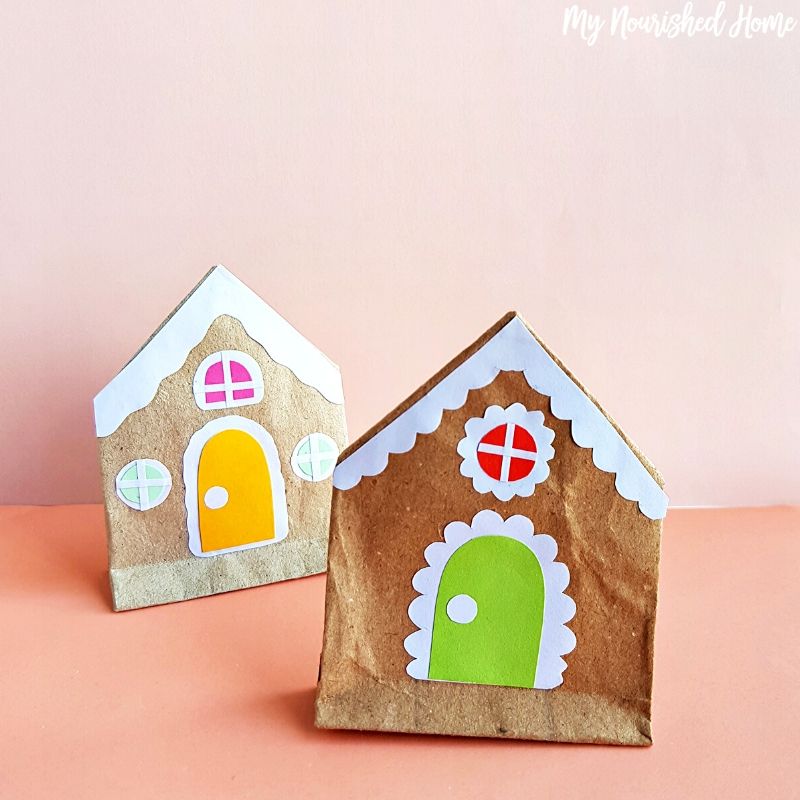 Looking for a fun, easy craft for Christmas? This Gingerbread House Gift Bag is perfect.
I don't know about you but I just love gingerbread houses during the holiday season. This gingerbread house gift bag craft is simple to make but meant to hold all sorts of Christmas goodies!
These gingerbread house gift bags will work for classroom holiday gifts, teacher gifts or family gifts. Fill your house with homemade cookies and share them with your neighbors! (We like these Maple Oatmeal Cookies!)
You might also want to check out this Reindeer Gift bag too!
Gingerbread House Gift Bag
Made with paper, glue, and this free printable template, this gingerbread craft for kids is fun without being overly messy and will give you hours of fun to enjoy crafting it up this holiday season.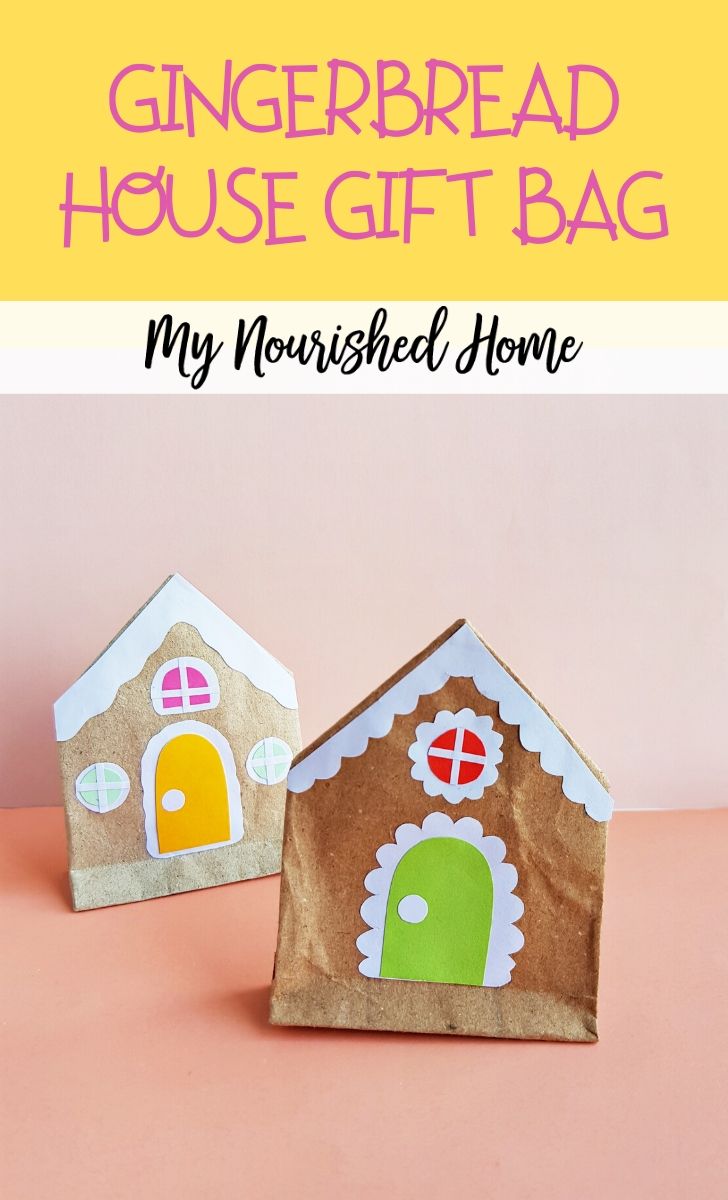 Why is art and craft important for children?
One of the most popular questions people ask when I share these delightful crafts for kids is "why is art and craft important for children". I'm happy to share some of the wonderful reasons that you should partake in craft time with kids:
Boosts confidence.
Promotes independence.
Enhances fine motor skills.
Fosters creativity.
Strengthens family bonds.
Promotes teamwork, when crafting with friends or siblings.
Taking the time to make these gingerbread house gift bags with your kids will help boost the excitement of the holiday season. Your kids will have a blast creating their own designs and then stuffing the gingerbread house gift bags with gifts for family, friends, or their favorite teacher.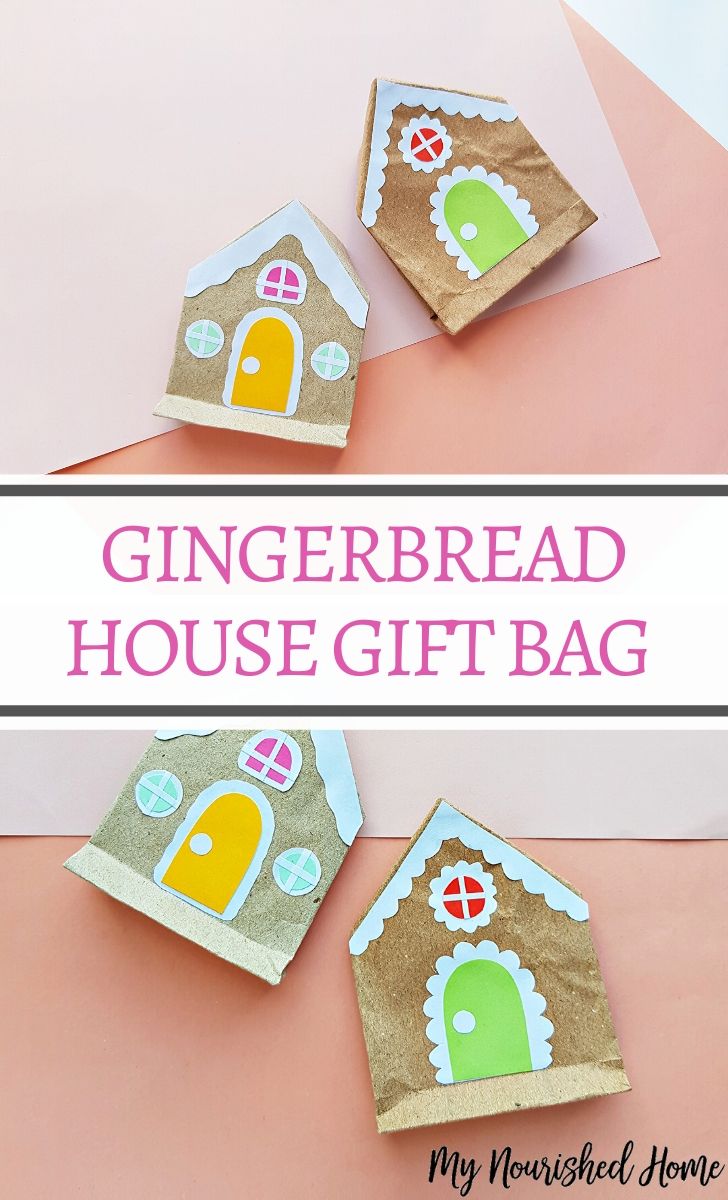 Aren't these gingerbread house gift bags simply adorable? As you can see, your kids can easily use colored craft paper to make their gingerbread house gift bag appeal to their preferences. Your kids can use their favorite colors to create a beautiful gingerbread house gift bag with you today.
Be sure to stock up on brown paper and color craft papers so that your kids can use their imagination with the best color combinations on the front of their paper gingerbread house.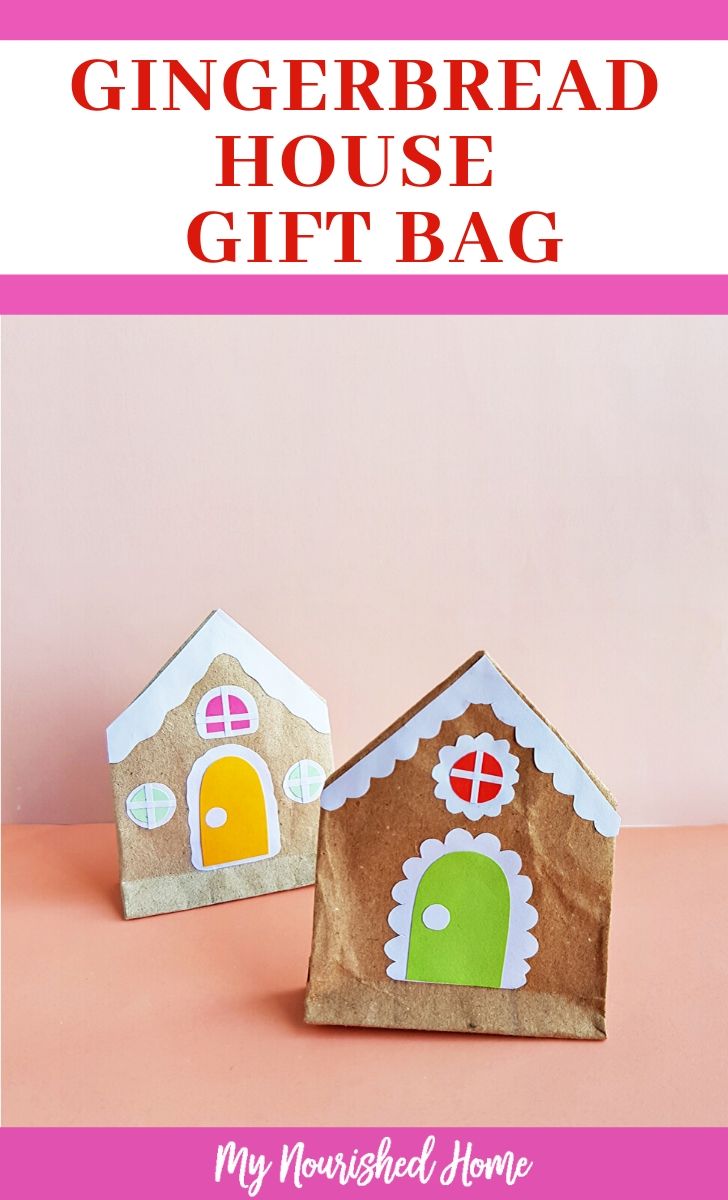 Regardless of what you ultimately use this gingerbread house gift bag for, the reality is they're so adaptable that you can use them for anything. If you have a mantle in your house, place your kids' gingerbread house gift bags on the mantle for holiday decor. You could also opt to use these as a festive centerpiece on the table during holiday gatherings.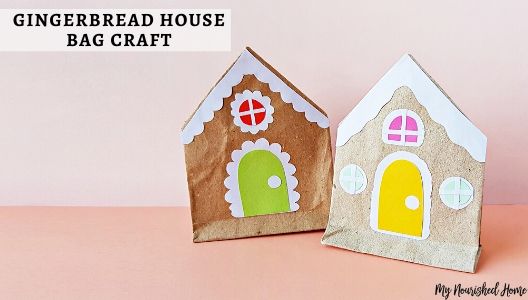 As you can see below, this gingerbread house papercraft is easy to do. Simply gather up the supplies listed below, print your Gingerbread House template, and follow my step by step tutorial to create your own festive gingerbread house gift bags today!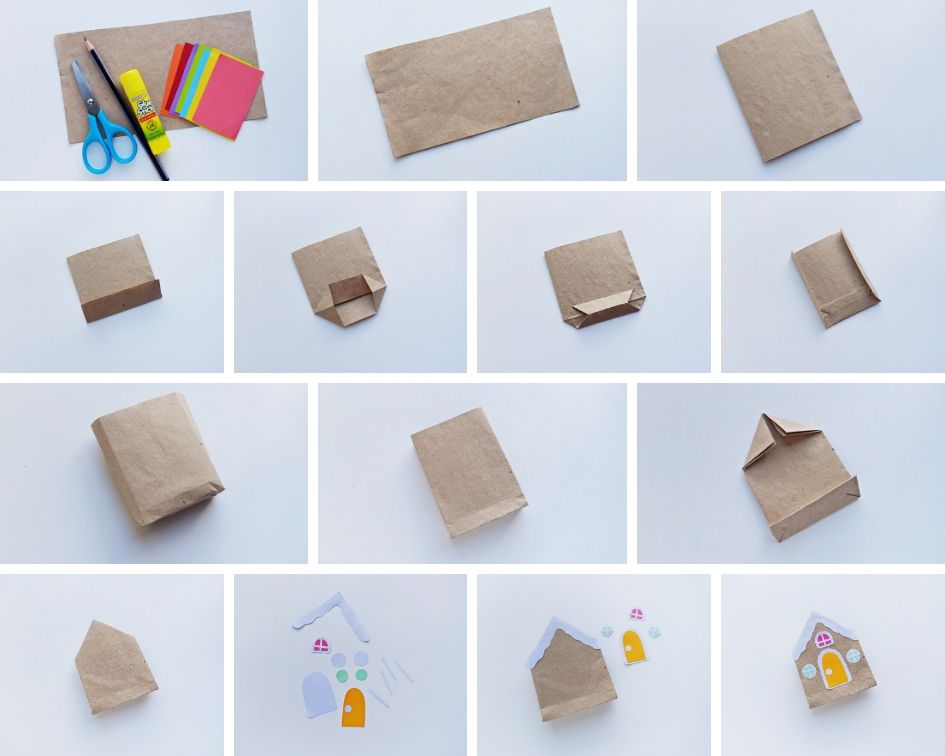 Looking for more Christmas Crafts for Kids?
Check out this adorable (and easy!) String Art Christmas Tree Craft! We also love these super EASY Quilled Christmas Cards.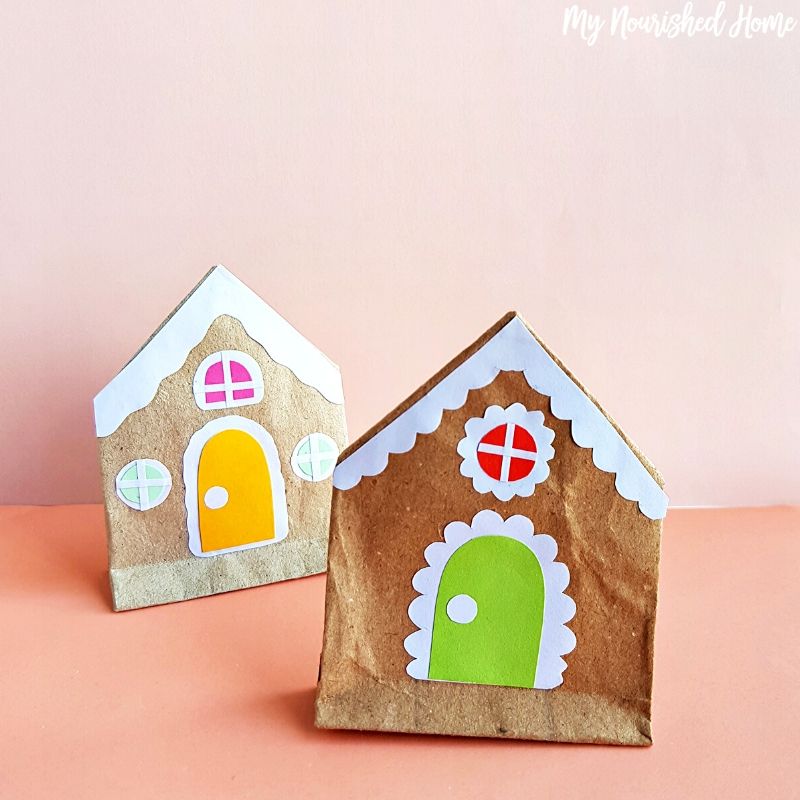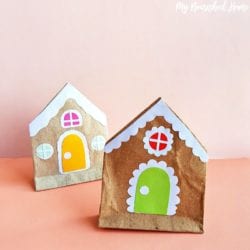 Gingerbread House Bag Craft
A Fun Holiday Paper Craft for Kids - use this Gingerbread House as a treat bag, gift bag, or as holiday mantle or table decor!
Ingredients
Brown paper

Colored craft papers

Pencil

Scissors

Craft glue
Instructions
Cut out a rectangular piece from brown paper. Mine was 8.5 inches X 5 inches.

Keeping 0.5 inches intact on either open ends of the brown paper, fold the 8 inches into half. Fold the 0.5 inch towards the inside and stick it with the other open end of the folded paper.

Fold the paper up (1.5 inches or 2 inches) from any one of the open ends.

Keeping the adjacent side of the folded up part flattened with the rest of the paper, open up the other side and flatten the 2 sides to form corners.

Fold in the 2 open sides of the bottom part towards the middle and make sure that both sides overlap each other. Apply glue on the overlapped parts to secure the bottom side of the paper bag.

Notice the 2 squares on both sides of the bottom part. Create a crease line on both sides of the bag by aligning the 2 opposite corners of the squares (using them as a guide to form perfect creases).

Unfold the last 2 folds made in step 6.

The paper bag is ready. Score the folds on both sides of the bag.

To make the gingerbread house, you'll have to fold the top open end of the bag from both corners and towards the middle. This will form a triangle top.

Prepare needle and thread and also grab the cut out for the back side.

Trace the template patterns on some colored craft papers and cut them out nicely. The template includes- roof, doors and windows.

Use craft glue to attach the patterns cutouts on the paper bag. Attach the items on the plain side of the top folded paper bag, keeping the folds on the back side.

One by one, attach the door and windows on the paper bag to complete the gingerbread house paper bag.