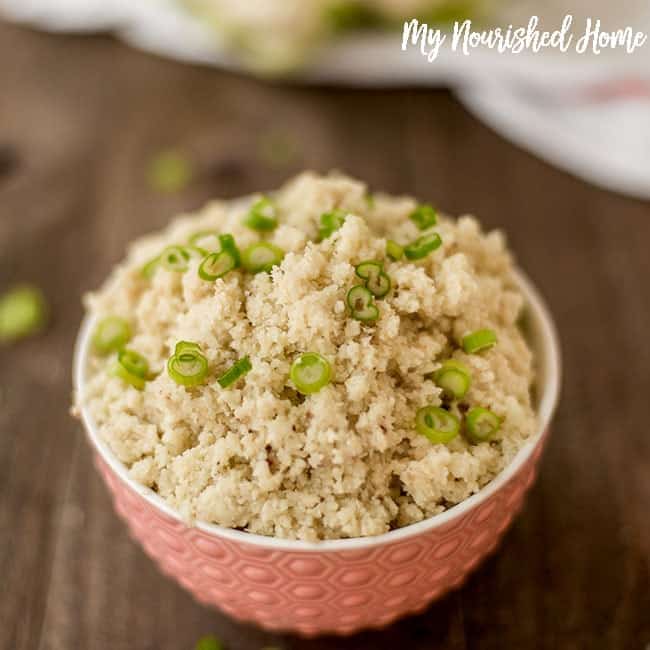 Knowing how to make cauliflower rice is a great trick to keep your family eating healthy. You can replace traditional rice with cauliflower rice in many recipes – and it is delicious as a side dish all by itself!
Many are hesitant to try out cauliflower rice as a replacement for traditional rice because they are apprehensive about the difference in flavor, but there is very little difference in the taste. Cooked, cauliflower takes on a savory, almost nutty flavor, much like regular rice. So the transition from one to the other is very easy, even for the healthy food skeptic.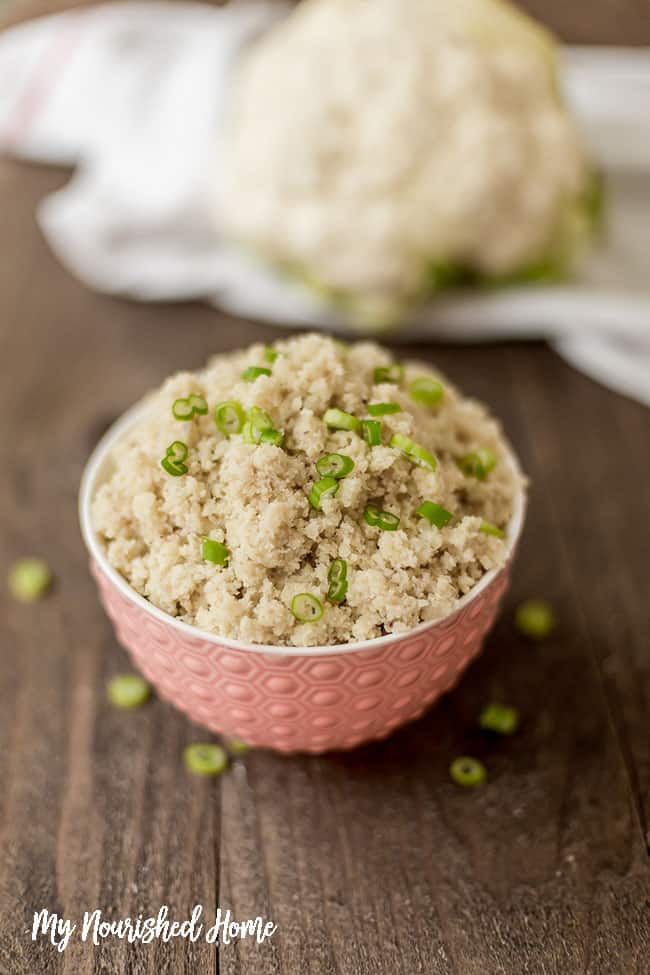 How to Make Cauliflower Rice
A few weeks ago I substituted cauliflower rice to make a healthy fried rice recipe but didn't tell my family that I replaced it. After the meal, I pointed out the substitution and my little kids didn't believe me. I can taste the subtle difference, as can my husband and oldest child – but we love cauliflower anyway. The fact that my little kids didn't believe me that ('cause I would lie about veggies apparently) was totally fine with me.
There is very little taste or texture difference in cauliflower rice than there is in traditional rice. The health benefits of cauliflower (and all vegetables!) are so significant that there is no reason not to learn how to make cauliflower rice!
Making Cauliflower rice as a healthy replacement ingredient is incredibly popular right now and is something that I am trying out more often in order to incorporate more veggies into my family's diet. If you have kids that are hesitant to eat veggies then this would be the perfect way to try and sneak them in.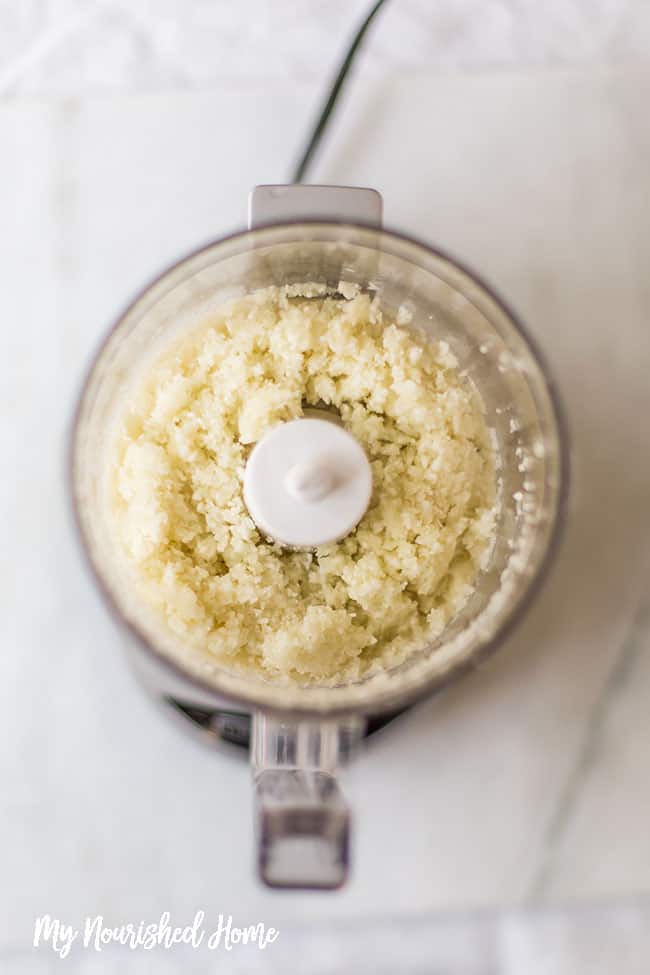 Making Cauliflower Rice
Using a food processor it is fairly easy to get the cauliflower chopped into a rice-like texture. Only put small batches of cauliflower in the food processor at a time until it resembles rice. If you don't have a food processor you can also use a grater to get the same result. (Just watch your fingers!)
We use a smashed garlic clove, salt, and pepper to season the cauliflower rice. To cook the rice you need to heat oil in a skillet and then add the cauliflower and garlic. The moisture from the cauliflower will evaporate as it cooks but watch it closely because as the cauliflower begins to cook it will toast quickly. You don't want it to burn!
When the cauliflower rice is finished cooking remove the garlic and season the rice with salt and pepper. Top it with chives for extra flavor! You can serve this rice on its own or incorporate it into a different recipe! It also freezes great if you want to make it in big batches and just toss frozen into a pan to heat. (How is that for quick dinner prep!)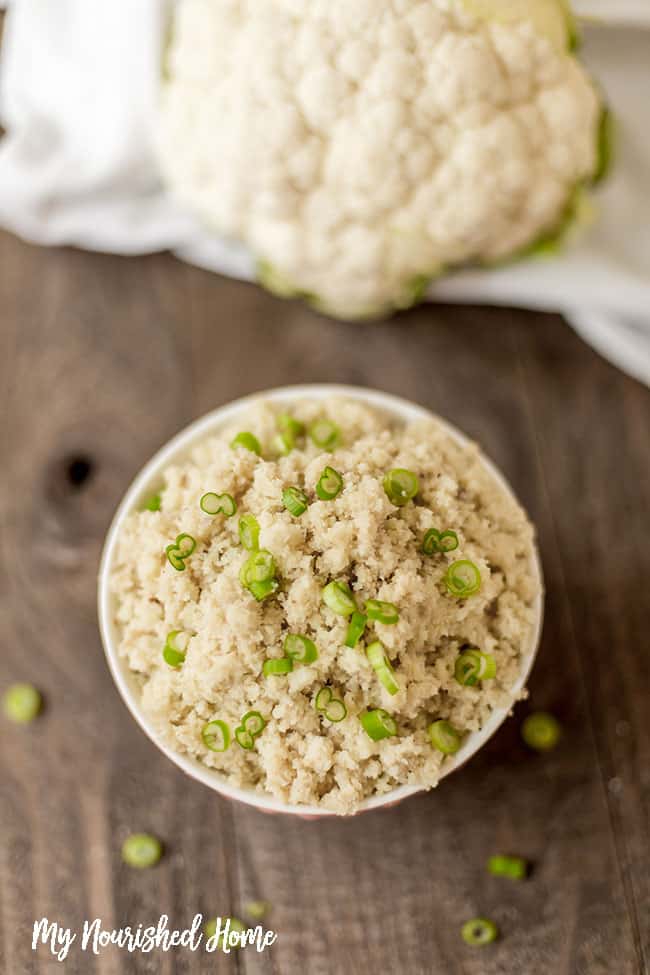 Looking for More Healthy Rice Recipes?
Use this cauliflower rice recipe to make this Cauliflower Fried Rice. It is a great way to get kids to eat more veggies and is a fabulous Keto-friendly meal.
This Apple Cranberry Rice Pilaf is so easy and really delicious. We often serve it with baked or grilled chicken on top as a complete meal. But is also fabulous as a side dish.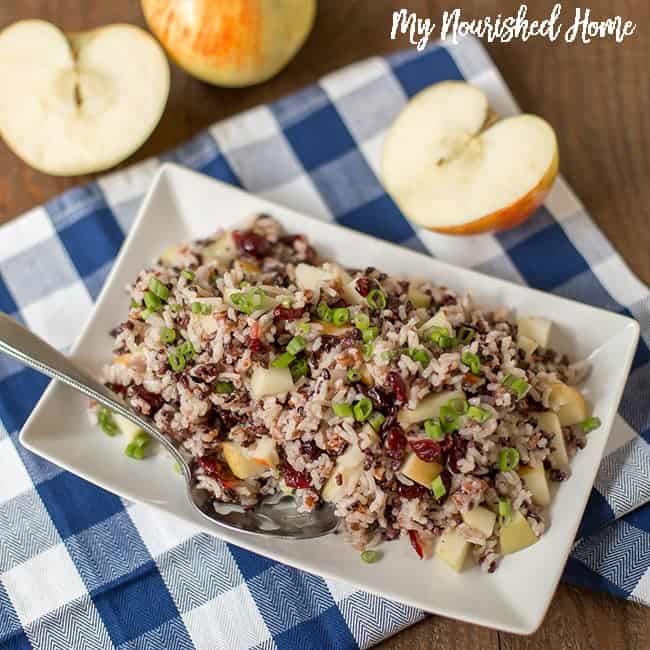 This easy and Healthy Vegetable Fried Rice is on regular rotation at our house. Not only is it delicious for dinner, but it heats up great for lunches during the week.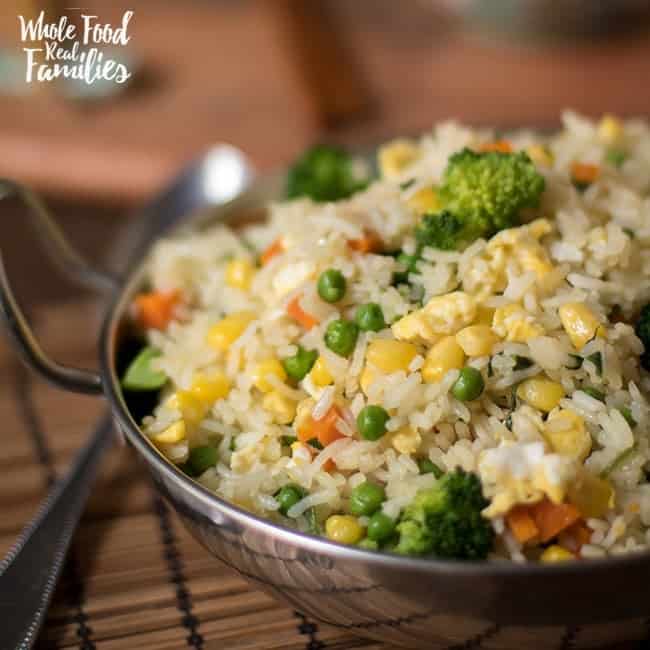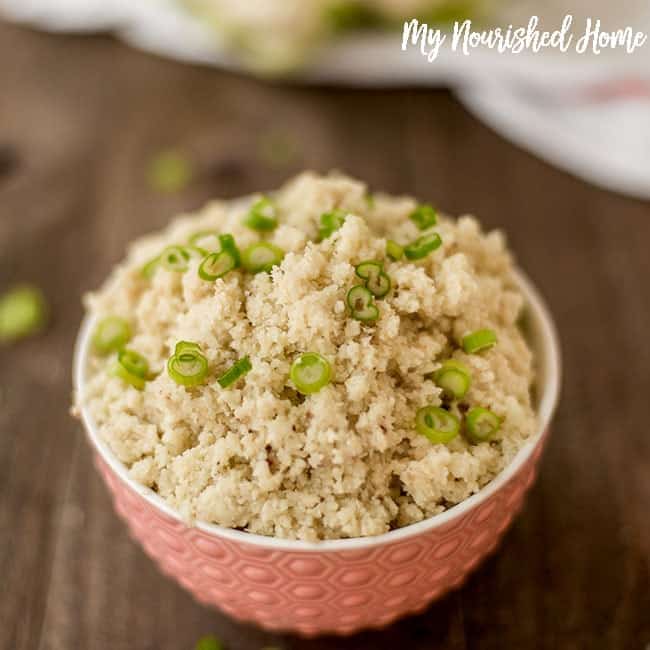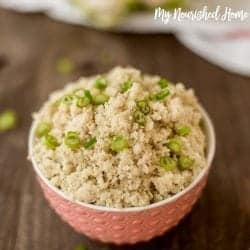 How to Make Cauliflower Rice
Ingredients
2

leaves

large cauliflowers

removed and cut into small pieces

1

large

garlic clove

smashed, not chopped

3

Tbsp

olive oil

salt/pepper

chives/green onions
Instructions
In a food processor and in batches process the pieces of cauliflower until they are fine, and resemble rice. Repeat till done.

Heat oil in a large skillet, add the cauliflower rice and garlic and let it cook until the moisture from the cauliflower has evaporated. Start at high heat, and lower the heat once the cauliflower started to turn color and brown a bit. (Toasting adds lots of flavor - burning does not. So watch it closely!) This can take anywhere between 10 to 15 minutes, depending how much rice you're making. Test the consistency of the rice, if you feel that the cauliflower grains are soft, then you know it's cooked.

Season with plenty of salt and pepper. Remove the garlic prior to serving.