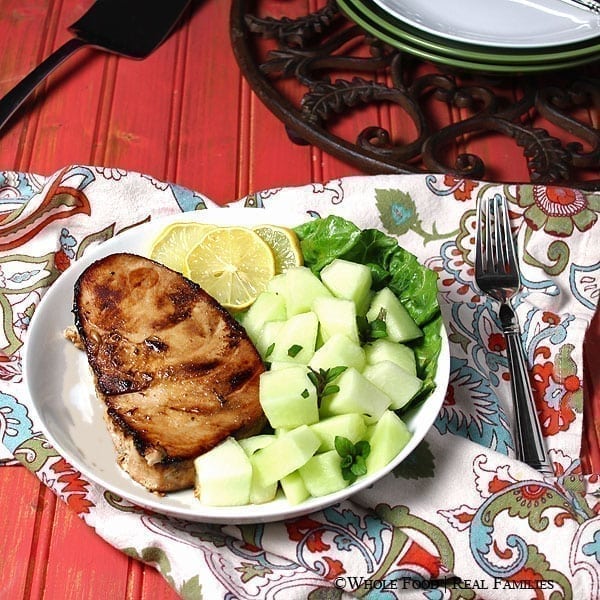 Pan Seared Tuna Steak with Gingered Melon is the fastest, most healthy meal you will get on your table this week. Did I mention it tastes amazing!?
I post a lot of recipes that utilize less expensive cuts of meat. If you are eating a whole food diet, you have already figured out that real food costs more than the stuff that is flush with refined ingredients. Tuna steaks do not fall into the cheaper category – but they are exceptionally good for you and extremely fast to cook. Many years ago, I thought I didn't like tuna steaks. (Of course, many years ago, I thought I didn't like a lot of things I eat now!)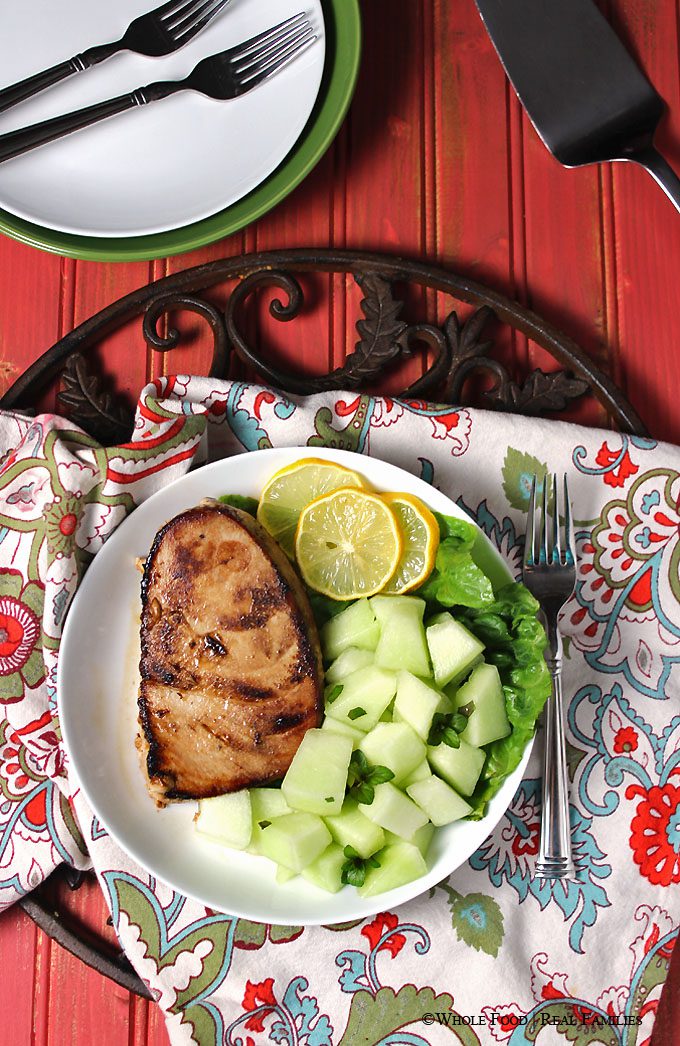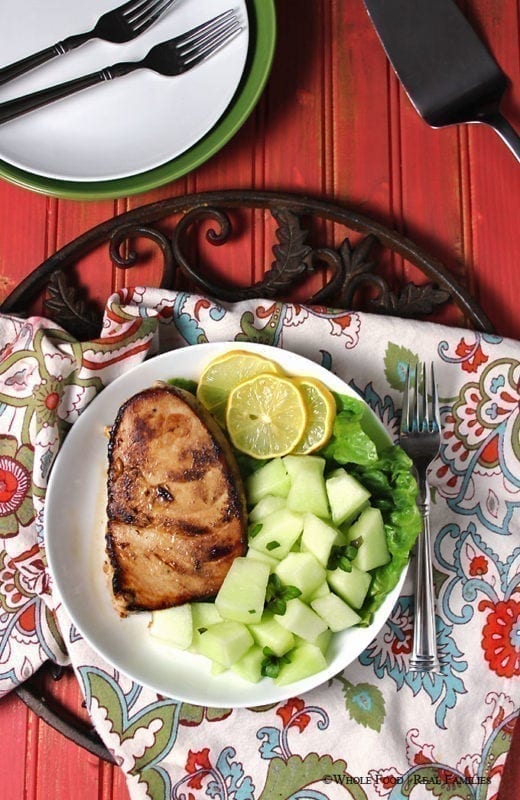 Unfortunately, the steaks I had sampled were either overcooked or under marinated. It doesn't matter how fabulous the tuna steak you choose, if you cook it too long it begins to resemble the stuff out of the can. Tuna is meant to be served rare or medium rare. If that thought doesn't sit well with you, you might stretch it to medium as long as you have marinated the steak well and it has a delicious flavor. (If there are any actual chefs reading this post, I am sorry. Please don't pass out.) Anything past that and just go buy a can of tuna – it will save you a lot. 🙂
Somewhere on the long list of reasons I love this Tuna steak recipe – I don't have to remember to marinade it ahead of time. The tuna actually picks up the flavor very quickly. And it is truly hit-a-home-run-outta-the-park delicious.
So delicious in fact that I have to ration dinner on the nights that this is on the menu. I love having my family mulling around the kitchen when I am cooking. In addition to the good company, it is actually pretty helpful to have people willing to taste test when I am working on a recipe. I naively assume that if I can't get my kids to eat it, your kids aren't going to want to eat it either.  While most moms are likely telling their kids to stop snacking before dinner – I am always saying "hey, come taste this." Until I make Tuna Steaks.
There was significant hand slapping in order to take the picture of this recipe. I cooked 4 tuna steaks this particular night. My family had worked their way through 2 and had started in on the 3rd before we had even make it to the table. No touchy my designated tuna steak until after the pictures are taken. Blogger mom rule.
By the way, I was looking for a quick side while cooking on a night when everything was happening an hour later than it was supposed to. I kept moving a honeydew melon out of the way while cooking. Voila! Guess what ended up on the menu. 🙂 It was surprisingly tasty. I have since been instructed to (a) buy more honeydew and (b) put that stuff on it again. Got it.
Looking to add more fish to your diet? Our favorite is Roasted Salmon with Capers, but we also love Tilapia with Pesto, and Pan Seared Mahi Mahi. Enjoy!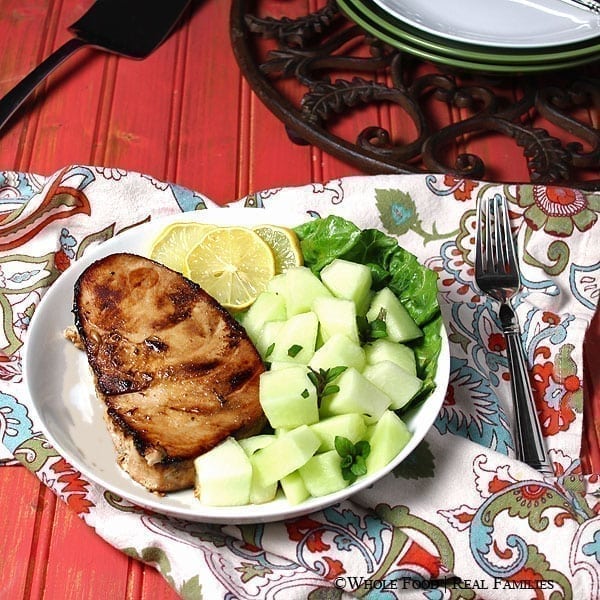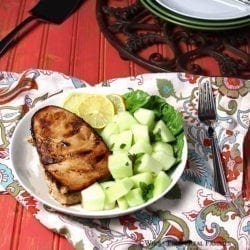 Pan Seared Tuna Steak with Gingered Melon
Ingredients
Pan Seared Tuna Steak
4

Tuna Steaks of about 4 oz each

2

tbsp

olive oil

2

tbsp

organic soy sauce

2

tbsp

coconut sugar

2

cloves

garlic (peeled but still whole)

salt and pepper to taste

3-4

tbsp

coconut oil
Gingered Melon
2

tbsp

water

2

tbsp

honey

2

tbsp

ginger liqueur (or freshly grated ginger!)

1

tbsp

mint, roughly chopped

extra for garnish

1

honeydew melon, cut into bite sized pieces
Instructions
Crush garlic with the back of a knife but do not mince. Combine olive oil, soy sauce, coconut sugar, whole garlic cloves, salt and pepper in a jar with a lid. Shake marinade until it emulsifies. Pour marinade over tuna steaks and let them rest for at least 15 minutes while the grill or skillet heats.

Add 1-2 tablespoons of coconut oil to a large stainless steel or cast iron skillet. Heat the skillet on medium to medium-high heat on top of the stove. (I generally only cook 1-2 steaks at a time. Add more coconut oil as you need it.)

When oil is shimmering but not smoking, lay marinated steaks in the skillet for 1-2 minutes. Be careful to leave the garlic from the marinade to the side so that it does not burn in the pan. Flip and sear the other side for an additional 1-2 minutes. Increase time to 3 minutes per side for medium. Remove from the pan and serve immediately.

For Gingered Melon: Remove the seeds and cut honeydew melon into bite sized pieces. Make a simple syrup of water, honey, fresh mint and ginger liqueur (okay, maybe a little more but who is really measuring here!). You can do this by warming the ingredients gently on the stove until the honey dissolves. Or be completely lazy and put it in a jar with a lid and swish it around until the honey dissolves. Pour the ginger syrup over the melon and toss. Garnish with fresh mint. You will never pass up on the honeydew again!