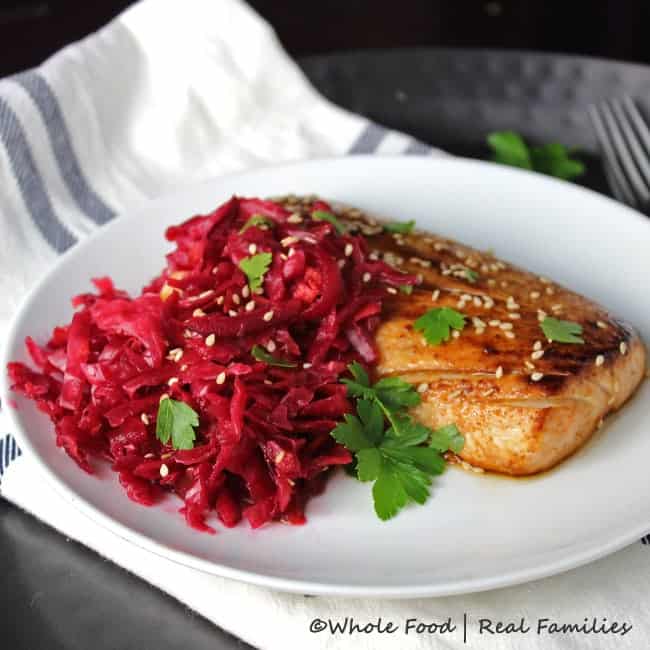 Asian Marinated Mahi Mahi with Beet Red Kraut is an elegant dinner, perfect for guests and goes on the table in under 15 minutes. That makes it perfect for a weeknight supper too!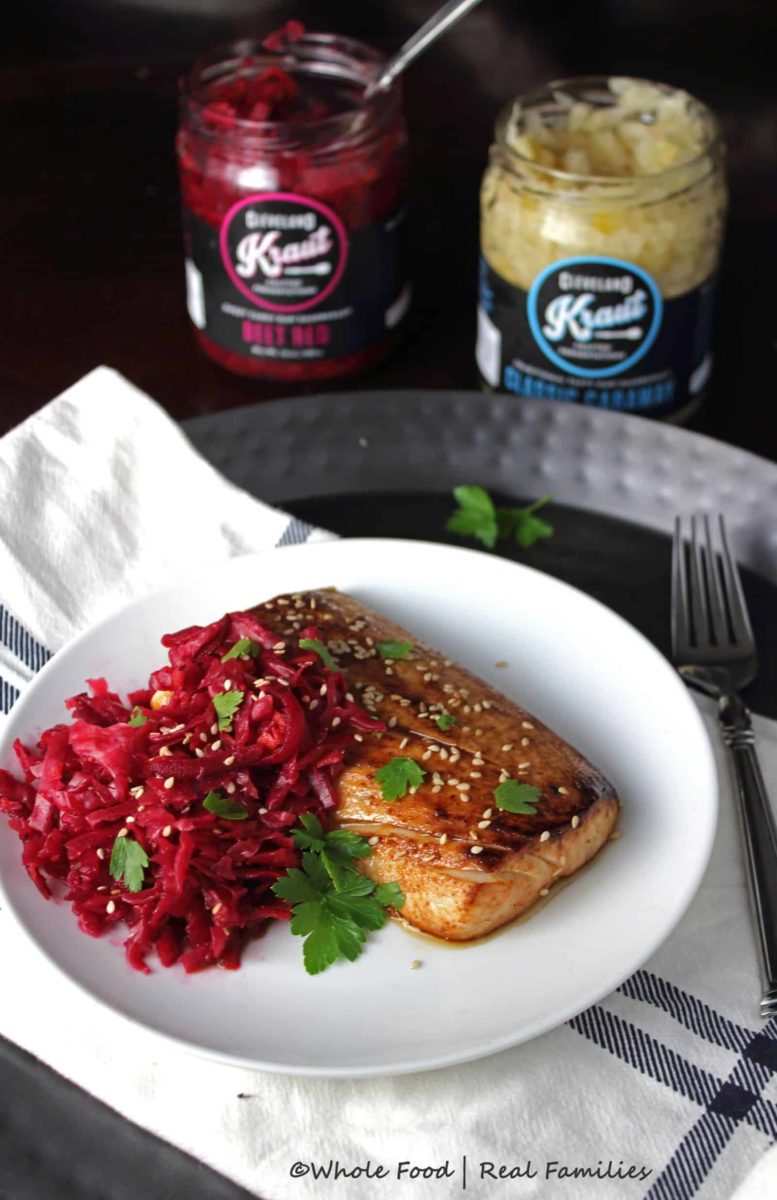 I am so thankful that my family loves fish. First because it is so healthy for them but also because it cooks really fast. That makes getting a healthy meal on the table is possible during the week. This Asian Marinated Mahi Mahi with Beet Red Kraut takes 15 minutes. You can marinade the fish longer if you like – or have something else to do – but it is just as delicious in a rush.
It also makes very few dishes to clean up as an extra weeknight win!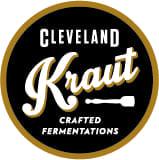 Mahi mahi is a beautiful, meaty white fish. Even if you are not a fish lover, mahi mahi is mild enough that it just might win you over. The mild flavor also makes it very kid-friendly. The fact that takes 3-4 minutes per side in a medium heat pan to sear, makes it mom-friendly. Paired with Cleveland Kraut's Beet Red Kraut, it is one of the fastest recipes in rotation at our house.
Cleveland Kraut has an amazing taste and comes in 6 different flavors. We have an ongoing family disagreement as to which flavor pairs best with this mahi mahi. I am a big fan of the Beet Red. My husband swears by the Roasted Garlic and my teenage daughter likes the Classic Caraway. I always win these arguments for the purposes of the website – because I am the one holding the camera. (Ha! Take that family!)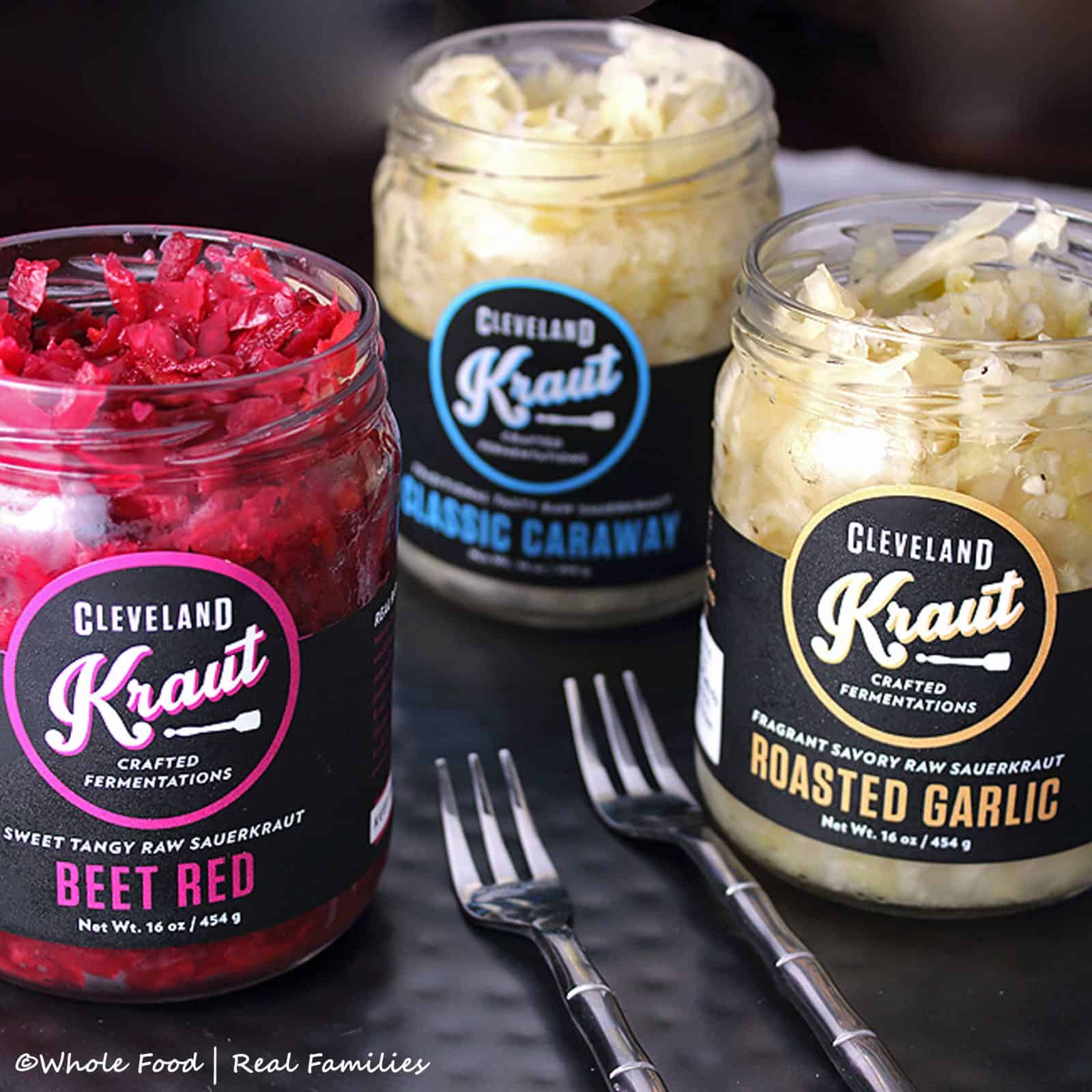 I have not always been a kraut lover. I had one too many cans of kraut presented to me as a child. If you have had sauerkraut out of a can, you know what I am talking about. But Cleveland Kraut is rustic cut to maintain the crunch of all the veggies and has the added health benefit of being naturally fermented.
Science is finally coming around to what many cultures have known for centuries – fermented food is good for us. It replenishes and maintains the good bacteria in out gut, which has a positive impact on our immune system. If you are interested in reading more about fermented food and its impact on your healthy, Mayo Clinic has an interesting article here. Cleveland Kraut ferments their cabbage naturally and keeps the sauerkraut unpasteurized to maintain a healthy flora of good bacteria.
If you would like to find out more about Cleveland Kraut, you can find their website here.
Or follow them on Facebook, Instagram, and Twitter.
If you can't find Cleveland Kraut in your area, never fear! You can order it here!
This post is sponsored by Cleveland Kraut. The many opinions about their delicious kraut are all my own.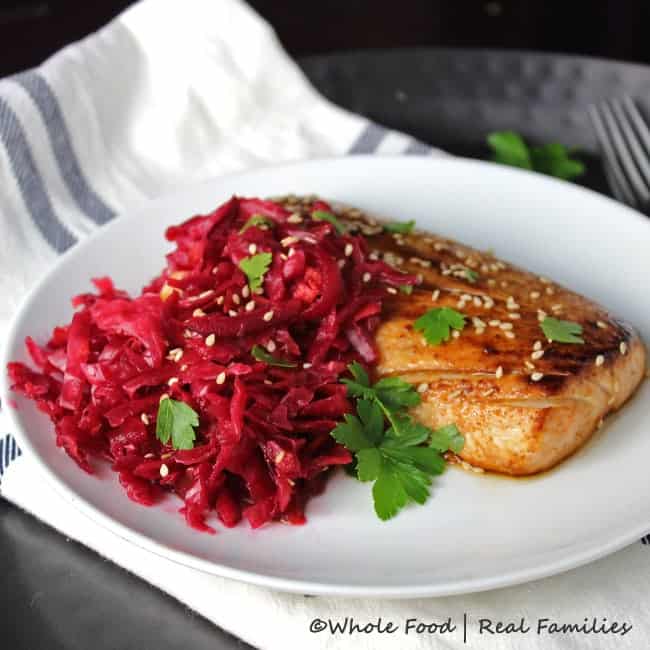 Asian Marinated Mahi Mahi with Beet Red Kraut
Asian Marinated Mahi Mahi with Beet Red Kraut is an elegant dinner, perfect for guests and goes on the table in under 15 minutes. That makes it perfect for a weeknight supper too!
Ingredients
4

fillets Mahi Mahi

2

tbsp

olive oil

add more as needed

2

tbsp

soy sauce

2

tsp

Sriracha sauce

3

tbsp

honey

1

clove

garlic

minced

1

finger fresh ginger

grated

1

jar Cleveland Kraut

Beet Red (Or your favorite variety)

2

tsp

seasame seeds

1

tbsp

parsley

chives or combination of both, chopped
Instructions
Place mahi mahi in a shallow dish and set aside. Heat olive oil in a non stick skillet over medium heat.

In a measuring cup, add soy sauce, Sriracha, honey, garlic, and ginger. Whisk with a fork until combined. Pour marinade over fish fillets, making sure the entire fish has been marinated. Allow the mahi mahi to sit for at least 10 minutes.

When oil is shimmering but not smoking, lay 1 or 2 fillets at a time in the oil and allow the fish sear for 3-4 minutes until the bottoms are deeply golden. Flip fish carefully and sear the other side. Fish is done when you touch the fish and it feels firm but springs back. Fish should also flake when cut.

Top seared mahi mahi with Beet Red Kraut, sesame seeds, and herbs. Enjoy hot!