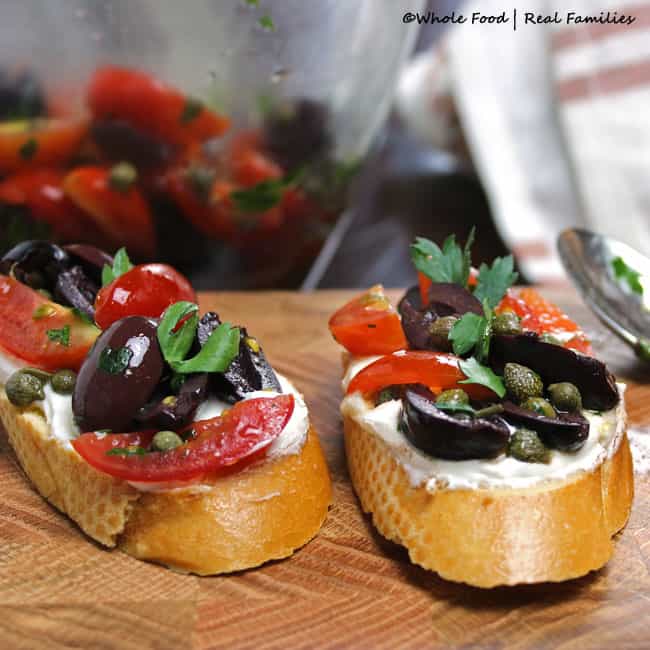 My husband and I are serious olive lovers – especially in the form of this Olive Bruschetta with Whipped Goat Cheese. The recipe is elegant enough for guests but simple enough throw together and eat leaning over your kitchen island instead of sitting down at the kitchen table.
In fact, the idea of throwing together fresh ingredients wtih good cheese and bread for dinner is one my husband and I found together. Olive Bruschetta with Whipped Goat Cheese is not complicated for sure. But we both grew up eating meals that were a protein, two veggies and bread for dinner. Okay, my husband is from Ohio. They also love a good casserole up there. But you get the idea. We dabbled in fresh when we lived in Atlanta. But when we moved to Savannah, Georgia, we found a great love for local farmers markets, artisan bread, good cheese – and olives!
It was around that time that we also made the commitment to clean up our diets. That doesn't mean that we never eat ice cream or white bread. But it does mean that we limit the refined ingredients that we keep at home. I think if we knew what we were commiting to then, we might not have been so determined. Most of the things we snacked on left the building and had to be replaced with less refined, fresher alternatives. Things like homemade hummus and carrots, nuts, granola by the piles – and I am constantly filling the fruit bowl. But also added to the list were olives of all kinds.
If you have been around the blog for a while, you know that we love them. You can find Roasted Olives inspired by our favorite local Italian restaurant. And a simple, chunky Olive Tapanade that goes together in 5 minutes that is perfect when you need an appetizer or snack that is quick.
So here we are right at Thanksgiving with big plans to go out of town. My husband's family, who I love very much, are all converging at my inlaw's for a family reunion for Thanksgiving. Big plans!
Remember when I mentioned in this post for Slow Cooker Chicken Noodle Soup that I had pneumonia and felt cruuuummmmmy for a couple of weeks? Guess who didn't rest like I was supposed to? Guess who got sick again. Apparently not taking it easy for a few weeks after pneumonia is a big no-no and can cause you to relapse.
Who knew? (Apparently, my mother. I have gotten lots of I told you so phone calls. I love you mom! I'm resting. I promise.)
Instead of going to eat piles and piles of turkey, we are sidelined. Sans turkey.
While I was lamenting my forced rest and relaxation in one of the big comfy chairs that lives in my kitchen instead of a breakfast table – We eat our meals in the dining room! We live in the kitchen – my husband pulled out the fresh tomatoes we get every week at the farmers market. We live in Savannah so we get fresh tomatoes well into when other people are shoveling snow.
He pulled out some Katamala Olives. Some capers, a little olive oil and red wine vinegar. A pinch of this, a dash of that. I toasted some bread for crostini and whipped the goat cheese. We ate our dinner standing over the kitchen island. Talking. About our family, our kids, our time off. Me being a hardhead and not resting like I was told.
It made me thankful. I have so many memories with my husband like that. Easy. Sharing. Funny. Telling me I am a hardhead. Helping me in the kitchen – not because he loves it, but because I do.
I'm pretty sure it is not about the turkey. It is about the family. And the memories that comes most freely for me are not big dinners or grand gestures. They are small things like eating good food while leaning against my kitchen island and talking to my husband.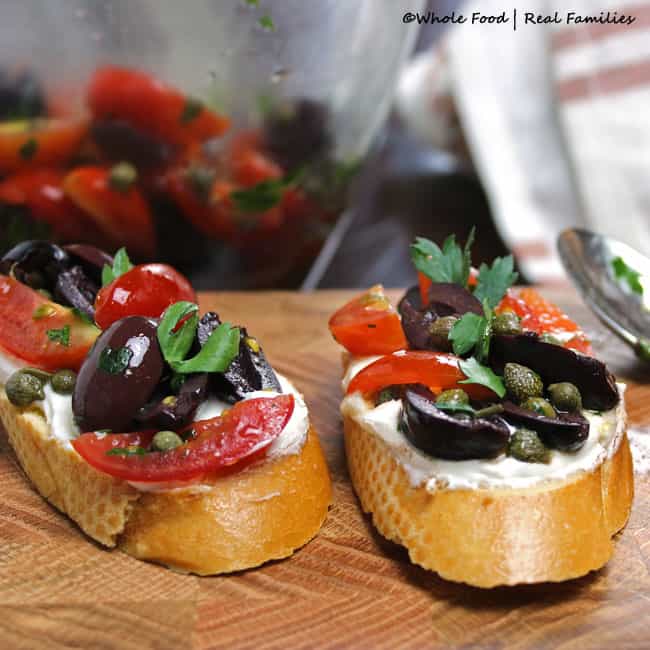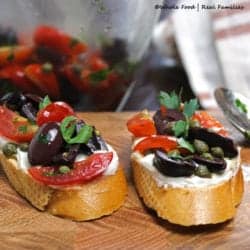 Olive Bruschetta with Whipped Goat Cheese
This Olive Bruschetta with Whipped Goat Cheese recipe is elegant enough for guests but simple enough throw together and eat leaning over your kitchen sink.
Ingredients
1

loaf baguette or your favorite bread

1

cup

grape or cherry tomatoes

quartered

1 9.5

ounce

jar Mezzetta Katamala olives

pitted and halved

2

ounces

capers

3

tbsp

olive oil and extra to brush bread

1

tbsp

red wine vinegar

1/2

tsp

black pepper

pinch

of Kosher salt to taste

8

oz

goat cheese

Fresh parsley for garnish
Instructions
Slice bread on the bias and lay in a dry sheet pan. Brush with olive oil and put until the broiler for 2-3 minutes or until the bread is golden brown.

Mix Katamala olives, tomtoes, capers, olive oil, vinegar, sald and pepper in a medium bowls and let them sit for a few minutes to marinate.

Add goat cheese to a stand mixer (or use a hand mixer) and whip on high for 4-5 minutes, or until the cheese is creamy and light.

Assemble Olive Bruchetta by layering whipped goat cheese on the toasted bread and topping with olive mixtures. Garnish with parsley and serve!