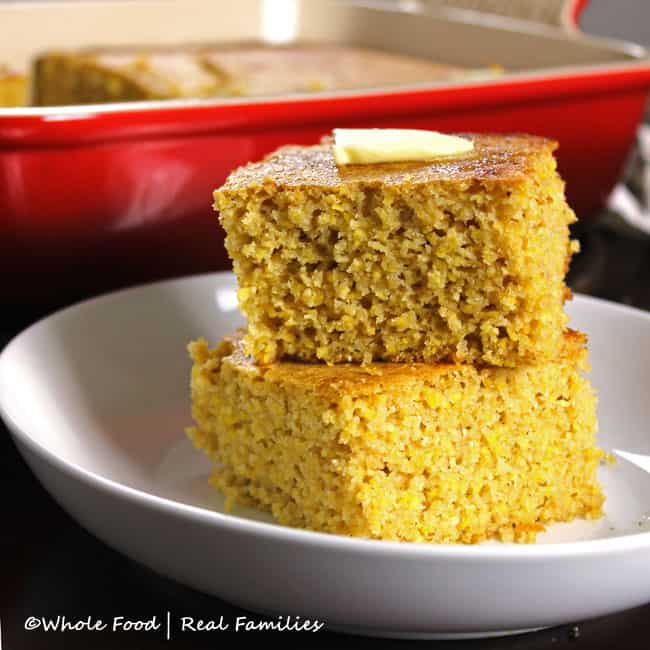 This Sweet Southern Cornbread is the culmination of my southern upbringing and my love of rich maple syrup. Be prepared with some soft butter when it comes out of the oven because you are not going to want to wait until dinner.
I was born, raised and still live in Georgia. I've moved around a bit and was lucky enough (in my former life) to have a career that allowed me to travel all over the United States. But I am a southerner, no question. In the south, if you don't know, cornbread is a thing. Everybody's momma has a recipe that she got from her momma and her momma before her. If you ask any number of people from the south how to make the perfect cornbread, you will always get a different answer. (Mostly I think the perfect cornbread is the one your momma made.)
Sweet Southern Cornbread
My parents are also Georgia natives, my dad grew up in Ellaville and later in Buena Vista – my mom between Columbus and across the border in Phoenix City, Alabama. Even my parents, who grew up relatively close together, grew up on different cornbread. My mother grew up using an egg, half milk and half water as the wet ingredients in her bread. My dad grew up with an egg and buttermilk instead. For years, buttermilk made sense to me but I never understood why half milk and half water. I asked my mom once and she just said "because that is what my momma did."
It wasn't until I was much older that I realized my grandparents couldn't pop by the supermarket on the way home for milk and eggs – that food was harder work. Themselves being children of the depression, one set of my grandparents used buttermilk because they lived on a farm and made it. The other learned to cut the milk with water to make what was in their fridge stretch farther.
In my humble opinion, cornbread is the embodiment of what makes the south such a rich place. Cornbread, was making something special with what you had available to you. When a hot pan of cornbread got tipped over, sizzling from the cast iron skillet, straight from the oven to a plate and then cut into triangles to be passed around between family members, you were thankful. And full. If you were really lucky, you had fresh butter on the table, or cane syrup.
My dad has a strong feeling that sweet cornbread is just silliness. The words Sweet Southern Cornbread would never occur in the same sentence – at least not on purpose. Cornbread that is sweetened or that uses part flour instead of all cornmeal is cake, not cornbread. (Did I mention that the right cornbread was always the one your momma made.) I grew up indoctrinated to this line of thinking, never having a reason to question his logic. One of my fondest memories of time with my dad was him coming home late from work one night, wearing a uniform that smelled like the airplane engines he worked on back then. Since it was late, my mom had made him just a simple pan of cornbread for dinner. I remember my dad getting a big bowl for him and a little bowl for me and breaking up the hot cornbread into the bowls, pouring cold milk over them and us eating them together at the table with a spoon. I don't know if anyone else in the world has ever had this treat. But for me, it still tastes like time with my dad.
I found Alana Chernila's cookbook "The Homemade Pantry: 101 Foods You Can Stop Buying and Start Making
" target="_blank" rel="noopener">The Homemade Pantry" a couple of years ago. Her cookbook suggests we can do better for ourselves and our families by finding joy in simple things – both in our family lives and in our kitchens. Well when my 4 year old and I ran across her recipe for cornbread, we did exactly that. We went to the kitchen and made some cornbread together. We followed her recipe exactly, only switching out white flour for white whole wheat flour. I love that instead of sweetening with highly processed sugar, she chose rich maple syrup.
Once this was just cool enough to eat, my three year old climbed onto the kitchen island all by herself. I cut her a big piece of this cornbread, smeared enough fresh, grass-fed butter across the top that it dripped down the sides when it melted and handed it to her. She ate the whole thing – all that was left were crumbs and the butter that dripped down her hands.
This cornbread changed the history I will pass down to my girls. I still love my mother's cornbread and respect my dad's opinion that real cornbread is neither sweetened nor includes flour. But I still fantasize about this Sweet Southern Cornbread every time I go into my kitchen. If you have never had cornbread sweetened with maple syrup, this recipe is going to change your life, or at least the way you view your family history.
Note: If you don't have buttermilk handy, it is easy to make a buttermilk substitute in a pinch. Pour a tablespoon of white vinegar in a measuring cup. Fill the same measuring cup with milk up to the one cup line. Let it stand for 5 minutes then use the amount you need.
Also Note: I have to double this when I make it. My kids take it for lunch the next day and eat it for snacks until it is gone.
Looking for another great southern recipe? Check out these Old Fashioned Tea Cakes!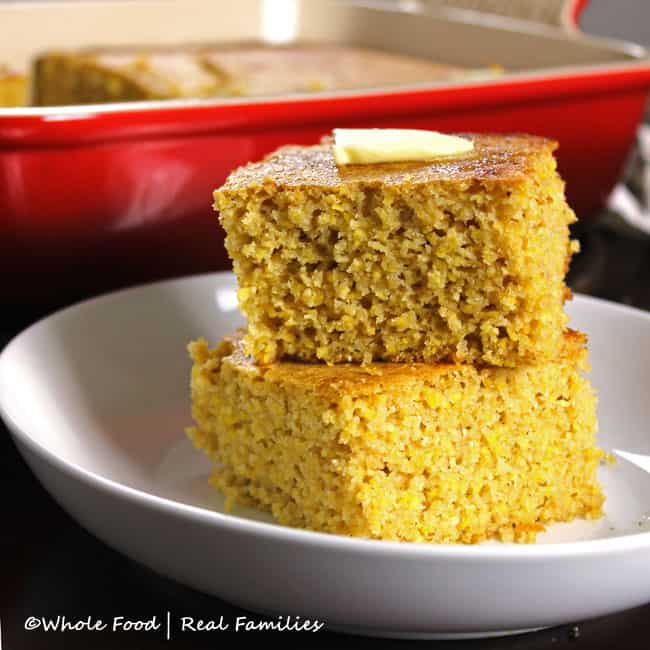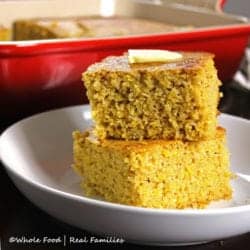 Sweet Southern Cornbread
Ingredients
4

tbsp

unsalted butter

melted extra for greasing the pan

1

cup

white whole wheat flour

1

cup

yellow cornmeal

1

tbsp

baking powder

1

tsp

salt

2

eggs

large

1

cup

buttermilk or make your own buttermilk substitute

cup

¼maple syrup
Instructions
Preheat the oven to 425 degrees. Lightly grease an 8-inch square pan or 9-inch round baking pan with butter.

In a medium mixing bowl, combine the flour, cornmeal, baking powder, and salt and whisk together until thoroughly combined.

Break the eggs into a large measuring cup and beat them with a whisk. Add the buttermilk, maple syrup, and melted butter to the eggs and whisk until uniform.

Add the wet mixture to the dry ingredients and stir to combine with just a few strokes. Pour the batter into the prepared pan and bake for 20-25 minutes, or until the cornbread is lightly browned, pulling away from the sides of the pan, and a cake tester or butter knife comes out clean when inserted into the center.