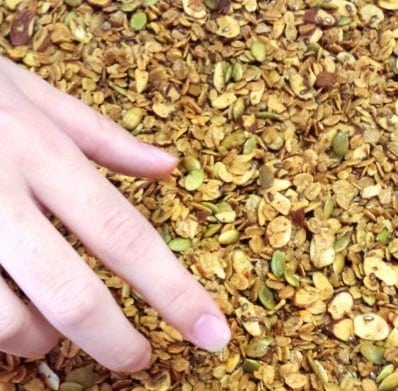 Granola should be a household staple, like flour or butter.  If you ever make your own, you will never buy it again. And you will insist on always having a stash. At our house, it stays on the counter so everyone can swipe a handful as a snack when they pass by. But it also doubles as cereal (since non-processed cereal is virtually impossible to find) and as a topping for yogurt. When we're feeling really lazy, a handful along with a piece of fruit out of the fruit bowl makes breakfast.
It seems a little crazy for me to write down the "Granola Recipe" considering it is a little different ever time I make it. I often find myself staring at half used bags of nuts and seeds in my pantry. A recipe calls for a cup of sliced almonds or chopped walnuts, a handful of toasted pumpkin seeds, flax seeds or sesame seeds – then the rest of the bag just hangs out there for a while. Or forever. Granola is the cure!
This particular combination is my current favorite. I actually buy these ingredients on purpose rather than just using what needs to be productively cleared out of the pantry. I recently came across Alana Chernila's recipe for Granola in her cookbook "The Homemade Pantry" and thought her combination of vanilla and almond extract, maple syrup, honey, and just a little salt make the best tasting granola ever. If you don't have her cookbook, you should add it to your collection. (Am I the only person with a collection of cookbooks?) I often choose different ingredients but just love her inspiration in the kitchen. She makes me think I can cook anything.
I should add that this smells fantastic when cooking. Somehow my kids know when I am pulling it out of the oven and all show up in the kitchen looking to mooch the warm granola out of the pan the minute it turns crunchy.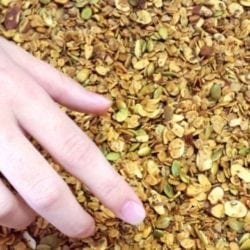 Granola, our favorite pantry experiment
Course:
Breakfast, Snacks & Treats
Ingredients
10

cups

old-fashioned rolled oats

3/4

cup

pumpkin seeds

1/2

cup

flax seeds

2

cups

sliced almonds

1/2

tsp

kosher salt

1 1/2

tsp

cinnamon

3/4

cup

coconut or other healthy cooking oil

1

cup

maple syrup

1 1/2

tbsp

vanilla extract

1 1/2

tsp

almond extract

1/2

cup

honey
Instructions
Preheat oven to 250 degrees. Position racks in the upper two thirds of the oven.

Combine all the dry ingredients in a large bowl. Stir until the contents are uniformly mixed. Whisk all wet ingredients in a separate bowl to make a syrup. Pour the syrup over the dry ingredients and stir until there are no pockets of dry ingredients or syrup in your bowl.

Line two jelly-roll pans with parchment paper. Spread the granola into an even layer on each pan. Put them in the over and bake for 30 minutes. Stir the granola around and bake for another 30 minutes, making sure to switch your pan positions in the oven. After 60 minutes of bake time, repeat the process again stirring the granola around and baking another 30 minutes. After 90 minutes of baking turn the oven off but leave the granola in the oven until it cools. The granola will not be crunchy at the end of the cooking time but will become crunchy as it cools off.

If you like dried fruit like raisins, cranberries, or apricots in your granola, you can add it after baking and cooling.

Keep your granola in an airtight container within reach. It will stay fresh for a few weeks but will never last that long!