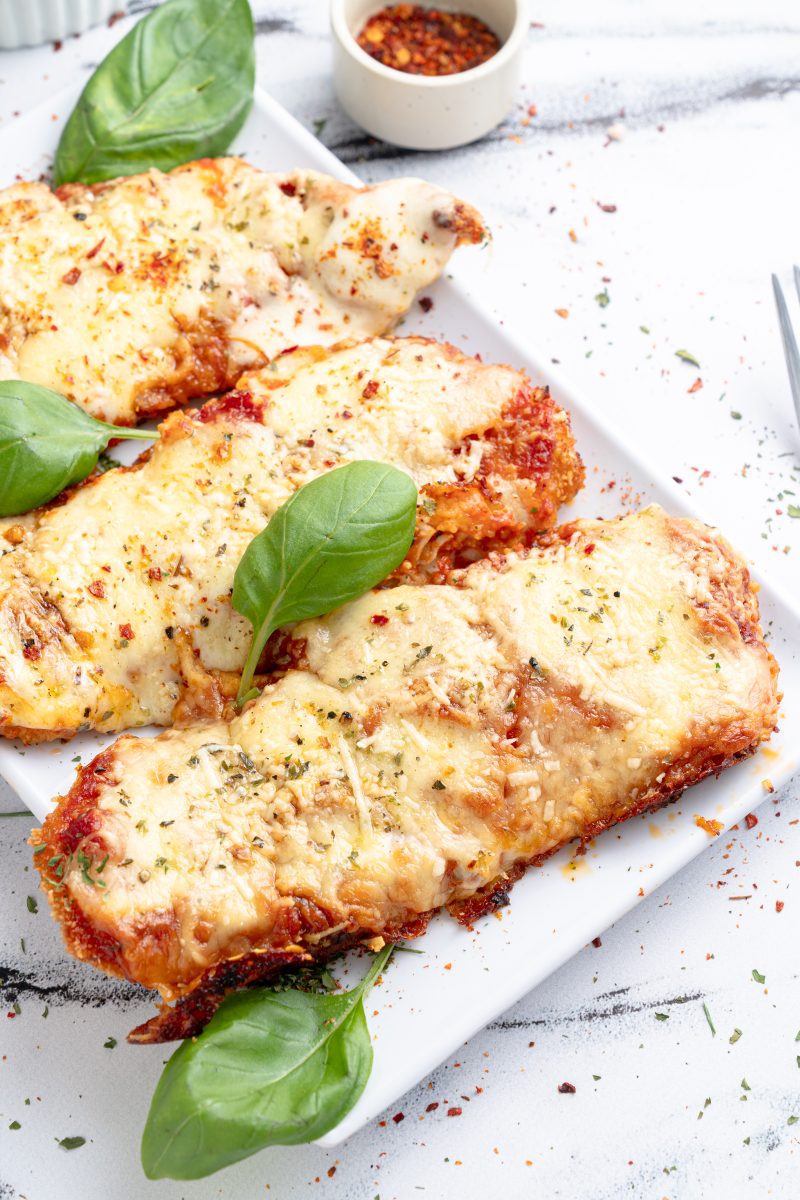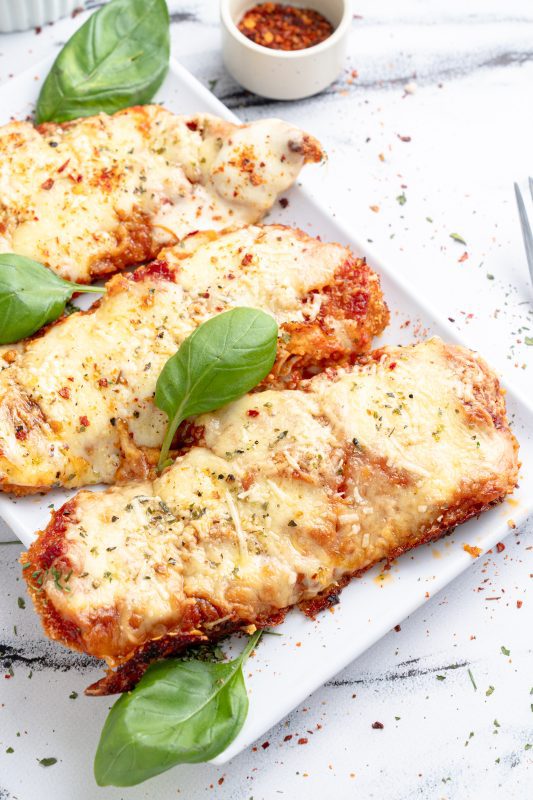 Gluten Free Chicken Parmesan is juicy and packed with flavor. This savory chicken parmesan recipe is made with gluten free breadcrumbs. Make this delicious meal in under an hour!
Gluten Free Chicken Parmesan
Chicken parmesan is one of my all-time favorite recipes. Did you know that you can make chicken parmesan gluten free just by swapping regular breadcrumbs for gluten free breadcrumbs?
My gluten free chicken parmesan has all the delicious flavors of your typical chicken parm and is the perfect alternative for folks who love Italian food, minus the gluten. Every bite of this dish is an explosion of juicy chicken, Italian herbs, savory sauce, and cheesy goodness.
If you're a fan of this chicken parmesan recipe, I've got a few more recipes that you will absolutely love. Try my savory Parmesan Pizza, or this variation of Healthy Chicken Parmesan next.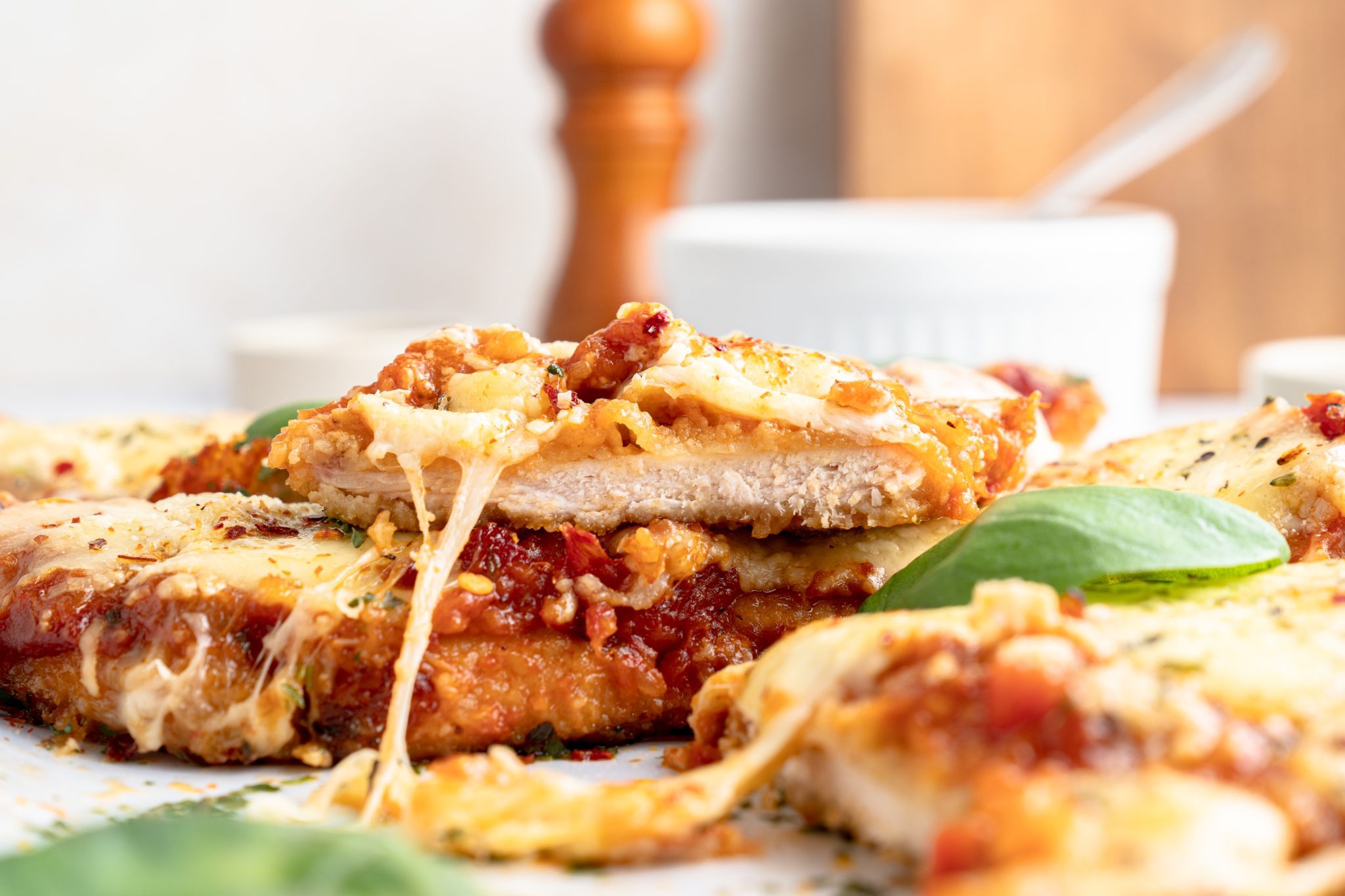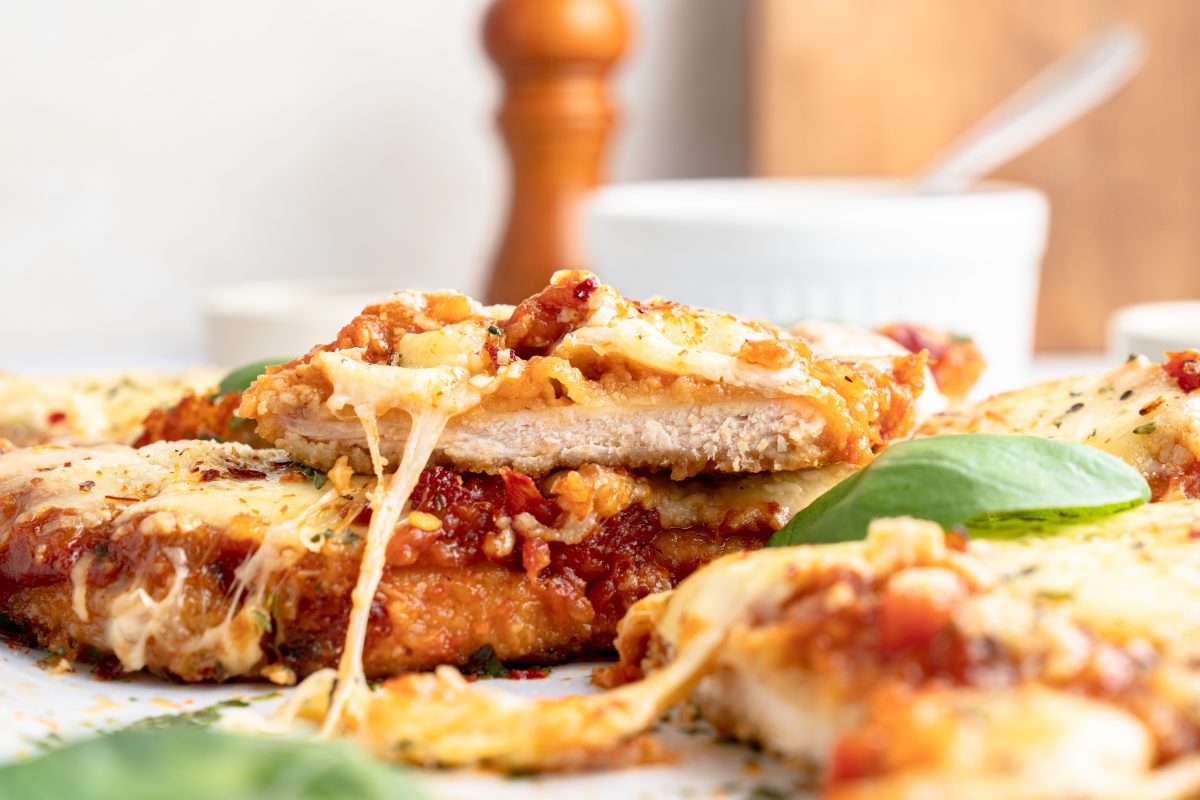 Why you will love this Gluten Free Chicken Parmesan recipe
Versatile sauce. This chicken parmesan recipe has a delicious sauce made out of tomato puree! Got leftovers? Store the sauce for a few days and use it for another recipe. One of my favorite ways to use it is as a sauce for Margherita pizza.
Comforting! Chicken parm is a comfort food that is perfect for cheese lovers. The mozzarella becomes creamy and delicious when melted, and the parmesan cheese adds the right amount of tanginess to balance out the savory flavor of the tomato sauce.
Easy to store and reheat. Gluten-free chicken parmesan keeps well and can easily be reheated. Enjoy leftovers for a few days or store them in the freezer for later!
How to make juicy Gluten Free Chicken Parmesan
Slice chicken into filets. For this recipe, you don't want the chicken to be too thin. Aim for ½-⅓ inch thickness.
Bread your chicken. You'll dip each piece of chicken into an egg mixture before coating it in gluten free breadcrumbs. Prepare your egg mixture and breadcrumbs in separate bowls to set up an easy breading station.
Prepare your sauce. First cook your aromatics, then combine with the tomato puree, herbs, and sugar. Don't have tomato puree on hand? No worries, you can use tomato sauce as an alternative, though the sauce will likely not turn out smooth. You can blend your tomato sauce mixture to give it a consistency that's more similar to tomato puree.
Simmer to perfection. When it comes to the sauce, simmering longer will help you get the best flavor as well as the perfect consistency. Once you've combined all the ingredients for the sauce, I recommend adding a cup of water and simmering until thickened. This should take approximately 20 minutes.
Bake. Start with 8 minutes on one side, then flip and top with tomato sauce and cheese. Bake for another 8 minutes, or until the cheese topping is bubbly and browned.
Serve. Garnish your gluten-free chicken parmesan with basil and enjoy!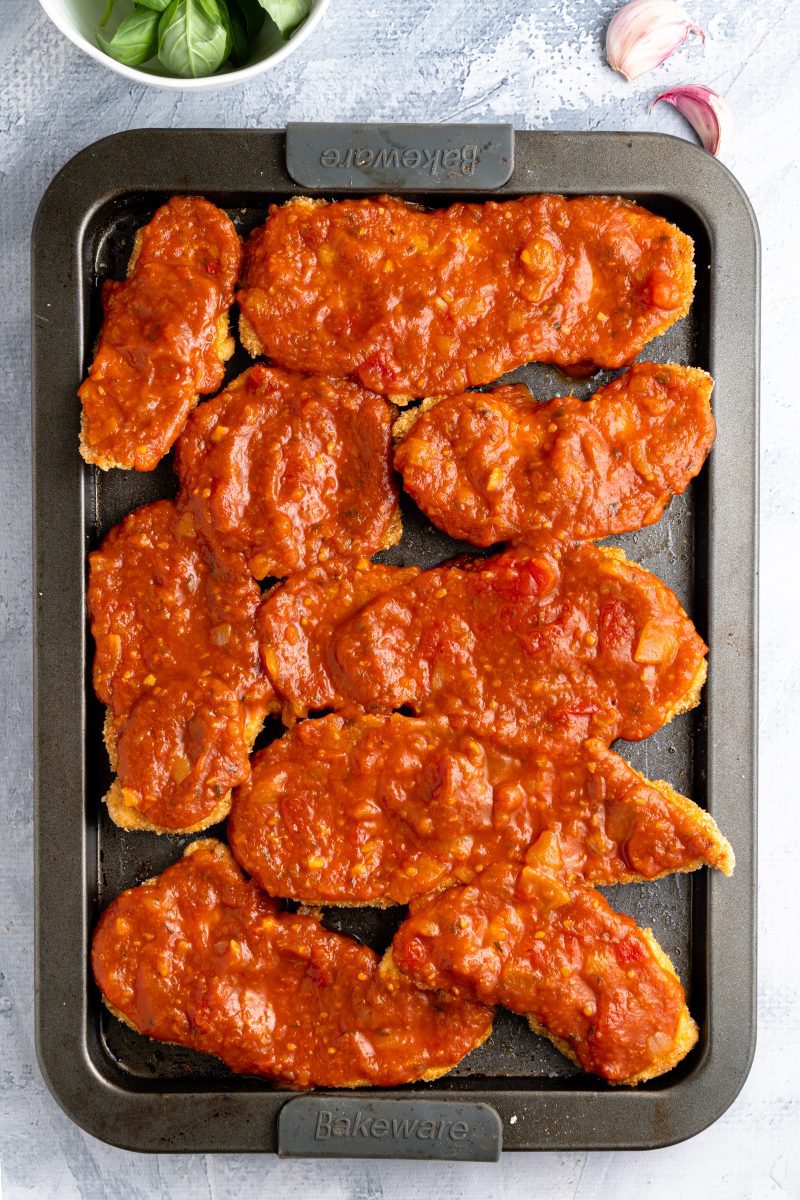 Frequently asked Questions about Gluten-Free Chicken Parmesan
How do I store and reheat leftover chicken parmesan?
Leftover gluten free chicken parmesan can be stored in an airtight container in the refrigerator for 3-5 days. Want to store it longer than that? You can freeze it for up to 3 months.
I recommend wrapping each piece of chicken individually in plastic wrap before sticking it in a container so that you can reheat individual pieces.
Reheating chicken parmesan is easy! Pop it in the oven at 375 degrees for 5-7 minutes.
What goes well with chicken parmesan?
Chicken parm is delicious with pasta dishes and salads! Pair it with this Spaghetti Parmesan, or with Caesar Salad featuring my homemade dressing. This gluten free chicken parmesan will also taste delicious with a side of your favorite GF garlic bread!
How do I prevent chicken parmesan from getting soggy?
The best chicken parm will be golden brown and slightly crispy! There's a few different tips that you can follow to prevent your chicken parmesan from getting soggy.
Using a thicker sauce is ideal because it will coat your chicken without adding too much moisture to the dish. To get a thicker sauce, be sure to follow my notes on simmering in the section above!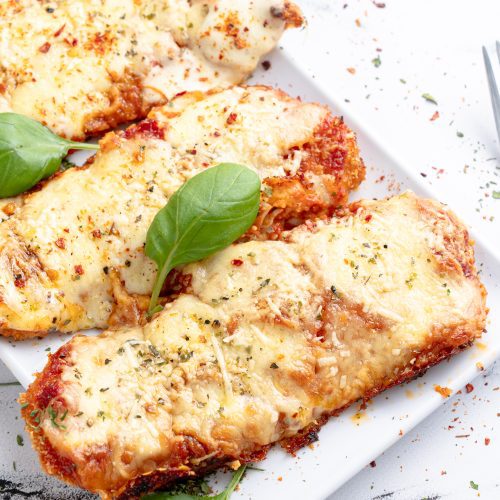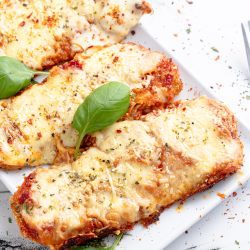 Gluten Free Chicken Parmesan
Gluten Free Chicken Parmesan is juicy and packed with flavor. This savory chicken parmesan recipe is made with gluten free breadcrumbs. Make this delicious meal in under an hour!
Course:
Main Course, Main Dishes
Cuisine:
American, Italian
Keyword:
chicken, Chicken Parmesan, gluten free
Ingredients
2

tbsp

olive oil

divided

28

oz

boneless skinless chicken breast

2

medium

egg

1 1/2

tsp

salt

divided

1

cup

gluten free breadcrumbs

1

medium

yellow onion

diced

2

clove

garlic cloves

minced

15

oz

tomato puree

use tomato sauce as a replacement

2

tsp

Italian herbs

1

tbsp

white sugar

1 1/2

cup

mozzarella cheese

diced or shredded

1

cup

parmesan cheese

shredded

1

basil

fresh
Instructions
Prepare a large baking tray with a drizzle of olive oil. Set aside.

Chop chicken breast into fillets, making sure they aren't very thin. About ½-⅓  inch will be ok. Then, beat the eggs in a medium size bowl, add ½ tsp salt, and place breadcrumbs into another one. Now, coat each chicken fillet with the egg mixture and then toss it with breadcrumbs. Place breaded chicken in the prepared baking tray. Set it aside and preheat the oven to 400F.

Prepare the sauce by placing chopped onion in a medium-sized saucepan with a tbsp of olive oil. Sauté until translucent, then add minced garlic and stir until fragrant. Then add tomato puree, dried Italian herbs, salt, and sugar. Cover with a lid and simmer for 5'. Pro Tip: Longer simmering will result in better flavor as it reduces the acidity provided by tomato puree. So if you have the time, add 1 cup of filtered water and simmer until it has thickened again (about 20').

Once the oven reaches the desired temperature, bake the breaded chicken on one side for 8' or until golden brown on the base. Then, flip them over and coat them with the prepared tomato sauce, diced mozzarella, and shredded parmesan. Return it to the oven for another 8' or until the cheese has gratin.

Serve warm with fresh basil leaves as garnish.
Recipe Notes
Tomato puree: it can be replaced with tomato sauce, resulting in a less smooth sauce but a similar taste. You can blend it to achieve the same consistency as with the tomato puree.

To make this recipe gluten-free, use gluten-free bread crumbs.

Store sauce leftovers for future recipes. This is an excellent sauce for a Margherita pizza too!

To reheat this chicken parm, use the oven at 375F for 5-7 minutes.
Nutrition Facts
Gluten Free Chicken Parmesan
Amount Per Serving
Calories 694
Calories from Fat 279
% Daily Value*
Fat 31g48%
Cholesterol 259mg86%
Sodium 1829mg76%
Potassium 1347mg38%
Carbohydrates 35g12%
Protein 68g136%
Vitamin A 1244IU25%
Vitamin C 16mg19%
Calcium 576mg58%
Iron 4mg22%
* Percent Daily Values are based on a 2000 calorie diet.