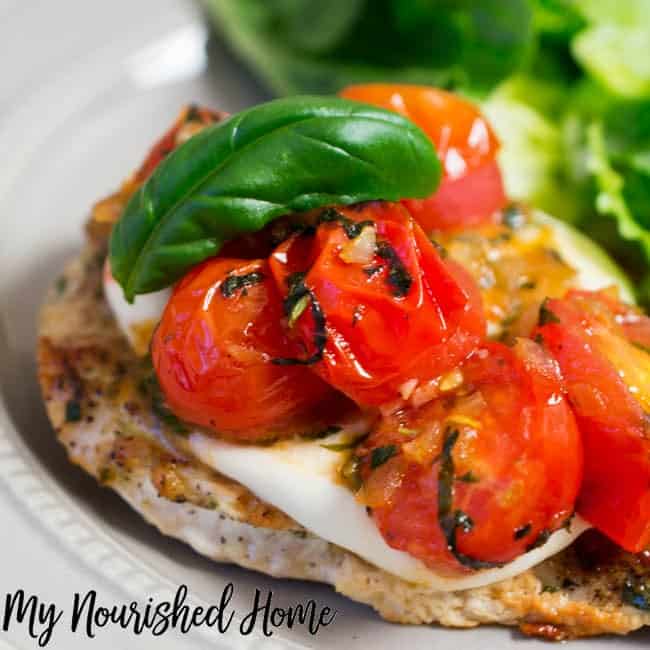 Healthy Chicken Parmesan uses a few tweaks on an old classic to make a delicious but significantly healthier version of this date night favorite!
My husband and I are big fans of date night. They're a chance to reconnect, unwind, and talk about something other than the kids – eat this Healthy Chicken Parmesan. Although truth be told, we talk about the kids 90% of the time anyway. Still, despite our somewhat domesticated conversations, date nights are special and we look forward to them every week.
Healthy Chicken Parmesan
Unfortunately, with three kids, those date night outings don't always go as planned. Kids get sick, school events conflict with plans, and sometimes someone just needs to be snuggled. On those nights when we can't get out, we stay in and cook a special meal after the kids have gone to bed. This lightened-up Healthy Chicken Parmesan recipe is one of our Italian dinner favorites! (We also love this Spicy Honey Glazed Chicken!)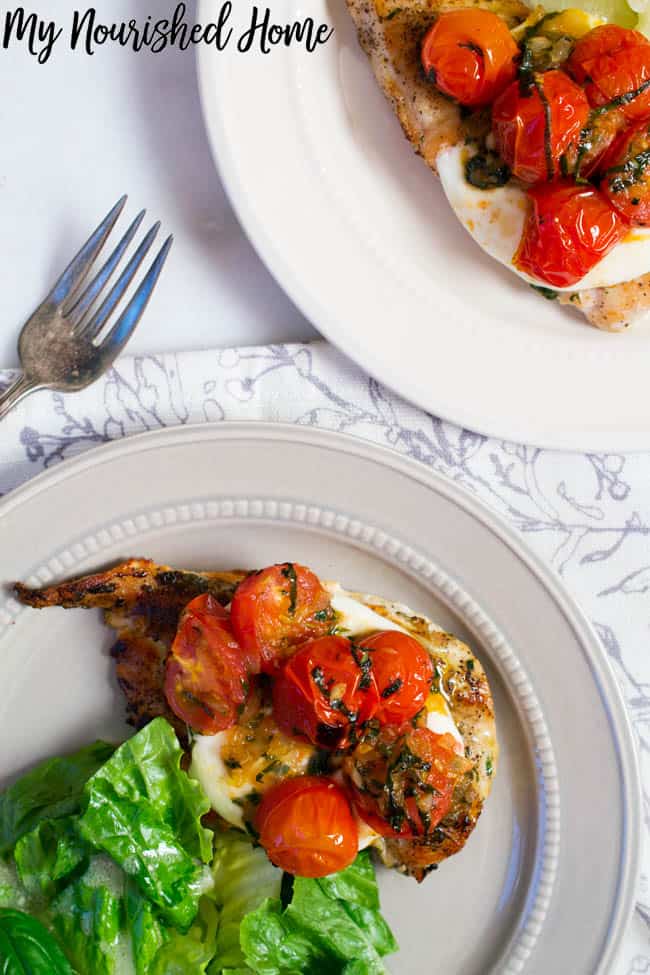 When my husband and I were dating, we would go to this little Italian restaurant that had authentic Italian dishes made by an older couple who were from Italy. It couldn't have gotten any more Italian than if we were eating dinner in a gondola. The food? Oh my gosh, it was to die for. We would order a big plate of pasta and a plate of chicken parmigiana – splitting them so we both had a taste of each. So, Italian food brings back happy memories for us and is one of our go-to date night cuisines.
These days, heavy Chicken Parmigiana is just too…heavy. Since we live in the deep South, heavy, rich dishes aren't always a heat-friendly option. So, I set to work to create a lighter, healthier version of our favorite Italian dish. Meet my Lightened Chicken Parmesan recipe!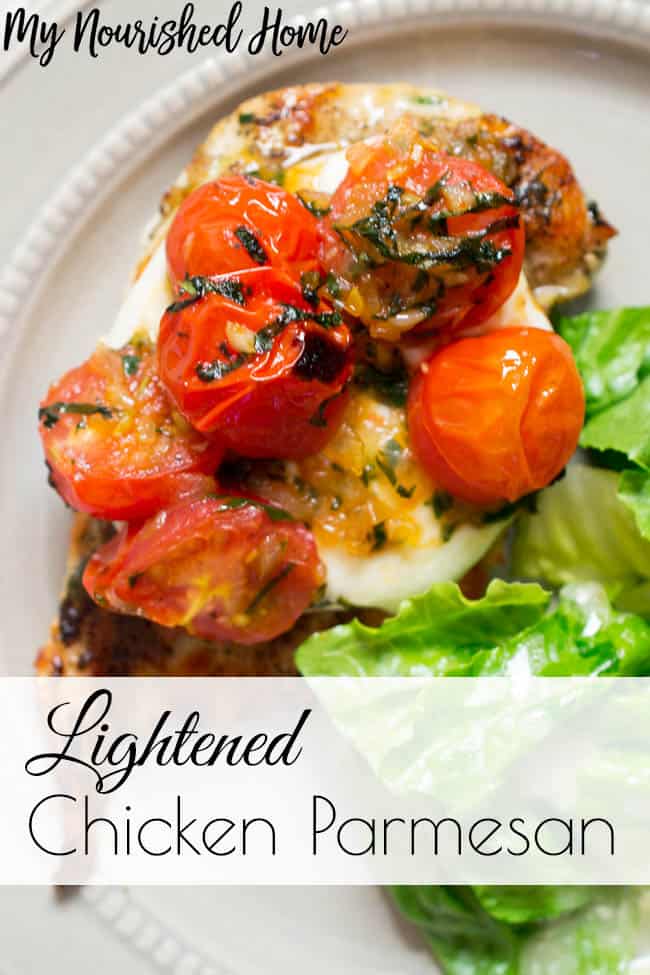 Way Easier than Old Fashioned Chicken Parmesan!
Instead of heavy marinara sauce coating the chicken, I use cherry tomatoes to provide the Italian flair. Combined with garlic, some fresh basil, oregano, and parsley, this Lightened Chicken Parmesan provides the Italian spices without the Italian-food heaviness. The tablespoon of sugar helps reduce the acidity in the tomatoes, so if that's a concern (like it is here!), don't worry. Instead of deep-frying these chicken breasts, they get to spend a bit of time under the broiler after cooking completely in a skillet with a little olive oil. It's a much healthier way to indulge in a delicious date night favorite!
Serve the Lightened Chicken Parmesan with a side of salad, some freshly made pasta, a basket of rolls, and a glass of wine. It's a great way to salvage a date night gone awry and rekindle some of those old Italian-food memories! Enjoy!
Save
Save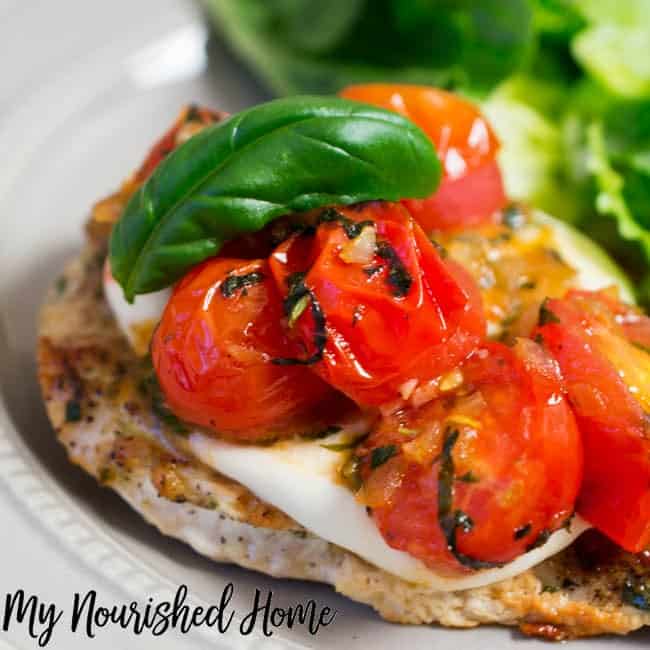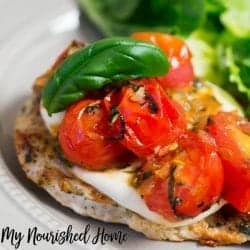 Lightened Chicken Parmesan
Ingredients
4

chicken breast cutlets

2

tablespoons

olive oil

2

pints

cherry tomatoes, halved

2

cloves

minced garlic

1/2

cup

onion

finely diced

1/2

cup

chiffonade fresh basil

1

tablespoon

minced fresh parsley

1/2

tsp

minced fresh oregano

1

tablespoon

cane sugar

Salt and pepper

to taste

8

oz

fresh mozzarella

thinly sliced
Instructions
Salt and Pepper chicken on both sides.

In a skillet over Medium High heat add 1tbsp oil and cook the chicken cutlets 5 min per side or until internal temperature reaches 165F. Remove from pan and set aside.

In the same pan reduce heat to Medium and add another 1 tbsp olive oil if needed. Add onions and cook stirring frequently about three minutes.

Add garlic and herbs and stir continuously for about one minute.

Add tomatoes and sugar, and salt and pepper the mixture to taste.

Allow tomato mixture to cook down about 2 minutes until tomatoes just start to soften.

Turn the oven on broil and place the top rack close to the top.

On a sheet tray assemble chicken with a piece of mozzarella and a spoonful of tomato mixture on top.

Broil 3-5 minutes, or until cheese is melted.