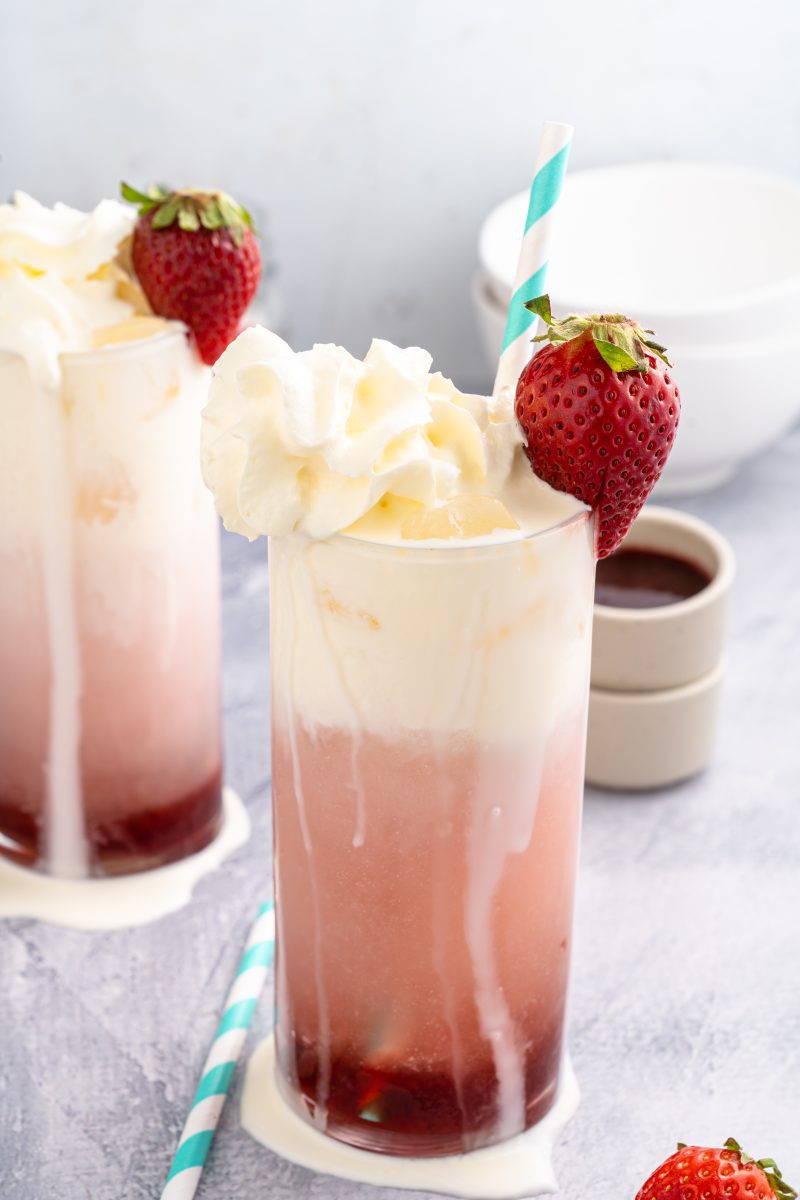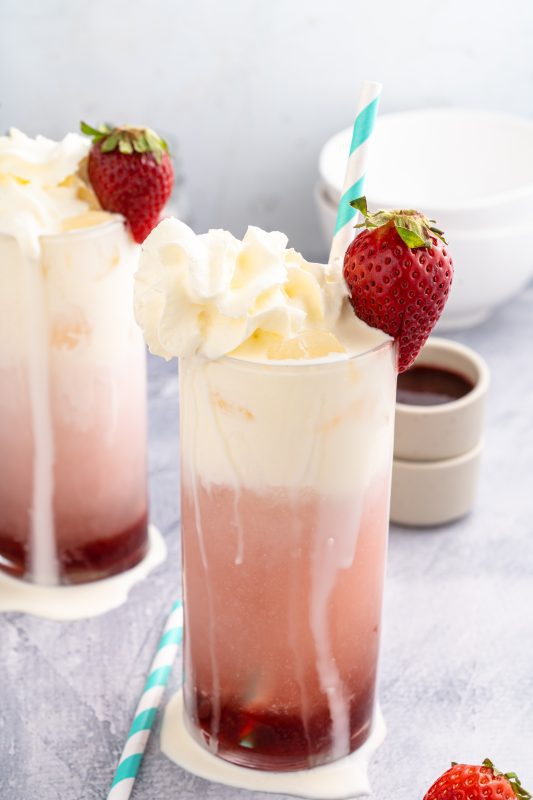 Cream, syrup, and sparkling water make Italian soda a refreshing alternative to traditional sodas! With an endless variety of flavored syrup combinations, you can customize this beverage any way you want!
Italian Soda
Italian cream soda has the look of a fancy (maybe even boozy!) specialty drink. Layers of sparkling water on top of bright syrups and topped with cream is really something to behold! It's a sweet treat that's great for kids AND adults.
Slow, summer afternoons are perfect for mixing up a soda for myself and enjoying in the sunshine, but I really like to setup an Italian soda bar at parties and dinners. I use 4-5 different flavors of syrup and some fun garnishes like cherries, orange and lemon slices, mint leaves, and chocolate sprinkles.
Nobody walks away disappointed since creating an Italian soda is pretty much foolproof!
A mango pineapple smoothie or this berry lemonade cooler are two more refreshing recipes that are easy to whip up on a hot day!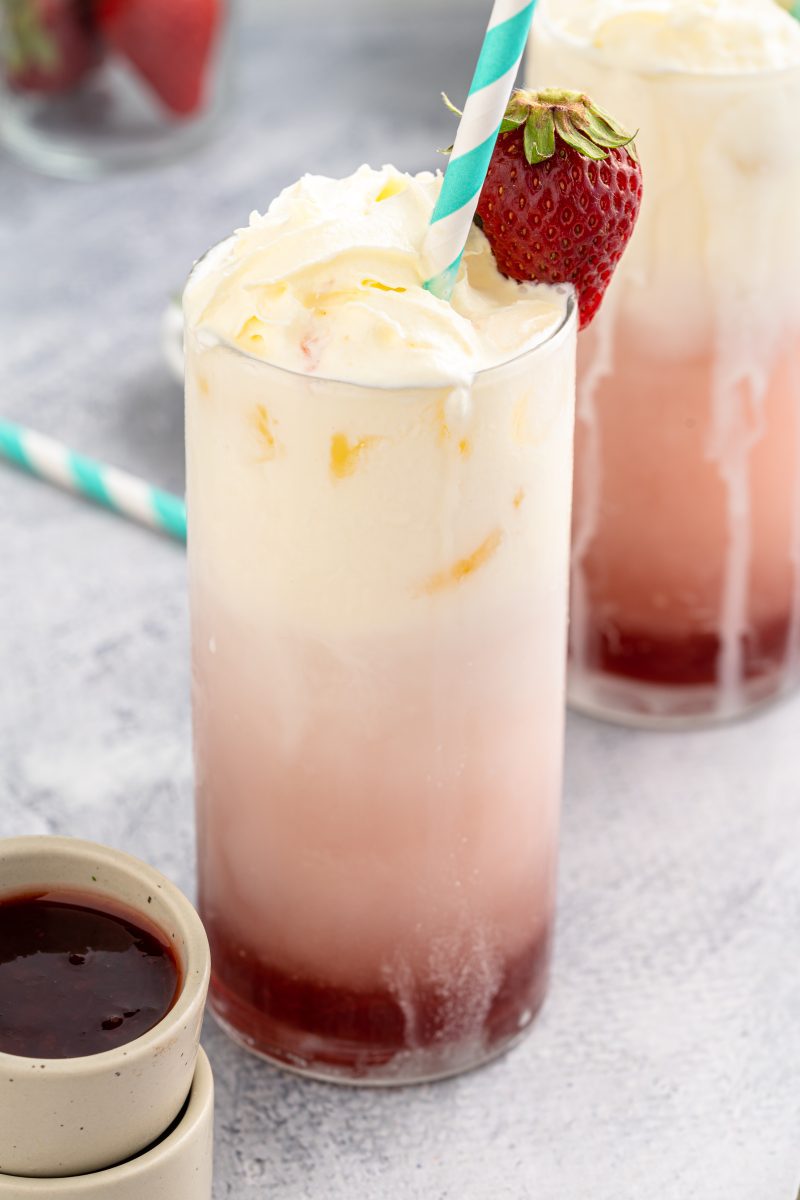 Why you will love Italian soda
Healthier than traditional soda: Italian cream soda contains fewer additives and naturally flavored syrups without artificial colors. Most Italian soda syrup contains sugar, but there are sugar free varieties. AND none of the ingredients contain any caffeine!
Make it dairy-free: If you prefer to stay away from dairy, you can use any non-dairy cream of your choice, use a smaller portion, or eliminate the cream altogether.
Personalize your flavors: There are 100+ different syrup flavors to choose from, from fruit flavors, to spices, and even good old chocolate syrup! Mix a few of your favorites together and find the perfect flavor combination for you!
Add a little alcohol to turn this drink into a party: Flavored vodka and other liquors compliment many Italian soda flavors!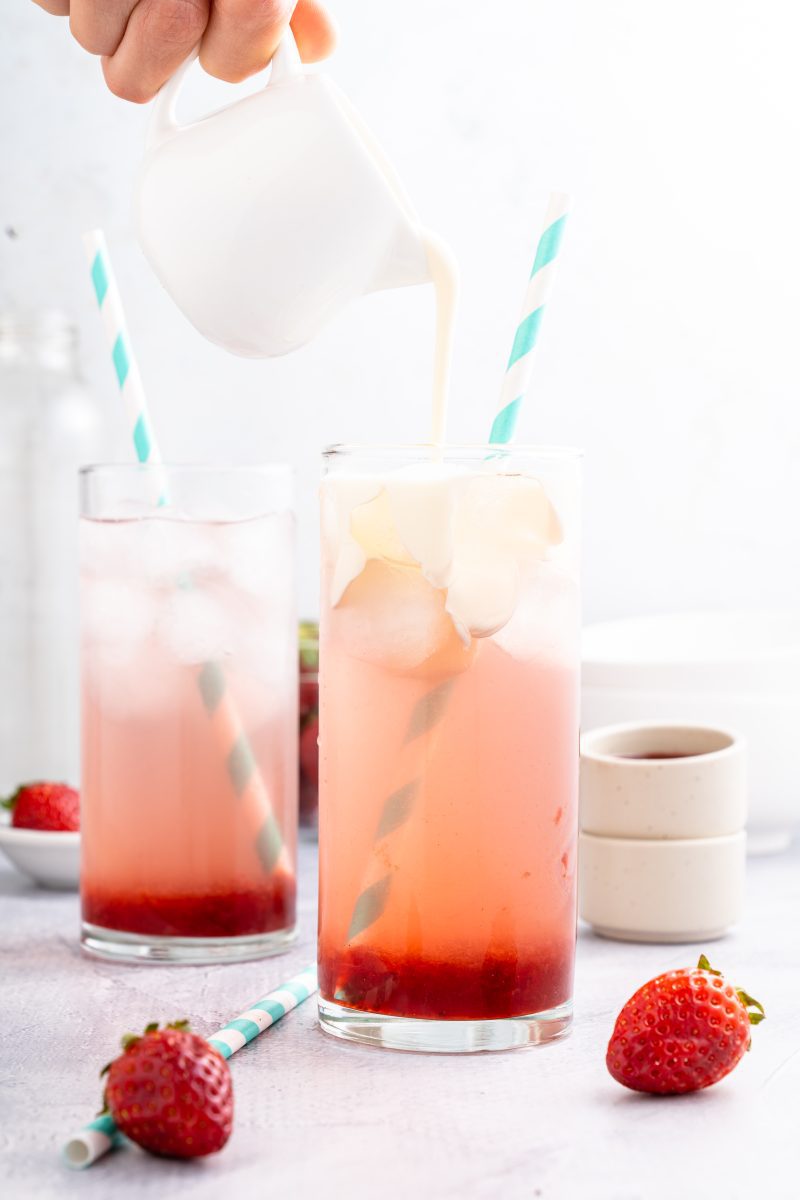 How to make perfect Italian soda
Add ice and syrup. In a straight highball or tall water glass, add several ice cubes. Measure 2 tablespoons of flavored syrup and pour it over the ice.
Add water and cream. Fill the rest of your glass with sparkling water, leaving a ½ inch at the top. Pour cream in next, carefully filling to the top of your glass without overflowing.
Garnish and enjoy! Add whipped cream and your choice of garnish. Use a straw to ensure all of the soda's elements are enjoyed in each sip!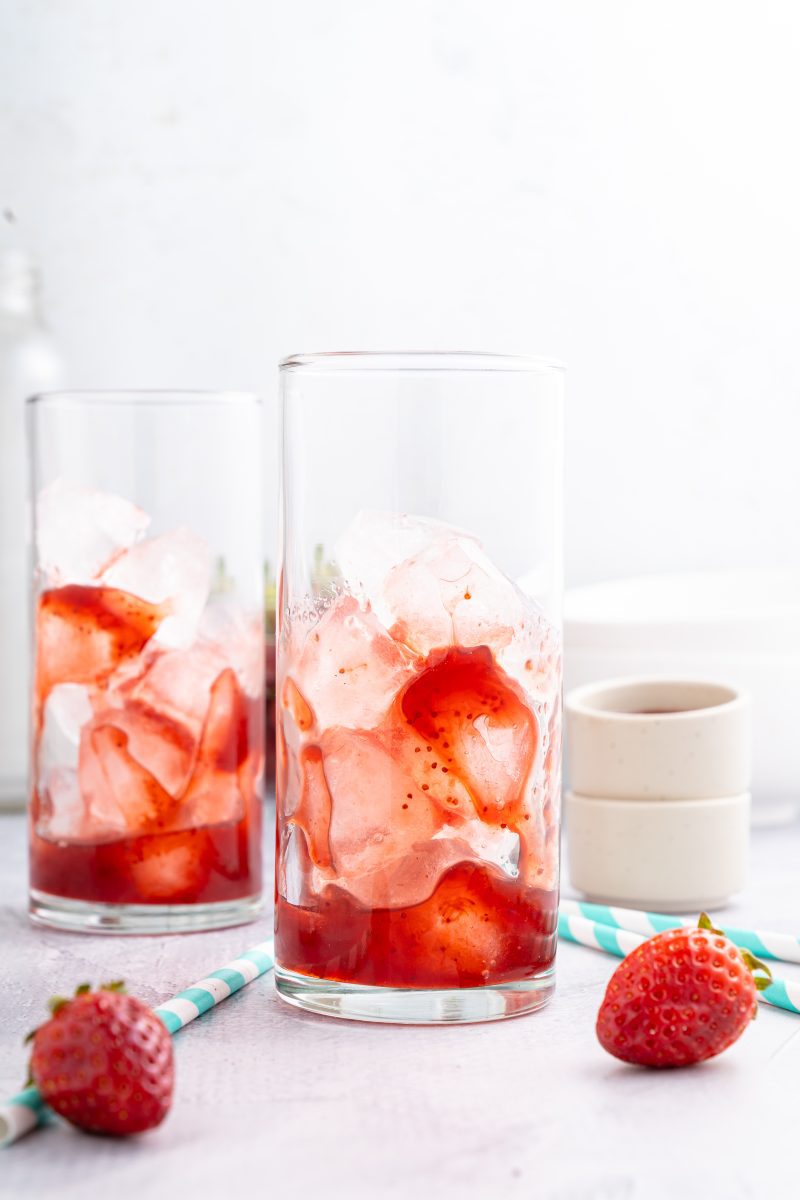 A Variety of Flavors
Classic Italian soda flavors include fruit syrups like strawberry and raspberry, while vanilla and chocolate syrups are more traditional flavor choices. But did you know there are other flavors like pumpkin spice syrup and chai tea spice syrup?? Yum!
One of the best things about Italian cream soda is the abundance of variety you can create with so many different flavors of syrup! Whether you're looking for a single flavor or something more complex, there is no limit to what you can create.
Here are some of our favorite combinations:
Orange and vanilla
Pineapple and coconut
Strawberry and vanilla
Chocolate and hazelnut
Chai tea and vanilla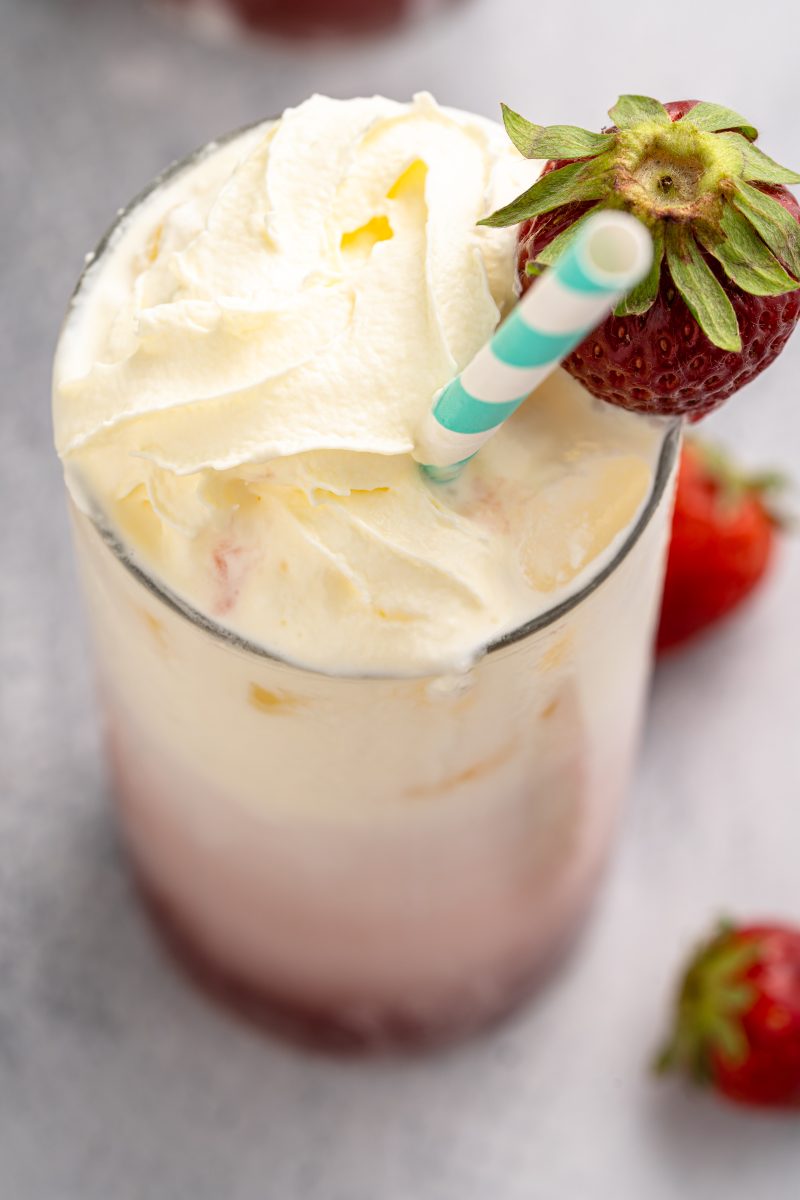 Frequently asked Questions about Italian Cream Soda
What Makes Italian Soda Different?
Italian cream soda does not use any artificially flavored ingredients. This is unlike other sodas, which often use flavor and color agents containing more chemicals than naturally derived ingredients. Italian soda is more healthy as a result!
Why Does Italian Soda Curdle Milk?
The naturally-flavored Italian soda syrup may be acidic. Citrus flavors, in particular, have citric acid that reacts to dairy and will curdle your cream.
The flavor of your Italian cream soda will not be affected, but if you want to avoid this curdling, you can use a non-dairy cream. Coconut cream, cashew milk, or almond milk are popular alternatives. Or, choose syrup flavors that are not acidic, such as strawberry, coconut, or vanilla.
Adding the cream after the ice, sparkling water, and syrup will also slow down the curdling process. As the cream sinks to the bottom, you can slowly stir to incorporate it with the other ingredients.
What Water Is Best For Italian Soda?
Sparkling water is best for this recipe, but club soda works well too. Both sparkling water and club soda are carbonated and flavorless, which work as a great base for the flavored syrup and cream to stand out.
Tonic water and seltzer water offer subtle flavor variations that may be too slight to notice by some, and they can also be used in place of sparkling water.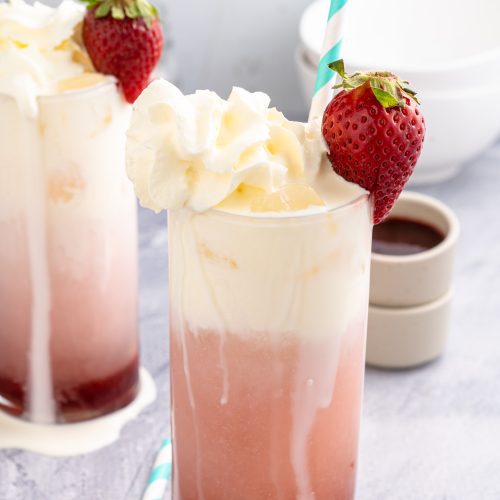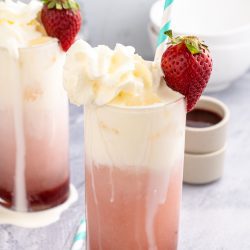 Italian Soda
Cream, syrup, and sparkling water make Italian soda a refreshing alternative to traditional sodas!  With an endless variety of flavored syrup combinations, you can customize this beverage any way you want!
Course:
Appetizer, Drinks, Smoothies & Drinks
Keyword:
Italian, Italian Soda, Soda, strawberry
Ingredients
1

cup

sparkling water

2

tbsp

strawberry syrup

1

cup

Ice cubes
Instructions
Fill ¾ of the glass with ice cubes. Then add 2 tbsp of strawberry syrup add sparkling water to the top.

Optional: if using cream, leave space in the glass when adding sparkling water, so it doesn't overflow when you add the cream.

Add whipped cream on top, a straw to the glass, and enjoy!
Recipe Notes
Tips
Customize your Italian Soda with your preferred syrup.

For a lactose-free drink, use coconut cream.

You can adjust sweetness to taste as it varies from one syrup to another.
Nutrition Facts
Italian Soda
Amount Per Serving
Calories 195
Calories from Fat 81
% Daily Value*
Fat 9g14%
Cholesterol 33mg11%
Sodium 75mg3%
Potassium 45mg1%
Carbohydrates 28g9%
Protein 1g2%
Vitamin A 304IU6%
Vitamin C 0.2mg0%
Calcium 37mg4%
Iron 0.1mg1%
* Percent Daily Values are based on a 2000 calorie diet.