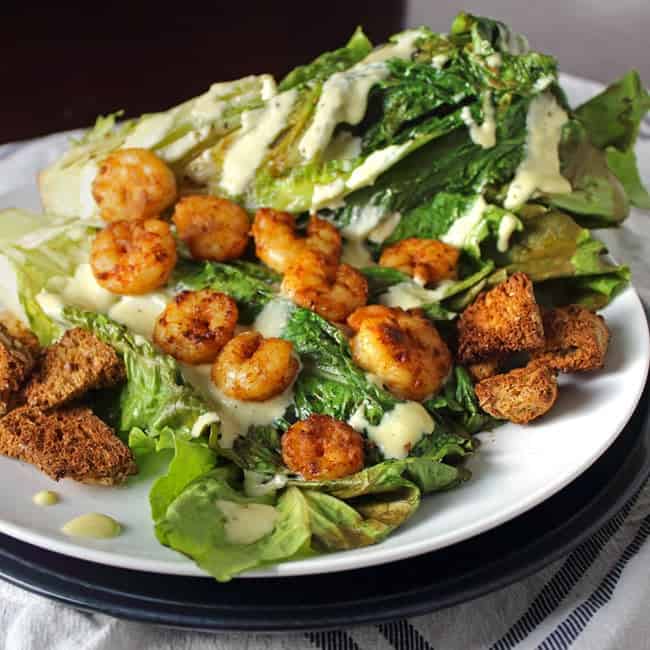 This shop has been compensated by Collective Bias, Inc. and its advertiser. All opinions are mine alone. #MySignatureDish #CollectiveBias
Pan Seared Chipotle Shrimp with Grilled Romaine and Homemade Caesar Dressing is the dinner salad you save for grown up occasions. A little spicy, with perfectly grilled romaine and freshly made Caesar. It is the salad I make for my husband and I when we have the opportunity to sit down together and open a bottle of wine.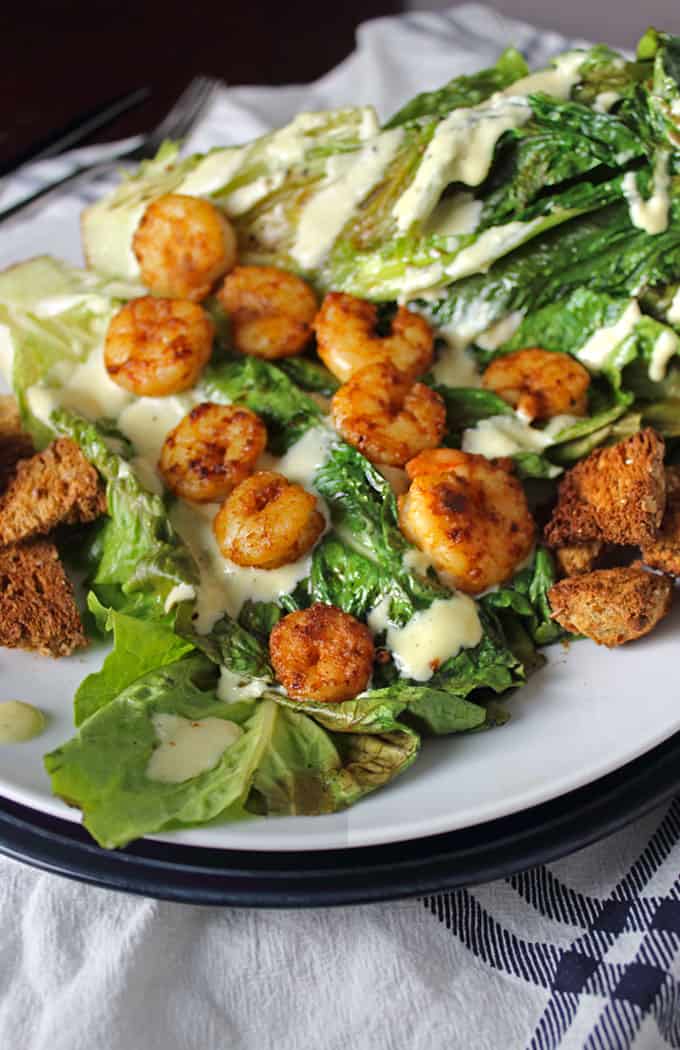 I love my kids more than anything in the world and the time we are all together as a family is priceless. But there are times it is nice to send them all on their way and spend time with just my husband. We both enjoy cooking and having the opportunity to slow down and spend time creating a meal together that we can share with no interruptions is a treasure. It also gives us a chance to eat things we love without having to compromise on things like spices and the inclusion of anchovies! We really love this Pan Seared Chipotle Shrimp with Grilled Romaine and Homemade Caesar Dressing.
When we were invited to try a piece of Calphalon Signature™ Nonstick cookware , I was a little skeptical but was in the market for a new grill pan and thought I would give it a try. I was encouraged to find out that Calphalon Signature™ cookware has a lifetime warranty and the nonstick is so durable you can use metal utensils without concern.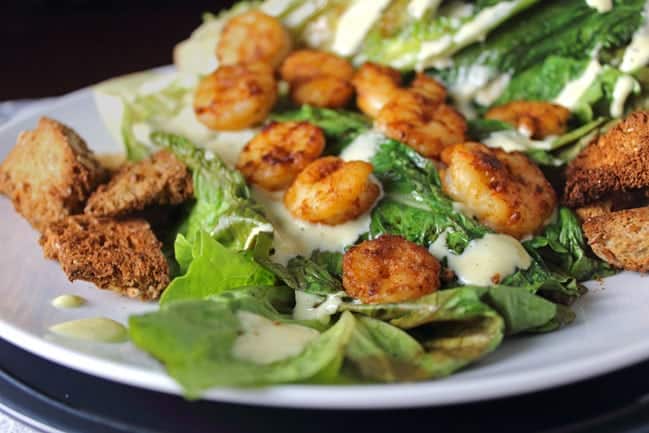 My local Bed Bath and Beyond carries both the stainless steel and the nonstick versions, so we headed there to have a look. After doing some research in the store, we were excited to find out that the Calphalon Signature™ Nonstick cookware was designed to be able to sear and brown food, much like stainless steel. I love grilling romaine for salads but if the grill is too hot, it can burn tender greens quickly. So the took the grill pan home with us with a plan to try it out on our favorite salad.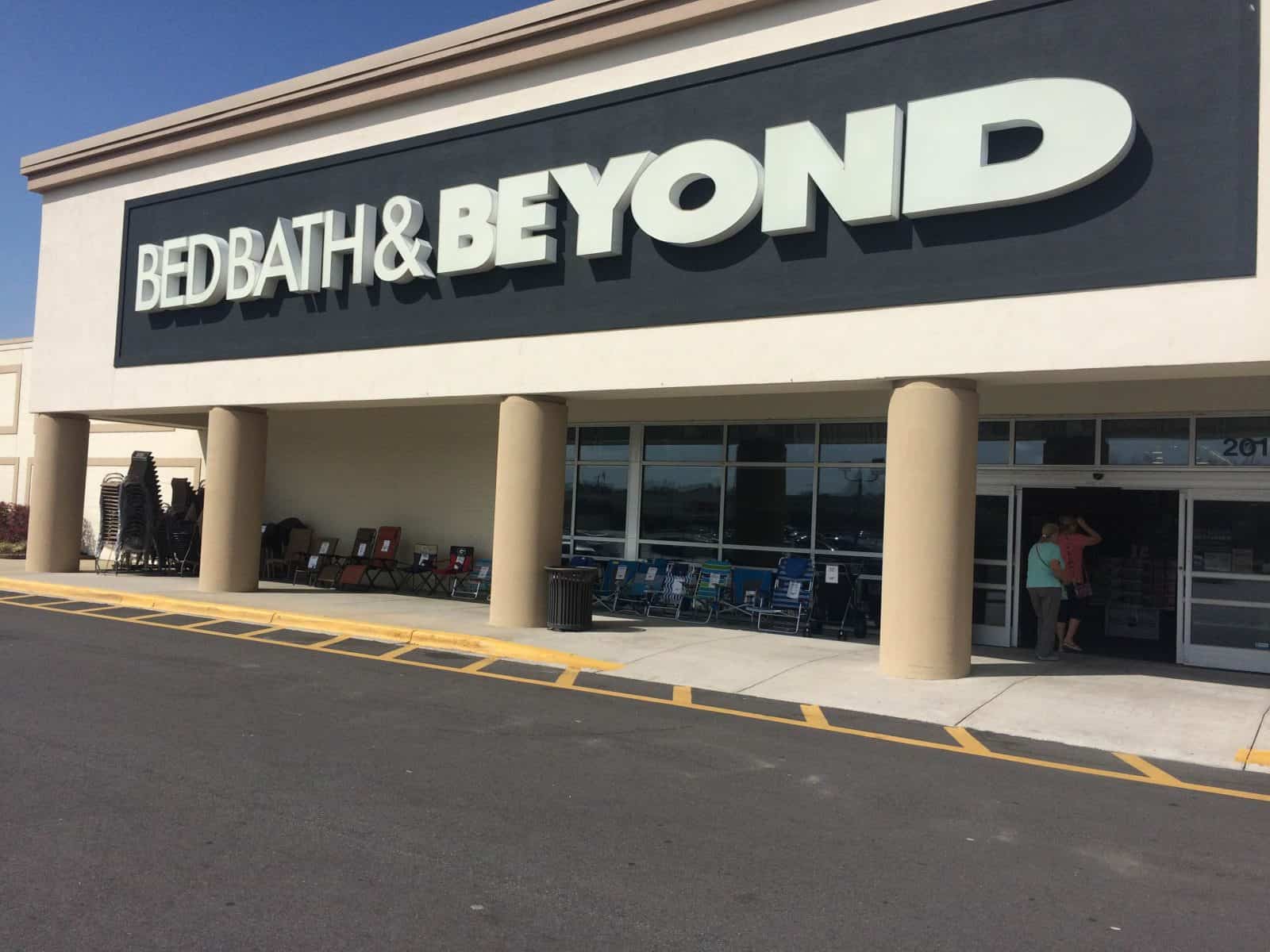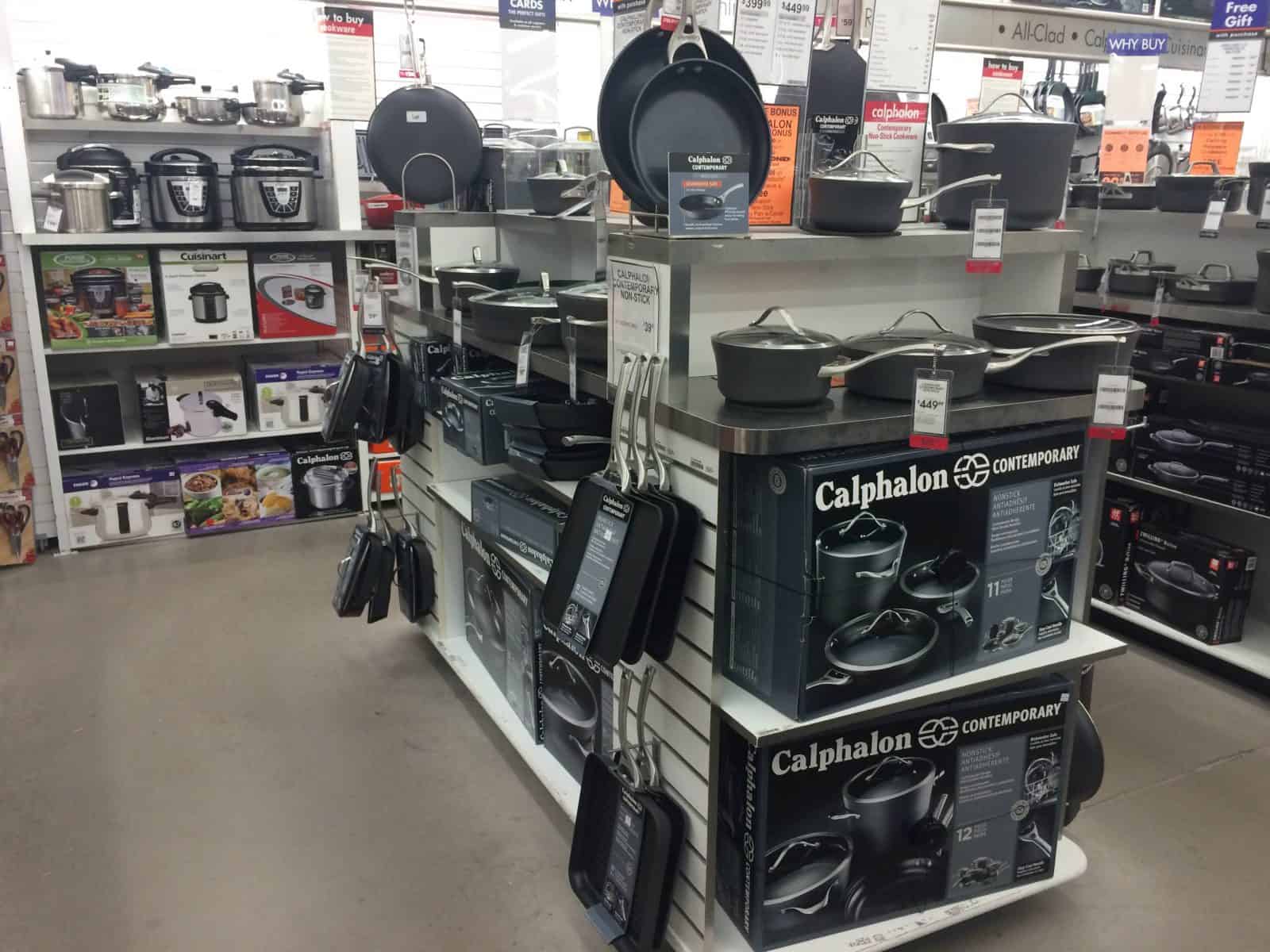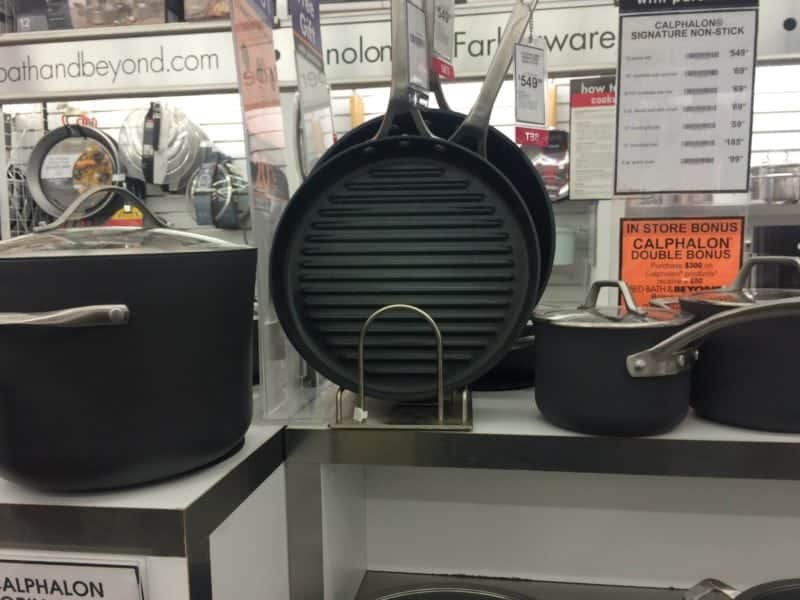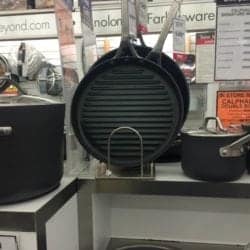 If you would really like bring out the flavor in delicate food like greens and shrimp, you need to do a few things:
Make sure you clean the ingredients first. Shrimp, romaine, it doesn't matter. Remove anything, you don't want to eat if that is shells or bruised leaves.
Make sure you dry your ingredients well before cooking. Extra water will make it steam, not sear. Steaming can make things mushy.
Heat the pan to the right temperature BEFORE you add the ingredients. Don't put your food into a cold pan or your food won't cook evenly – or worse, it will absorb any oil you are cooking with making your food an oily mess.
If you want pretty grill marks, don't move things around too much. In fact, I usually press the romaine with my hands to make sure they get good contact with the grates to make grill marks. Not that I am suggesting you stick your hands in a hot pan like I do – use a flat spatula instead. 🙂
So if you really want to know why I love this pan, I will show you the picture of my kitchen sink. This is a judgement free zone, right? In all honesty, this is probably as clean as it gets. Usually there are dishes everywhere. Occupational hazard. But you have to see this. The first photo is right off the stove. I had not only cooked the food you see in the photos but had also cooked a round before than testing the recipe. So it was a mess. The second picture is after rinsing it with water. That is it. Just water. I had not touched the pan. No soap, no elbow grease. Nothing. Very cool. You can even put the pan in the dishwasher. Yay Calphalon! You guys rock!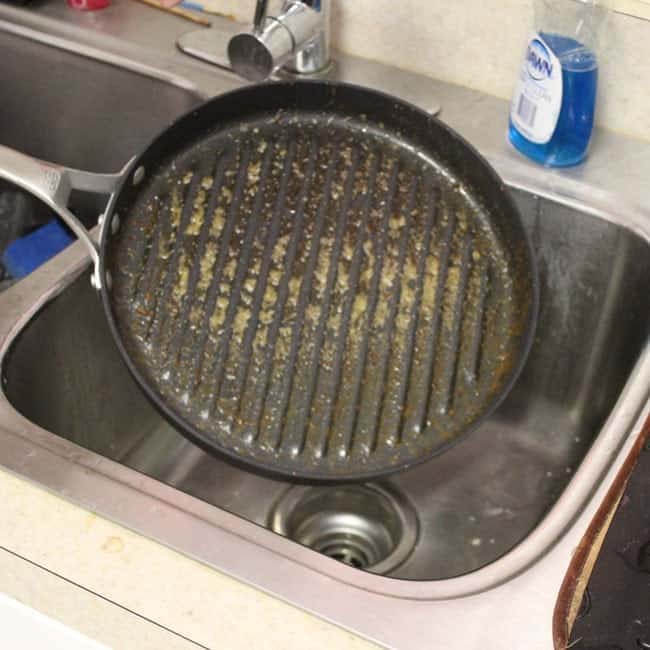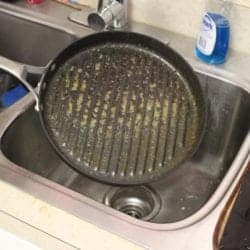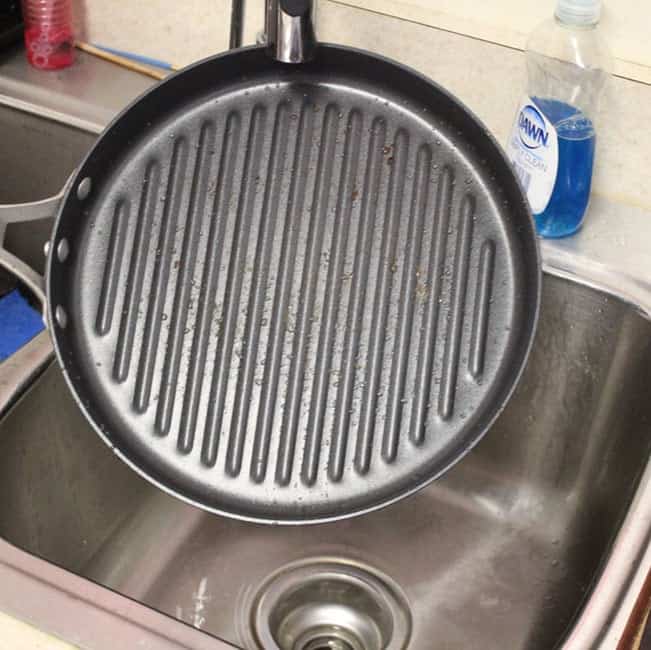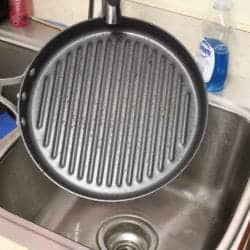 If you want to find out more about Calphalon Signature™ Nonstick cookware, you can follow them on Facebook here. Or find their products at Bed Bath and Beyond here.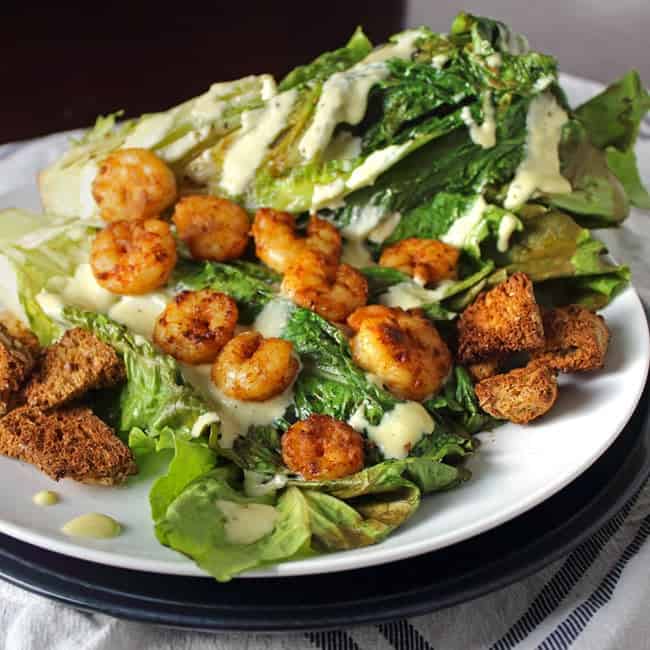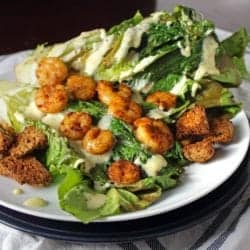 Pan Seared Chipotle Shrimp with Grilled Romaine and Homemade Caesar Dressing
Course:
Soup, Salad & Sandwich
Ingredients
2

heads Romaine Lettuce

trimmed and cleaned

3

tbsp

olive oil

Kosher salt and fresh black pepper

Chipotle Shrimp

1

pound

shrimp

peeled and cleaned

1

tbsp

chipotle powder

2

tbsp

butter

Croutons

2

slices

of your favorite hearty bread

cubed

Olive oil for brushing

Caesar Dressing

1/4

cup

Parmesan cheese

1/2

cup

olive oil

1

egg yolk

Kosher salt and pepper to taste

2

tbsp

lemon juice

2

cloves

garlic

minced

2-4

anchovies

based on your preference
Instructions
Preheat oven to 400 degrees. Brush bread with a little olive oil, cut into cubes and lay in a single layer on a sheet pan. Cook bread until well browned and crisp. About 6-8 minutes.

In a food processor, add grated or cubed parmesan cheese. Pulse until the cheese is mealy. Add garlic, lemon juice, egg yolk, salt and pepper, and anchovies. Place the cover on the food processor and through the small hole in the top slowly stream in the olive oil while the food processor is blending until a creamy dressing is emulsified. Taste and adjust salt and pepper and anchovies based on your taste.

Wash and dry salad greens and shrimp. Cut Romaine in half. Drizzle halves with olive oil and salt and pepper to taste. Heat grill pan on medium high heat. Do not add additional oil to the pan. When pan is hot, place Romaine halves cut side down on the grill pan. You should hear the oil on the leaves sizzle a bit. Press the backs of the Romaine to make good contact with the grill grates. Allow the Romaine to cook for 2-3 minutes. Remove and set aside.

In the same grill pan, melt 2 tbsp butter. When the butter is melted, sprinkle shrimp with chipotle powder and add it in a single layer to the grill pan. Allow shrimp to cook for 3-5 minutes, turning occasionally. When shrimp is pink and turns opaque, it is done.

Assemble salads with the grilled Romaine on bottom, topped with Caesar dressing, croutons and seared shrimp. Serve warm with a nice bottle of wine!