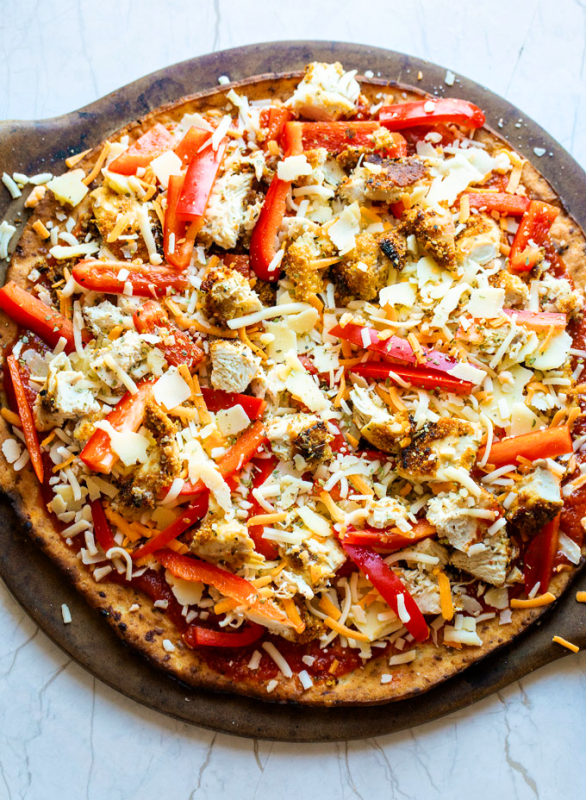 Parmesan pizza is a tasty, cheesy, savory dish. This gluten-free chicken parmesan pizza is not only easy to make, but also so easy to personalize to your own liking.
Parmesan Pizza
Pizza is the ultimate comfort food.
For cheese lovers like myself, a pizza is never complete without parmesan cheese. The bold, tangy flavor of parmesan enhances every bite of cheesy, saucy goodness. I also love how this cheese complements the sweetness of the marinara and the savory goodness of both the crust and toppings.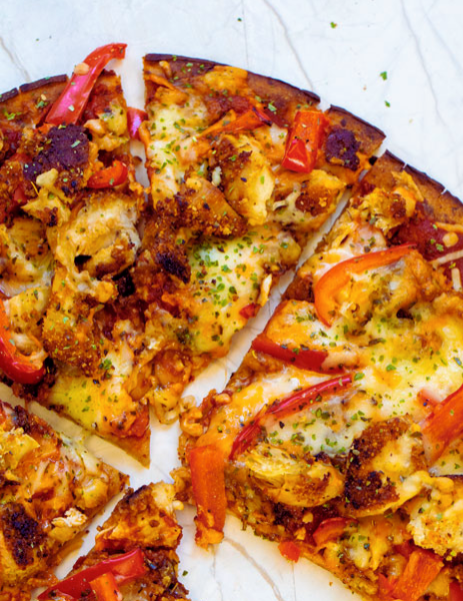 This recipe is a fusion between two popular meals: classic chicken parmesan and pizza. While both dishes are equally delicious on their own, you'll be amazed by how they taste together. After all, why have to choose between two things you love when you can enjoy them both?
Chicken parmesan pizza is a cheesy treat that will melt in your mouth. Better yet, it's so easy to make. Whether you're making this parmesan cheese pizza for yourself or sharing it with your loved ones, this recipe will keep your taste buds happy and your stomach full.
Why you will love this chicken parmesan pizza recipe
Easy to prepare. Preparing the breaded chicken only requires a few steps, and once you have all of your ingredients ready, parmesan pizza is so easy to assemble and pop into the oven. Putting together a pizza can be a fun activity for all ages – kids will love getting to add things to make it their own.
Gluten-free. This chicken parmesan pizza recipe uses a pre-cooked cauliflower crust, and the chicken that tops it is breaded with gluten-free bread crumbs. Gluten-free folks can enjoy this delicious meal with no worries!
Easy to customize. The only veggies I added to this recipe were red peppers. But when it comes to personalized pizzas, the options are endless. You can add mushrooms, spinach, olives – whatever you love! Another option is substituting the chicken with a different protein, such as pepperoni or sausage. Want to make it meatless? Simply remove the chicken from the recipe.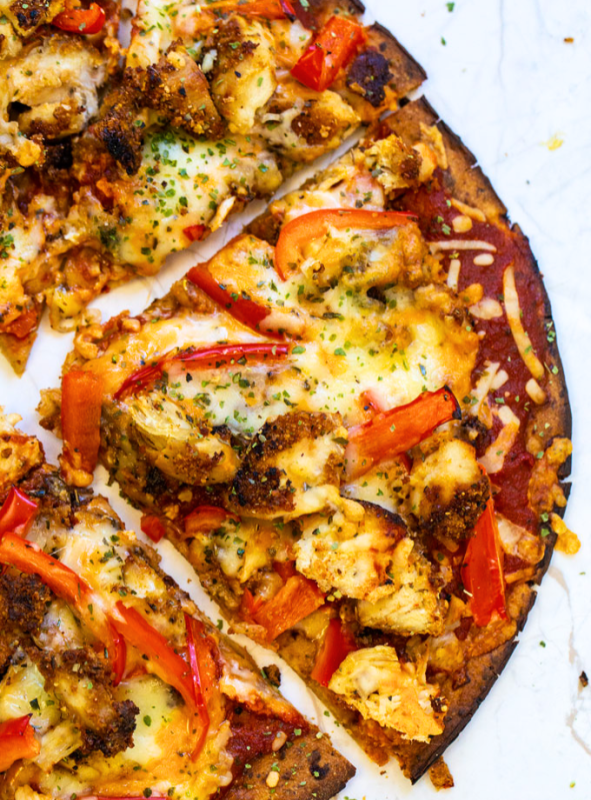 How to make cheesy parmesan pizza
Use a pre-cooked pizza crust to make your meal prep easy. I went with a cauliflower crust in this recipe, which is a fantastic low-carb and gluten-free option. You are welcome to use pizza dough that is not pre-cooked, but keep in mind that you will need to adjust the baking time in this case. For my pizza fans who are not gluten-free, this Whole Wheat Pizza Crust is a great option that you can use as an alternative to cauliflower crust.
Brown the breaded chicken. You only need to fry the breaded chicken for a few minutes to brown the breadcrumbs. Don't worry about cooking the chicken breast all the way through in this step – it'll have plenty of time to finish cooking after you pop it in the oven.
Enjoy with your favorite toppings or dip. Add red pepper flakes if you want a little bit of spice. You can also sprinkle on more parmesan at the end if you desire. If you want to dip your pizza in something delicious, I recommend ranch! You can find my recipe for ranch dressing here, made from homemade ranch seasoning.
Frequently asked Questions about Parmesan Cheese Pizza
What is the difference between parmesan cheese and mozzarella cheese?
Parmesan is a hard, aged cheese made from cow's milk, while mozzarella is a young, soft cheese made from either cow's milk or a combination of cow and goat milk. Parmesan is known for its strong, nutty flavor and grittiness, while mozzarella is thought to be more mild and creamy.
Can I use parmesan only instead of mozzarella?
Because parmesan cheese has a low moisture content, it doesn't melt as well as other cheeses like mozzarella. For this reason, I don't recommend using only parmesan cheese on your pizza. However, using both parmesan and mozzarella together is a great way to elevate the flavor of the pizza without sacrificing the texture of melty, gooey cheese.
What is the best way to reheat leftover pizza?
Leftover pizza is easy to reheat and enjoy. Start by preheating your oven to 375°F. Line a baking sheet with foil and coat it lightly with a nonstick cooking spray so that the pizza doesn't stick. Add your slices to the baking sheet and pop them in the oven for approximately 8-10 minutes, or until heated through. Since your ingredients have been cooked already, be sure to check on your pizza regularly as it reheats to make sure that nothing burns.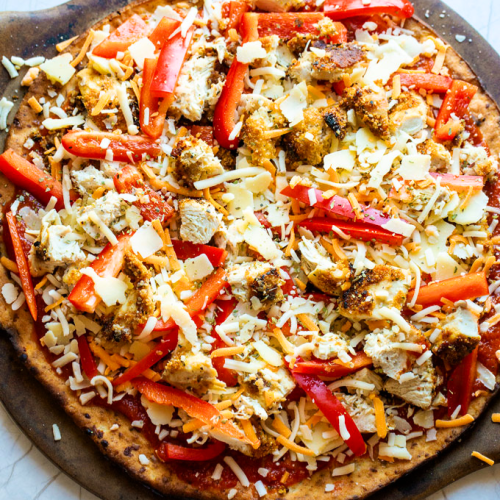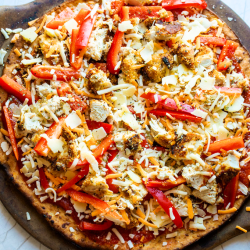 Parmesan Pizza
Parmesan pizza is a tasty, cheesy, savory dish. This gluten-free chicken parmesan pizza is not only easy to make, but also so easy to personalize to your own liking.
Keyword:
gluten free, parmesan pizza, pizza
Ingredients
For Breading The Chicken
2

Chicken Breasts

1/2

Cup

Gluten Free Breadcrumbs

2

tbsps

Parmesan Cheese

1

tsp

Garlic Powder

1

tsp

Oregano

1/2

tsp

Salt
For The Pizza
1

Cauliflower Crust Link to make your own

1/2

Cup

Marinara Sauce

1

Cup

Mozzerella Cheese

1/2

Cup

Parmesan

1

Red Pepper

Sliced

1/2

tsp

Oregano

Basil for Garnish

(Optional)
Instructions
Preheat oven to 425F. Heat a cast iron pain over medium heat.

In a medium bowl add an egg and a splash of milk.

In another bowl add the gluten free breadcrumbs, oregano, garlic powder, salt, and parmesan cheese.

Dip the chicken breast into the egg mixture, and then dredge with the breadcrumb mixture.

Add oil to the cast iron pan. Fry the chicken until golden brown on each side (about 3-4 minutes each). Transfer to the oven and bake at 425 for 25 mins.

Let the chicken cool, slice.
Arranging the Pizza
Mix both of the cheeses in a bowl (this way it's spread even). Spread 1/2 cup over the marinara, then add the chicken, veggies, and the rest of the cheese. Top with any extra oregano.

Bake for 12-15 minutes. Let cool.

Slice into 8 slices and serve
Nutrition Facts
Parmesan Pizza
Amount Per Serving
Calories 304
Calories from Fat 81
% Daily Value*
Fat 9g14%
Cholesterol 53mg18%
Sodium 721mg30%
Potassium 185mg5%
Carbohydrates 30g10%
Protein 24g48%
Vitamin A 287IU6%
Vitamin C 1mg1%
Calcium 220mg22%
Iron 2mg11%
* Percent Daily Values are based on a 2000 calorie diet.