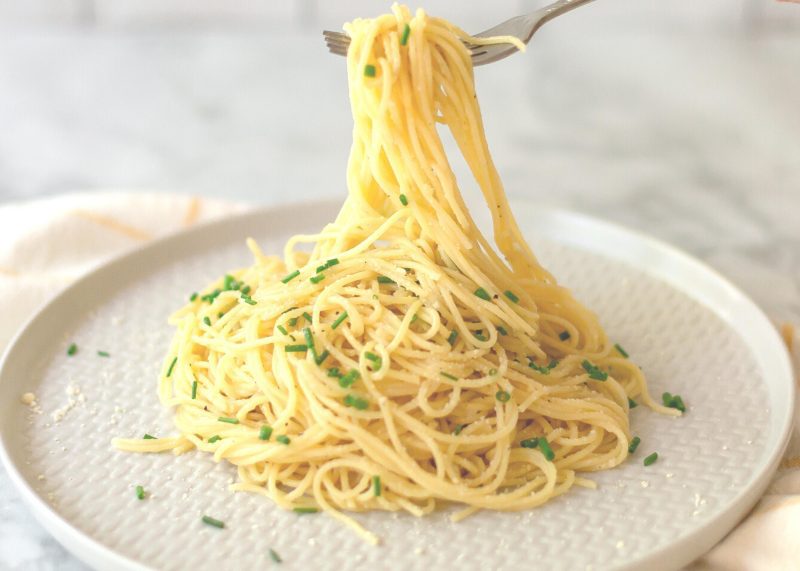 Great for picky eaters and quick dinners, this Spaghetti Parmesan Recipe, seasoned with butter, olive oil, and parmesan will have your whole family saying, "delicious!" 
Spaghetti Parmesan
Created from the classic Spaghetti Aglio E Olio, this Spaghetti Parmesan recipe is a fast and easy dinner or side dish. I love this recipe because it only has five ingredients: butter, olive oil, garlic, parmesan and spaghetti noodles. These ingredients are relatively inexpensive, and I usually have them on hand.
For picky or sensitive eaters (like some of my kids who don't love spaghetti sauce) it's great because you can quickly alter or add whatever you do or don't want. And this recipe is great for adults because you can easily spice it up and add a steamed veggie or a protein like shrimp or chicken.  
For more weeknight dinners try: Italian Pasta with Chicken, Meatza Keto Pizza, Sautéed Kale, Pressure Cooker Short Ribs.
Why you will love Spaghetti Parmesan
5 Ingredients
Inexpensive
Fast stove to table time
Great for picky eaters!
How to Make the Perfect Spaghetti with Garlic, Olive Oil, and Parmesan
Spaghetti Parmesan creates its own parmesan sauce when mixed correctly. It's not as heavy as a cream sauce. Instead, the cheese melts into the butter and tastes amazing and light.
Step 1: Cook a box of spaghetti al dente. "Al dente" means to cook the noodles until they are close to done but not completely. To test if they are al dente, pull some noodles out of the pot with a slotted spoon. If they are limp and pliable, but not too soft, they're ready. If they're super soft and sticky, you've overcooked.
The reason you are going for an al dente noodle is that you then transfer the noodles into a pan that already contains butter and olive oil. These oils will cook them further.
Pro Tip: You want to be wary of overcooking Spaghetti Parmesan because the texture won't be as palatable. If your noodles aren't cooked well enough straight from the pot, then give them more time to cook in the pan.
Step 2: While the noodles are cooking, add olive oil and garlic to a pan and cook the garlic on low until fragrant.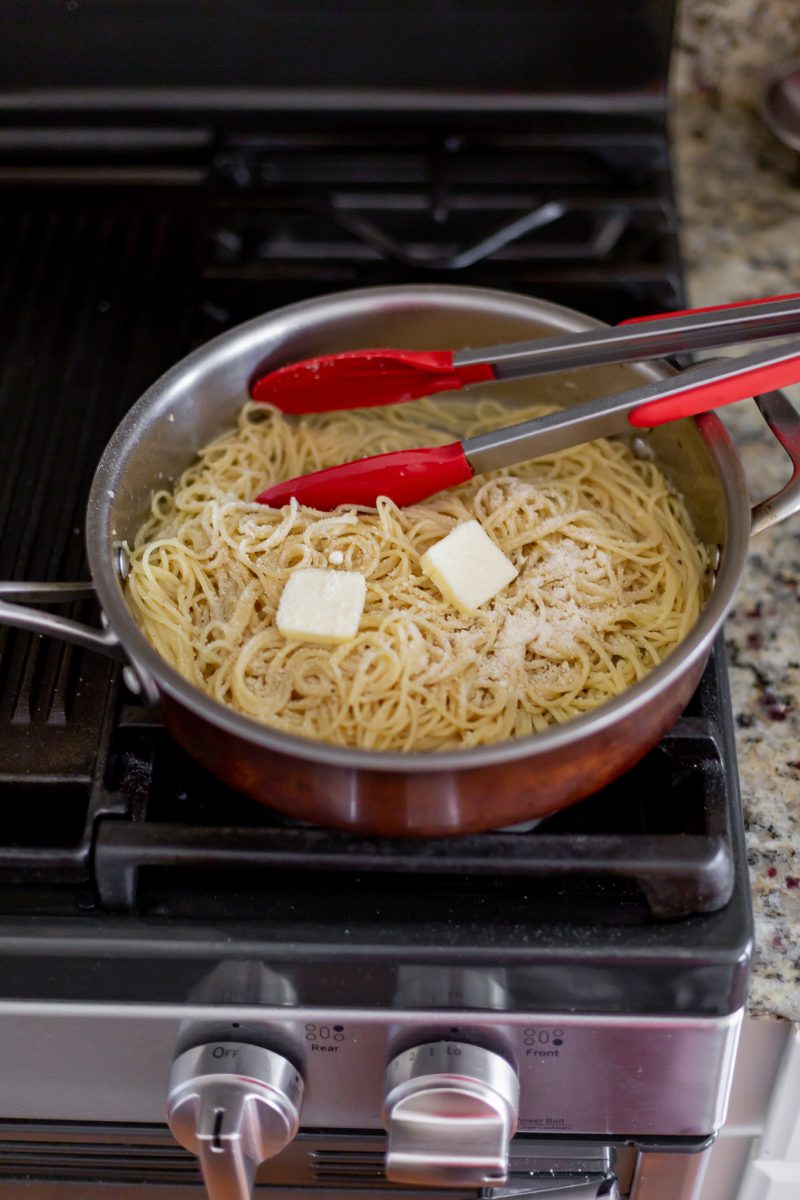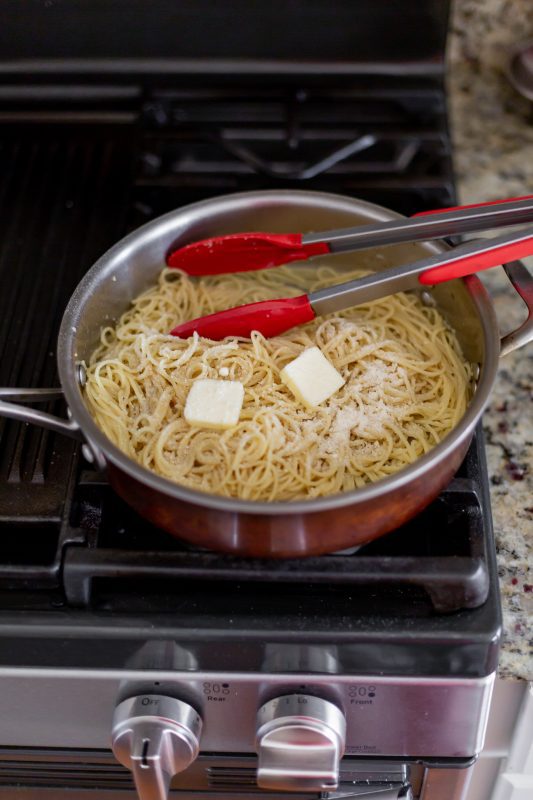 Step 3: Strain the noodles and add them to the pan. Add the extra butter and toss with tongs to coat evenly. Add salt and pepper to taste. Then complete with the parmesan cheese. Add chives and serve.
Pro Tip:  Be aware of your garlic content. If there is not enough garlic, or the garlic is not fragrant, you can season with garlic salt at the end for a more savory taste. If you have a sensitive eater, you may want to reserve their portion and then add the garlic salt. 
To spice up the spaghetti even more, add a sprinkle of crushed red pepper.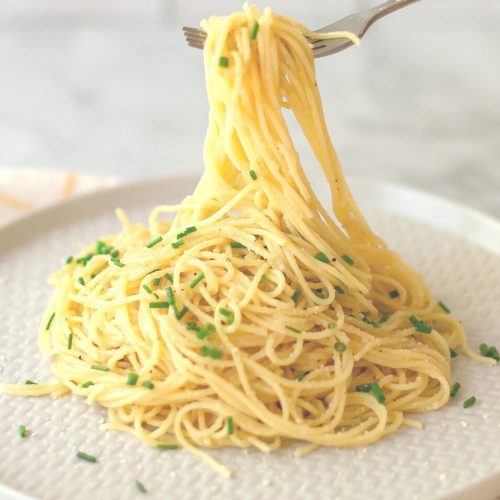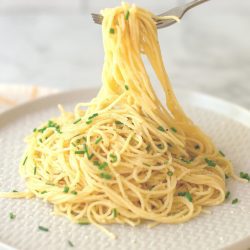 Spaghetti Parmesan
This Spaghetti Parmesan Recipe, seasoned with butter, olive oil, and parmesan will have your whole family saying, "delicious!"
Course:
Main Course, Side Dish
Keyword:
garlic, olive oil, parmesan, spaghetti, spaghetti parmesan
Ingredients
4

tbsp

olive oil

4

tbsp

butter

1

package

spaghetti noodle

2

cloves

garlic

1/2

cup

parmesan cheese

1/4

cup

chives
Instructions
Boil a package of spaghetti in a pot to al dente.

While the spaghetti is boiling, add olive oil, garlic, and 2 tbsp of butter to a pan. Cook on low until garlic is fragrant.

Strain the Spaghetti and add it to the pan.

Add the rest of the butter, and using tongs, turn the spaghetti over to coat evenly. Add salt and pepper. (Optional: Add extra garlic salt or crushed red pepper to taste in this step.) Then add parmesan cheese.

Plate the spaghetti. Then add chives and add extra parmesan cheese.
Nutrition Facts
Spaghetti Parmesan
Amount Per Serving
Calories 402
Calories from Fat 180
% Daily Value*
Fat 20g31%
Cholesterol 26mg9%
Sodium 199mg8%
Potassium 153mg4%
Carbohydrates 48g16%
Protein 12g24%
Vitamin A 371IU7%
Vitamin C 1mg1%
Calcium 129mg13%
Iron 2mg11%
* Percent Daily Values are based on a 2000 calorie diet.
Frequently asked Questions about Garlic Parmesan Spaghetti
What kind of cheese is in Spaghetti Parmesan?
The best parmesan to use is either block parmesan that you grate yourself, or use grated parmesan from a bag. Finely grated parmesan and parmesan blends with parmesan and American Grana also work well. 
What does Spaghetti "aglio e olio" mean?
Spaghetti aglio e olio is Italian for spaghetti with garlic and oil. In English, we often call this classic dish Spaghetti garlic parmesan, Garlic Parmesan Spaghetti or it is shortened to Spaghetti Parmesan. The dishes are essentially the same with the English version focusing more on the cheese than the oil.