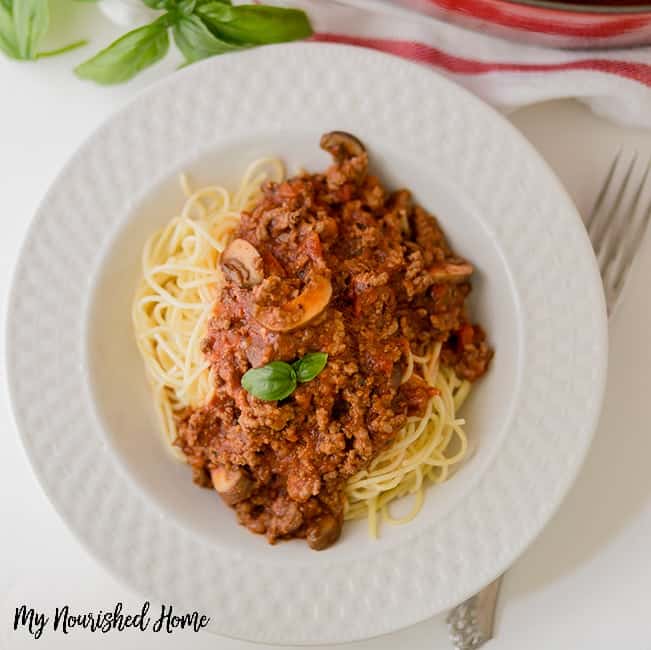 Even though our days are full and busy, we love finding time for family dinners. There is something special about sitting around the table together after a long day and sharing a meal. One of our favorite meals is Easy Spaghetti Bolognese. It is one of those nourishing homemade meals that everyone loves.  Serve it with some garlic bread and salad and you have a delicious and easy family dinner.
As everyone knows, having a family dinner can be a little tricky in today's world. There are so many things that are constantly pulling at us, threatening to interrupt the family schedule. I would venture to say that interruptions are more the norm, at least in our house.
The key to a successful family dinner is to embrace whatever works best for your family. The dinner does not have to be a long ordeal or anything fancy. Give yourself permission to scratch the Pinterest-perfect meal out of your mind and tackle what works. It is a little funny that when I gave myself permission to be a little more relaxed about dinner, everyone else in my house seemed to relax too. I have found that makes dinner time more enjoyable for everyone.
Create a Tradition with Spaghetti Bolognese
Now that we have started making the simplified version of Spaghetti Bolognese, we rarely buy bottled sauce. (I still keep the backup sauce in the pantry! You know, for those days…) You will feel the same way once you start making this! It has become a family tradition and favorite.
Maybe the bet part of the meal is that all my kids love it. Everyone loves coming to the table. And my kids volunteer to help in the kitchen because they are excited about the menu. (Even when they don't volunteer, I reserve the right to press my kids into service! Being able to feed yourself is a life skill everyone should learn.) My oldest daughter can actually handle this meal from beginning to end. And my little girls are great at prepping the salad – but they argue over the fun job – buttering the garlic bread. Who knew…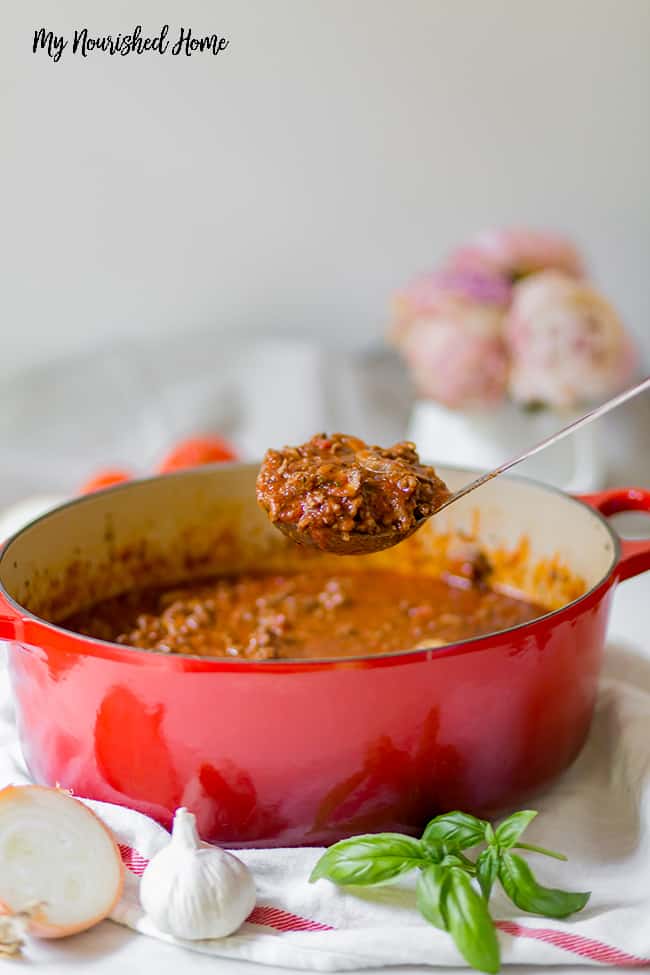 Preparing Easy Spaghetti Bolognese
There is not a lot of prep needed for Easy Spaghetti Bolognese as the majority of the cooking time will be stirring the sauce here and there. While the ground beef cooks, I like to prepare the onion, garlic, and mushrooms. Then everything can be poured together. The delicious smell of the sauce simmering will bring your family members wandering into the kitchen! When the sauce is almost finished, I start cooking the noodles.  Tasty sauce + noodles = happy family for dinner.
Want more simple meals to serve for family dinners like this simple Spaghetti Bolognese?
Check out our favorite Healthy Chicken Parmesan!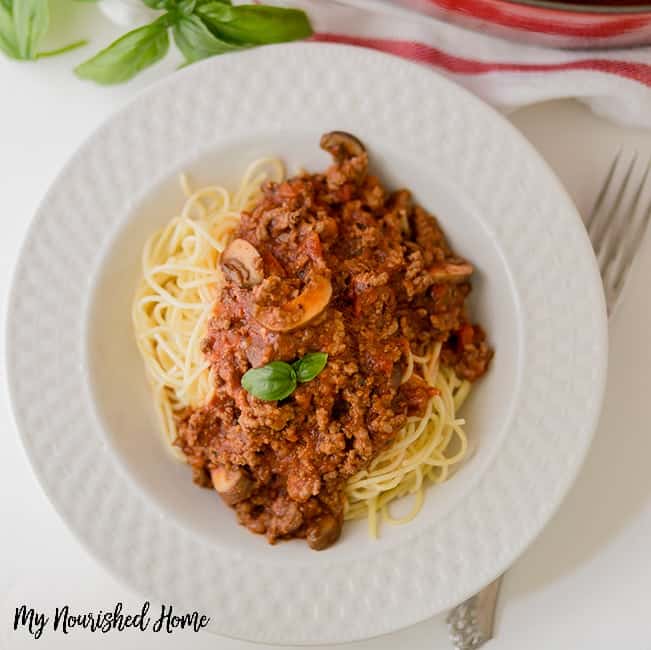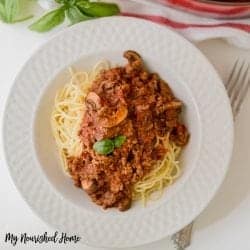 Spaghetti Bolognese
Ingredients
1

pounds

ground beef

92% lean

1

pound

groud pork

make sure to use high quality ground pork

1

onion, diced

3

cloves

garlic, minced

2

26 ounce cans

Pomi tomato sauce

or your favorite brand

1/2

cup

red wine

5

tablespoons

Italian Seasoning

be generous

1

tray

Mushrooms, washed & sliced

Salt & pepper, to taste
Instructions
Drizzle 2 tablespoons of olive oil in a large pot and saute the ground beef and pork until it's cooked through. Drain the fat/liquid.

Add the onion and garlic and cook until they are soft. 

Add the salt, pepper, and Italian seasoning.

Next add the tomato sauce, water and the mushrooms. 

Bring to a slight boil, reduce heat and let it simmer for 1 hour, stirring every 15 minutes.  Double check on the salt before serving. 

Serve over al dente noodles. And top with Parmesan cheese!