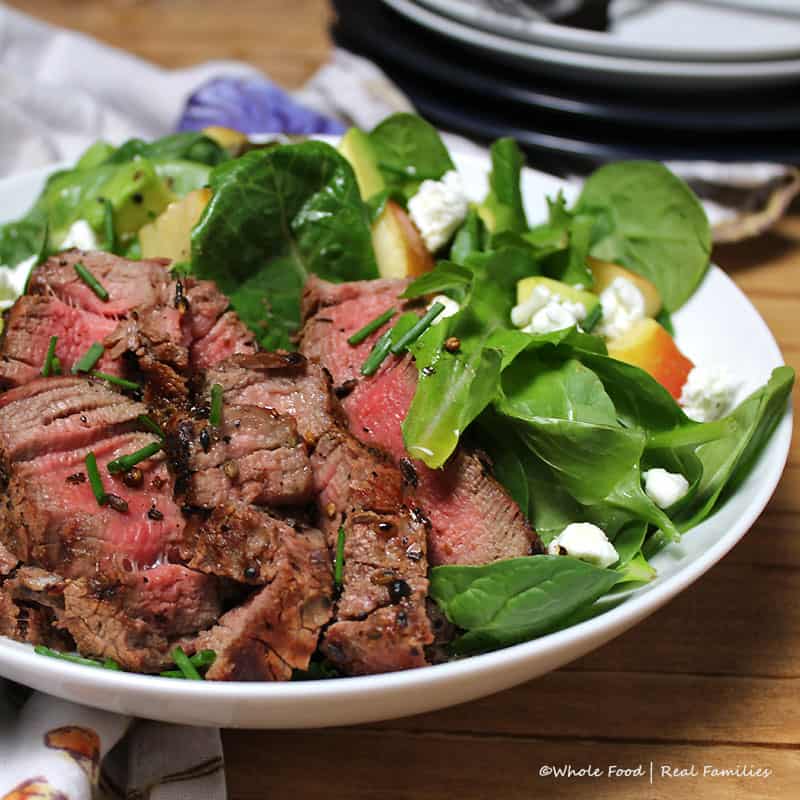 Coriander Crusted Steak Salad is flavorful and cooks and assembles quickly. Perfect with steak hot from the grill or use up leftover steak from previous meals.
While we make exceptions around here for special occasions and ice cream, we generally try to eat nutritious meals with varied ingredients from all the food groups. When the Beef Checkoff invited us to Build a Healthy Plate with Beef, we were happy to join them. The advantage to this particular recipe is that it is on the table in less than 30 minutes, making it perfect for a weekday meal.
Coriander Crusted Steak Salad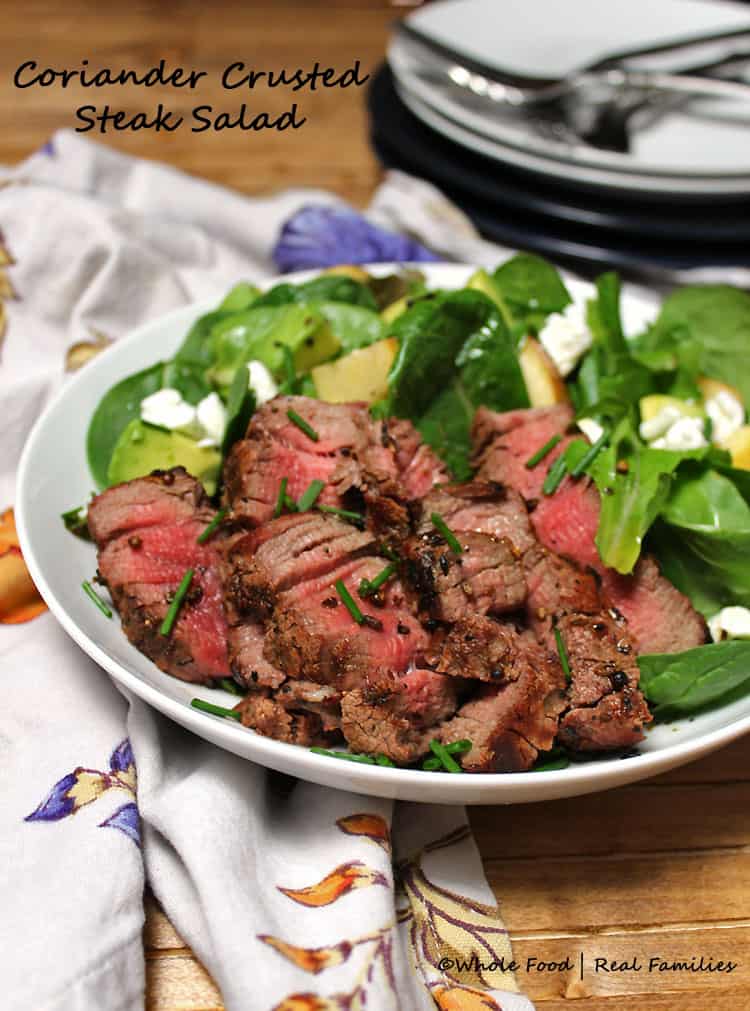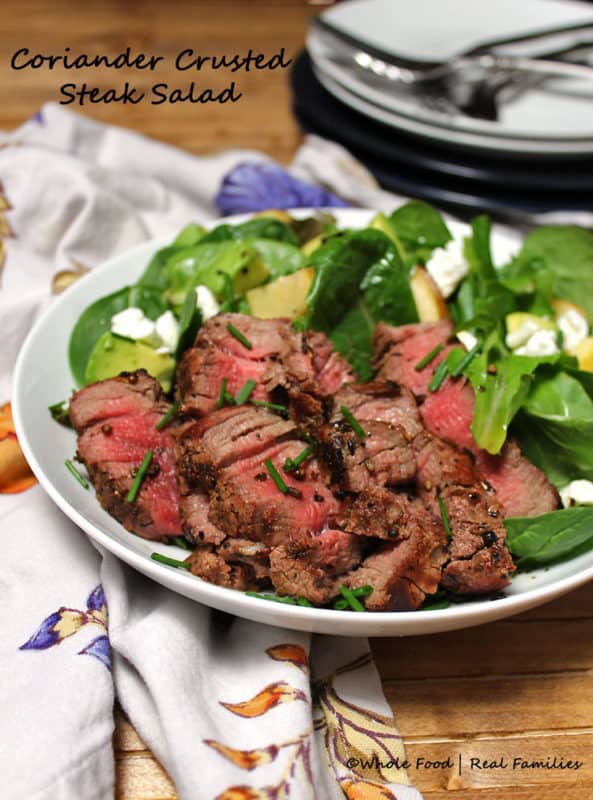 There is really nothing that will make my family dance their way to the dinner table more than a steak – and their favorite is this Coriander Crusted Steak Salad. And by dance, I really mean run – and throw elbows and step on each other so that they can get to the table first. This salad is so flavorful, so delicious that I don't think my family actually realizes that they are eating lots of leafy greens, fresh fruit, and a little dairy along with their coveted steak.
Steak Salad for Weeknight Meals
This Coriander Crusted Steak Salad assembles so quickly with the steak coming in straight from the grill. I hesitate to admit how often we cook the steak as a meal on the weekends, adding extra steaks to the grill with the advance plan to use them in a salad for later in the week. Of course, to make this plan work, you have to leave the extra steaks in the kitchen and store them in the fridge before anyone sees them.
If my family sees the extra steaks, they tend to disappear. I have also learned the hard way to label them in the refrigerator or my teenager will take the extras for lunch at school. No, I do not generally purchase steak for my daughter's school lunch. She knows this. But somehow manages to act very innocent when questioned about my missing ingredients. My labels have become more aggressive lately, threatening extra chores if anyone even looks at my leftovers when there is a plan to turn them into a later meal. (Everyone around here knows extra chores means dishes. I am a food blogger. Dishes are serious business at our house.)


I prefer to use filet of sirloin for this salad. The cut is actually pretty difficult to find at our local grocery store but my butcher will happily cut it for me. I like the filet of sirloin because it is SO very tender – nobody want to struggle with tough steak when you are trying to eat a salad. Its tenderness is similar, I think to a filet mignon but with a MUCH beefier flavor. You can see in the pictures that this steak is so tender you could pull it apart with your fork.
Looking for more beef recipes? Check out this Avocado Crostini with Beef and Eggs. Or this Gingered Sirloin with Bok Choy. Both recipes are so fast to prepare and beyond delicious!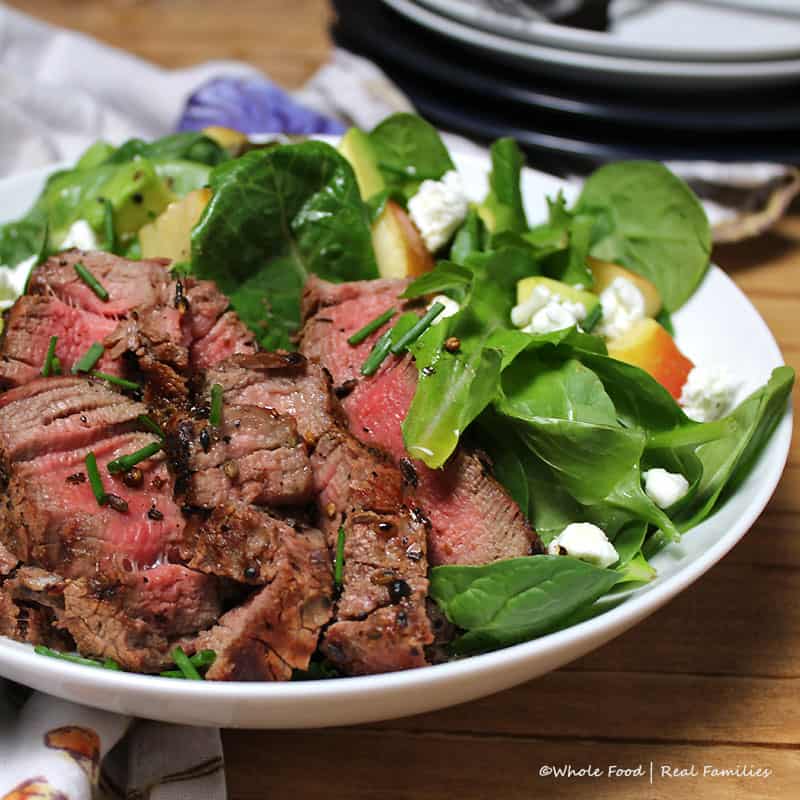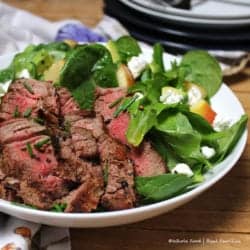 Coriander Crusted Steak Salad #WeekdaySupper
Course:
Main Dishes, Soup, Salad & Sandwich
Ingredients
4

8 oz

sirloin steak filets

4

cups

mild salad greens

2

apples, diced

2

avocados, ripe and diced

4

ounces

goat cheese
For the spice rub:
1

tablespoon

fennel seeds

1

tablespoon

coriander seeds

1

tablespoon

black peppercorns

1

tablespoon

kosher salt

1 1/2

teaspoon

cumin seeds
For the vinaigrette:
3/4

cup

olive oil

plus some additional for brushing on steaks

1/4

cup

white wine vinegar

1

teaspoon

thyme

1

teaspoon

honey

Black pepper to taste

Pinch of kosher salt
Instructions
Preheat grill or smoker to medium high heat.

Combine spice rub mix and crush with a mortar and pestle (a rolling pin is a handy substitiute). Combine vinaigrette ingredients in a bowl and whisk until emulsified - or add ingredients to a Mason jar and shake until emulsified.

Pat steaks dry with a paper towel. Brush with olive oil and sprinkle spice mix generously onto both sides of the steak, patting gently so it sticks to the steaks.

Cook steaks on the grill following your manufacturers directions until they reach your preferred internal temperature. (For this salad, we prefer the steaks medium rare at 135 degrees.) Remove from grill and allow the steaks to rest.

While steaks are resting, assemble greens, with diced apples and avocados into 4 large bowls. Slice steaks into strips and lay across salads. Top with goat cheese and vinaigrette. Serve and enjoy!