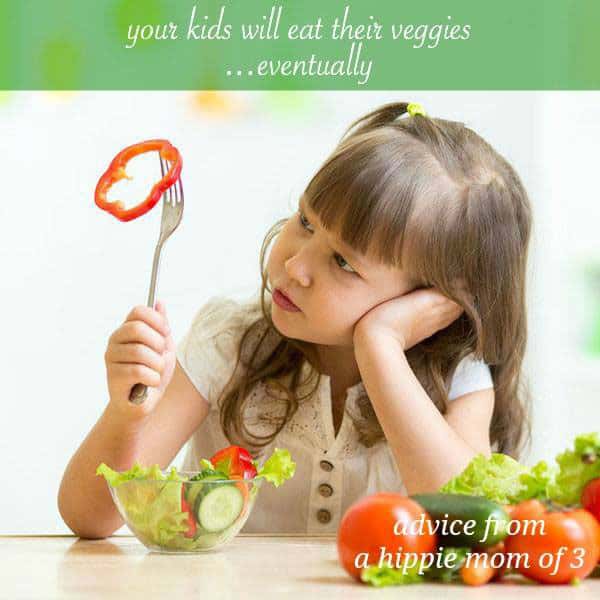 As a mother of 3 kids, I have learned the hard way – with much stress and anxiety – that your kids will eat their vegetables… eventually.
I was not born a hippie. I sort of evolved into one. I don't look like a hippie either, whatever hippies look like. I look like a middle class mom with 3 kids. But I secretly grow a ton of vegetables in my backyard – because the Homeowner's Association in our middle class neighborhood disapproves of gardens where other people can see them. So my husband and I grow a garden in secret in a tiny corner of our property in what we jokingly call our "sphere of non-influence." Yep, we're rebels.
All Parents Want Thier Kids to Eat Their Vegetables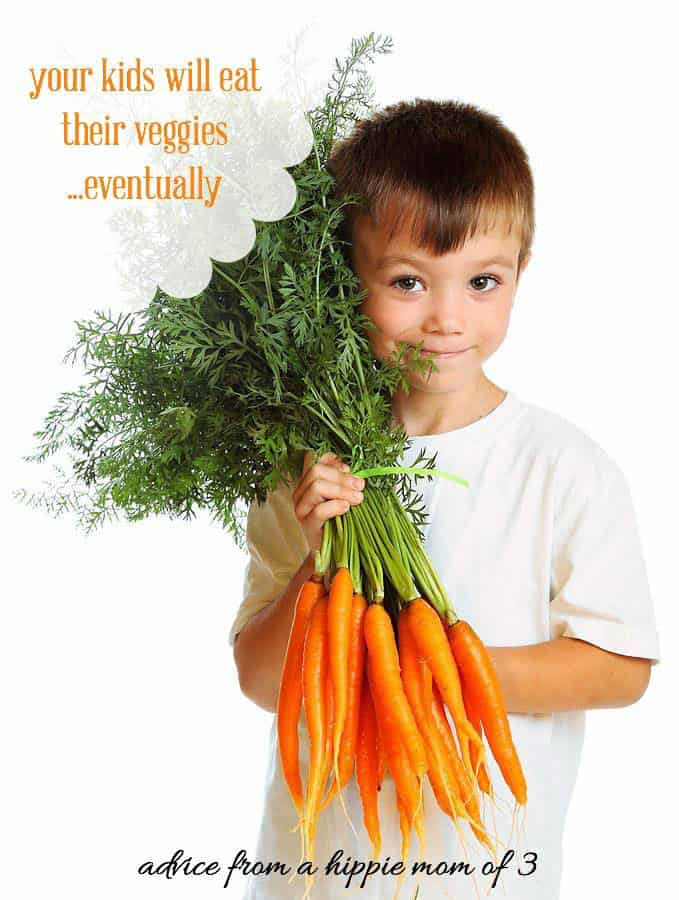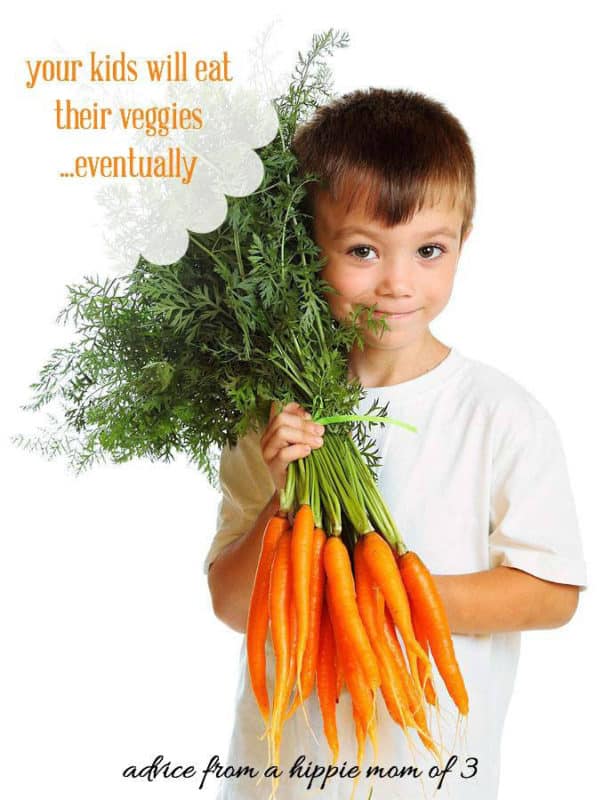 Our children are 4, 6 and 17 – why did we decide to have toddlers and teenager at the same time, you ask? My husband is a remarkably intelligent, kind man. He is also super hot with a real job. Now we have 3 children. The End.
We have learned a lot along the way (or so we think) since our kids are such different ages. Among the most important is that what goes in our kids' mouths comes out in ways that impact our daily lives for better or worse. When they eat well, they feel well and play well and laugh a lot and help a lot. When they don't eat well, we put everyone to bed early and open a bottle of wine. This has lead us to minimizing the amount of junk food our family consumes on a daily basis.
On the nights that we open a bottle of wine, we discuss – at length – ways to never do it again. (Not the wine part, the cranky kids part.) Here are the rules we've devised to get our kids to eat well.
Get Your Kids to Eat their Vegetables
1 – Never hide veggies in your kids food.
Kids like structure. If they never learn that veggies are beautiful, tasty and a normal part of their routine, they will resist them. Resisting sucks.
2 – Always hide veggies in your kids food.
While kids are busy acclimating to the normalcy of vegetables in the house and on the table, hide vegetables in everything. If they are eating a little on purpose and a little on accident, they might actually eat enough to matter. Nobody ever died from eating too many fresh vegetables – I don't think.
3 – Don't short order cook.
When you start feeding your family more fresh food and a little less junk, there will be resistance (See #1). Resist the urge to be a short order cook. Because it is a huge pain. Because it becomes a habit. Because you will be responsible for feeding your kids for at least 18 years. Because breaking habits are hard. And also a pain.
4 – Go out for ice cream.
This rule is also known as "moderation in all things, including moderation." Eating healthy food doesn't mean the death of dessert. We keep our pantry pretty clear of unhealthy food (except the secret stash of cookies on the top shelf in the back). It saves us the ongoing frustration of negotiating with kids who think one bite of veggies should equal one bite of dessert. It is not in the house, negotiation over. However, we have taught our children to chant: Ice Cream! Ice Cream! We all scream for Ice Cream! while they buckle themselves into their seats on Friday night.
5 – Take your kids to the farmers' market, grocery store, grow your own vegetables.
Preferably all three. You don't have to tell me what a huge undertaking it is to take kids to the grocery store. I feel you. But for kids and adults alike, life is experiential. We can only make choices from the experiences we have and the knowledge we've gained along the way. I've read lots of articles that said if kids grow their own veggies, they will try them. Those people have never met my middle child. She loves to garden. She helped me dig every hole and plant every vegetable I have growing in our back yard. She is still the child who refuses her vegetables.
Kids are different. But kids grow up. I also have a teenager who grew up eating chicken nuggets and french fries. (Don't judge me!) Now she will pass on other food on the table to serve herself an extra plate of sauteed kale with garlic and shallots. The morale of the story is create the experiences. It may not pay off immediately but it will pay off.
6 – Focus on the long game.
Yes, it is important that your kids eat their vegetables. But take a deep breath. It will be okay. Focus on the trends, not the bites. Unless your child has a medical condition that requires it, you don't have to worry over every bite of every meal. There will be days that everyone eats their broccoli. You will feel successful. Trust the next day at least one child – probably all of them – will decide broccoli is gross and won't touch it for 3 months. Don't replace healthy food with junk. Just keep following Rules 1-6. Rinse and repeat.
Your Kids Will Eat Their Vegetables… Eventually
Eventually what was once painful will become normal. The key is your resolve to provide nutritious food must outlast your kids' desire to eat food with cartoon characters on the box. On the days when you feel your resolve slipping, put the kids to bed early, open the wine and drop me a line on the Facebook page. We'll talk smack until we laugh and start over the next day reaffirmed that our kids will eat their veggies…. eventually.