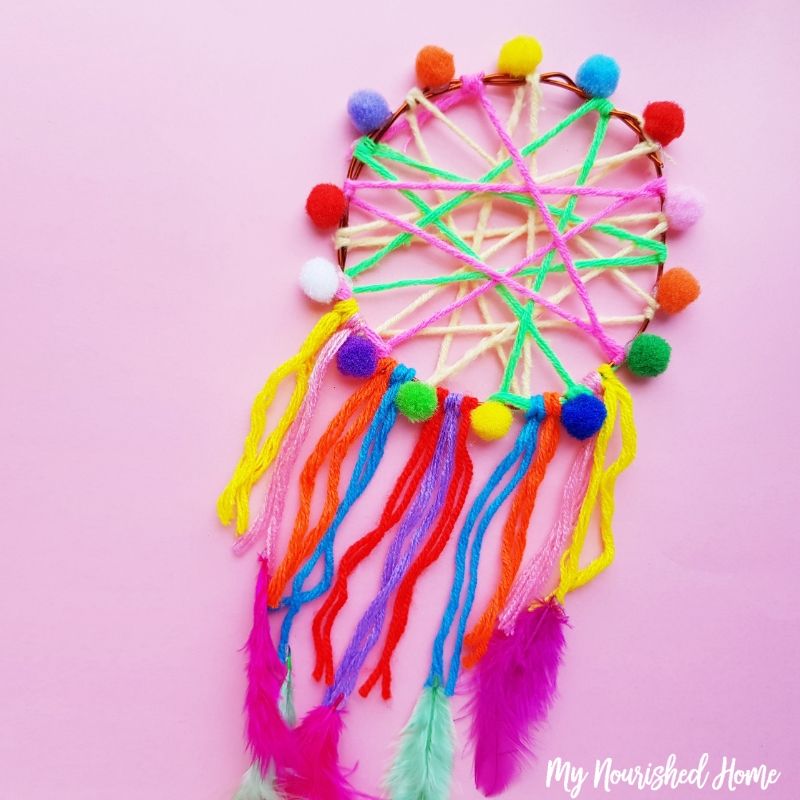 This DIY Dreamcatcher craft is such a fun and easy craft for kids. Bright and colorful, it is made with craft supplies you probably have on hand.
You can learn how to make a dreamcatcher for kids in just a few minutes. If you have a child who enjoys crafts, their creativity will be sparked with the colors and textures.
DIY Dreamcatcher
This DIY dreamcatcher offers bright colors that are fun for kids and fun to design. Add a touch of whimsy with feathers then let your kids pick the perfect spot in their room or playroom to display their creations.
This dreamcatcher also makes a great grandparent or teacher gift that your kids can personalize!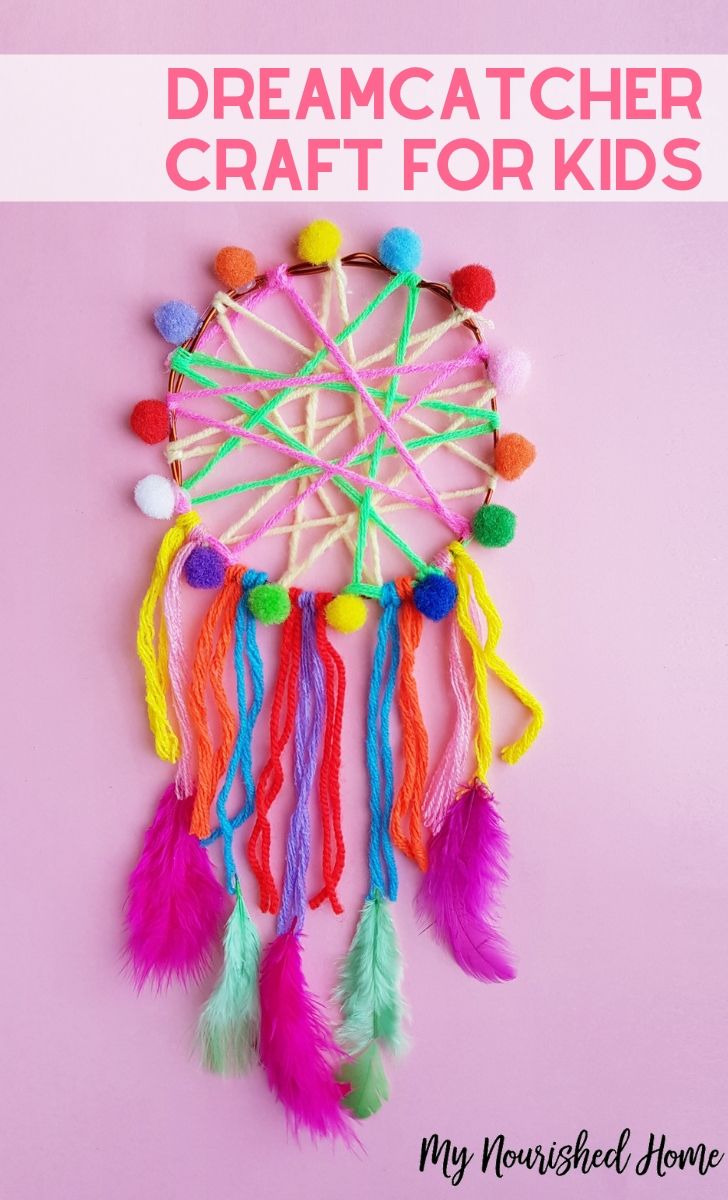 Yarn Craft For Kids
So I am all about yarn crafts. I have really been excited to start adding new crafts into the mix – especially ones that are easy enough I can do them with my kids. Macrame is also on my list to learn but is not quite a kid-friendly… at least until I have figured it out enough to help them!
This dreamcatcher DIY was a perfect fit. We made these up and then hung them in our kids' rooms for a fun colorful pop.
What Type of Yarn To Use For Dreamcatcher
You can use any type of yarn you have. A basic thicker style yarn will work great. As you can see I wanted to make this bright and fun, so we used a handful of colors.
Feel free to make it as bright or pastel as you would like. Then I bought pom poms to attach on the outside.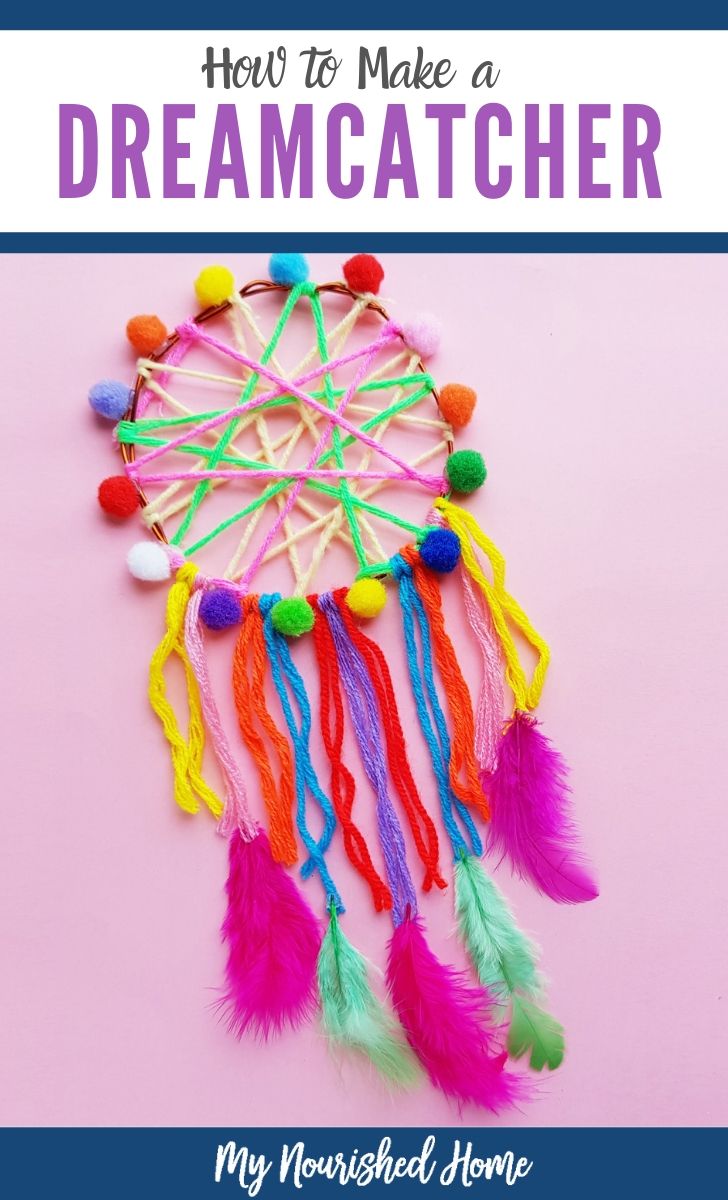 How to Make DIY Dreamcatchers
Below are step-by-step images to help you navigate making your yarn dreamcatchers. I used metal to shape the circle for the base. Then with a little yarn, poms, feathers and more you slowly create a one-of-a-kind dreamcatcher.
If your kids are a little like mine and sometimes worry or get frustrated over making a mistake, you can read how I teach my kids to handle mistakes here.
A 30-minute yarn craft that is rather easy. Great for beginner crafters who want something easy but fun to make.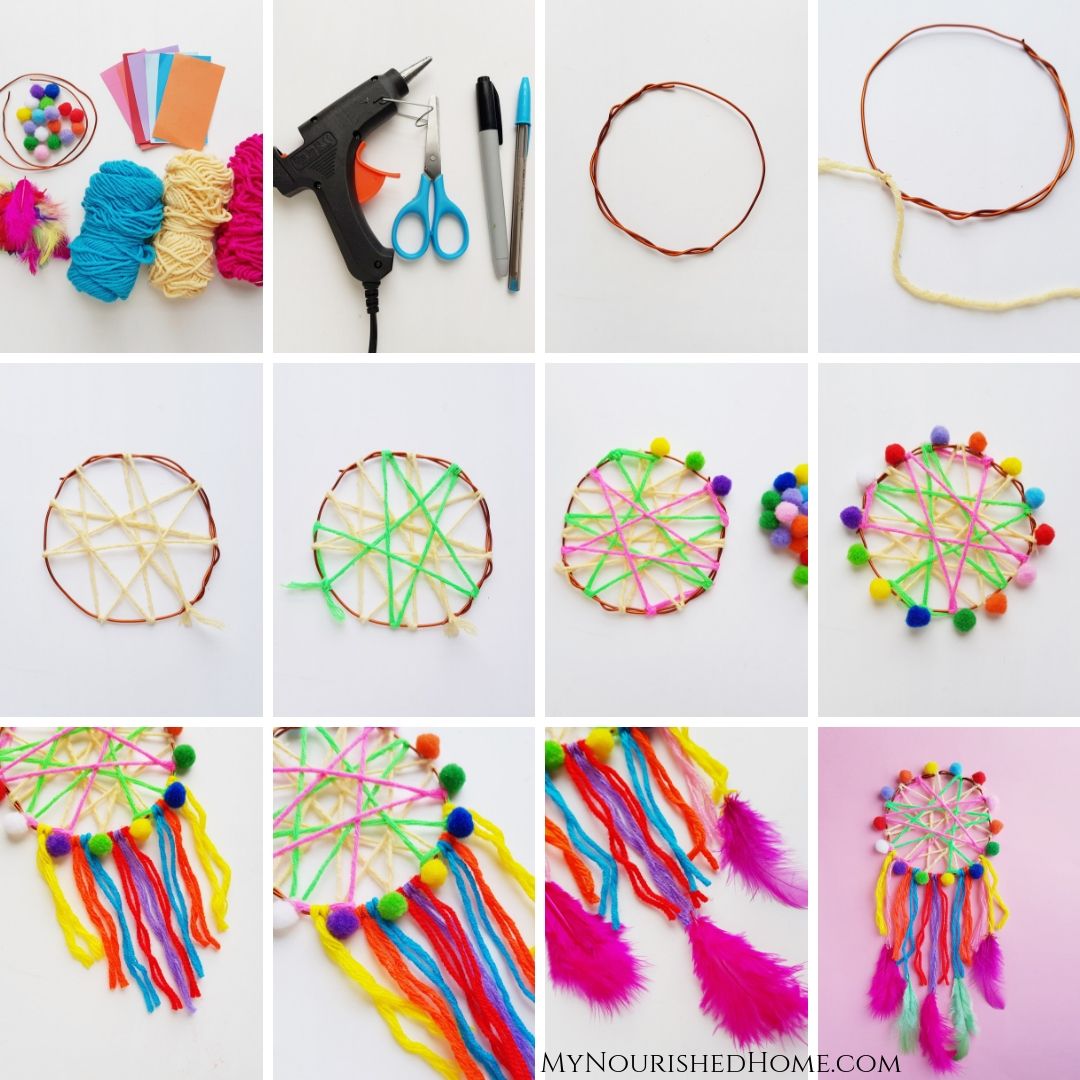 Are Dreamcatchers Lucky?
Dreamcatchers were originally made to hang above your bad to catch bad dreams.
Some people believe having a dreamcatcher above your bed can bring you good luck and good dreams. My 3 daughters think they are beautiful and when I explained how they originated, they were excited to hang them over their beds for a peaceful night's sleep.
I'm not sure if dreamcatchers are really lucky… but if it got all my kids into bed without a fight, I feel like it is at least lucky for me!
Here are more crafts to make
Unicorn Felt Toppers | Grab your felt and make some unicorn pencil toppers. These are soft, colorful and so much fun!
Flower Felt Pencil Toppers | My kids seriously love making these… all of our pencils are so pretty.
Under The Sea Craft | Go down under with this sea craft. Fun for kids, great for the child who enjoys creating and making fun crafts at home.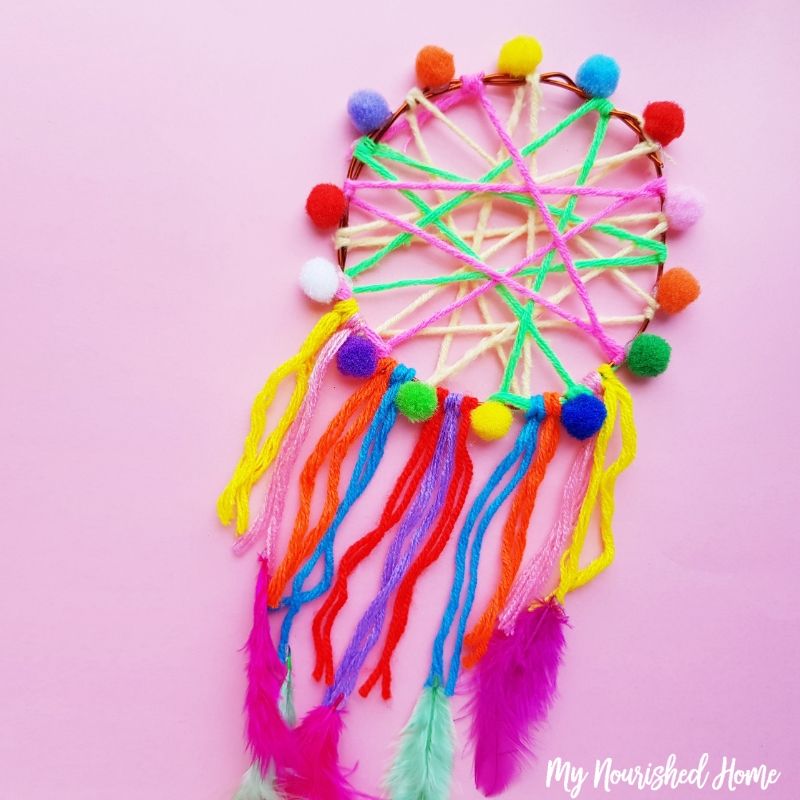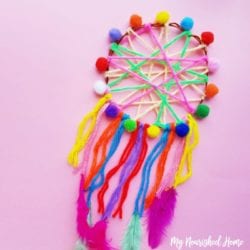 Dreamcatcher Craft for Kids
Chase away bad dreams with this adorable and easy dreamcatcher craft for kids.
Ingredients
16-gauge craft wire

Yarn

Any color

Pompoms

Any color

Craft feathers

Any color

Construction paper

Any color

Marker

Scissors

Hot glue gun
Instructions
Make a hoop using 16-gauge craft wire or you can simply use a store-bought hoop for
the dreamcatcher.

Select a skein of yarn and tie a knot around the hoop without cutting the yarn from the skein.

Randomly wrap the yarn inside the hoop. Each time the yarn reaches the hoop band wrap it
around the hoop band once or twice on that spot to make sure that it stays still. Once you are satisfied with the random yarn pattern bring it to the band again and tie 2 tight knots. Cut off the extra yarn.

Grab a different colored yarn and similarly wrap it randomly inside the hoop.
Use 1 or 2 more different colored yarns for random wrapping.

Once the yarn wrapping is complete, grab some colorful pompoms and add
them around the hoop. Use the hot glue gun to attach the pompoms around the
dreamcatcher hoop.

Keep an even distance between the pompoms when gluing them around the hoop.

Determine a length for the yarn hanging on the dreamcatcher and cut a yarn strand of
double the required length. Fold it into half and attach it with the hoop by a loop knot.

Grab different colored yarn strands and attach them to the hoop.

Done attaching yarn? Use scissors to trim the bottom ends of the yarn.
You keep them straight or cut them into a triangular shape.

Now get the colored craft feathers and attach them on the open bottom
ends of the yarn hanging. You can select a few strands for adding the feathers
or you can add feathers to all of them however you want. Want to add more decorative items? Get creative!