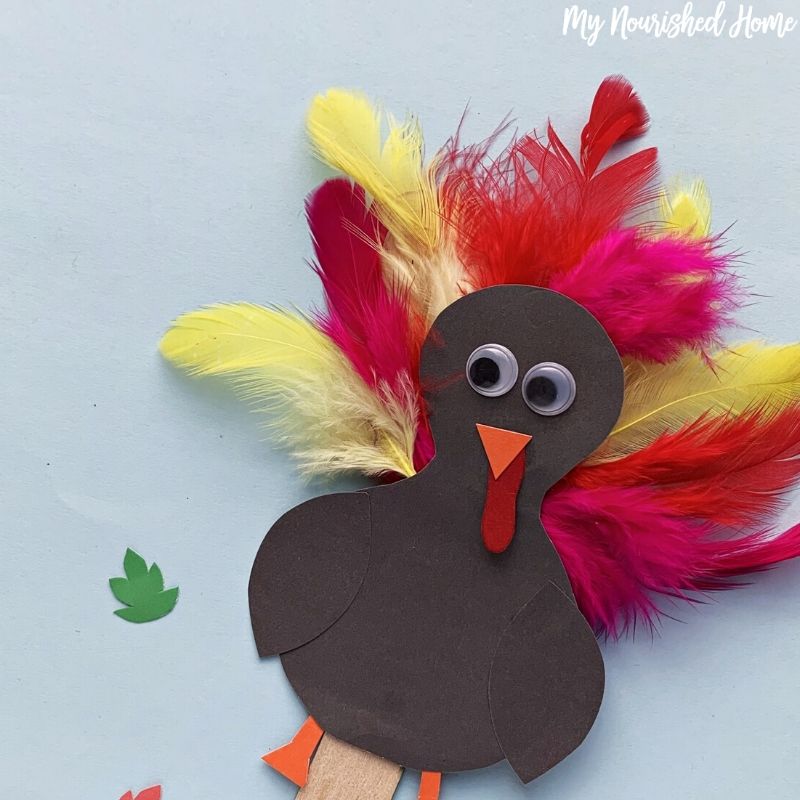 This turkey craft is an adorable fun way to enjoy quality time with your kids this Thanksgiving season.
These adorable turkey puppets can be used to keep the kids entertained at the kids' table during the holiday feasts or décor for your dining room table.
Whatever you choose to use this turkey craft for you, I'm confident you'll have fun making these Thanksgiving puppets with your kids today.
If you are looking for more Thanksgiving themed projects, make these easy turkey cupcakes too!
Turkey Puppet Craft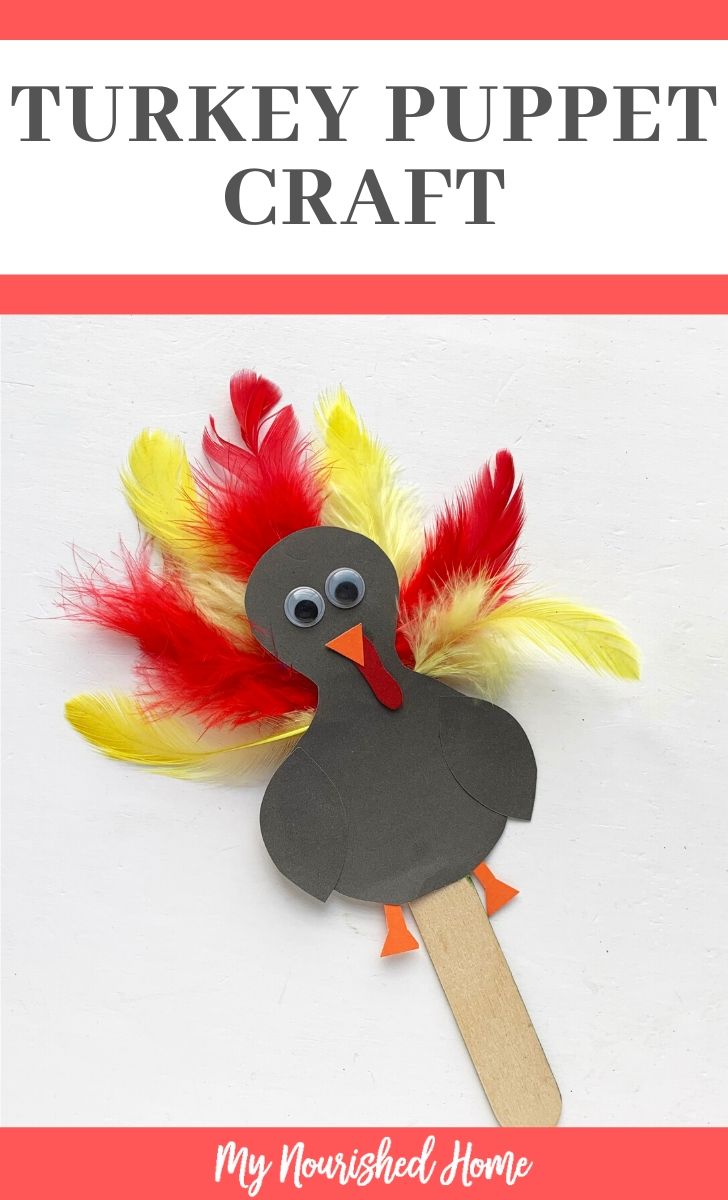 This turkey puppet is a fun way to encourage your kids to use their creativity this Thanksgiving season. Each of your kids' turkeys can have a different color, face, or feather arrangement.
With just a few supplies your kids can make this paper turkey with minimal adult supervision. Consider using these turkey stick puppets to make your own puppet show, decorate the house, or give as a gift to family members.
How can I make this turkey craft for kids unique?
That's a wonderful question! It's easy to adjust this turkey craft for kids. Simply replace the grey craft paper with brown, or purple, whatever color your kids seem to think is fun! That's the beauty of doing crafts with kids, they can use their imagination.
Encourage your kids to chat about what they want for their turkey color, eye style, and even feather colors. This will help your kids feel a higher level of pride when they've completed their turkey craft.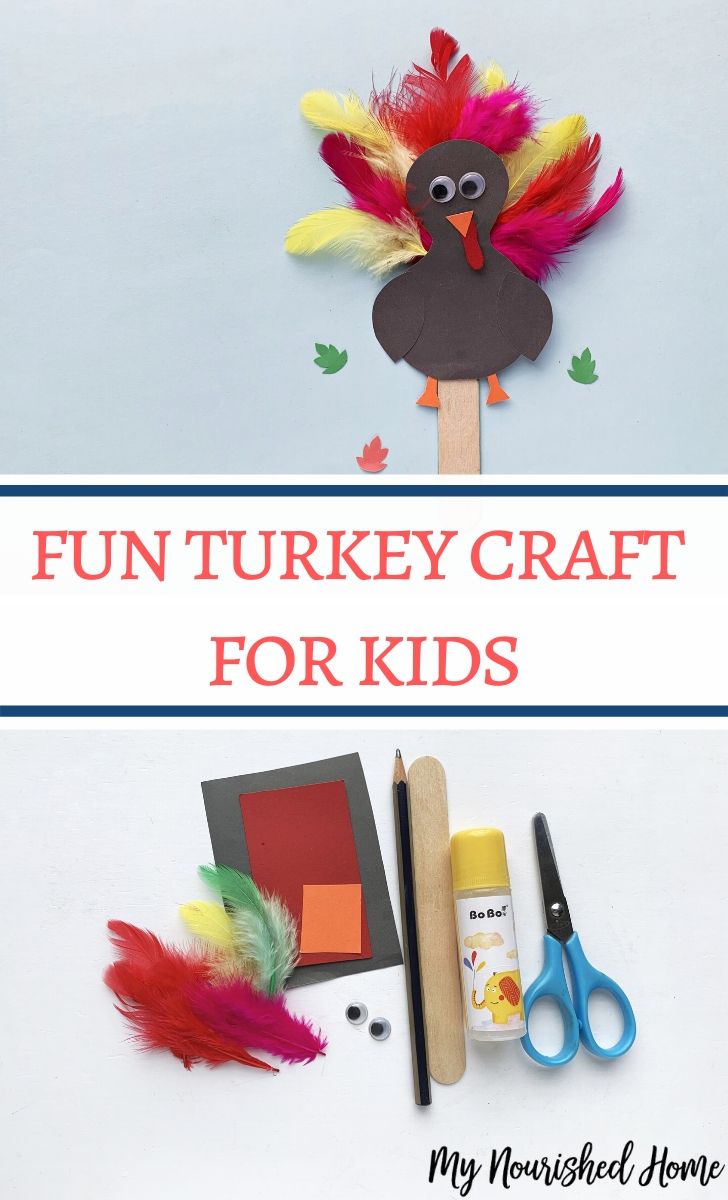 What can I do with this turkey craft?
I'm so glad you asked what you can do with this turkey craft! I have a few ideas for you to do more with your turkey stick puppets, such as:
Host your own Thanksgiving puppet show.
Write one word of something you're grateful for on each popsicle stick.
Gift the turkey craft to a family member, complete with "thankful for you" written on the stick.
Place a bucket of turkey stick puppets at the kids' table for Thanksgiving dinner entertainment.
There are so many fun ways you can use this turkey craft to celebrate Thanksgiving. It's fun to use crafts to help your kids showcase their creative side all the while discussing what they're thankful for.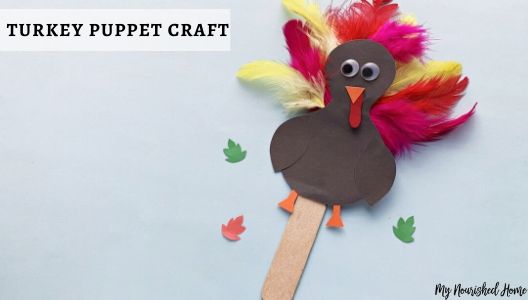 How do I make this turkey craft for kids?
Are you ready to make this easy paper craft with your kids? It's a super easy project that only takes a few minutes to get started.
Simply gather up your supply list, shown below. Print your turkey craft template and cut out the template to have your guide ready.
Attach the wattle part of your turkey and then attach the turkey legs to the bottom part of your turkey body.
Attach the beak to part of the wattle, and then glue the googly eyes wherever your kids would like their turkey eyes to be.
Flip your turkey craft over so the backside is facing up. Attach the feathers in a colorful display that resembles a real turkey's feathers. Make sure the feathers are visible from the front side of your turkey craft.
Get your wing cutouts from your template and attach them on each side of your turkey on both sides of the turkey's body.
Finally, attach your beautiful turkey craft to a popsicle stick using your glue stick. Allow this turkey to dry before playing or using it as décor.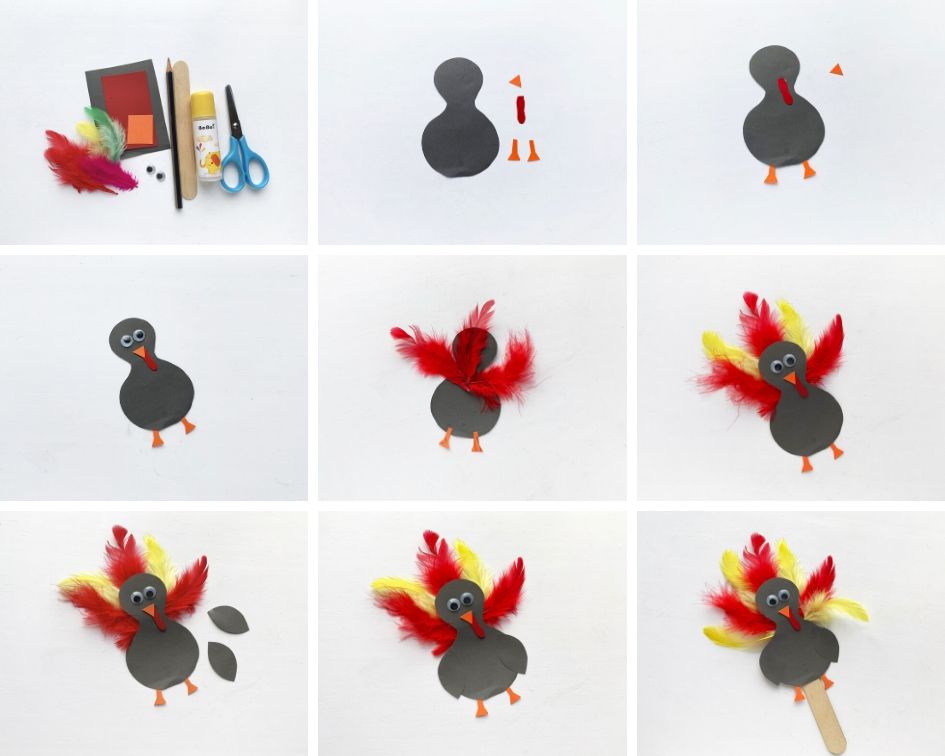 These Thanksgiving Turkey Hairbows are adorable! Make these for your girls this holiday too!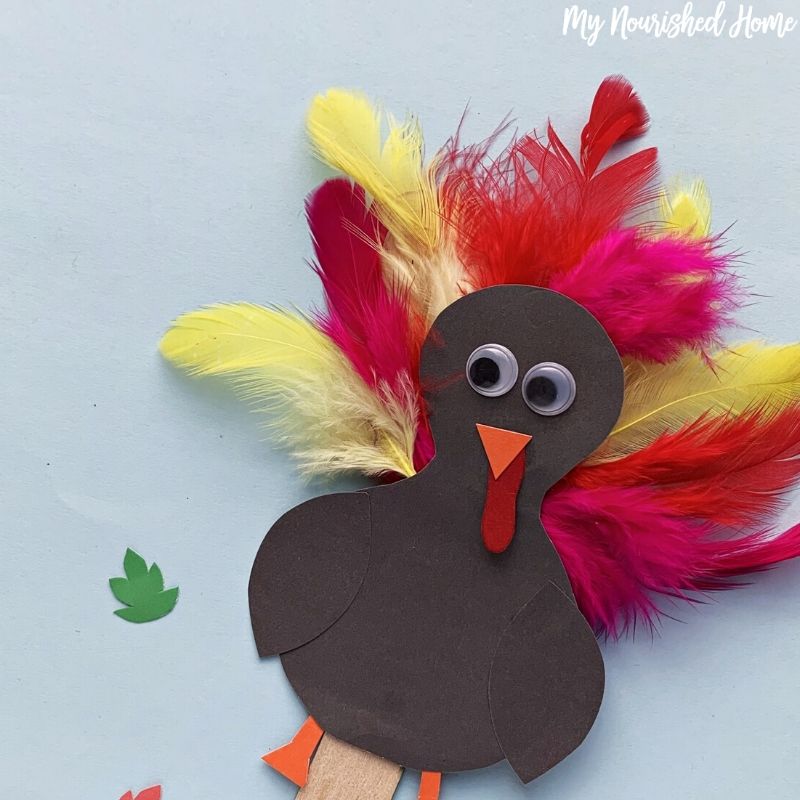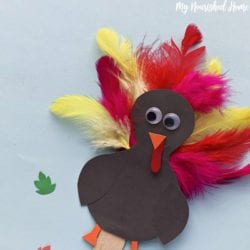 Fun Turkey Craft for Kids
Make this fun Turkey Hand Puppet for hours of Thanksgiving-themed play!
Ingredients
Colored craft paper

Pencil

Scissors

Craft glue

Craft feathers

Googly eyes

Popsicle sticks
Instructions
First of all, select colored craft papers for the turkey. I'm using grey craft paper for the body, orange for the beak and legs; and red for the wattle. Trace and cut out the patterns from the provided template.

Attach the wattle on the head part of the turkey body, cut out and attach the legs on the bottom side.

Attach the beak on the top side of the wattle, by overlapping the top end of the wattle a little. Also attach the googly eyes.

Flip the paper turkey to its wrong side. Grab some colored craft feathers and attach them on the back side of the paper turkey, making sure that the feathers are visible from the front side of the turkey.

Mix and match different colored craft feathers to make a fun pattern.

Take the wing cutouts of the turkey.

Attach the wing cutouts on both sides of the turkey body part.

Now attach the paper turkey on a popsicle stick to complete the turkey puppet.