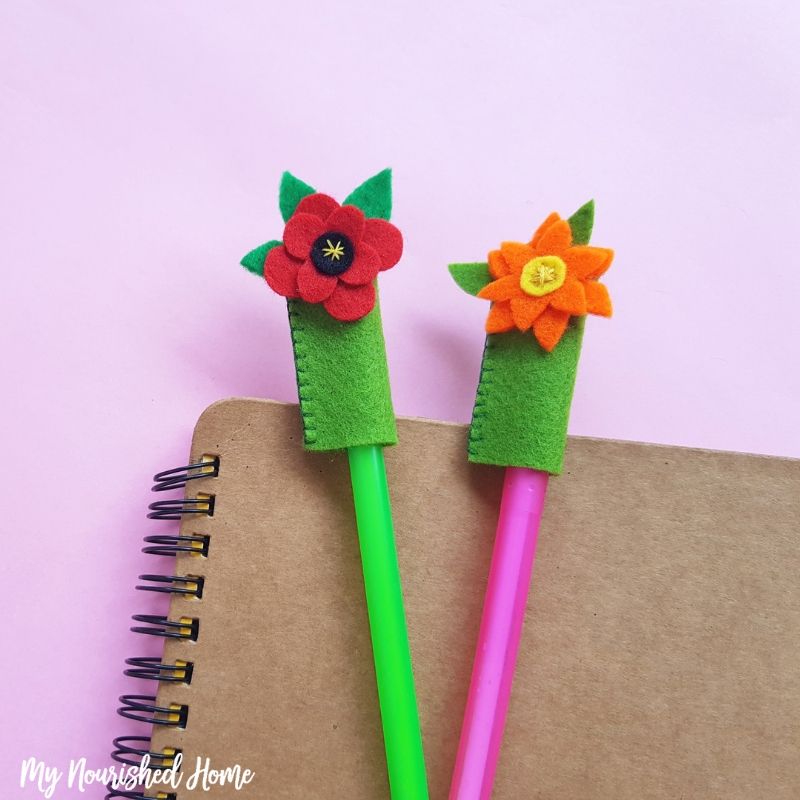 Flower pencil toppers are a fun felt craft that will help dress up your pencils in no time. Such a fun kid's craft to make with your elementary and middle schoolers.
Print out the free flower pencil topper template and follow the easy instructions below to learn how to make your own pencil toppers today.
DIY Pencil Toppers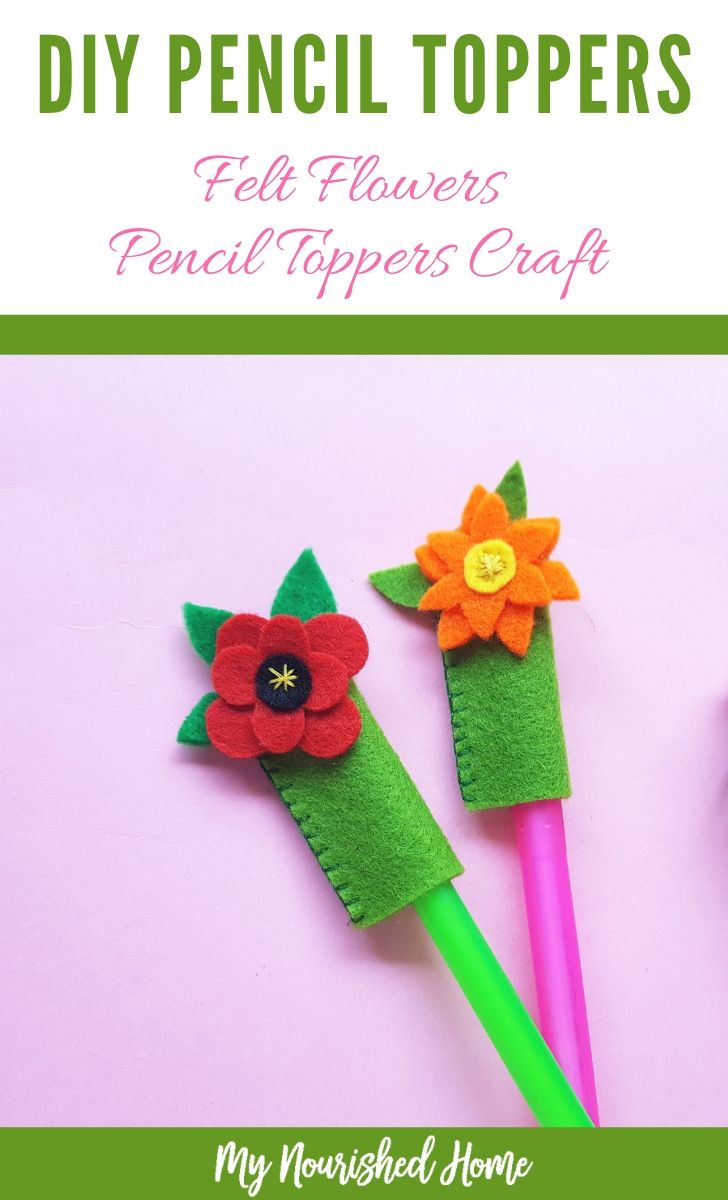 I know when I was younger I always loved having fun pencil erasers to add to my pencils at school to help give them a splash of personality.
That is where I thought up the idea of these felt flowers. I know any little kid would be in awe of the fun colors, soft feel, and creative way to dress up a pen or pencil.
If you want to learn how to make pencil toppers, you came to the right place.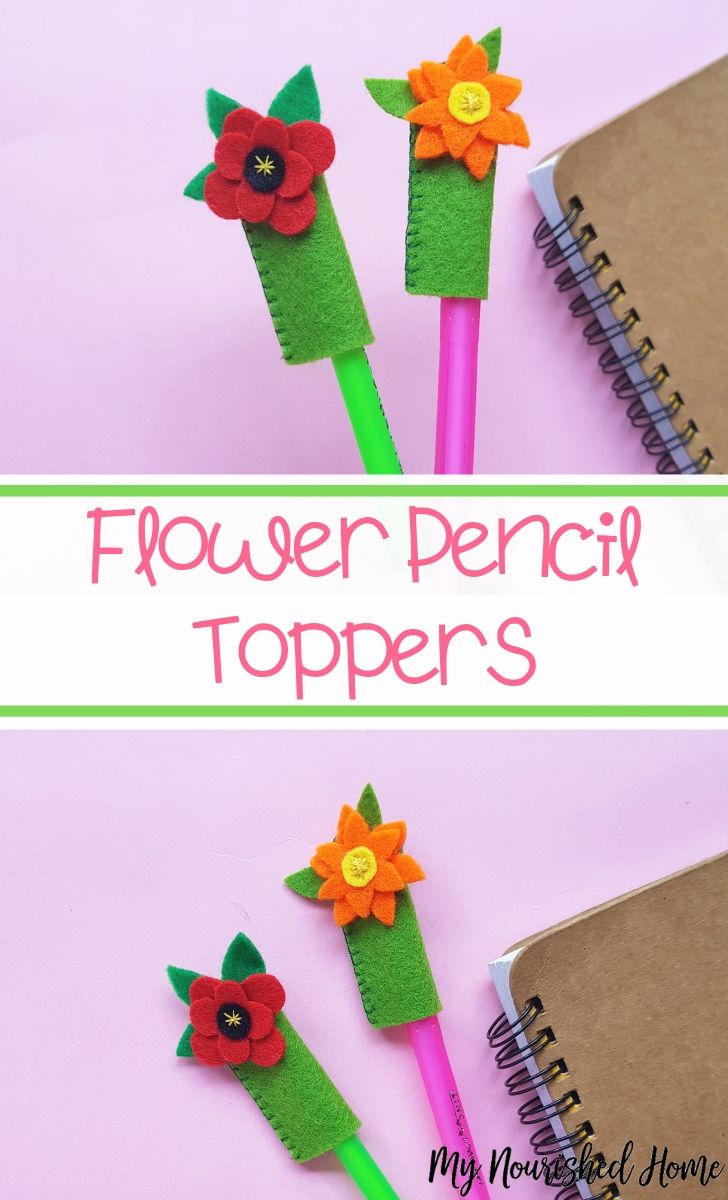 How To Make Flower Pencil Toppers
I share step-by-step images to help you see exactly how I made these toppers. You can print out the template for these toppers here.
Then grab your colored felt, and work at tracing, cutting, and prepping all your pieces for the pencil toppers.
Now you get to begin sewing the pieces together.
Hand-Eye Coordination Craft
This is a great hand-eye coordination craft for kids to learn. They will learn to watch the little details of sewing in a straight line, working in small areas, following directions and more.
Now with the hot glue gun work, if you are letting a child help, make sure you do this portion to prevent them from being burned by the gun.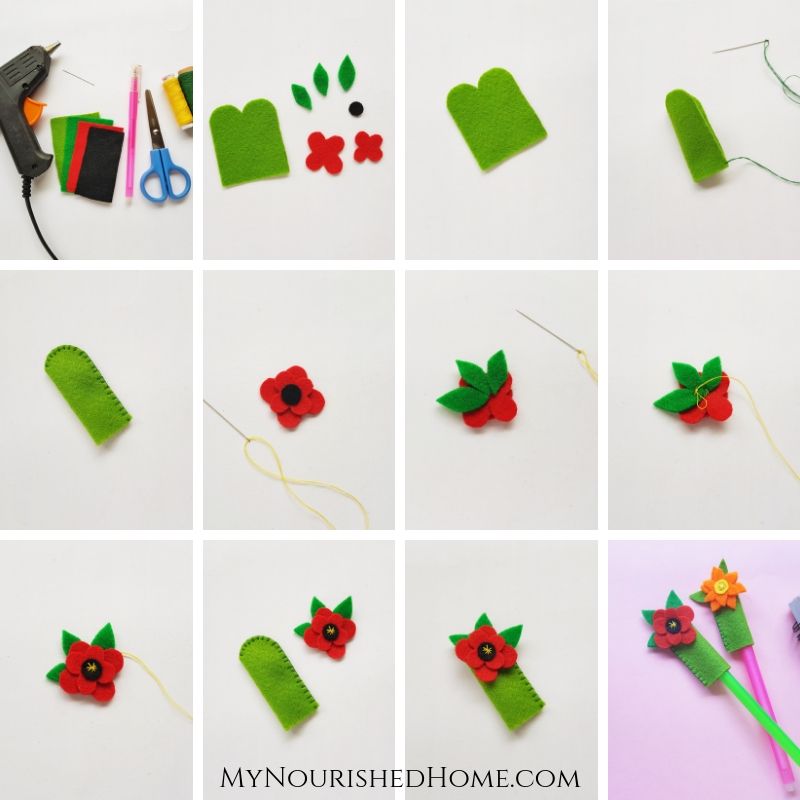 What Color Of Thread To Use To Stitch Felt Pencil Toppers
Here is where you can be creative. Use a color that blends in with the felt, or do a bold color next to the green to make it stand out. Do whatever you feel would look nice and be a creative and fun spin.
These pencil toppers can be made with any color of felt you want. The possibilities are endless in what you create.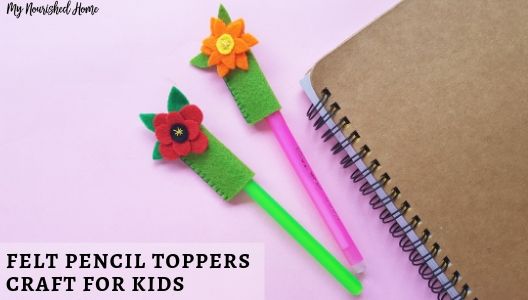 More Crafts For Kids To Create
Unicorn Bookmark | Here is a really easy unicorn bookmark you can make for your child. Help them have fun keeping track of what page they are on, in their book.
Halloween Kid Puppets | Learn how to make these easy Halloween kid puppets for your toddler or child today. They are so easy to make and will provide hours of fun.
Under the Sea Craft | A papercraft is always a fun way to get your kids being creative. Here is a super easy craft great for toddlers and older.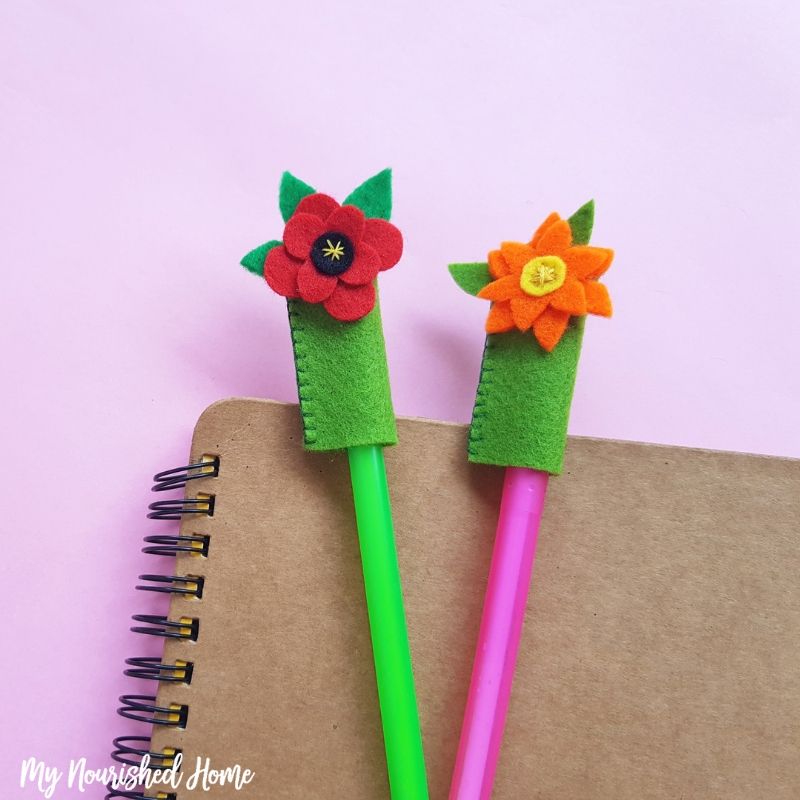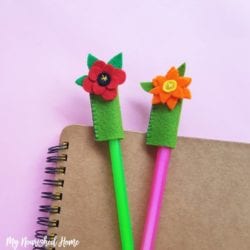 Felt Flower Pencil Toppers
Give your pencils some pizzazz with these fun felt flower pencil toppers!
Ingredients
Felt

Pencil

Scissors

Needle & thread

Hot glue gun & hot glue sticks

Printable template
Instructions
Print out the template patterns and cut them out. Trace the patterns on
felt fabrics and cut out the traced patterns using scissors. The template
includes 3 sets of patterns of 3 different sizes, choose any size you want.

Take the flower patterns. Place the small flower pattern on the top of
the big flower pattern and then place the small round shape on the center of the
small flower pattern.

Hold all 3 patterns together and flip them to the back side. Place the 3
leaf patterns on the back side of the flower arrangement.

Stitch the leaves with the flower on the back side, while keeping in
mind to stitch the small round center piece with the flower as well. I did a double cross stitch to stitch all 6 patterns together (3 leaves, the flowers, and the round shape).

Now take the pencil topper base cutout and prepare needle and thread.

Fold the pencil topper cutout into half lengthwise. Start to stitch from the bottom
side. You can do running stitch or flat blanket stitch around the open side to
close it.

The pencil topper and the felt flower are ready. Prepare the hot glue gun
to attach the felt flower on the pencil topper. Use hot glue to attach the felt flower on the top closed end of the felt topper.