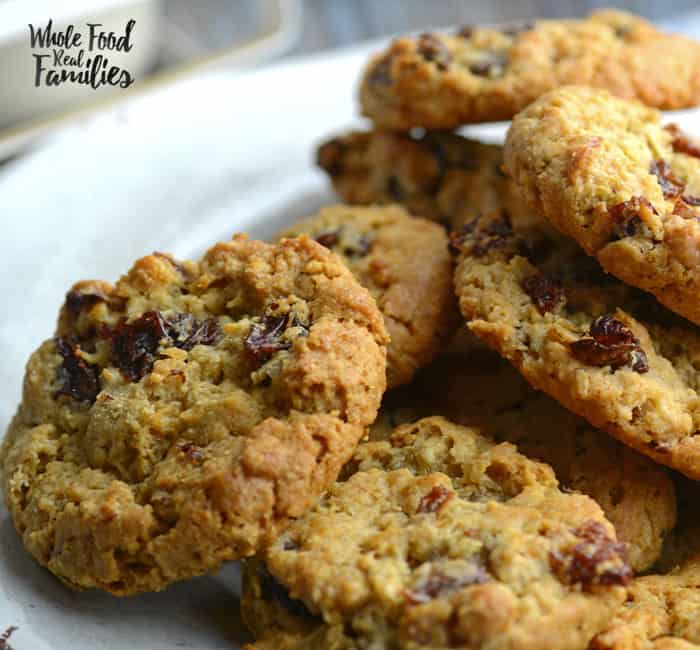 Healthy Cinnamon Maple Oatmeal Cookies satisfy your sweet and treat cravings with a healthy combination of oats, maple, and cinnamon.
Cinnamon Maple Oatmeal Cookies
Asking your kids to eat less refined sugar can be a struggle day to day. We try very hard to find compromises that work because food is social. And sharing special meals and treats are a part of everyday life, especially once kids enter school and are surrounded by other kids.
We don't want our kids to feel deprived (or be deprived ourselves for that matter!) but rather we want them to develop their own sense of moderation and judgment.
The journey to that goal has been different with each of our children. The journey is now a little easier for all of us with these Cinnamon Maple Oatmeal Cookies in the house.


Oatmeal Cookies Sweetened with Maple instead of Sugar
So dessert is part of the recipe repertoire in our house. It is not banned or even frowned upon. We simply try to focus on more nutritious options and moderation.
If you have hung around the blog for long, you have seen some of those efforts. Like Healthier Chocolate Muffins, that become cupcakes if you frost them with Buttercream Frosting. We love this Chocolate Nut Butter Smoothies for breakfast and Fresh Fruit Pizza when the berries are in season.
I am a pretty good cook but every once in awhile, I hit one out of the park. These two dozen cookies use 3/4 cup of maple syrup as the sweetener – as opposed to twice that amount in most other recipes – some used as much as 2 cups of sugar. These cookies also use whole wheat flour as opposed to traditional white flour.
But the maple and cinnamon give the cookies such an intensely homey, warm taste that nobody missed what was missing. 🙂 These cookies were so good that I couldn't keep everyone out of them.
These two dozen cookies were gone in a day – yes a day. (Next time there will be rationing of the cookies.)
Healthy Oatmeal Cookies!
In fact, they were so good that I thought my kids were going to revolt before I could get the pictures taken. The minute I pull out the camera, my kids head for the table to see if there is anything good there they can swipe. This time, my 5 and 7 year olds were in cahoots. It became more and more difficult to get a good picture of these cookies because I had fewer and fewer to work with.
During that time my 18-year-old was texting me from school asking me to bring her food before she headed to work after school because she was starving. (She is always starving. I am convinced she has a tapeworm. She has actually named her tapeworm after a historical dictator. And likes to blame him when she gets scolded for anything or can't get full – he gets blamed a lot.)
No wonder we went through two dozen of these in a day. In the meantime, I am headed back to the kitchen to make more of these cookies. This time, I am doubling the recipe.
Oatmeal Cookie Sandwiches
If you are feeling crazy, whip up some of our Buttercream Frosting and make these Oatmeal Cookie Sandwiches!
Do oatmeal cookies make you think of fall? I love fall baking and these are always on my list. These Fall Cookies are some of our very favorites!
And our kids love theses Oatmeal Breakfast Cookies that use bananas as a sweetener. They are a regular part of our morning school routine!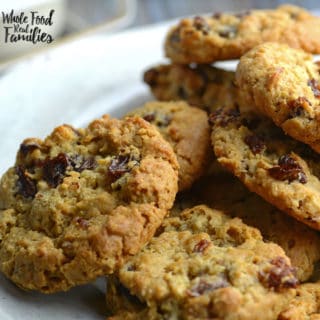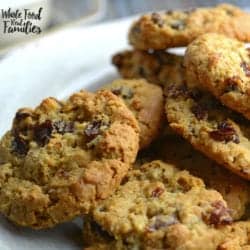 Cinnamon Maple Oatmeal Cookies
Course:
Dessert, Snacks & Treats
Ingredients
3/4

cup

butter, softened

1 1/2 sticks

3/4

cup

maple syrup

2

eggs

1

tsp

vanilla extract

1 1/2

cups

whole white wheat flour

1

tsp

baking soda

1

tsp

ground cinnamon

1/2

tsp

salt

3

cups

rolled oats

not the quick cooking kind

1

cup

chopped nuts, raisins, or chocolate chips

(optional)
Instructions
Preheat oven to 350 degrees.

In your stand mixer, whisk butter and maple syrup on medium speed until creamy. It might look a little weird for a second but it will come together. Add eggs and vanilla, and whisk until combined.

In a second bowl, combine whole white wheat flour, baking soda, cinnamon and salt; mix until uniform. Slowly pour into the butter mixture, mixing on low until combined.

Switch to the paddle attachment, or using a rubber spatula, add oats and additional add-ins (if using); fold into the dough until combined.

Drop dough by rounded tablespoonfuls onto ungreased cookie sheets. Bake 10-12 minutes or until light golden brown.

Cool for a minute on cookie sheets so they don't fall apart when you move them. Then move to wire rack to cool completely.

Store in an airtight container. Enjoy!