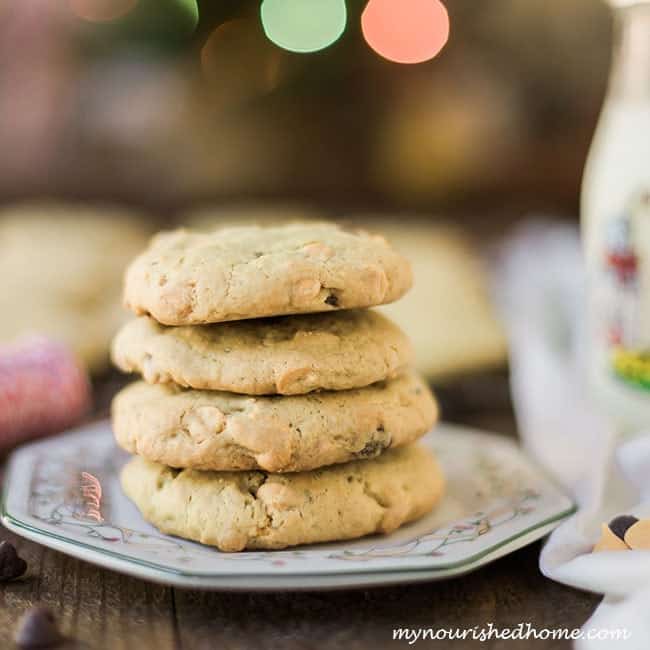 These Cream Cheese Cookies are my kid's favorite thing to bake in the kitchen. They are soft and sweet, tender and delicious. These cookies are perfect for holidays – or any day that you'd like to make special!
We also really love these Cranberry White Chocolate Oatmeal Cookies around the holidays!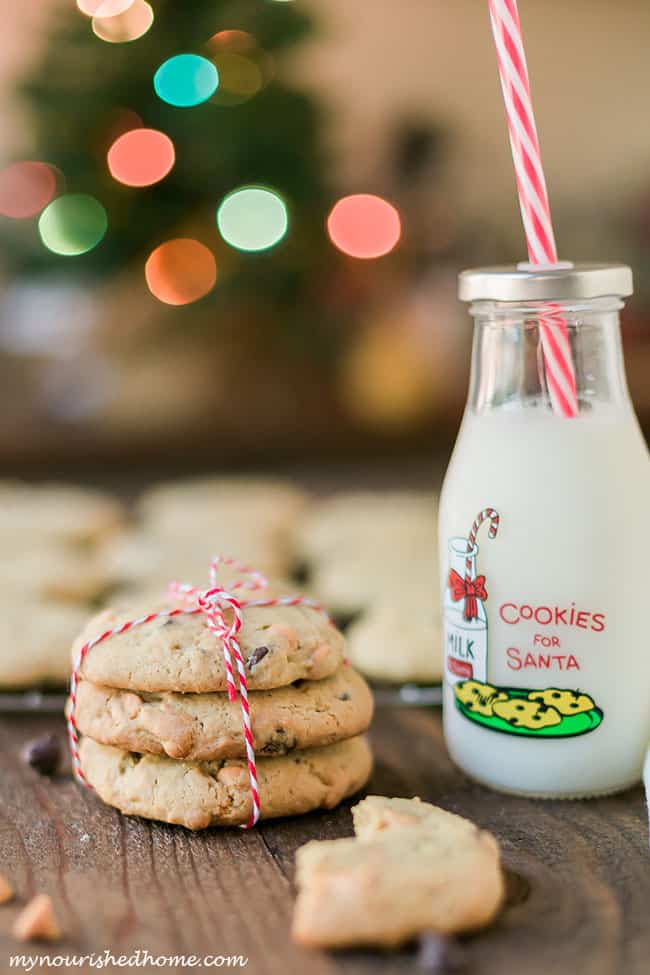 Cream Cheese Cookies are Soft and Sweet
A side effect of having a job that keeps you in the kitchen a lot is that my kids are growing up knowing how to make their way around all kinds of food. But let's be serious, baking cookies is something special.
These Cream Cheese Cookies are so soft and sweet – truly, the texture is to die for because of the cream cheese. And they are one of my girls' favorite reasons to get in the kitchen.
The hardest part of giving these cookies as gifts is making sure there is enough left when they come out of the oven.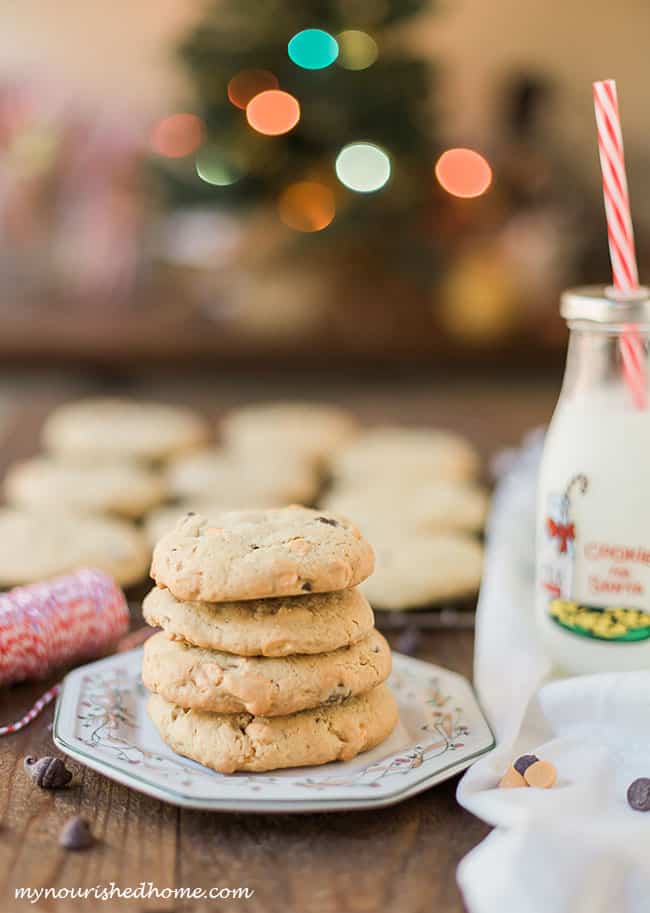 Cream Cheese makes AWESOME Cookies!
I would love to say there was a grand plan when we created the recipe for these Cream Cheese Cookies, but the truth is, I had some cream cheese in the fridge I needed to use up. Shhhh… don't tell anyone that, okay.
Sometimes necessity really is the mother of invention – I find that is so true in the kitchen.
And there is nothing better to invent than new cookies recipes!
I have made lots of baked goods with things like sour cream and yogurt so I figured cream cheese was close enough to trust it would work out okay. I had no idea cream cheese cookies would taste so delicious. They are tender and moist but a bit creamier… or more substantial than cookies made any other way. And the cream cheese plus the added chocolate chips in this recipes are a pair made in heaven.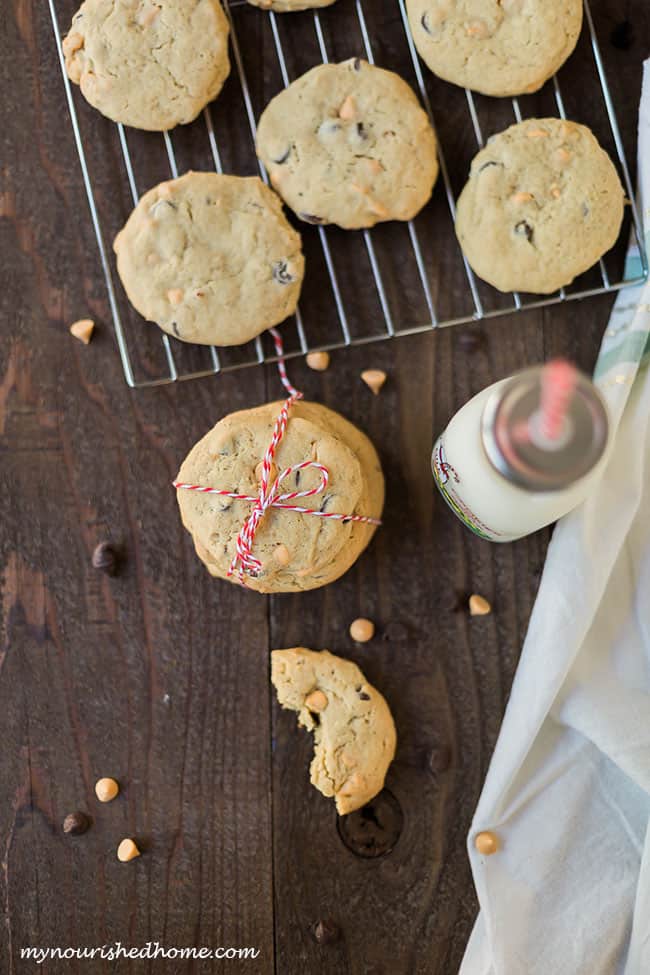 Cream Cheese Cookies are Perfect for Holidays and Gifts!
Something really special about baking cookies is that they make perfect gifts. It is a lot of fun to watch kids in the kitchen together baking cookies they plan to give away. It is sweet to see how proud they are.
On a high note, sometimes they want to bake these cookies for Santa too… I hear Santa likes Cream Cheese Cookies a lot!
Seriously, the first time we baked these cookies as gift for friends and family, I got phone calls from four different people asking for the recipe. Considering we only gave them to a handful of close friends, I thought that was a pretty good indication that the cookies were winners.
I am trying to convince them that the Easter Bunny and the Tooth Fairy like cookies too.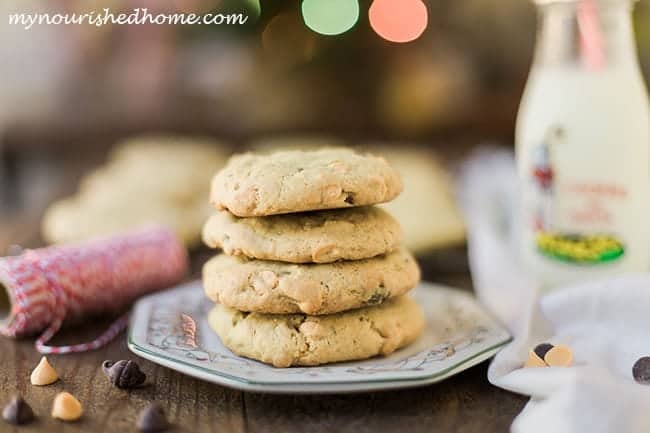 Want to Make these Cookies Really Special?
My gut instinct is always to put chocolate chips in anything resembling a cookie. But I had some butterscotch chips hanging around that might have been dragged home on a whim.
So we mixed it up – butterscotch and chocolate chip cookies made these Cream Cheese Cookies taste out of this world! You have to try them….
Right now.
You have to try them right now.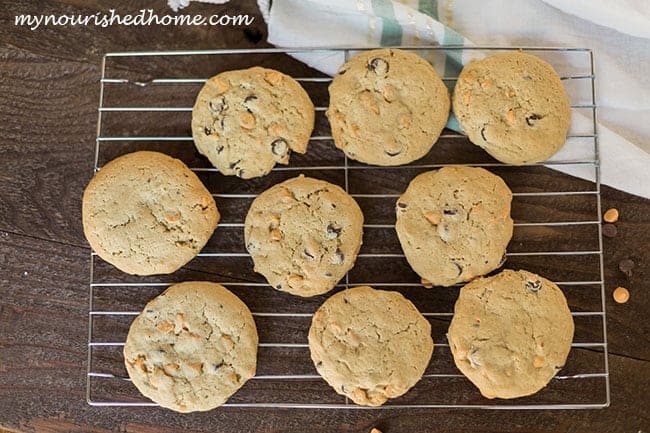 How to Store Cream Cheese Cookies
Make sure you put your leftover cookies (hahaha! Leftover cookies, what are those?!) in an airtight container so they stay fresh. I just store mine on the counter and have no issues but you can store them in the refrigerator if you like.
You can also freeze these for up to four months. If you decide you want to give that a try, let me know how it turns out. My cookies rarely make it to nightfall around here.
Need more goodies fit for the holiday?
Try this Easy Chocolate Bark Candy Recipe!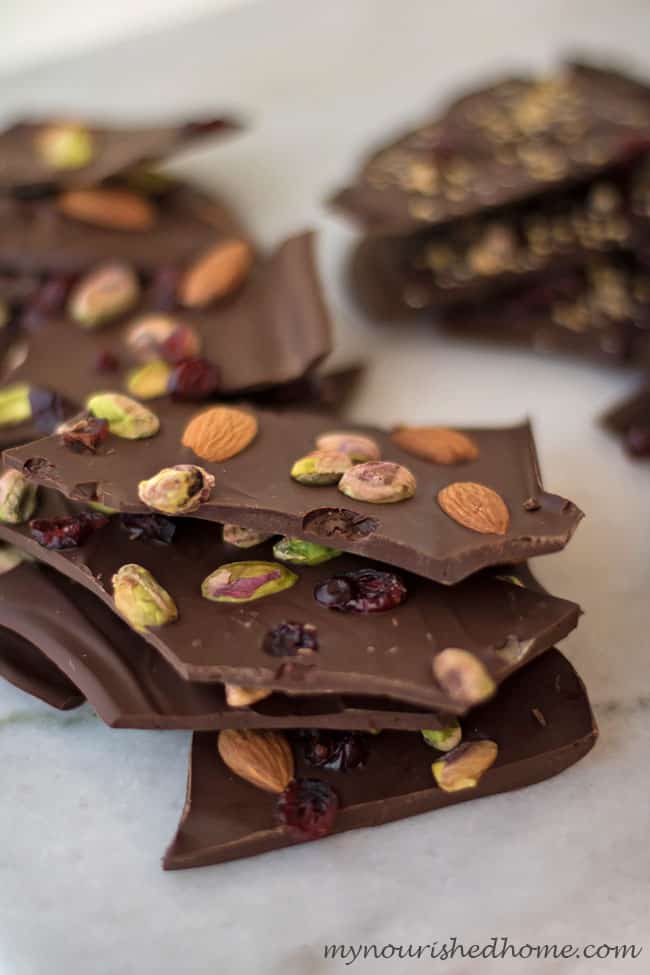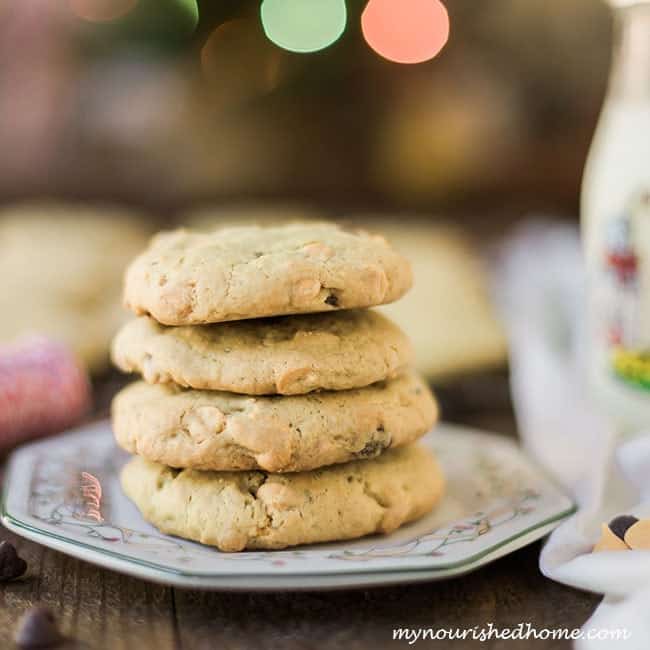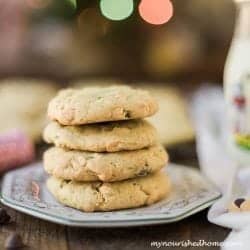 Cream Cheese Cookies
Ingredients
1

stick

butter

room temperature

1/4

cup

regular cream cheese

room temp, full fat

1/4

cup

sugar

1/2

cup

brown sugar

1

egg

1

tsp

almond extract

or vanilla

2 1/4

cups

all-purpose flour

1

tsp

baking soda

2

tsp

cornstarch

pinch

of salt

1

cup

butterscotch chips

1

cup

chocolate chips

we like semi-sweet
Instructions
Combine the flour, cornstarch, baking soda and salt in a bowl and set aside.

Cream the butter, cream cheese, sugars, egg, and almond extract until fluffy. About 5 minutes on medium speed.

Lower speed and add the flour mixture. Mix just until it's well combined. Don't over mix.

Fold in both the chocolate chips and butterscotch chips until their well distributed.

I scooped 1/2 inch cookies on a baking sheet and flattened them a bit with the bottom of a cup and let them sit in the fridge for 2 hours.

When ready to bake, remove cookies from fridge and let them almost reach room temperature (I just let them sit on the counter until the oven was ready). Pre-heat oven to 350 degrees. Bake 8 - 10 minutes.

These cookies don't really spread, and you don't want to brown them either. Let them cool on the baking sheet for 5-8 minutes before moving them to a wire rack.

They are soft and moist! Store in an air-tight container and I recommend popping them in the microwave for 5 sec the following day!