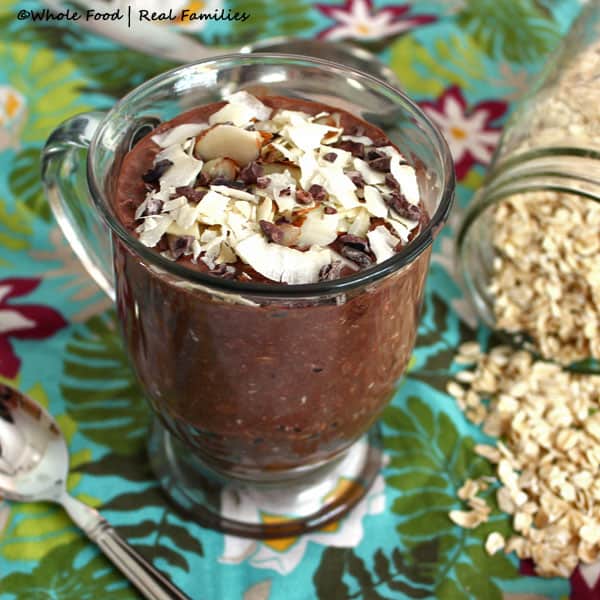 Cinnamon Chocolate Overnight Oats is a richly chocolate, nutritious breakfast with no refined ingredients. Perfect for busy mornings and back to school.
Breakfast is by far the hardest meal for me to coordinate on school mornings. All 3 of my girls are on different schedules. Combined with the fact that I am not yet appropriately caffeinated first thing in the morning, I can feel spread a little thin even on a good day. (We don't want to talk about how I feel on a bad day!)
Thankfully, these Cinnamon Chocolate Overnight Oats have been around to save my morning more than once. And all 3 of my kids love them.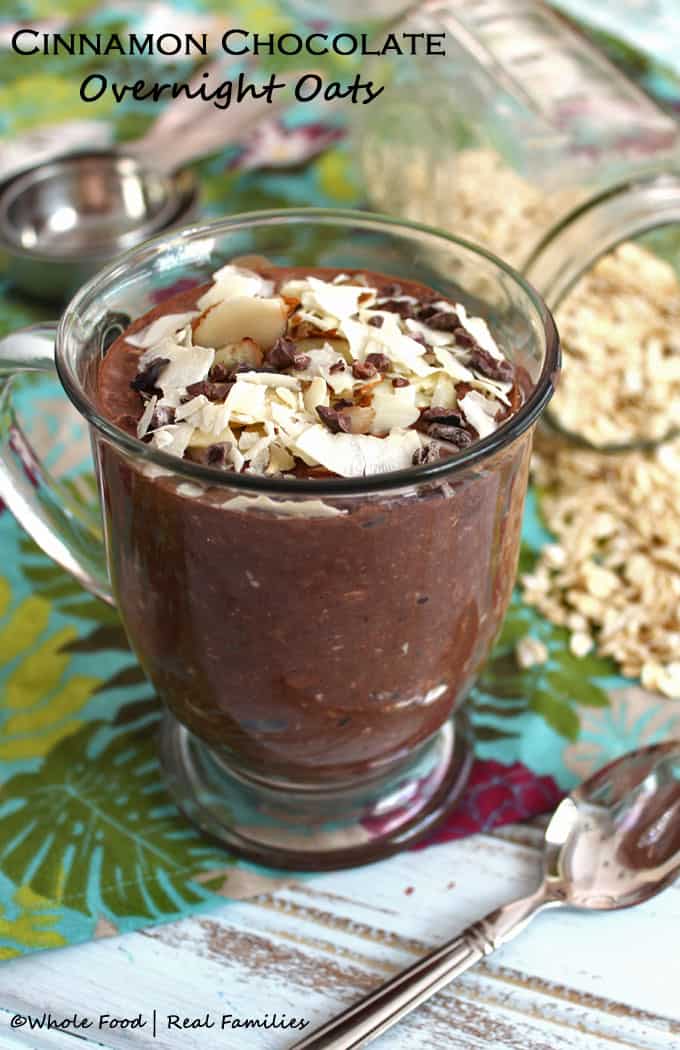 Chocolate Overnight Oats
If you haven't been on the internet in the last three years, you should know that overnight oats have taken over. With good reason, you pile some rolled oats and other good stuff in a jar, shake it up and stick it in the fridge. The next morning – VOILA! Tasty breakfast, no cooking. I was late to the idea of overnight oats. For a long time, I couldn't wrap my brain around eating cold oats. For the first year that they were in rotation, I heated mine a minute or two in the microwave. Now I really like them both ways.
Since the realization that overnight oats are the EASIEST breakfast on the planet, a whole new world of breakfast options opened up to me. This particular version of Cinnamon Chocolate Overnight Oats is one of my favorite because it is nutritious and filling – and still manages to taste like chocolate dessert. Dessert for breakfast that I don't have to feel guilty about – I can live with that.
By the way, I also make Healthy Chocolate Muffins for this reason!

Healthy Breakfast for Kids and Adults
If you are not familiar with chia seeds. They are magical. They go into overnight oats tiny seeds and turn into these little bubbles of nutrition. I started tossing them into overnight oats when my oldest daughter started running cross country. Chia seeds are very nutritionally dense. One ounce – or about 2 tablespoons – of chia seeds contains:
11 grams of Fiber
4 grams of Protein
9 grams of Fat (5 of which are Omega-3s).
18% of the RDA for Calcium
30% of the RDA of Manganese
30% of the RDA of Magnesium
27% of the RDA of Phosphorus
They also contain Zinc, Vitamin B3 (Niacin), Potassium, Vitamin B1 (Thiamine) and Vitamin B2.
So eat them. You won't really even know they are in your overnight oats but they make a huge impact on the nutritional value of the meal. Also, if you choose to add more chia to your oats than the recipe calls for, keep in mind you will need to add about 1/4 cup of liquid per tablespoon of chia seeds.
Chocolate overnight oats are good for a few days in the refrigerator. So when I make them, I line up jars on the counter and make a bunch at once. This is yet another handy recipe that keeps me from having to get up before the sun to feed my family. (The bus runs early around here!)
Overnight Oats for the Win!
On weeks that I am feeling more fruity than chocolatey, I put a batch of plain vanilla overnight oats in the refrigerator and add a little flavor and fresh fruit in the morning. This happens a lot in the warmer months because the fruit is so abundant. And frankly, it helps me use up small amounts of fruit that otherwise might not make a whole meal for my family of five.
The Strawberries and Cream Overnight Oats and these Blueberry Lime Overnight Oats are good examples of how putting the same base of vanilla overnight oats in turns into different breakfasts during the week. It saves me a lot of time in the morning when I am trying to get everyone where they are supposed to be for school.
Are you feeling fall-ish? You have to try these Pumpkin Overnight Oats!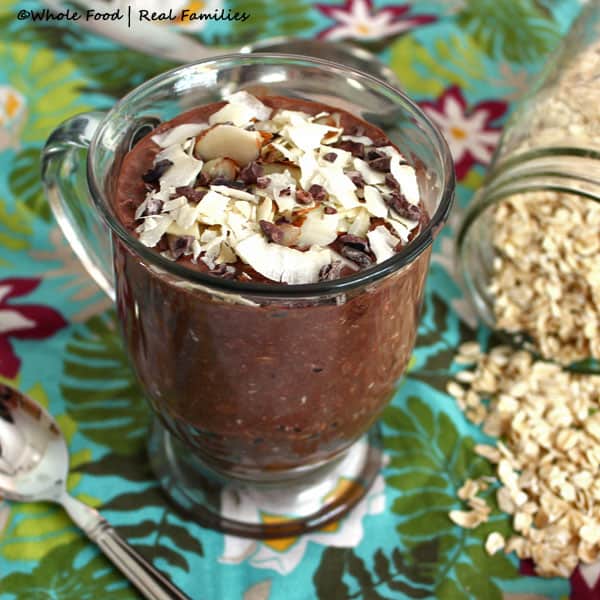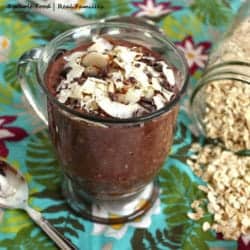 Cinnamon Chocolate Overnight Oats with Chia
Ingredients
1/2

cup

old-fashioned rolled oats

1

tbsp

chia seeds

1

tbsp

cocoa nibs

optional, but I love them!

2

tbsp

unsweetened cocoa powder

1

tsp

cinnamon

more or less to taste

1

tbsp

100% pure maple syrup

2-3

tbsp

sliced almonds

3

tbsp

Greek Yogurt, Plain

3/4

cup

milk of your choice

pinch of salt

additional sliced almonds, cocoa nibs, coconut shavings, or even a drizzle of maple syrup for toppings

based on your preference
Instructions
Put all the ingredients into a container with a lid, like a Mason or Ball jar. Close the lid and shake until all the ingredients are well mixed and uniform. Put the container in the fridge overnight. In the morning, open, stir and enjoy breakfast.

If you are like me and are missing the gene for cold oats, microwave for 2 minutes and stir.

Add your favorite toppings and serve!