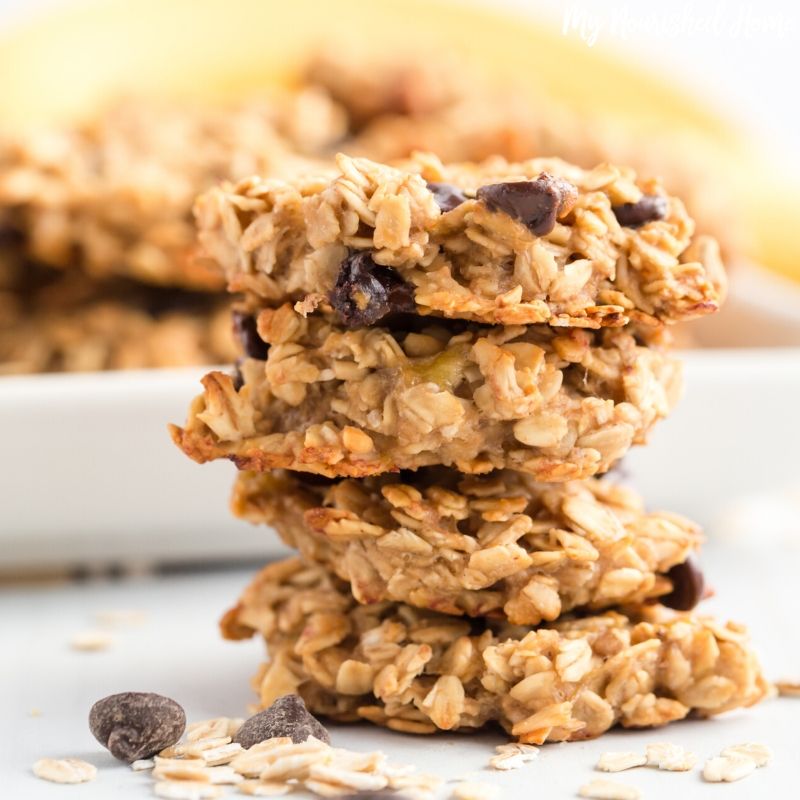 Healthy Oatmeal Breakfast Cookies are easy, fast and delicious! They are also healthy enough for breakfast! Perfect for those mornings when mom hits snooze on the alarm one too many times!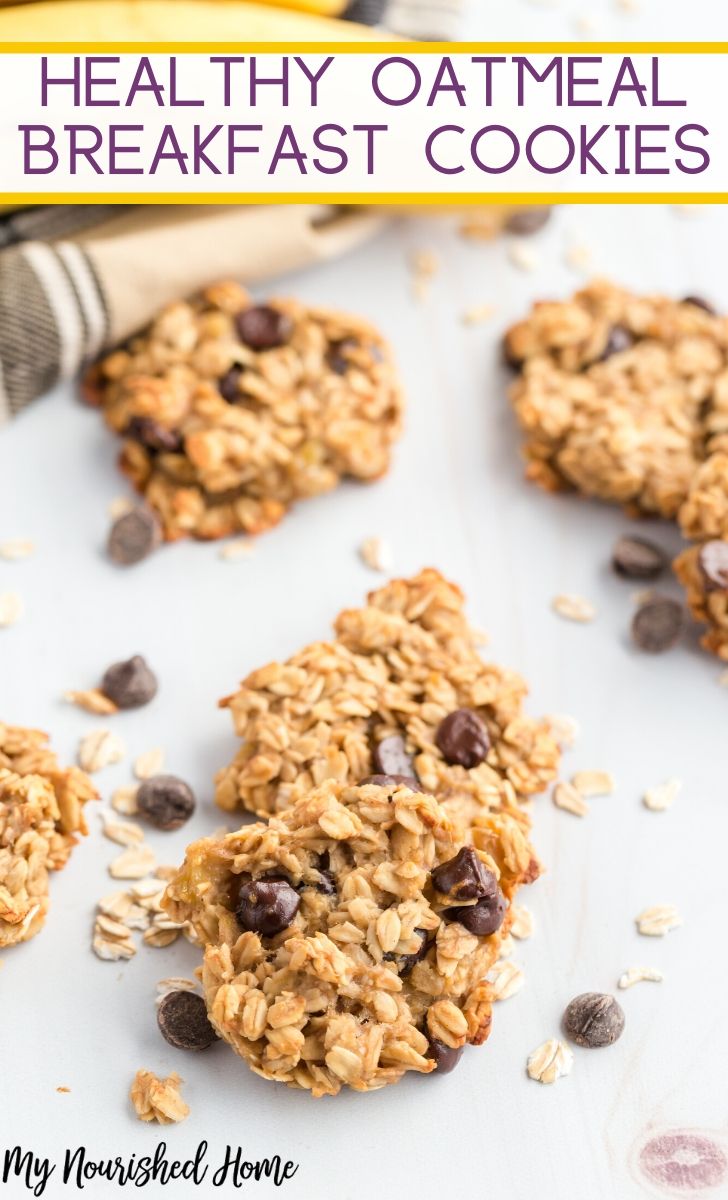 Healthy Oatmeal Breakfast Cookies We LOVE!
We discovered the breakfast cookie a couple of years ago during the middle of the school year slump. You know, when everyone is used to the routine of getting up early but dreading it anyways.
Keeping Oatmeal Breakfast Cookies on hand solved the problem of breakfast when we (and by we, I mean me) hit the snooze one too many times. My kids loved grabbing them to eat in the car! Generally, when these are breakfast, I make them with raisins or cranberries. But occasionally, I toss in chocolate chips and reap the rewards of being the coolest mom ever.
When we go on vacation, we prefer to rent a house if we can swing it. Our family is just big enough that a single hotel room just isn't enough space, especially if we are going for a week. This past summer, we lucked into a house with a nice big kitchen, which means most of our meals were cooked there.
Around mid-week, there were a few languishing bananas that were going to be smoothies until I noticed two things – our house did not come equipped with a blender. And we had rolled oats we had brought from home with the plan to make this Apple Cinnamon Oatmeal for breakfast one morning.
So the oats and bananas got together and updated our favorite Healthy Oatmeal Breakfast Cookie recipe. I must say, I like this one better than the one I used to use. Vacation for the win!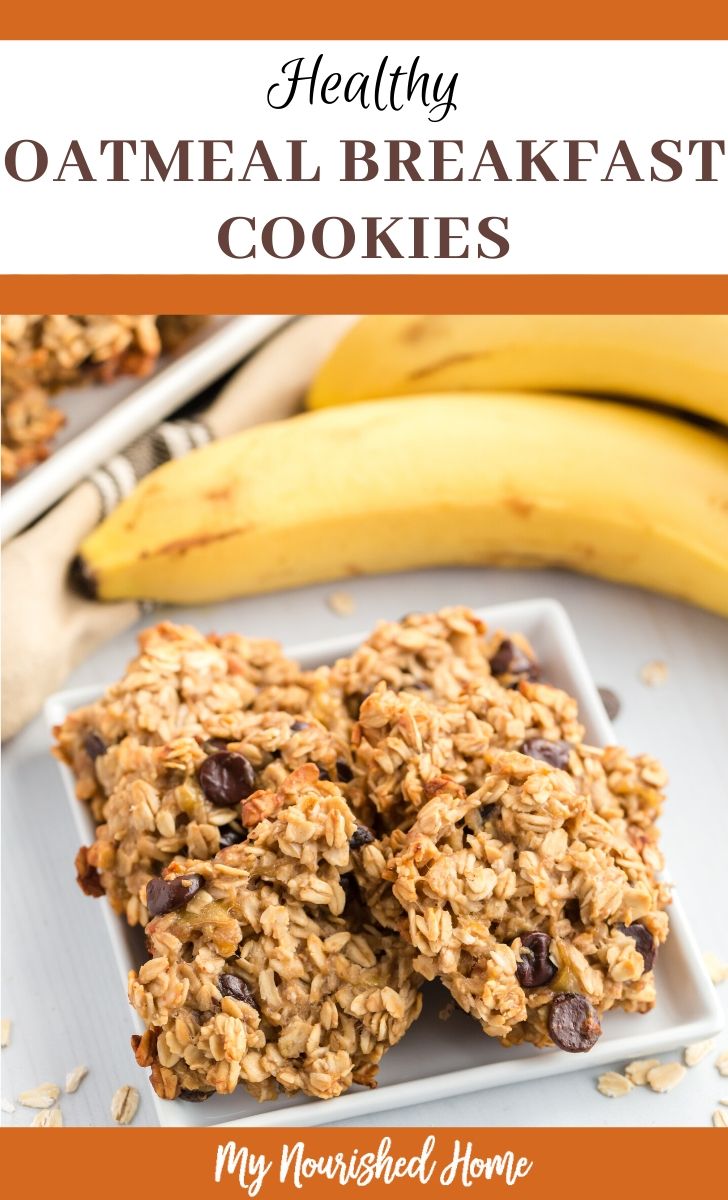 How to Make Oatmeal Breakfast Cookies
First things first, you need to make sure you have a few super ripe bananas.
Preheat your oven to 375 degrees and line a couple of baking sheets with parchment paper.
Mash your bananas with a fork in a large bowl. You want them to be the consistency you would use for banana bread. Mix in peanut butter, honey, and salt.
Add in oats and chocolate chips (or raisins or craisins… whichever you plan to use.) Mix all the ingredients together until they are well combined.
Roll about two tablespoons of batter into a tight ball, drop them onto the parchment paper and pat them flat. Continue rolling your cookies and dropping them onto the cookie sheet about an inch and a half to two inches apart.
Put your cookie sheet into the preheated oven and cook for 12-15 minutes, until the cookies are golden and the edges begin to brown.
Gluten-Free Tip: These cookies are a great gluten-free option. But make sure your oats are certified gluten-free. Oats are often grown in rotation with wheat. It doesn't both most people but if you have a true gluten allergy, make sure you pick your oats carefully! You can read more about that here.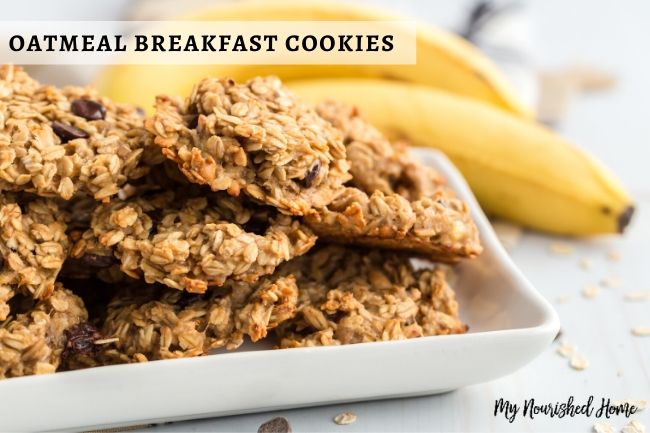 Breakfast Cookies Mean Less Time Cooking and More Time Playing!
Our kids also liked this recipe a lot. Not only did this recipe take care of breakfast (okay, there might have been eggs and bacon on the side too.) But they were also an easy snack between trips to the beach and the pool. They were also good at keeping everyone's energy up while our middle child whipped her dad at Go Fish.
I think the Healthy Oatmeal Breakfast Cookie just made it to the vacation approved list. Do you cook while you are on vacation? Or do you mostly eat out?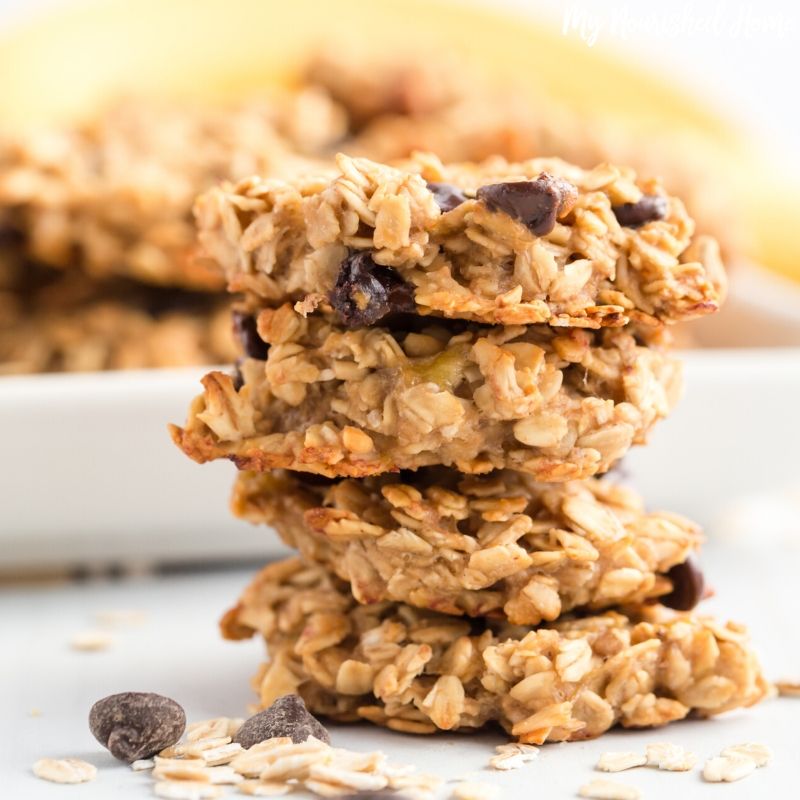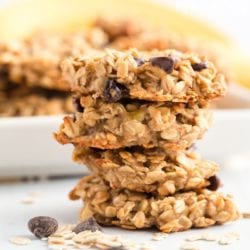 Healthy Oatmeal Breakfast Cookies
Add chocolate chips, raisins or cranberries based on your preference!
Course:
Breakfast, Dessert, Snacks & Treats
Keyword:
cookie, healthy cookie, oatmeal
Ingredients
3

ripe bananas, mashed

1/2

cup

peanut or almond butter

1/4

cup

honey

1/2

tsp

salt

2 1/4

cups

old-fashioned rolled oats

1/3

cup

chocolate chips, raisins, or dried cranberries
Instructions
Preheat oven to 350 degrees. Line baking sheets with parchment paper.

Mix together mashed bananas, peanut butter, honey, and salt. Add in oats, nuts and chocolate chips (or raisins or cranberries). Stir to combine.

Roll approximately 2 tbsps of the cookie batter into a tight ball and drop onto the lined baking sheet and pat flat, leaving an inch or two between each cookie. Bake for 12-15 minutes. Enjoy!
Recipe Notes
Note: if you are gluten-free, make sure to use certified gluten-free oats to avoid cross-contamination.
Nutrition Facts
Healthy Oatmeal Breakfast Cookies
Amount Per Serving
Calories 66
Calories from Fat 27
% Daily Value*
Fat 3g5%
Sodium 64mg3%
Potassium 69mg2%
Carbohydrates 9g3%
Protein 2g4%
Vitamin C 0.1mg0%
Calcium 6mg1%
Iron 0.4mg2%
* Percent Daily Values are based on a 2000 calorie diet.
Looking for more quick breakfast ideas? I love these make-ahead Healthy Breakfast Burritos too!