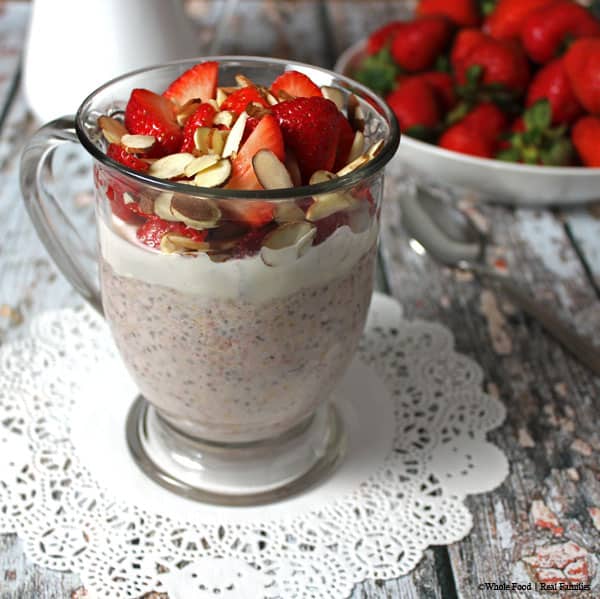 Strawberries and Cream Overnight Oats are wholesome and delicious – with fresh strawberries. Who needs more than that?
I would like to personally thank the inventor of Overnight Oats. I am going to go out on a limb and say maybe it was this guy. Overnight Oats have prevented me from missing breakfast on more than one occasion. These occasions typically coincide with working too late the night before (blogger hours.) Hitting the snooze too many times. My children all needing to be three different places at the same time. Or they are just acting like someone opened all the cages at the zoo.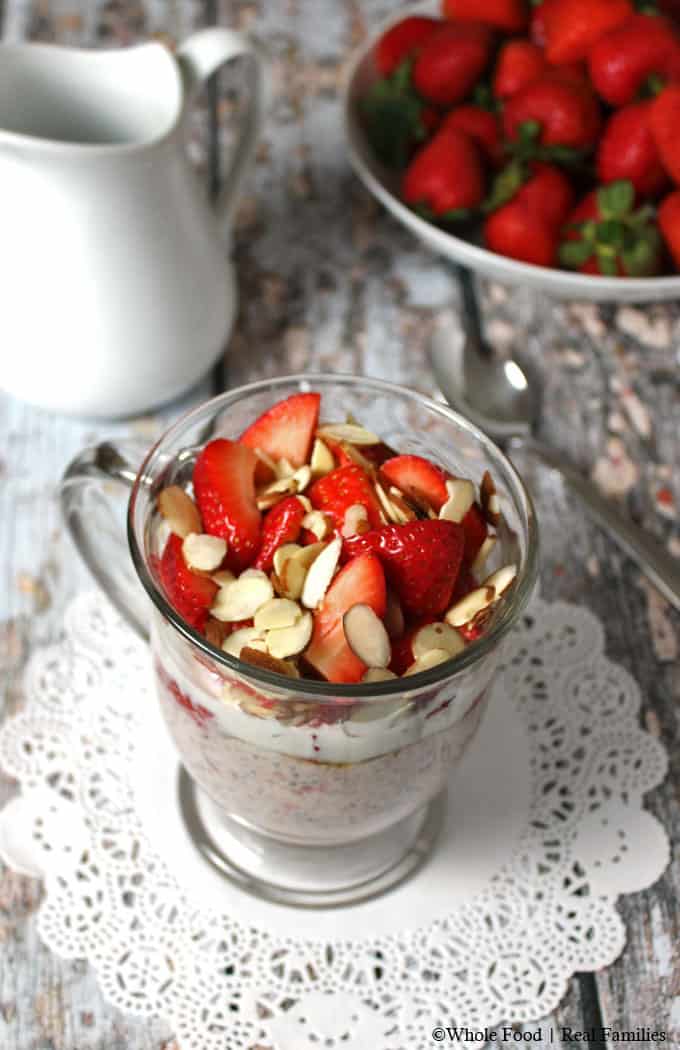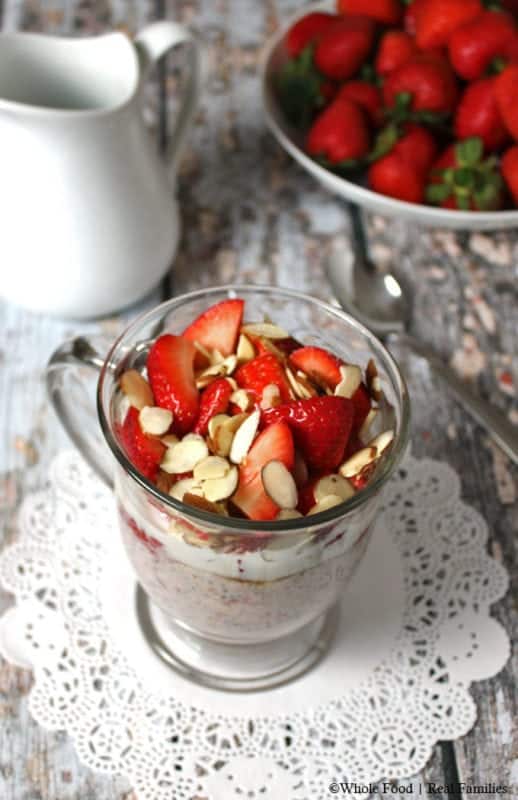 No matter the reason, they will all eat overnight oats with no fuss (okay, minimal fuss.) And since I have to ration strawberries or we will eat pounds of them every day, it is no wonder that Strawberries and Cream Overnight Oats are our absolute favorite in the summer.
My big secret – when I make overnight oats on Sunday night, I line up as many clean Mason jars as I can find and make plain ole' vanilla for the fridge. Shake them up and store them until the morning, when I quickly turn them into one of several flavors by adding mix-ins and toppings.
Generally everyone gets what I am cooking (or not cooking as the case may be) but there are occasions when I am feeling particularly Betty Crocker that I will let my little birds pick the flavor they want. But morning after morning, it is easy to change up breakfast by starting with the same base and just adding whatever fruit is on hand.
There are as many versions of Overnight Oats on the internet as there are… well, Pins on Pinterest. But I prefer to keep it simple and flexible in the morning and this version is just perfect for that. I include Greek Yogurt in my overnight oats because of the added protein (and it makes it really creamy!) I also like adding chia seeds and sliced almonds for the additional nutrition. If you like the idea of using vanilla oats and flavoring them based on your mood, check out Blueberry Lime Overnight Oats too!
If you want something really decadent tasting but still healthy for breakfast, try these Cinnamon Chocolate Overnight Oats. And if you are missing the Fall, give these Pumpkin Overnight Oats a shot. (You know you still have a can of pumpkin in your pantry from last Thanksgiving!) Take a deep breath and enjoy your week. With a few minutes tonight, you'll have breakfast in the refrigerator all week.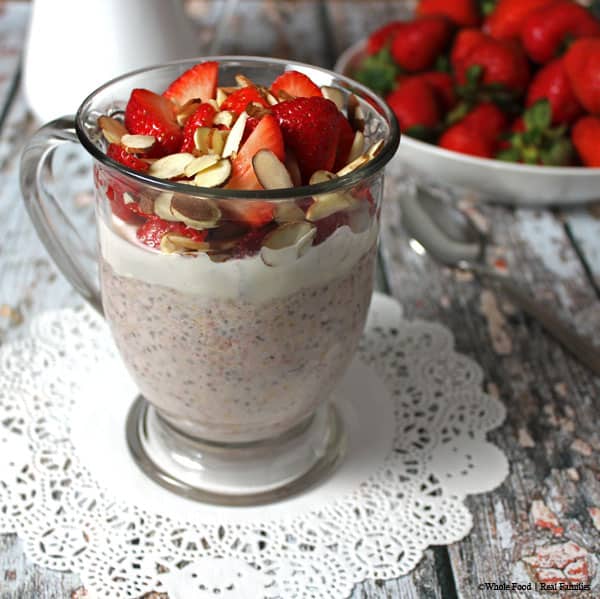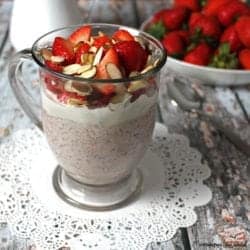 Strawberries and Cream Overnight Oats
Serving size is really dependent on your preference for breakfast. It will serve 2 of my younger kids or one very hungry teenager.
Ingredients
Plain Ole' Vanilla
1/2

cup

rolled oats

(the old fashioned kind not the instant variety)

1

tbsp

chia seeds

3/4

cup

milk, dairy or non-dairy

1/4

cup

Greek Yogurt, Plain

2

tbsp

maple syrup or honey

more or less to taste

1

tsp

vanilla extract

2

tbsp

sliced almonds
Strawberries and Cream
1-2

tbsp

strawberry jam

1/2

cup

fresh sliced strawberries

1-2

tbsp

sliced almonds

1-2

tbsp

cream or half and half

1

tsp

honey

optional
Instructions
Make Ahead: Add all ingredients for Plain Ole' Vanilla to a jar with a lid. Mason jars work great for this. Screw on the lid and shake until combined. Store jar in the refrigerator for up to 5 days, as long as your dairy is in date. When you pull them out of the refrigerator the next day, they should be nice and thick. Give them a good shake to make sure everything is combined.

Time to Eat: Pull your Vanilla Overnight Oats out of the refrigerator. Spoon in a tablespoon or two of strawberry jam and stir. Top with a big pile of sliced strawberries, sliced almonds, a drizzle of cream or half and half, and a drizzle on honey.

Note: Chia seeds are so good for you! But if they are just not your thing, omit them and use only ½ cup of milk.