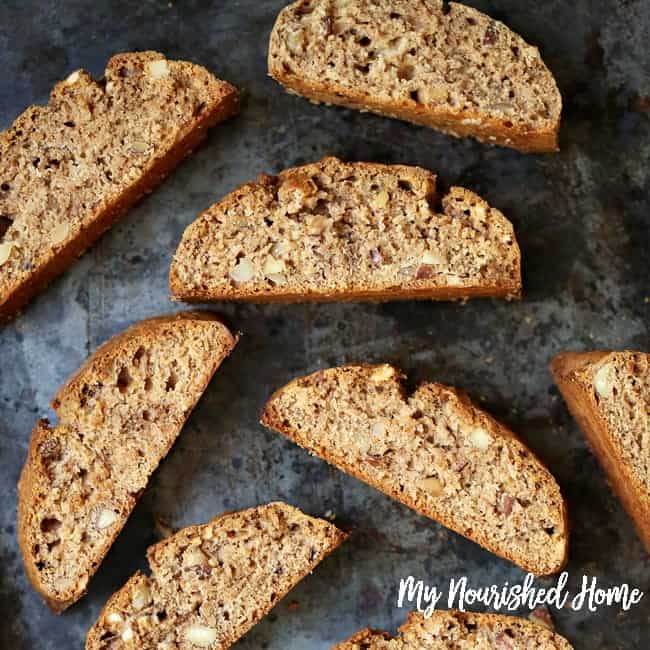 Almond Maple Biscotti are my new obsession. I have a serious love affair with Biscotti – any cookie really. Not so good for my whole food resolution or the button on my jeans. But these have been healthified… a perfect option for Biscotti cookies that are designed to be a sweet nosh – rather than true dessert.
Almond Maple Biscotti Cookie Recipe
But Biscotti are extra special. Sweet but not too sweet. Crunchy. And perfect to savor with a cup of coffee or tea. (Mostly coffee.)
There are a few steps to you need to follow when you make Amond Biscotti but don't let that intimidate you. Every step is quick and easy.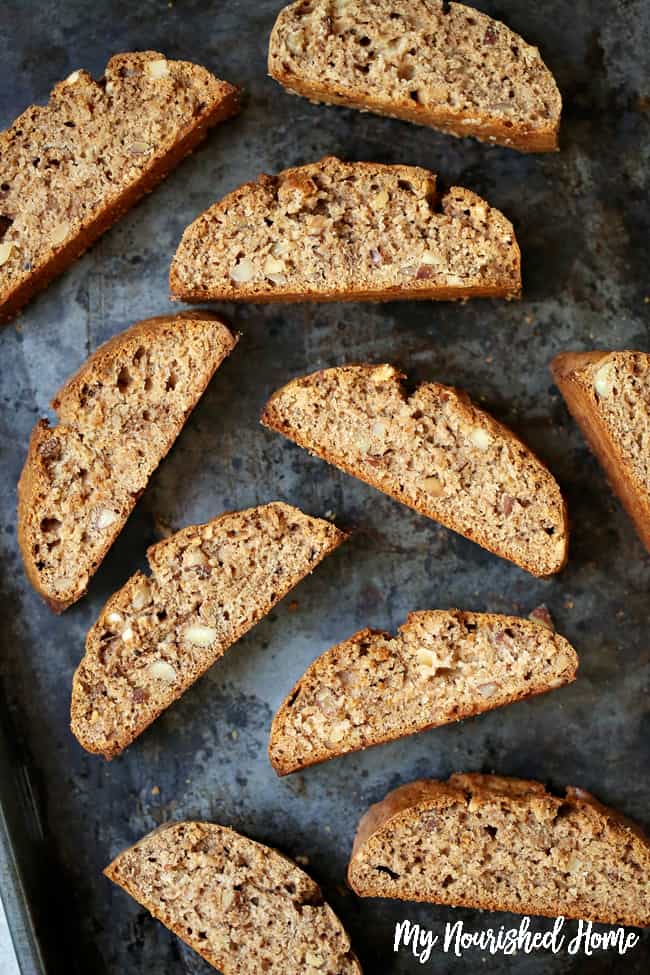 The Almond Maple Biscotti will last for at least 2 weeks in a sealed container and don't have to be refrigerated. So they are perfect to make while you are doing other things at home – just set the timer on your oven at each step so you don't forget to come back to it. Then you have something really special to nosh on for the next couple of weeks. (Unless you eat them all first!)
Almond Biscotti Cookies
Biscotti used to be one of those recipes that I found intimidating… something about a cookie that had to be baked twice. But this recipe is really easy and it is pretty handy that they last a long time – they are perfect to make ahead if you know you are going to have guests.
It has become a fun pastime to recreate things I love – but try to limit – into more nutritious versions. Perhaps I still shouldn't eat a dozen of them (oops!) but it does relieve me of the guilt of relishing a cookie or two (ahem…) with coffee or an Iced Chai Latte.
This recipe for almond biscotti is everything I love about Biscotti without the processed white flour and without the processed sugar. You will never know these are made with whole wheat – and neither will anyone you gift them to unless you tell them!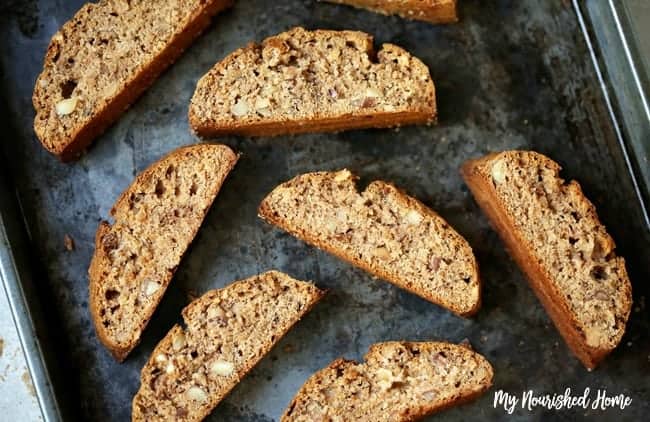 Craving a healthier cookie?
Are you craving cookies now? A few of my families other favorites are Cinnamon Maple Oatmeal cookies (are you seeing a trend?) and Whole Food Peanut Butter cookies. Both recipes are full of healthy and nutritious ingredients.
What is your favorite cookie? Do you have a healthier version or do you go for the original recipe goodies?!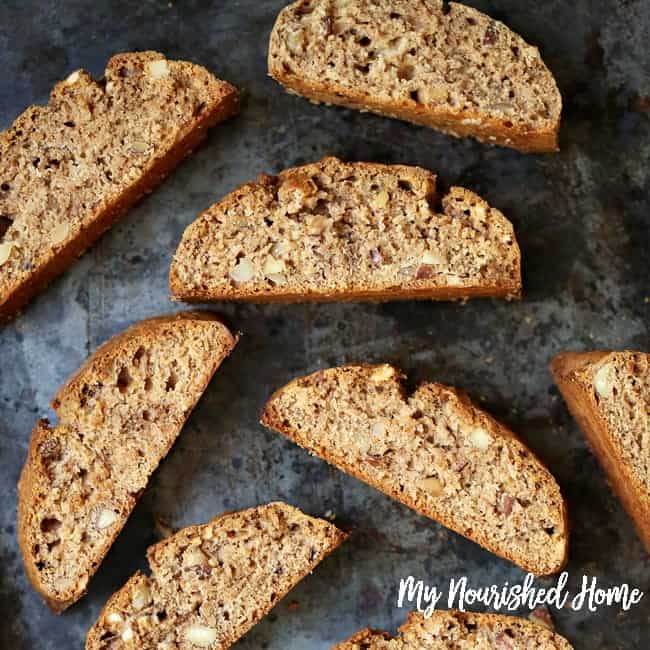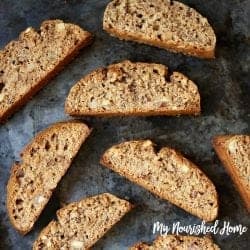 Almond Maple Biscotti
Course:
Dessert, Snacks & Treats
Ingredients
1

cup

maple syrup

1/2

cup

unsalted butter, melted

1/4

cup

brandy

2

teaspoons

pure almond extract

2

teaspoons

pure vanilla extract

1

cup

whole almonds, skins on

3

large eggs

2 3/4

cups

white whole wheat flour

1 1/2

teaspoons

baking powder

1/4

teaspoon

salt
Instructions
Preheat oven to 350 degrees. Pour whole almonds on a shallow baking sheet. Toast them lightly in the oven for 5-7 minutes. When they have cooled, chop them coarsely. And put to the side.

Mix maple syrup, melted butter, brandy, almond and vanilla extracts together in a large bowl until uniform.

Add chopped almonds and eggs and mix until combined.

Add white whole wheat flour, baking powder, and salt and mix just until combined. Cover dough and refrigerate for 30 minutes.

After dough has been refrigerated, preheat oven to 350 degrees. You will need to wet your hands to handle the dough because it will be sticky. Remove dough from bowl and separate it into two logs that are about 16 inches long and about 2 inches wide, placing it on a shallow baking sheet (I just use the one the almonds were on previously). At this point, my hands are always a little sticky. I wash the dough off my hands, wetting them again, then pat the logs so they have a smoother surface. This just makes for a prettier cookie. Bake until lightly golden, about 30 minutes.

Remove from oven, and when the logs are cool enough to handle, cut them into 1/2 inch slices, laying them cut side down on a baking sheet. Finish baking for additional 20-30 minutes. The cookies should feel mostly firm.

These store well in an airtight container for about 2 weeks at room temperature. (And taste even better after a couple of days.)