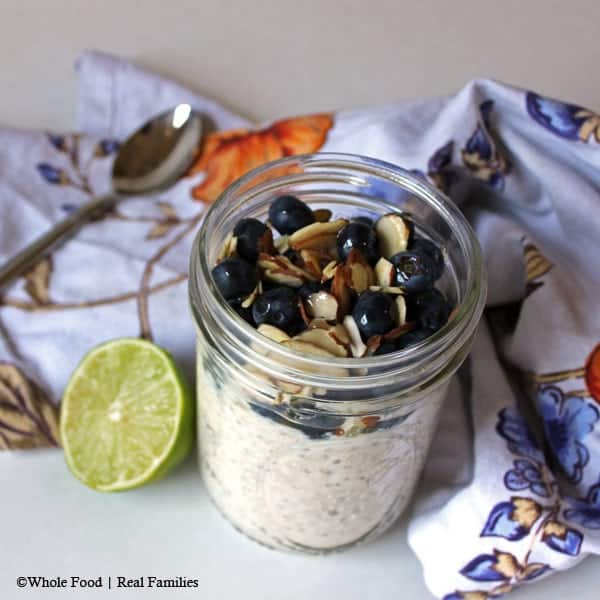 My favorite flavor of yogurt is lime – it is my kid's favorite too. Then we stopped buying so much of it because of the refined sugar. Frankly, it was a pretty sad day when I discovered how much refined sugar is added to flavored yogurts. There might have been tears.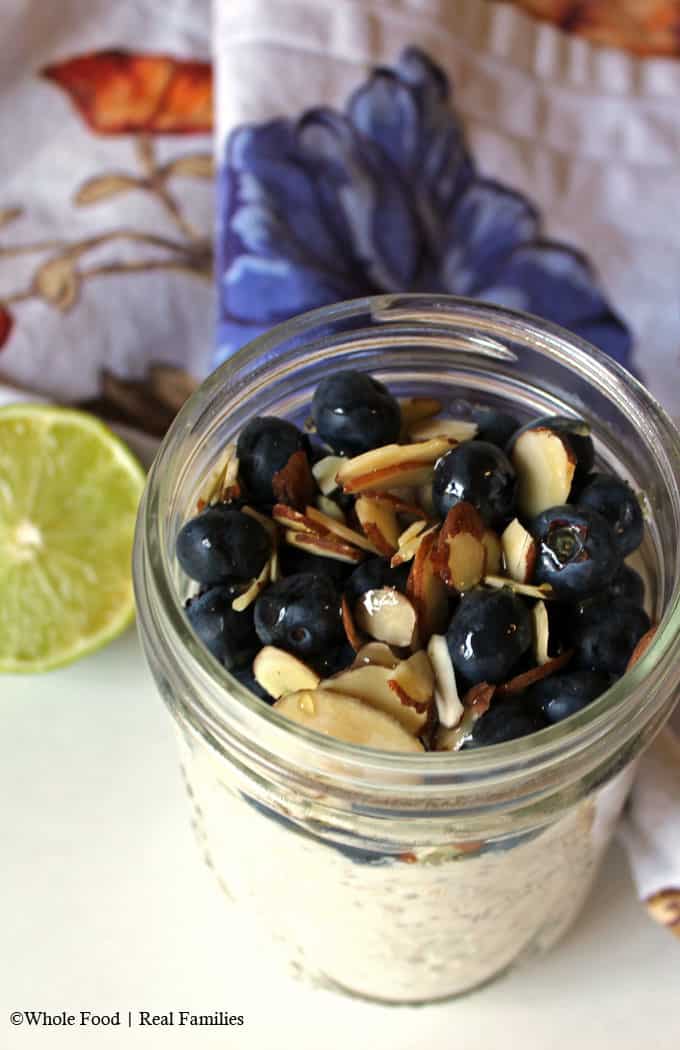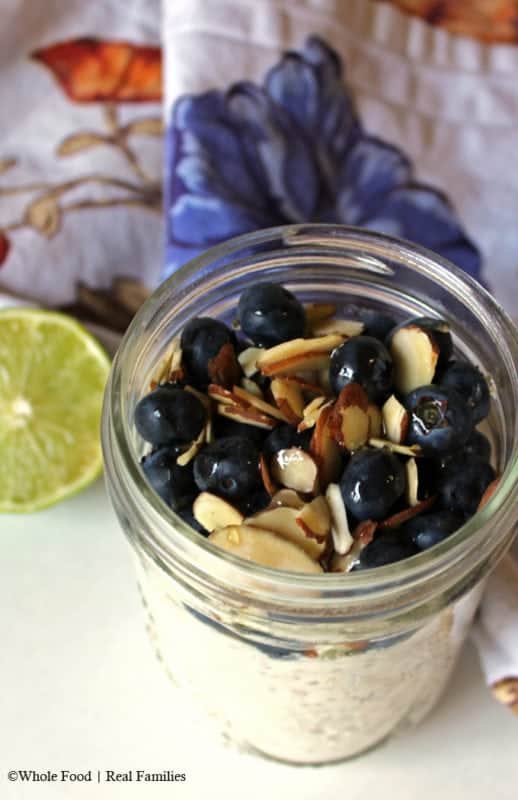 I once ran across an organic brand that has a lime flavor and bought it because we all needed a fix, sugar or no sugar. I remember being surprised that it was not green… Yep, so this whole food business took a while to sink it. But once it occurred to me that lime juice is not actually green and we had been eating food coloring all this time, I was a little grossed out.
Finally I realized that I could flavor my own lime yogurt with some maple syrup and lime juice and life was good again. (Make lime flavored yogurt with actual limes – crazy, right?) This version of overnight oats grew out of that realization and my family's obsession with all things lime.
These Blueberry Lime Overnight Oats are made with the same method as these Strawberries and Cream Overnight Oats. On Sunday night, when I prep for breakfast the next week, I line up as many Mason jars as I can find for plain ole' vanilla overnight oats and pop them in the fridge. When we are ready to eat breakfast later that week, I just stir in the flavor and top with fruit and nuts.
This method works really well for me because I can prepare several and flavor them differently during the week. That way, everyone (my kids!) don't get sick of eating the same thing every morning. However, I could eat these Blueberry Lime Overnight Oats every day forever.
It also works well because it help me use up the fruit in the fruit bowl that might otherwise go south, even if everyone gets a different flavor for the same meal.
If you have never had blueberries and lime together, you are in for a treat! Check out these Blueberry Scones with Maple Lime Drizzle and this Maple Berry Cornmeal Cake. If blueberries and lemon make you happy, you'll love these Blueberry Muffins with Lemon Zest too!
I am occasionally asked how I choose dairy products. I prefer local and grass-fed – if that is not available, I choose organic. If you don't have a local option for grass-fed yogurt, my blog sponsor AtlantaFresh Creamery makes the most amazing, thick Greek Yogurt you have ever had in your life. I have used it exclusively for the last 3 years, long before they were a sponsor of Whole Food | Real Families.

Having toured their facility, I can tell you with certainty that AtlantaFresh yogurt is made traditionally by straining off the whey, rather than adding a bunch of gums and chemicals to make it thick. Even the flavored yogurts use less refined sugar than most. And they feel so strongly about clear labeling that they break natural sugars found in the milk and added sugars into different lines on the product label so that consumers know exactly what they are getting. I like that. More companies should follow their example.
You can find AtlantaFresh products in Whole Food stores across the United States, some stores carry the brand under the label GreekPastures.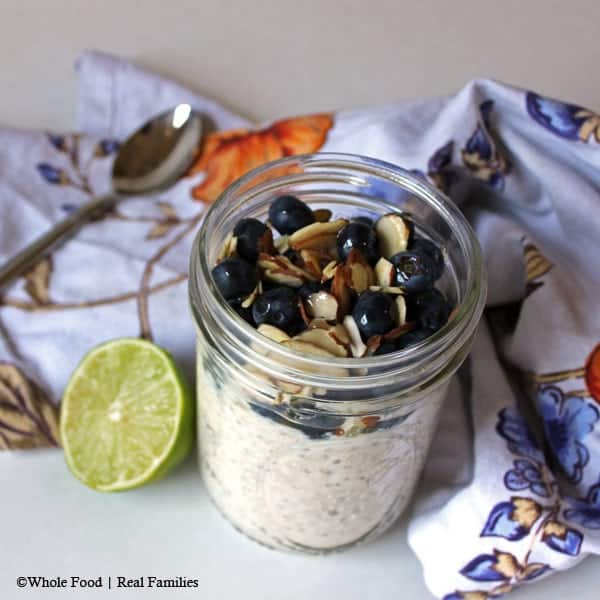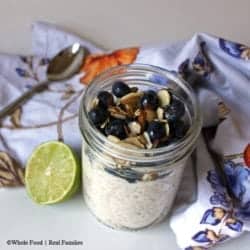 Blueberry Lime Overnight Oats
Serving size is really dependent on your preference for breakfast. It will serve 2 of my kids or one very hungry teenager.
Ingredients
Plain Ole' Vanilla
1/2

cup

rolled oats

(the old fashioned kind not the instant variety)

1

tbsp

chia seeds

3/4

cup

milk, dairy or non-dairy

1/4

cup

Greek Yogurt, Plain

2

tbsp

maple syrup or honey

more or less to taste

1

tsp

vanilla extract

2

tbsp

sliced almonds
Blueberries and Lime
1

lime, for juicing

use half or the whole lime based on how strong you like the flavor to be

1/2

cup

fresh blueberries

1-2

tbsp

sliced almonds or pistachios

1

tsp

honey
Instructions
Make Ahead: Add all ingredients for Plain Ole' Vanilla to a jar with a lid. Mason jars work great for this. Screw on the lid and shake until combined. Store jar in the refrigerator for up to 5 days, as long as your dairy is in date. When you pull them out of the refrigerator the next day, they should be nice and thick. Give them a good shake to make sure everything is combined.

Time to Eat: Pull your Vanilla Overnight Oats out of the refrigerator. Add the juice of a lime and stir. Top with a big pile of fresh blueberries, sliced almonds and pistachios, and a drizzle on honey.

Note: Chia seeds are so good for you! But if they are just not your thing, omit them and use only ½ cup of milk.