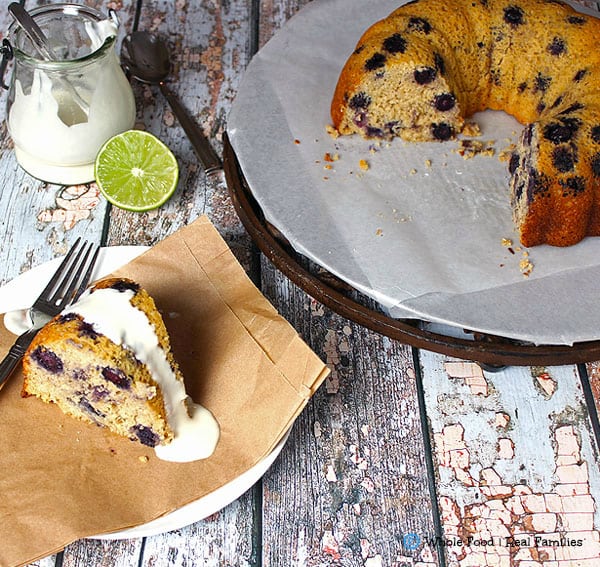 This Maple Berry Cornmeal Cake is delicious, fruity and lightly sweet. Confidently serve it on any brunch menu or after any dinner as a sweet finish.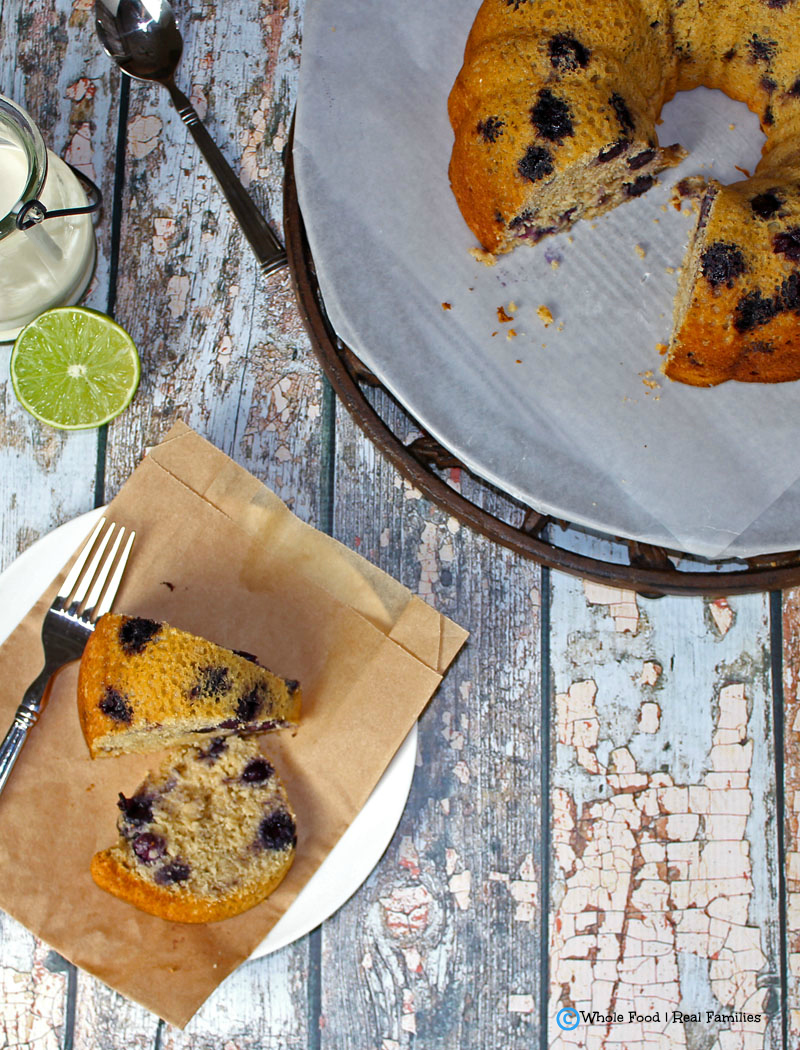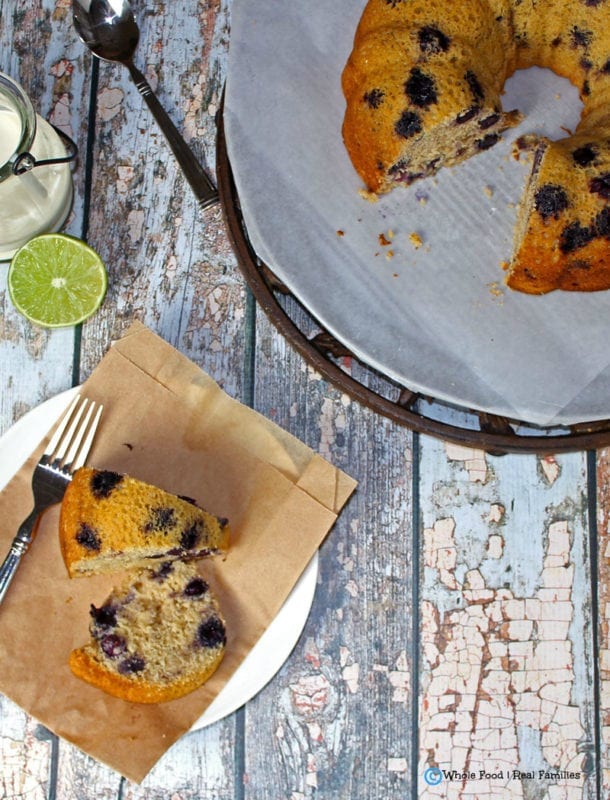 We love dessert! But every night can't – or at least shouldn't – be all chocolate brownies and ice cream. This Maple Berry Cornmeal Cake is delicious and fruity and lightly sweet, without being over the top. In fact, I would confidently serve it on any brunch menu, as well as after any dinner as a sweet finish. And it all goes together fast with little fuss. Perfect for even a weeknight dessert.
The cornmeal gives the cake a unique, interesting texture. And the sour cream keeps it moist. We love blueberries and always have them in the freezer but raspberries would work nicely too. This cake was originally going to be a raspberry cake in honor of Valentine's Day (you know, all pink and red.) but my 4 year old overruled me. That happens sometimes in my kitchen. 🙂
The sour cream drizzle provides a nice citrus sweetness. (And I love maple and lime together – it is kind of a thing for me! Hmmm… next time there will be lime zest in the cake!) Because this sour cream drizzle is not the traditional sugary glaze that you often find on bundt cakes, it will eventually absorb into the cake. I suggest you either drizzle it over the top of the cake right before serving. Drizzle a little in the bottom of the plate and serve slices on top. Or our preference is to put the sauce in a cute serving glass and let everyone serve their own at the table.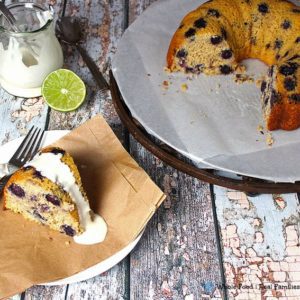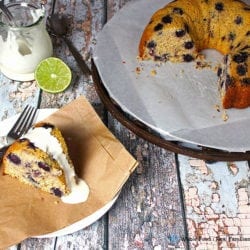 Maple Berry Cornmeal Cake
Course:
Breads & Muffins, Breakfast, Dessert
Ingredients
Cornmeal Cake
6

tbsp

unsalted butter, melted

extra for greasing the pan

1 1/2

cup

whole white wheat flour

1 1/2

cup

yellow cornmeal

1 1/2

tbsp

baking powder

2

tsp

salt

3

eggs, large

1

cup

milk

1/2

cup

maple syrup

1/2

cup

sour cream

10

oz

blueberries, fresh or frozen
Sour Cream & Lime Drizzle
1/2

cup

sour cream

3

tbsp

maple syrup

1/2

lime
Instructions
Preheat the oven to 400 degrees. Lightly oil a bundt pan with coconut oil or butter.

In a medium mixing bowl, combine the flour, cornmeal, baking powder, and salt and whisk together until thoroughly combined.

Break the eggs into a large measuring cup and beat them with a whisk. Add the milk, sour cream, maple syrup, and melted butter to the eggs and whisk until uniform.

Add the wet mixture to the dry ingredients and stir to combine. Add blueberries and gently fold into the batter. If you stir too much or too vigorously, the batter will turn blue!

Pour the batter into the prepared pan and bake for 40-45 minutes, or until the cake is lightly browned and a toothpick comes out clean when inserted into the center.

While cake is cooling, whisk sour cream, maple syrup, and the juice from half a lime. Serve cake warm or at room temperature and the sour cream sauce on the side.