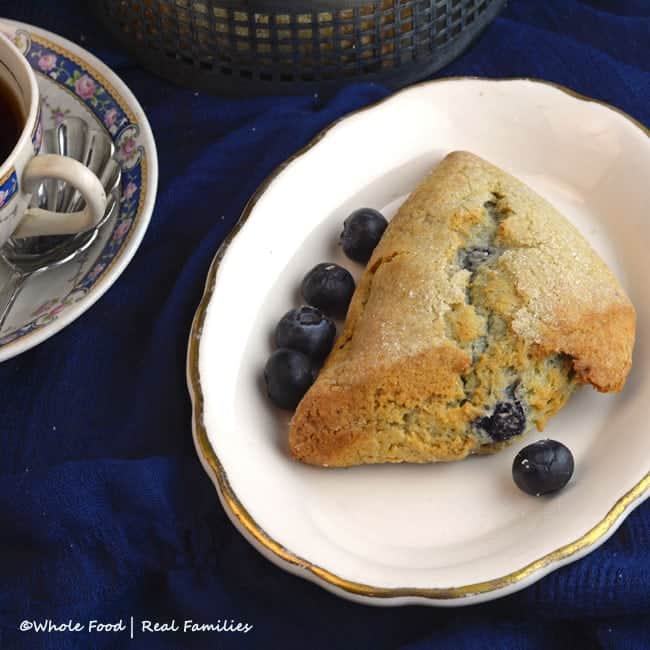 Blueberry Lime Whole Wheat Scones are tender and sweet while still made with whole wheat and no refined sugars. Healthy enough for breakfast, delicious enough for dessert.
Even when you forgo refined ingredients, like white flour and sugar, a breakfast like Blueberry Lime Whole Wheat Scones still feels a little decadent. In high school, when I was way cooler in my head than in real life, my friends and I always ordered scones from the college coffee shop. I thought they were fancy, like pastry chef fancy. Coffee – loaded with milk and sugar because I would have choked on it without the additions – and a scone as a teenager. How do you get any cooler while hanging out at a coffee shop that was located in the tiny room on top of a off-campus bookstore. All we needed was a poetry reading and some finger snapping and we could have been mistaken for college students. (So we thought.)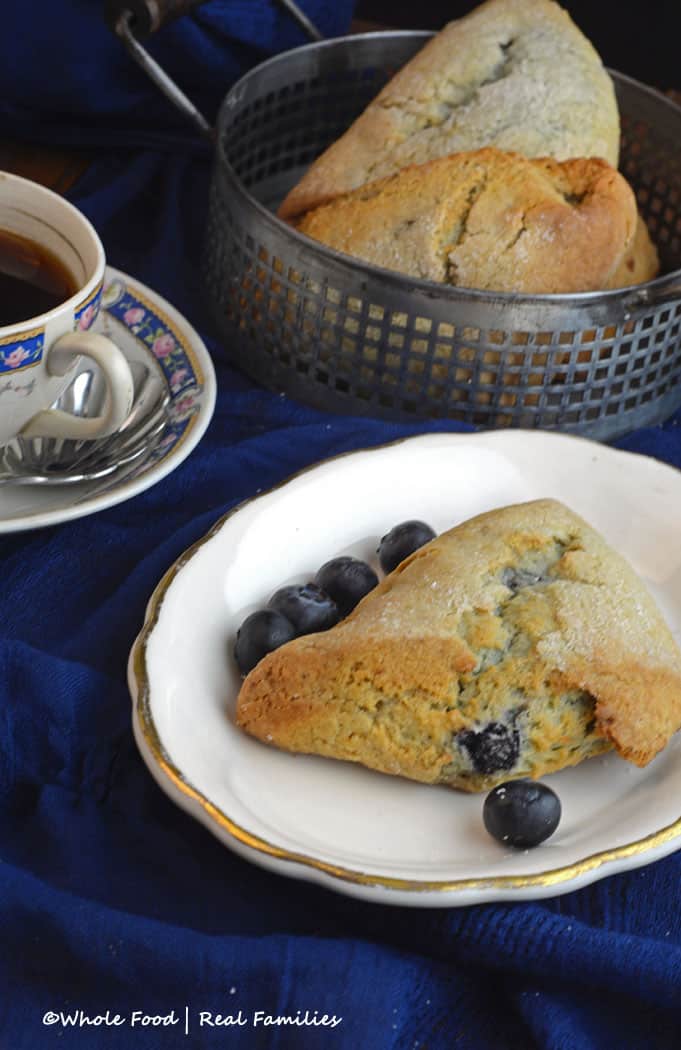 However, as an adult, I realize the scone is more rustic than pastry chef. I'll take it. Rustic means they are easier to put in the oven than biscuits and take less than 10 minutes of prep time – including the time it takes me to dig the whole wheat flour out of the freezer. There is no rolling pin involved and I don't even use my food processor to cut in the butter. If you grate the frozen butter on your box grater, it works just great. (My box grater fits in my dishwasher much easier than my food processor!)
The lime zest in the dough does not give the scones a strong lime flavor but goes great with the sauce! I'm sure lemon would work well too! Want something crazy good? Whisk together some softened cream cheese, lime juice and a little maple syrup and drizzle it over these Blueberry Lime Whole Wheat Scones. It is so good!!
If you feel the need to be high-school-cool with some extra scones, have a look at the Vanilla Scones with Vanilla Bean Buttercream too! Prefer savory to sweet? Bacon Cheddar Scones are my favorite!
Pin it for Later!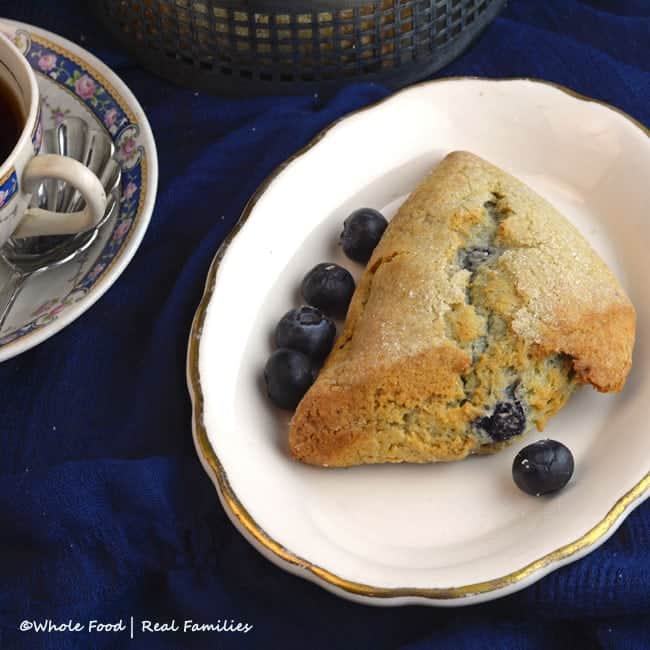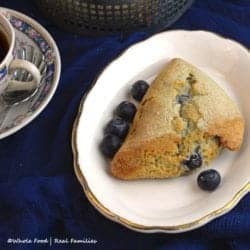 Blueberry Lime Whole Wheat Scones
Course:
Breads & Muffins, Breakfast, Snacks & Treats
Ingredients
Blueberry Lime Whole Wheat Scones
2

cups

white whole wheat flour

1/3

cup

100% pure maple syrup

1

tsp

baking powder

1/4

tsp

baking soda

1/2

tsp

salt

8

tbsp

unsalted butter, frozen

1/2

cup

Greek Yogurt, Plain

1

large

egg

1

tbsp

pure vanilla extract

1

lime, for zesting

1

cup

blueberries, fresh or frozen
Maple Lime Drizzle
6

oz

cream cheese, softened

3

tbsp

100% pure maple syrup

more or less to taste

1

lime, for juicing
Instructions
Heat oven to 400 degrees and move rack to the upper middle position.

In a mixing bowl, mix flour, baking powder, baking soda and salt. Then grate the frozen butter into the flour mixture on the large holes of a box grater. Work the butter into the flour until it becomes like coarse meal. You can also do this step in the food processor. (But that means you have to wash your food processor and who needs that!?)

In a second bowl, whisk Greek yogurt, 1/3 cup maple syrup, egg, vanilla, and the zest from a lime until the mixture is uniform and smooth.

Using a fork, stir the Greek yogurt mixture into flour mixture until large dough clumps form and there is no loose flour in the bowl. Add the cup of berries and mix the berries gently into the dough until they are evenly distributed. (You want to work with the blueberries as gently and as little as you can because they will turn the dough blue.) Then use your hands to press the dough into a ball. (There may not seem to be enough moisture at first, but as you work the dough it will come together.)

Turn out the dough onto a lightly floured surface or parchment paper and pat it into an 8-inch circle about 3/4-inch thick. Use a sharp knife to cut into 8 triangles. Place the triangles on a cookie sheet lined with parchment paper about an inch apart. Bake until golden, about 16 to 18 minutes.

While the scones are baking, whisk softened cream cheese, maple syrup and the juice from your lime until smooth. I store it in a jar and drizzle it across my scones right before serving. Or put it on the table and let everyone serve themselves. Just pop the lid back on the jar and store any extra sauce in the fridge.