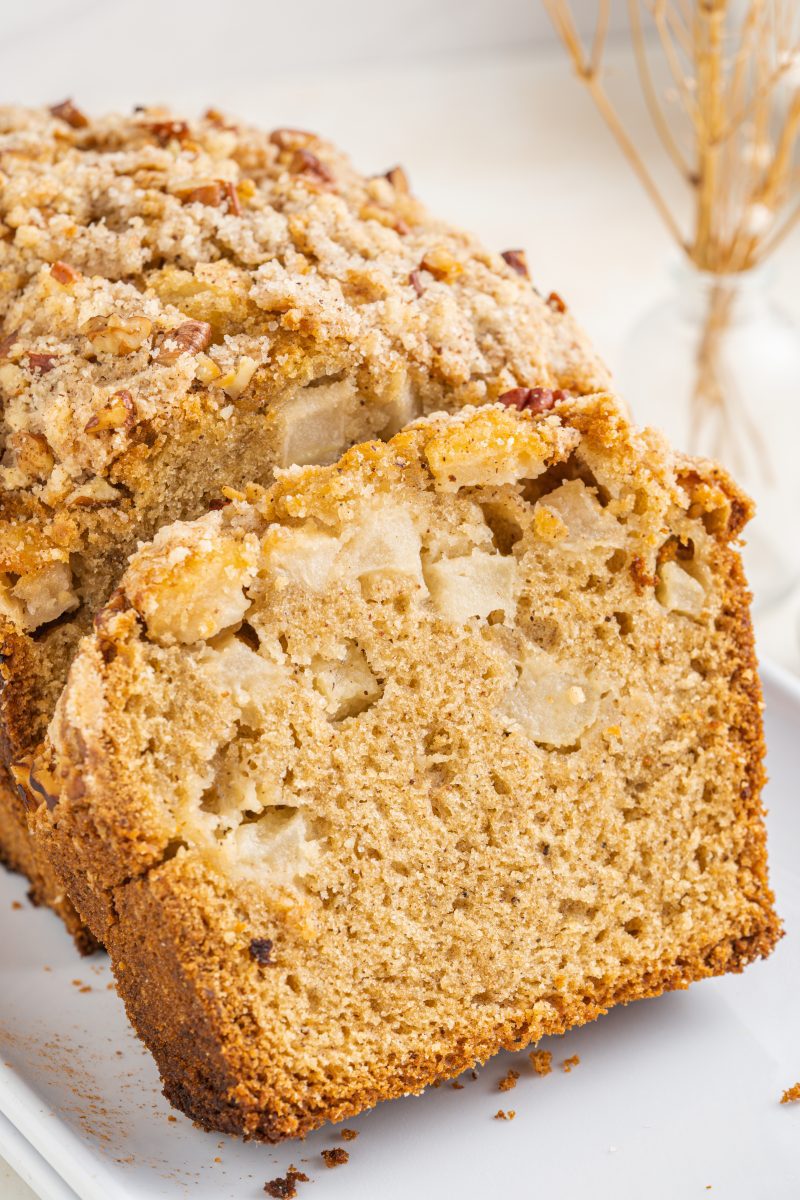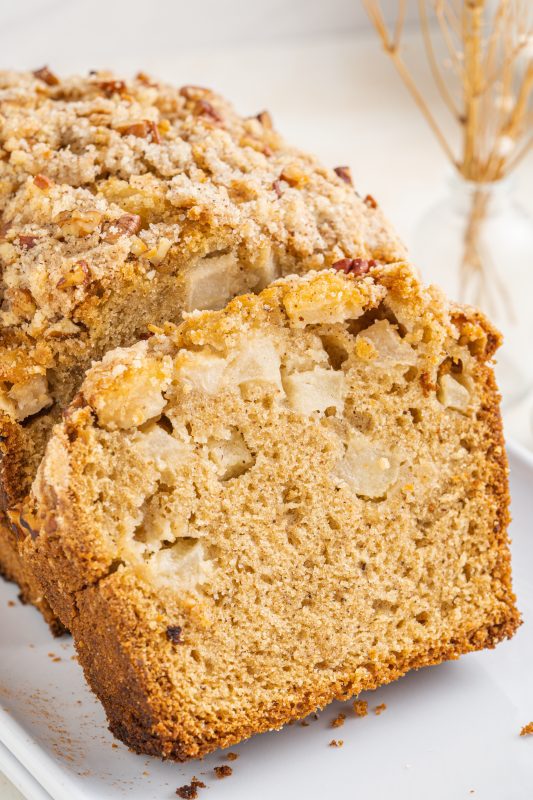 Topped with buttery pecans and a delightful cinnamon sugar crumble, this Apple Pie Bread reinvents classic apple pie and is the perfect treat to enjoy at home or a holiday party.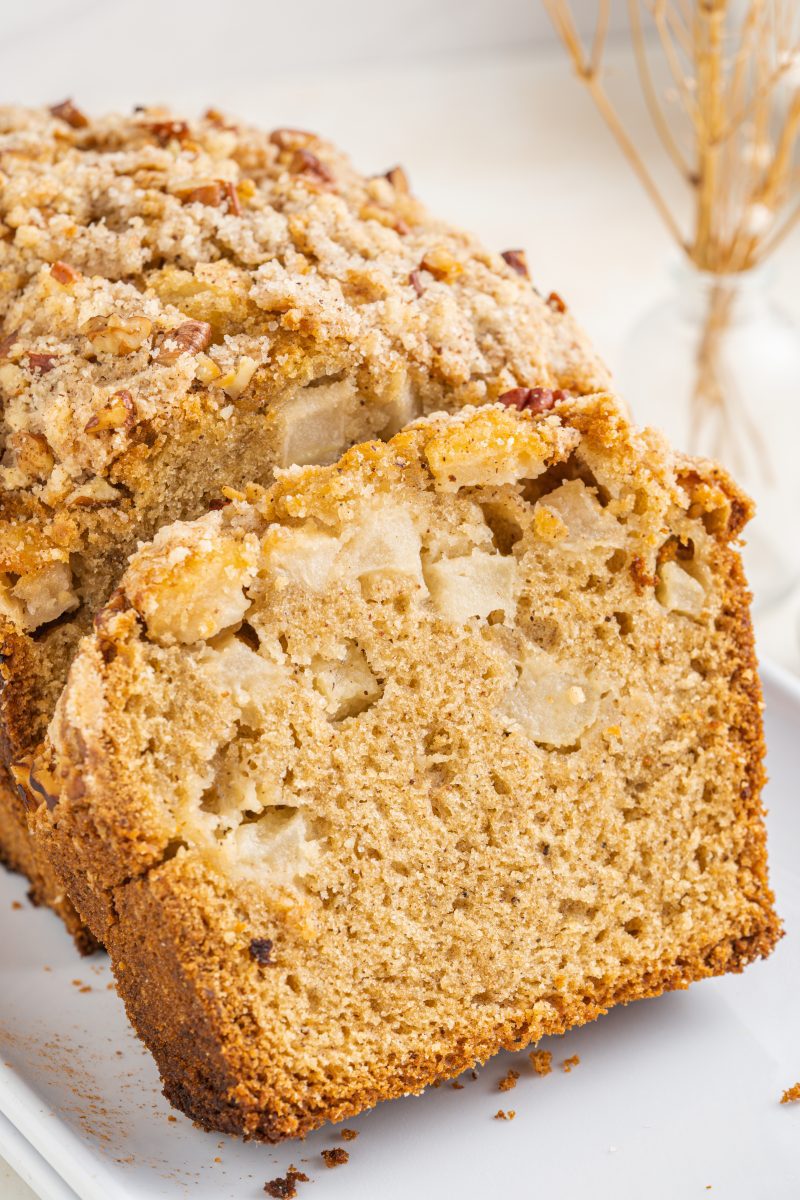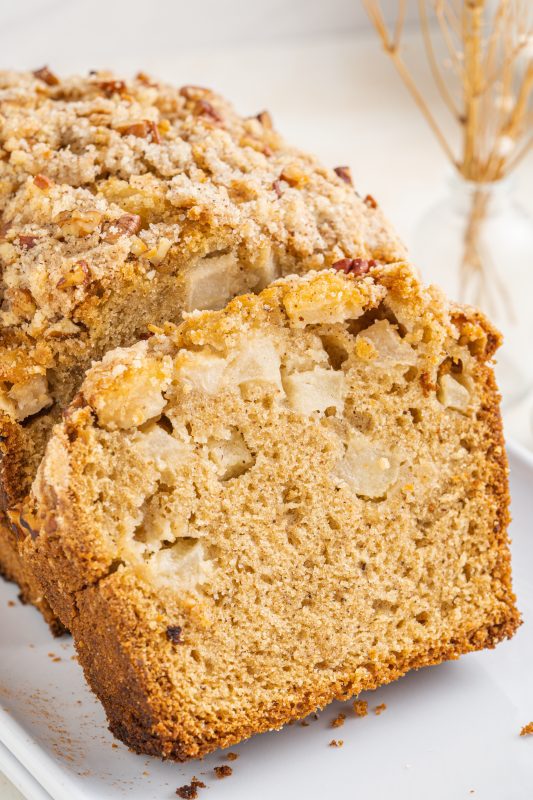 Apple Pie Bread
Think about everything there is to love about apple pie: the warmth of the first bite, the spice of the cinnamon, the amazing apple aroma that makes reminiscing on fall feel inevitable. Now imagine apple pie again, but this time, in bread form! You have a scrumptious loaf that preserves the beloved qualities of apple pie, yet is uniquely its own with its taste and texture.
Apple pie bread is a sweet, satisfying treat. It's a comforting recipe that brings a variety of textures together in a way that just makes sense. The bits of pecans add a crunchy contrast to the soft apples and spongy bread, while the sugary crumble topping melts in your mouth instantly.
This loaf fills your kitchen with the tempting scent of vanilla and cinnamon as it bakes. A recipe that tastes and smells so dreamy… it doesn't get any better than this.
Apples are incredibly versatile in the kitchen, which is why they work so well in both this apple pie bread recipe and others. For more apple recipes check out: Whole Grain Apple Crumble, Apple Crisp Cheesecake Bites, and Apple Pecan Baked Oatmeal.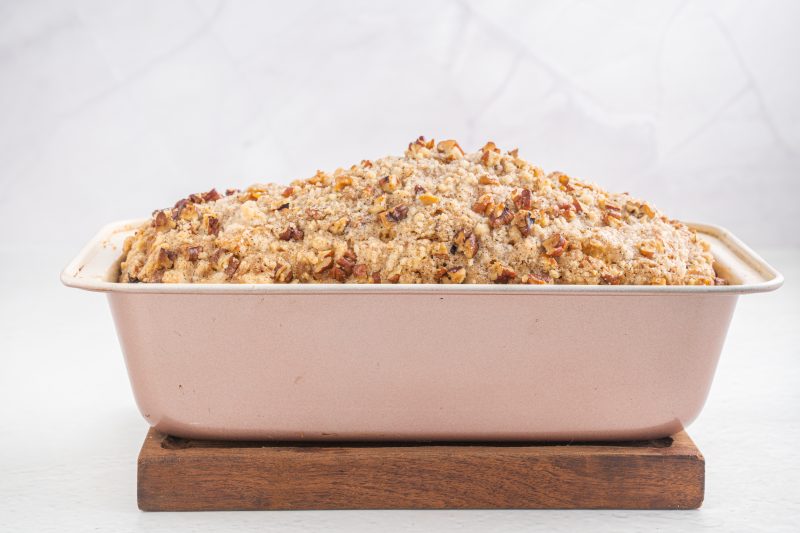 Why You Will Love This Apple Cinnamon Bread
Perfect for any time of day or occasion. You can enjoy this treat for breakfast, snack, or dessert! It is simple enough to pack and eat on the go, or to bring with you to a potluck with family or friends.
Easy to prepare and reheat. Once you have all of your ingredients, you only need to chop, mix, and pop in the oven. Reheating only requires you to pop it back in the oven.
Delicious and nutritious. Apples are rich in fiber and antioxidants, and pecans contain a variety of vitamins and minerals including copper, calcium, and potassium.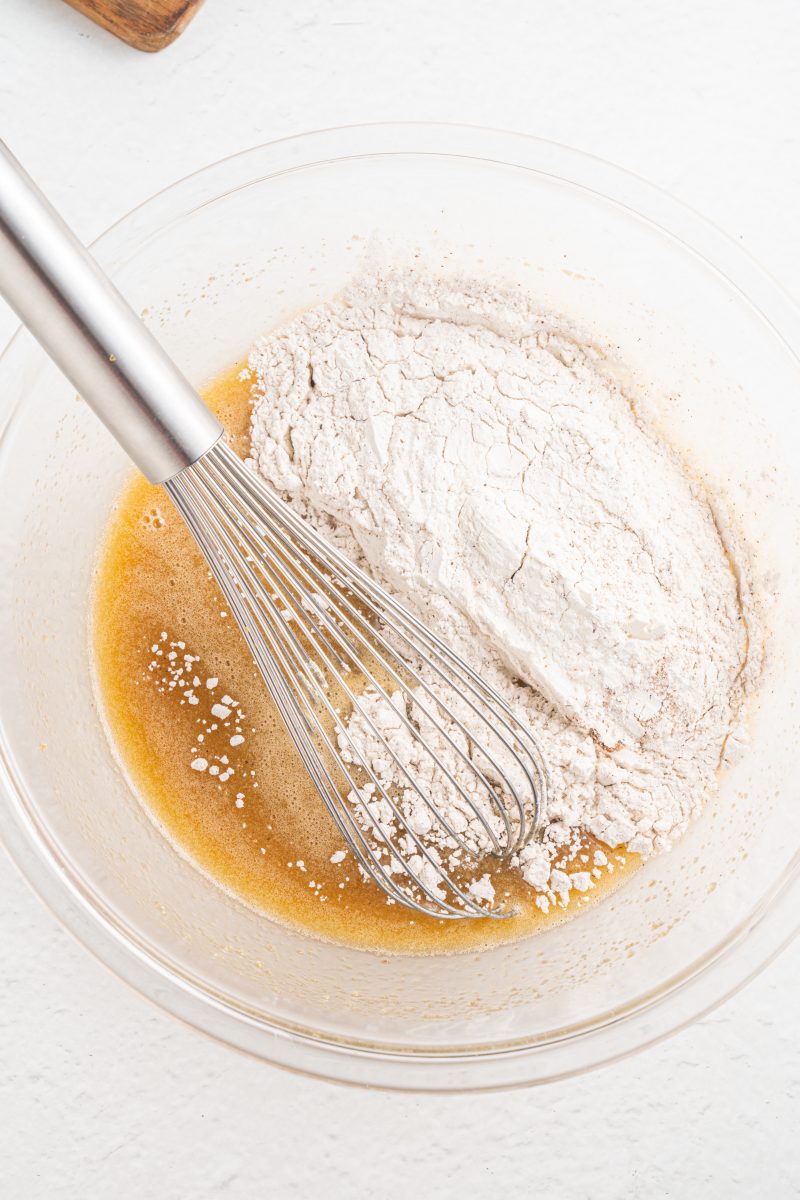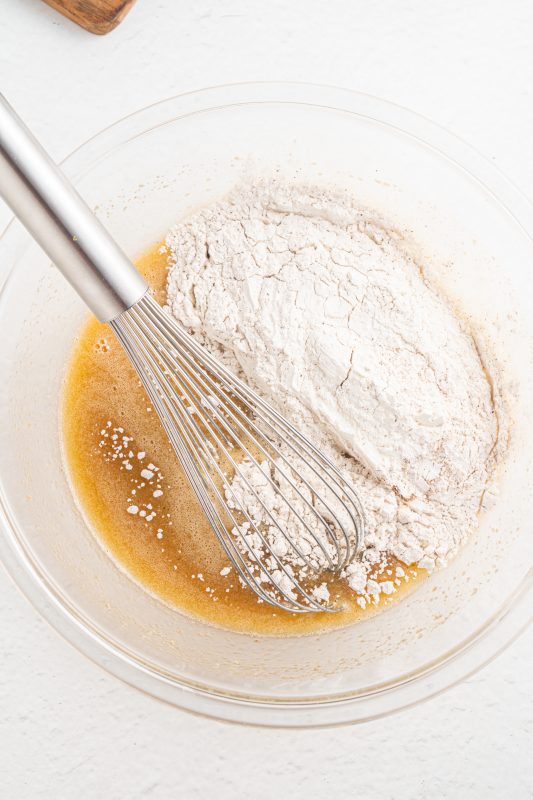 How to Make Perfect Apple Pie Bread
Preheat your oven to 350 degrees. Grease your loaf pan with butter to ensure easy removal after baking.
Prepare the crumble. When preparing the crumble topping, be careful to not overmix it. Work to form clumps with the ingredients, rather than trying to combine them completely.
Fold in peeled and diced apples. It is not necessary to pre-cook your apples before mixing them into the batter. The heat from the bread baking process will soften the apples, giving them just the right texture to match the moisture of the loaf. The key to getting perfectly cooked apples is dicing them to a consistent size that is not too large. You want to make sure they cook evenly and all the way through.
Bake apple pie bread for 60 minutes at 350 degrees or until an inserted toothpick comes out of the center clean.
Let bread cool. After removing from the oven, allow the apple pie bread to cool for approximately 10 minutes before removing it from the loaf pan. If desired, you can transfer to a wire rack for additional cooling time. Giving the bread time to cool will make it easier to remove from the pan, as well as less likely to fall apart when cutting.
Enjoy with coffee. Here are 15 easy coffee recipes that you can choose from to find the perfect cup.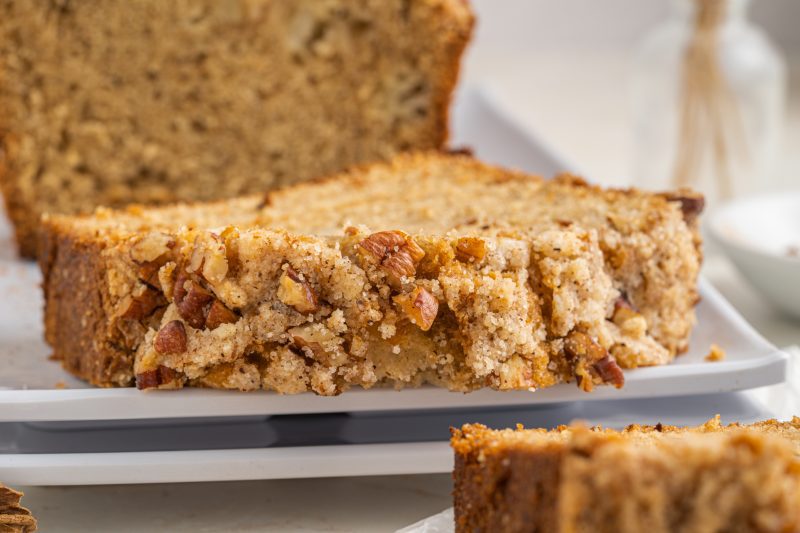 Frequently asked Questions about Apple Bread
What type of apple works best for this recipe?
This depends on your personal preference! Granny Smith apples are a favorite among those who love tart apples, but Honeycrisp apples are an excellent choice for those looking for something on the sweeter side.
Do I need to peel the apples?
Yes––I recommend peeling them. Apple skin can become tough when baked. This texture might not mesh well with the sponginess of the bread and the softness of the apples themselves.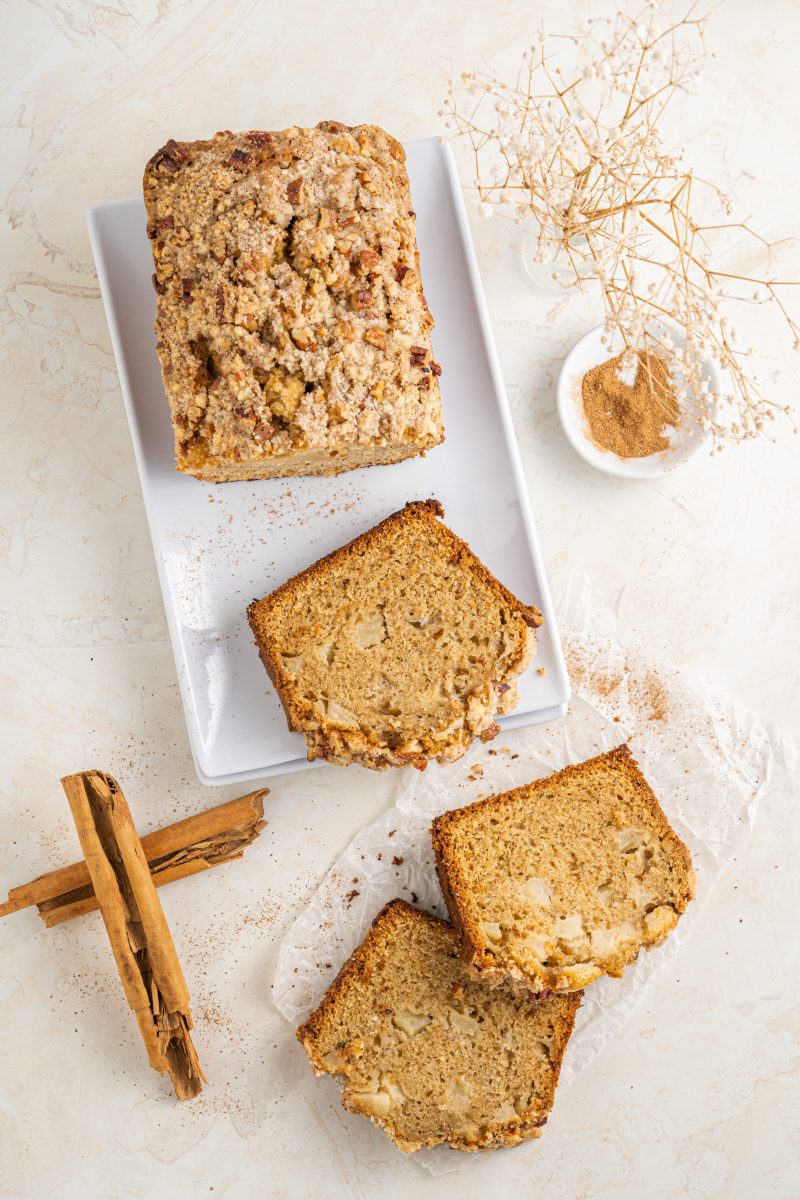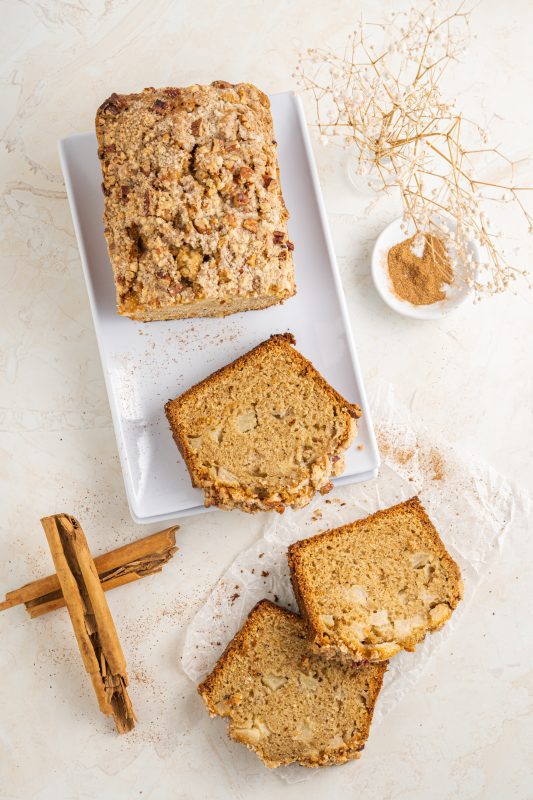 How should I store leftovers?
Let the apple bread cool completely before transferring it to an airtight container. Leftovers should stay fresh at room temperature for up to four days.
How do I reheat leftover apple pie bread?
You can reheat your leftover bread in an oven, toaster oven, or microwave. Place the bread in an oven-safe dish or on a baking sheet. Preheat the oven to 350 degrees and warm the bread for at least 10 to 15 minutes, or until heated through. While reheating in the oven is recommended, the microwave is an easy and effective alternative if you are short on time. Microwave the bread in short intervals until desired temperature is achieved.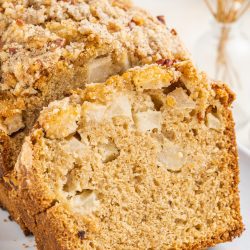 Apple Pie Bread
Apple pie bread is a sweet, satisfying treat. The bits of pecans add a crunchy contrast to the soft apples and spongy bread, while the sugary crumble topping melts in your mouth instantly
Keyword:
apple bread, apple cinnamon bread, apple pie bread, homemade bread
Ingredients
1/2

cup

Brown Sugar

2

tsp

Cinnamon

3/4

cup

Sugar

1/2

cup

Vegetable Oil

2

Eggs

2

tsp

Vanilla

2 1/4

cup

All-purpose Flour

1 1/2

tsp

Baking Powder

1/2

tsp

Baking Soda

1/2

cup

Whole Milk

1

Large

Apple

1/2

tsp

Salt
Crumble Top
2

tbsp

All Purpose Flour

2

tbsp

Sugar

1/2

oz

Butter

1/3

cup

Chopped Pecans

1/2

tsp

Cinnamon
Instructions
Preheat oven to 350 degreesen

Grease a 9×5" loaf pan with butter and set aside

Prepare the crumble. Mix cold butter with sugar, using a fork

Add cinnamon and flour, using your hands to crumble up the mixture

Add chopped pecans and set aside

Beat the eggs, and mix in oil, milk, and vanilla extract

Mix in white and brown sugars

In a separate bowl, mix flour, cinnamon, baking powder, baking soda, and salt.

Combine wet and dry ingredients

Fold in peeled and diced apples and stir

Pour the batter into the greased loaf pan. Spread the crumble on top

Bake for 60 minutes or until an inserted toothpick comes out clean

Let stand for 5-10 minutes, slice and serve
Nutrition Facts
Apple Pie Bread
Amount Per Serving
Calories 480
Calories from Fat 180
% Daily Value*
Fat 20g31%
Cholesterol 47mg16%
Sodium 331mg14%
Potassium 150mg4%
Carbohydrates 70g23%
Protein 6g12%
Vitamin A 149IU3%
Vitamin C 1mg1%
Calcium 98mg10%
Iron 2mg11%
* Percent Daily Values are based on a 2000 calorie diet.