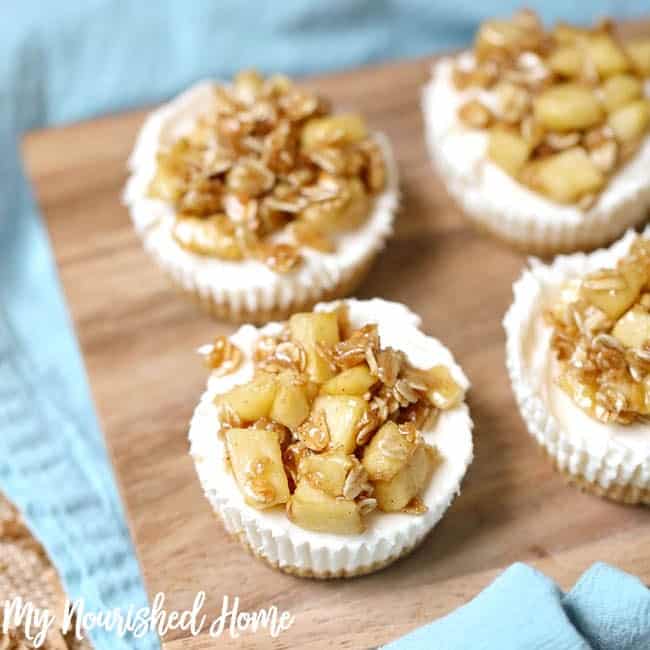 Can I tell you a secret? I love cheesecake. Like, love love. Not half-hearted could eat it whenever and not really care kind of love, but Love Love. Dream about it at night kind of love.  Are you getting the picture? These Apple Chrisp Cheesecake Bites are my current obsession!
Easy Apple Crisp Cheesecake Bites
One of the problems with a cheesecake obsession is that the results of it tend to hang on your hips. So, you can imagine that when I discovered how to make a bite-sized cheesecake, I was over the moon excited. Mini-cheesecakes? That taste like apple crisps and cheesecake combined? Yes, please! The best part about this recipe is that there's nothing complicated about it. It's just delicious cheesecake and apple crisp goodness all in one.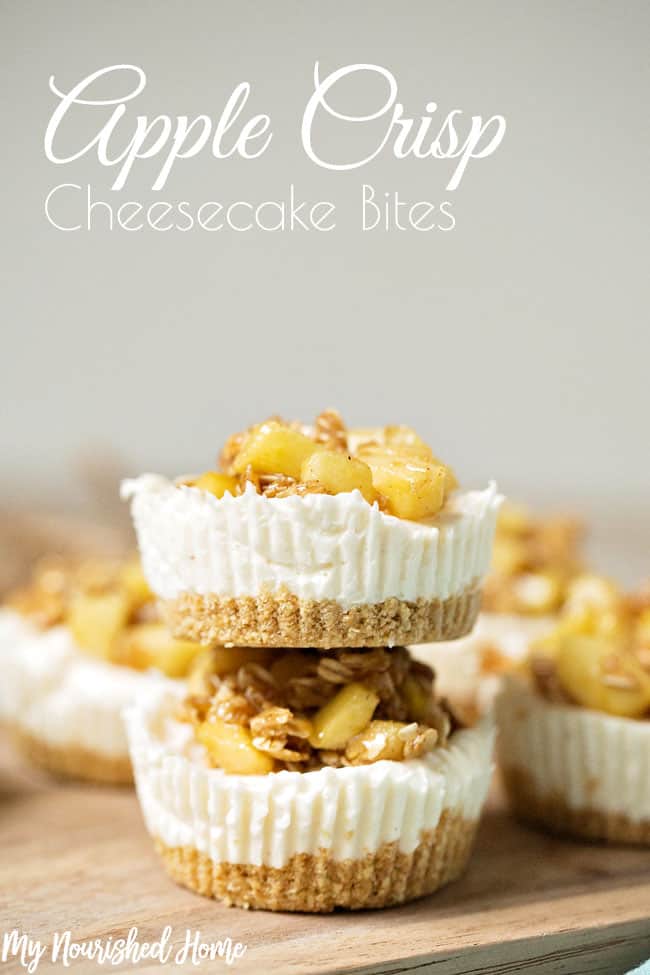 Mini Cheesecake Desserts!
One of the things I really love about this dessert recipe is that there are only 10 ingredients. They're nothing fancy and things we always have on hand – which means I could make apple cheesecake bites in the middle of the night if I wanted to. And yes, I've thought about it before.
Graham crackers form the crust and the cheesecake part is made from cream cheese, some vanilla, powdered sugar, almond milk, and a bit of brown sugar.  The scrumptious apple crisp topping is just apples, rolled oats, and a bit of brown sugar. After you get everything ready, you place it in the muffin tins and refrigerate them for about two hours. Could a dessert recipe be any easier?!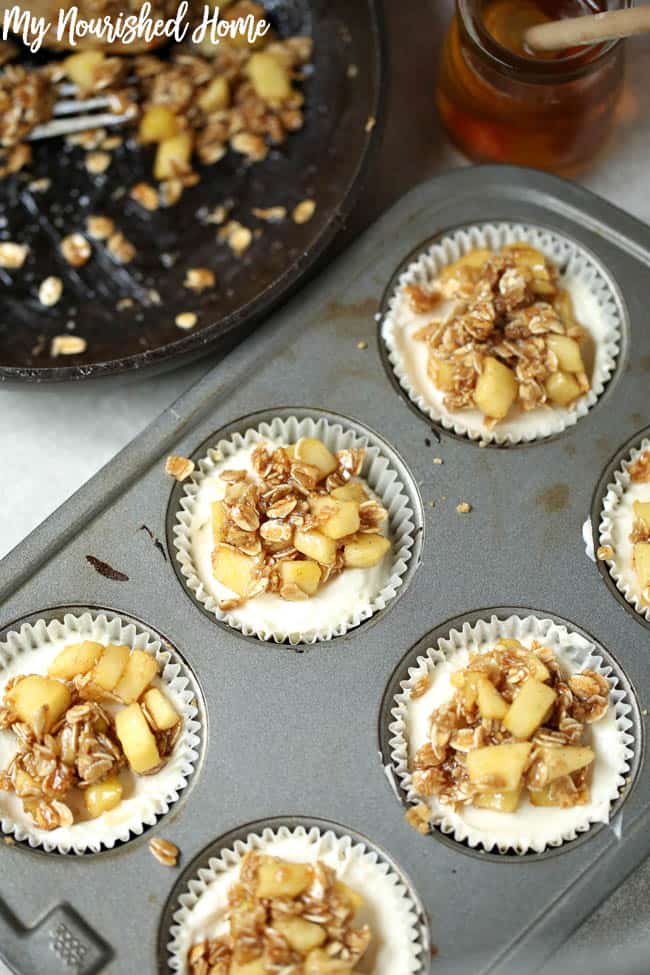 In a rush to make them, I made the mistake of trying to make these without cupcake liners once, so I highly recommend that you use them. Learn from my mistake! They're a lot easier to get out of the muffin tins when there's a liner! You can either serve them out of the cupcake liners or in them.
I plan on making these for an upcoming party and found the cutest color-coordinated muffin tin cupcake liners. When I serve them, I'll be keeping them in the liners, so my guests can peel the liners back as they eat them. It makes the Apple Crisp Cheesecake Bites into perfect party finger food!

Simple Apple Cheesecake Bites
If you know you'll be pinched for time, these mini-cheesecakes can also be made ahead of time and left in the refrigerator. When we're having an outdoor party or picnic, I always make them a day ahead of time so that they have more than two hours to set. They're best served cold, so don't worry about having them in the fridge overnight. If you're really in a rush, you could make them and freeze for 30-minutes instead.
No matter where you serve them (or if you eat them all yourself!), these Apple Crisp Cheesecake Bites will quickly become a new dessert favorite!
Save
Save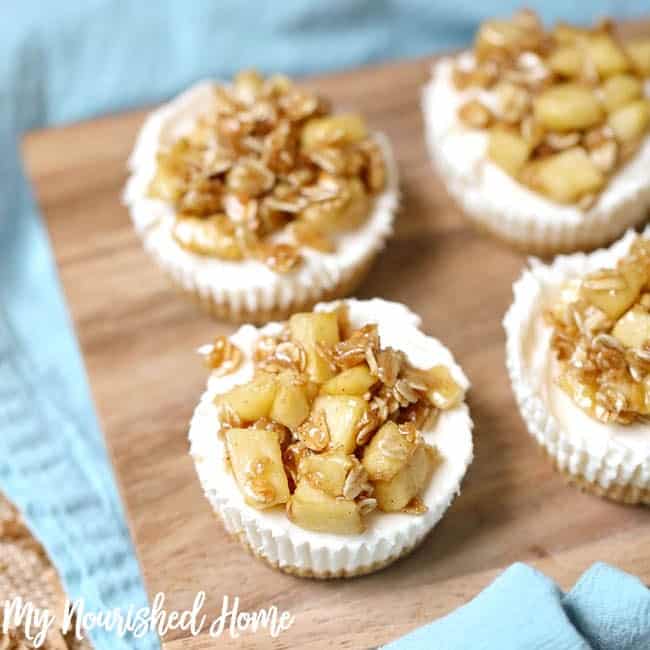 Apple Crisp Cheesecake Bites Recipe
Servings
:
12
mini-cheesecakes
Ingredients
Crust
1

package

graham crackers

1/2

stick

butter
Cheesecake
1

package

cream cheese

1

tsp

vanilla extract

1/4

cup

powdered sugar

1

T

almond milk

1/4

cup

brown sugar
Apple Crisp
1

apple, diced

1

cup

old fashioned oats

1/2

cup

brown sugar
Instructions
Crush graham crackers and mix with melted butter. Drop into lined muffin cups, 1tbsp each, and press down firmly to create a crust.

Mix together all cheesecake ingredients with an electric mixer on medium speed, until smooth.

Fill each muffin cup with cheesecake mixture, until just under even with the tops. Refrigerate.

Dice apples, and saute' over medium-high heat along with oats and brown sugar, 8-10 minutes, stirring frequently.

Top each muffin cup with apple mixture, then refrigerate for at least 2 hours or until cheesecakes are firm. You can also freeze for 30 minutes.

When ready to serve, peel off muffin tin liners.