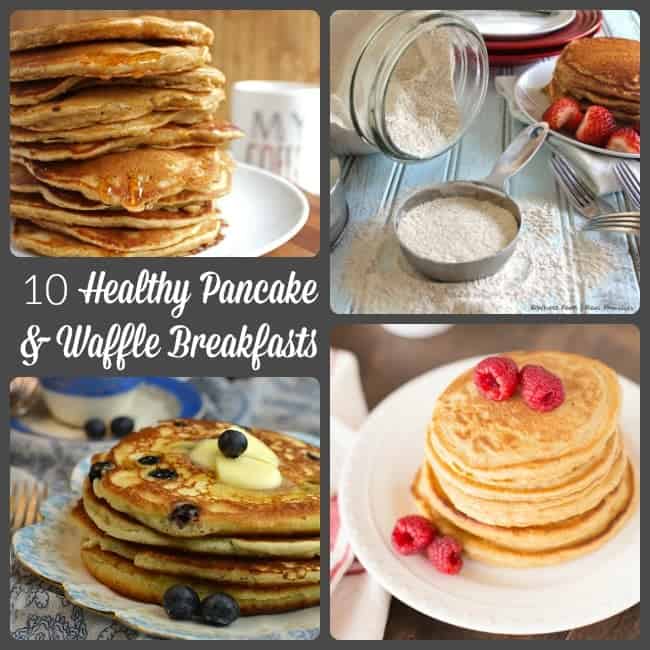 Looking for Healthy Pancake and Waffle Breakfasts? We have you covered! Whatever your diet, we have a recipe for you. Plus checkout the make-ahead Pancake Mix that will make hot breakfast completely doable even on a weekday. If you are into eating a healthy and hearty breakfast but find it difficult due to a busy schedule, try making these Healthy Pancakes and Waffles ahead of time and freezing them for later.
Blueberry Ricotta Pancakes with Lemon | Whole Food Real Families – These pancakes are the most delicious, decadent things you ever put in your mouth for breakfast. And who doesn't love some fresh blueberries in their pancakes in the morning? They are healthy but who cares?!
Whole Wheat Oatmeal Pancakes | Sally's Baking Addiction – Oatmeal is a great healthy breakfast option – but I LOVE the texture and heartiness of oatmeal pancakes!
Healthy Whole Wheat Waffles | Whole Food Real Families – Waffles are always a family favorite so why not make them healthy? These are great for freezing and heating up later!
Belgian Protein Waffles | Aimee's Savory Dish – Need an extra protein kick for the day? These are the best Belgian Protein Waffles ever!
Whole Wheat Banana Nut Pancakes | Whole Food Real Families – Warm banana bread is a comforting food, why not wake up to that comforting smell at breakfast time with these healthy banana nut pancakes?
Apple Oatmeal Pancakes | Cookie and Kate – Apple oatmeal is one of my family's favorites, which is why this recipe just had to be included! Nothing like the taste of warm apples and pancakes!
Pumpkin Whole Wheat Waffles | Whole Food Real Families – Pumpkin is not just for fall especially if you have pumpkin lurking around your freezer or pantry from last Thanksgiving!
Oats and Apples Pancakes | Brown Sugar and Vanilla – If you have a morning where you have extra time to relax and spend more time on breakfast, this is the healthy recipe for you. All fresh ingredients!
Whole Wheat Pancakes | Kristine in Between – These healthy pancakes are a great go-to whole wheat pancake option. Add in fruit or even chocolate chips for a twist. Serve with fruit and maple syrup!
Gluten-Free Buckwheat Waffles | Cookie and Kate – Have an allergy or trying to stay away from gluten? Try these super healthy and allergy safe waffles!
Plus the Homemade Whole Wheat Pancake Mix from that makes hot pancakes a weekday thing!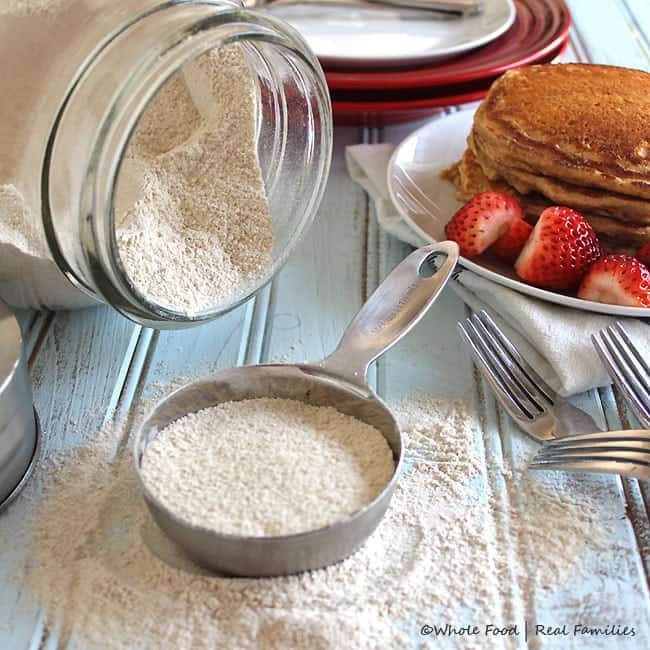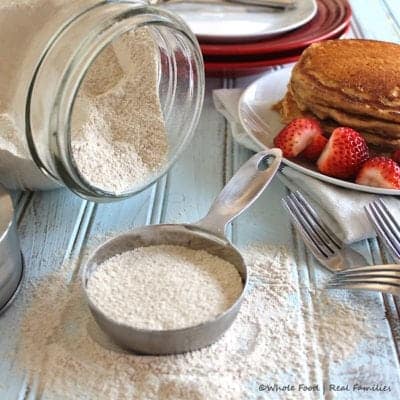 Pin this Recipe Collection!