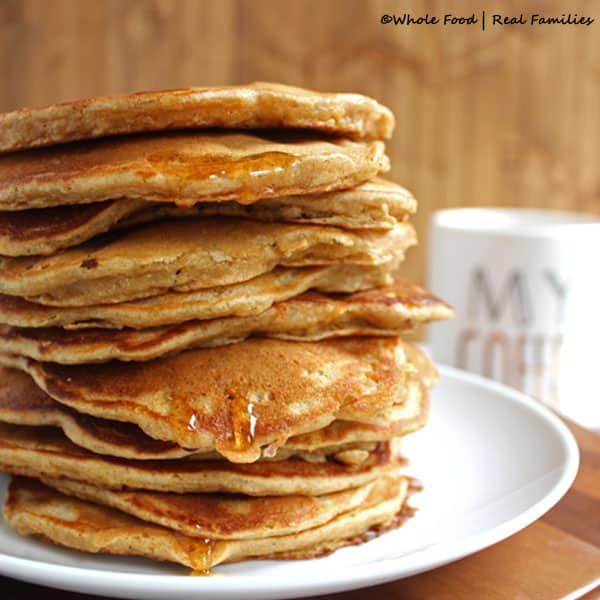 Whole Wheat Banana Nut Pancakes are classic weekend breakfast. They taste just like Banana Nut bread, except they are good for you. Please don't tell my kids.
These Whole Wheat Banana Nut Pancakes are one of the first recipes I made using white whole wheat flour. I was skeptical. And just knew that my kids would turn up their noses at whole wheat pancakes. They didn't even notice. It really did open my eyes to the possibility that eating well doesn't have to taste bland or boring.
Whole Wheat Banana Nut Pancakes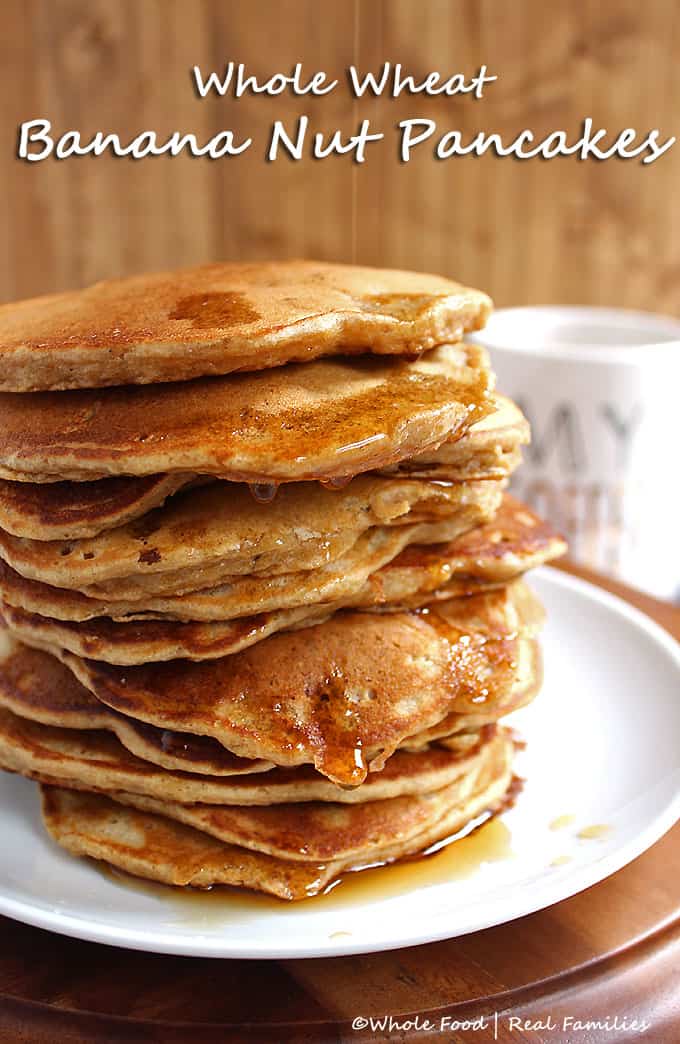 I try to share lots of recipes that you can double or triple, eat today and freeze for later. These banana pancakes meet that criteria with flying colors. I always make enough for my family to eat fresh of the griddle, enough to put some in the fridge to heat up during the week, plus enough to freeze for next time they want some and I don't feel like cooking.
See how that works – one episode of standing by the griddle, one set of dishes to wash, and my whole family has breakfast 3 times. (Or lunch or dinner. Don't judge me.) I also love that this recipe is made with pantry staples and the bananas might have otherwise thrown away.
How to Store Ripe Bananas for Baking
If you have bananas that are overripe, peel them and pop them into a freezer bag. I like to break them into pieces so when I am baking in the future, I can pull out just what I need. Toss your bag-o-bananas in the freezer until you need them. I continue to add any ripe bananas to the same bag until I'm ready to bake. (My kids go through phases of eating bananas constantly to not eating them at all… I never seem to get the amount right when I buy them!)
When you need them for baking, just take out what you need and let them thaw in the fridge. And toss the rest of the bag back in the freezer. (They make good smoothie mixers too!)
Banana Pancake Toppings
We use maple syrup for pancakes. Not that I don't love the taste of pancake syrup, because I do. But we try to keep the processed stuff to a minimum. Maple syrup is also more expensive than pancake syrup -thankfully it only requires only a fraction of the amount. To keep my kids from pouring $6 worth of maple syrup on their plate, I use little ramekins for syrup and they dip their pancakes.
Make sure to top these with extra bananas, walnuts or pecans, and if you're feeling extra fancy, a little whipped cream.
Whole Wheat Pancake Shortcut
We love pancakes and always keep a homemade pancake mix in the pantry. These are our favorite whole wheat pancakes.
They are made from this homemade pancake mix. These whole wheat banana nut pancakes could easily be made from this pre-mix to save time!
If you are looking for more yummy things to cover in maple syrup, give these Healthy Whole Wheat Waffles a try. They are delicious and my go-to waffle recipe. These Blueberry Ricotta Pancakes with Lemon Zest will change your pancakes forever. You will never know how delicious and fresh whole wheat pancakes can taste until you give them a try.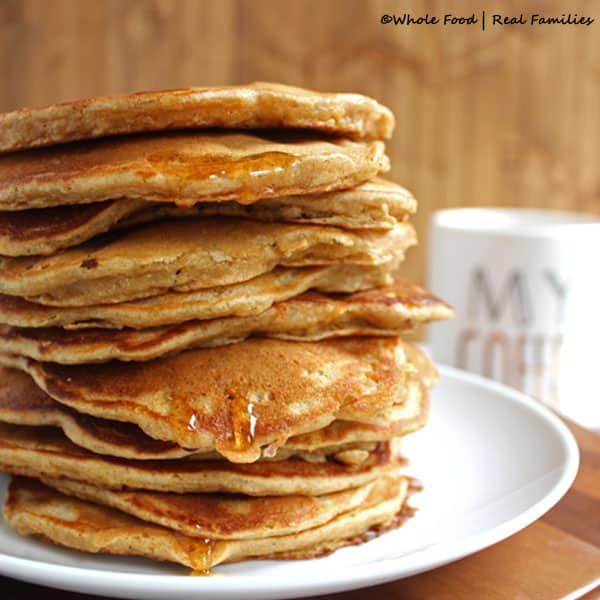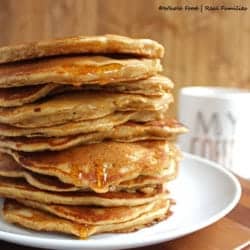 Whole Wheat Banana Nut Pancakes
Ingredients
2

cups

white whole wheat flour

2

tsp

baking powder

1 1/2

tsp

baking soda

1/2

tsp

salt

1

tsp

honey

2

large

eggs

lightly beaten

1 3/4

cups

milk

2

tbsp

butter, melted

extra if you plan to coat the griddle before cooking

2

ripe bananas, mashed

if using frozen, thaw on your counter before mashing

3/4

cup

pecans or walnuts, chopped

100% pure maple syrup for serving
Instructions
In a large bowl, whisk together the flour, baking powder, baking soda, and salt.

Make a well in the center of the flour mixture and pour in the honey, eggs, milk, and 2 tablespoons of melted butter. Whisk together thoroughly, but do not over mix.

Gently fold the mashed bananas and nuts into the batter with a spatula.

Heat a griddle or sauté pan over medium-high heat. Swirl enough butter around the pan until it is well coated. Add pancake batter using a soup ladle or a 1/4 cup measuring cup. (My griddle is very well seasoned. I actually don't have to use butter to keep it from sticking when I use my griddle.)

When the pancakes have begun brown on the bottom, flip them over to cook the other side.

Serve with warm maple syrup. And don't forget to freeze the leftovers for another day!