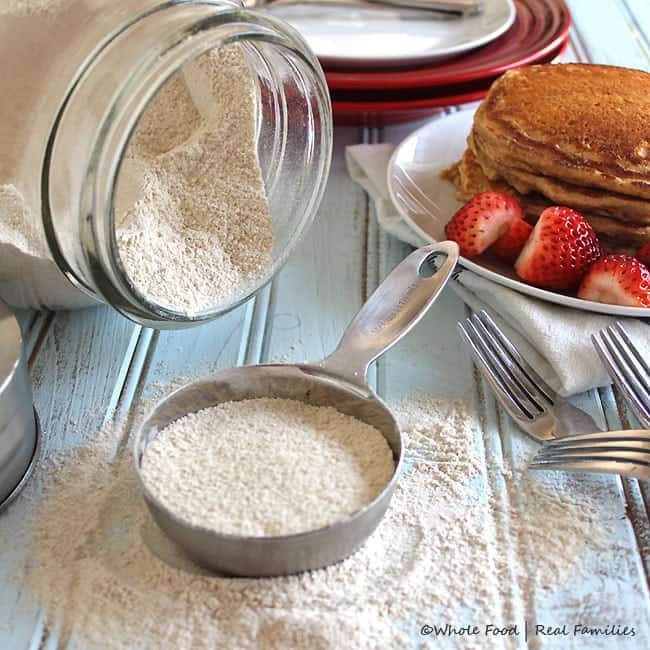 Homemade Whole Wheat Pancake Mix is a must have pantry staple. Easy to throw together enough mix to last for weeks – this pre-mix makes hot pancakes in minutes with much less cleanup.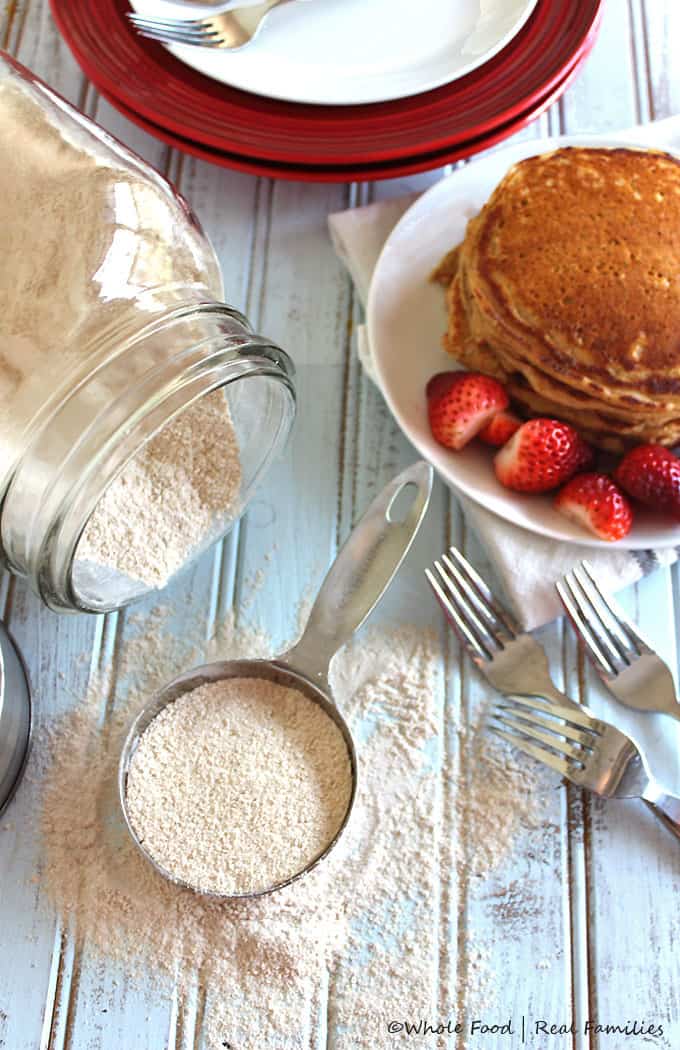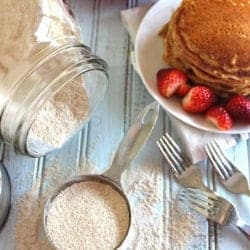 Whole Wheat Pancakes are a favorite breakfast in our house no matter what day of the week it is. I would like to blame that on my kids but the truth is, I love them as much as they do. Most of the time pancakes are reserved for weekend mornings when we have a bit more time to wake up and think about measuring more than the coffee that will fit in my cup without running over. But recently we figured out that if we premake the dry mix, pancakes are really easy to throw together no matter what day it is.
My friends at The Recipe Redux challenged members to come up with a healthy recipe that uses 7 ingredients or less. The Recipe Redux is a recipe challenge that focuses on taking delicious dishes and making them better for you without compromising taste. This month we are celebrating the fact that delicious, healthy food doesn't have to be complicated!
This Homemade Whole Wheat Pancake Mix is my favorite kitchen hack at the moment. It keeps the mess and the dishes to a minimum and is is easy to scale up or down based on how many people I am feeding – and whether or not I want to put extras in the fridge or freezer for later meals. Make these once and you won't need the recipe anymore. You might even consider cooking hot breakfast on a work/school day! Gasp! That's just crazy business.
1 cup of Homemade Whole Wheat Pancake Mix + 1 cup milk  +1 egg + 1 tbsp melted butter = 6ish pancakes
Use this Homemade Whole Wheat Pancake Mix as a base for all your favorite combinations. Add chocolate chips, drop blueberries in there, add mashed bananas or a spoonful of peanut butter. Go crazy. We LOVE to soak muesli or oatmeal in milk until it begins to soften then add it to the mix with chopped walnuts for really hearty pancakes. (I'm not going to lie – by we, I mean me and my husband. My kids are like "excuse me, what did you do to my pancakes and where are my chocolate chips.")
Note: You can use the milk of your choice in the recipe. We use regular ole' milk or buttermilk but if you use alternative milks for health or preference, go right ahead. I haven't tried almond milk but coconut milk works great. Also, if you prefer to be dairy free, you can use coconut oil in place of the butter.
Looking for more pancake recipes? These Whole Wheat Banana Nut Pancakes are my favorite and these Blueberry Ricotta Pancakes with Lemon might just change your life.
Check out the other Recipe Redux member contributions below. All are healthy and all are less than 7 ingredients!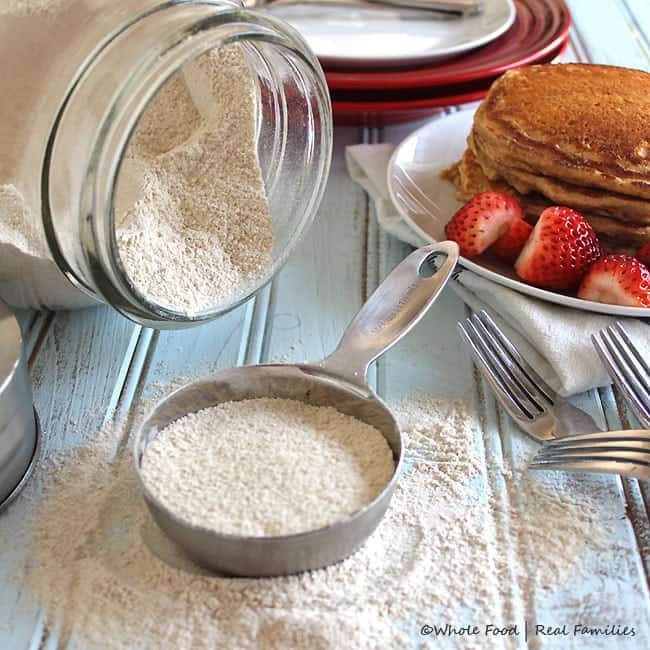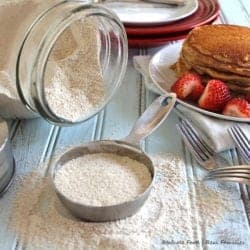 Homemade Whole Wheat Pancake Mix
Ingredients
8

cups

whole white wheat flour

6

tablespoons

baking powder

4

teaspoons

baking soda

2

teaspoon

salt

6

tablespoons

coconut sugar

maple sugar, or cane sugar based on your preference

To Make Pancakes

1

cup

of Homemade Whole Wheat Pancake Mix

1

cup

to 1 1/4milk

1

egg

1

tbsp

butter or melted coconut oil
Instructions
To make Homemade Whole Wheat Pancake Mix add all dry ingredients to a large container with an sealable lid. Whisk or stir to combine well. Store as you would flour until ready to use.

To make pancakes, preheat griddle or large flat pan over medium heat. For each cup of pancake mix used, add 1 to 1 1/4 cup milk, 1 egg, and 1 tbsp butter or coconut oil. Each cup of mix will make about 6 pancakes using a 1/3 cup measuring cup as a scooper. Stir until combined. Lightly oil or butter the griddle, before scooping batter onto the hot griddle. Cook until you can see the bubbles pop on top of the pancake batter - around 3 minutes. Flip pancakes and cook and additional 1-2 minutes or until golden brown. Remove from heat, top with maple syrup and serve!
Pin it for Later!


[inlinkz_linkup id=611230 mode=1]