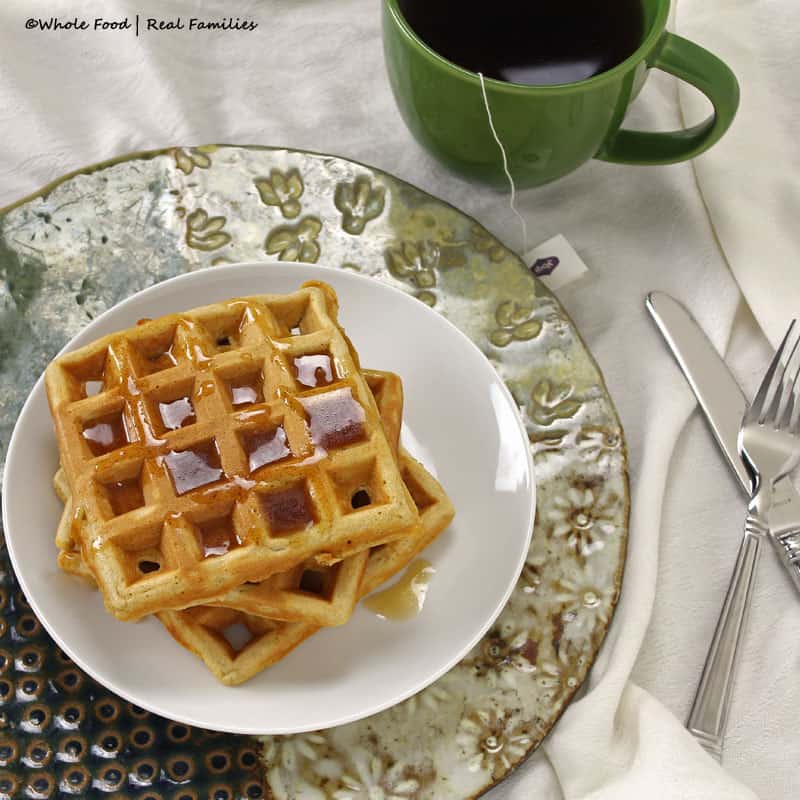 These Healthy Whole Wheat Waffles will make everyone in your family run to the breakfast table. Double the recipe and store the extras in the refrigerator or freezer. They warm quickly in the toaster or microwave for an easy weekday breakfast.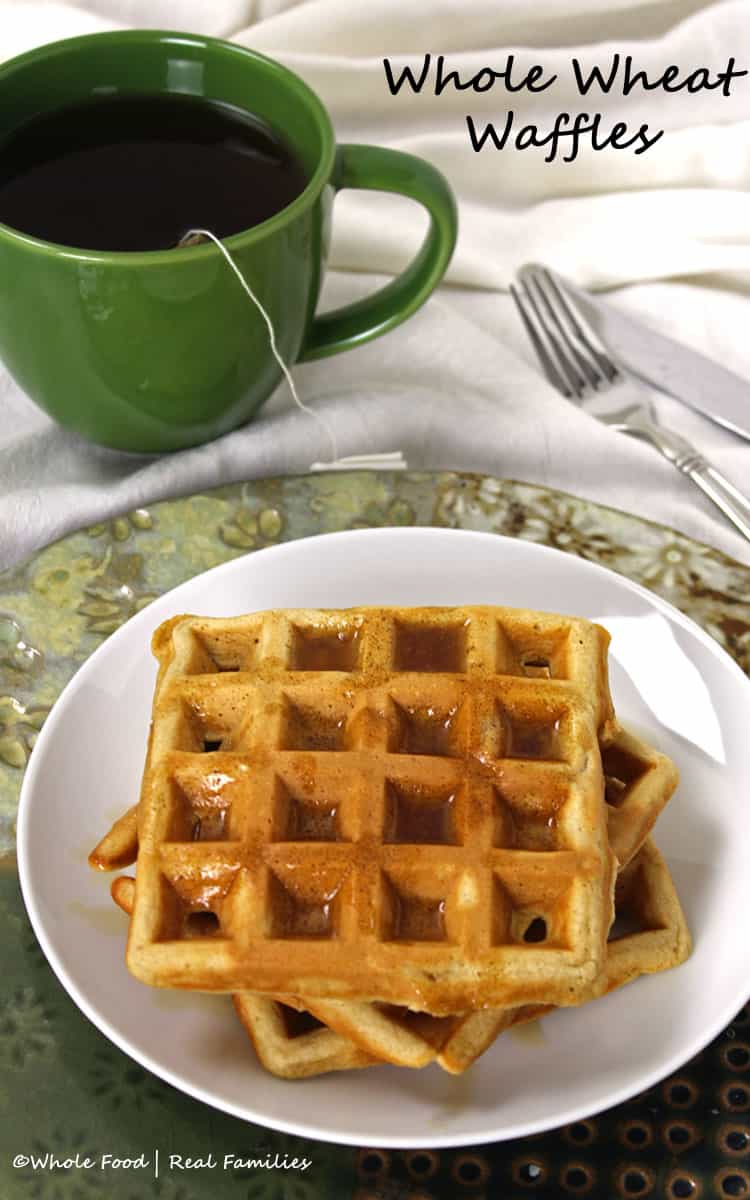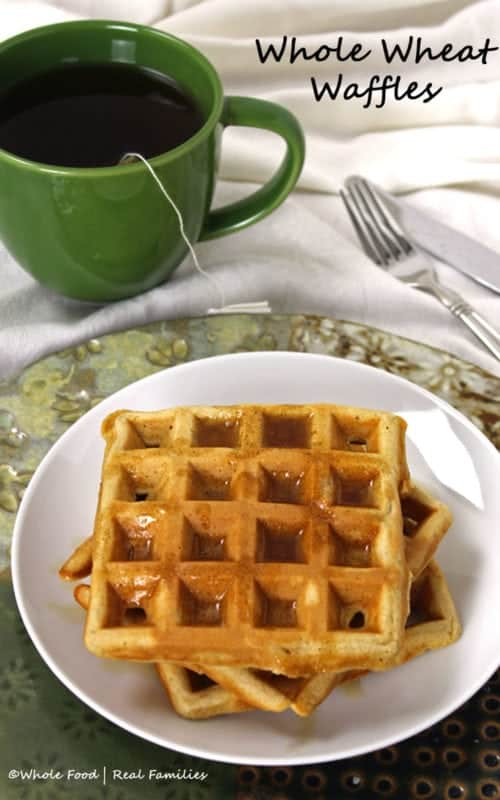 Healthy Whole Wheat Waffles are Delicious!
Waffles make any morning better. For many years, homemade waffles have brought my kids to the table with more enthusiasm than any other breakfast. There was a while when we first started understanding the concept of whole food and really started reading ingredient labels, waffles got pushed to the back burner. I tried several versions of whole wheat waffles that just were not very good. It took some experimenting but we finally settled on a recipe that created waffles that were light and tender, without the dryness of traditional whole wheat products.
There are two secrets here. The first is white whole wheat flour, which has the same nutritional profile of regular whole wheat flour made from red wheat but is much lighter is texture and flavor. I have found that I can substitute it for any recipe that calls for flour and nobody notices. If you have never tried it, the King Arthur brand carries both organic and conventional white whole wheat flour that is fantastic.
Greek Yogurt in Healthy Whole Wheat Waffles
The second secret is that I include Greek yogurt in the recipe. If you follow Whole Food | Real Families regularly, you know that I use Greek yogurt often when baking. I love that the additional protein in the yogurt gives whole wheat baked goods additional structure that help it hold onto moisture. The end result more tender baked goods that more closely resemble the texture we all know and love but better nutrition.
More Healthy Baking Recipes?
If you are really looking to make breakfast a special affair, try these Whole Wheat Waffles with Apple Cinnamon Syrup. Or if you are looking for more bakery goodies with a whole white wheat makeover, check out these Sweet Potato Muffins with an Oatmeal Crumble Top. Both are perfect for fall, making the most of the seasons best produce.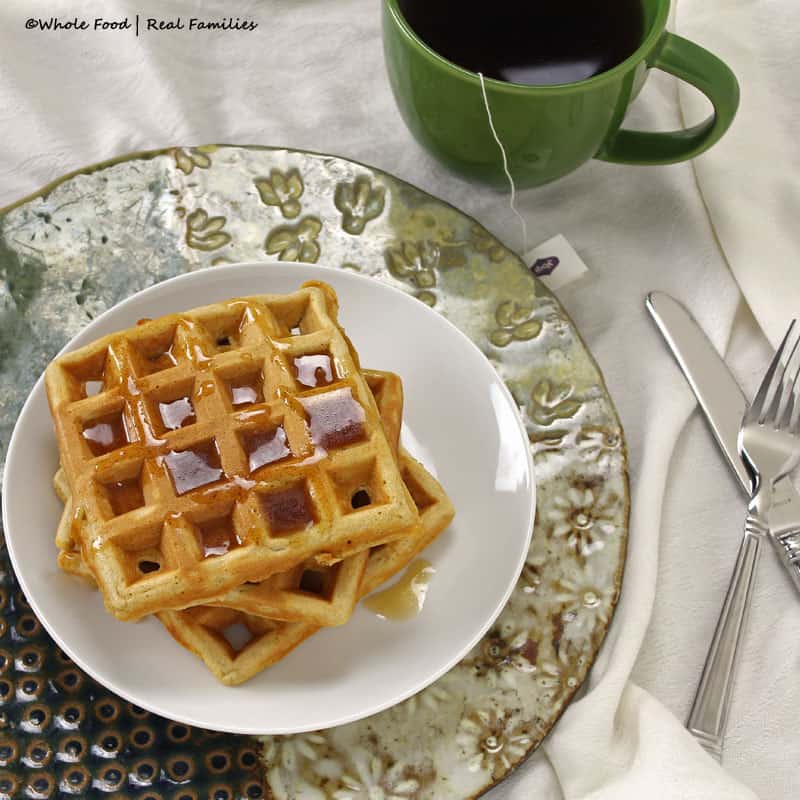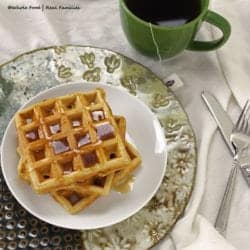 Healthy Whole Wheat Waffles
Double, triple, quadruple this recipe. Waffles warm great in the low setting on the toaster or a few seconds in the microwave. They also freeze very well! I make a ton and freeze them for weekday lunches (assuming everyone doesn't eat them all first!)
Ingredients
Whole Wheat Waffles
2

cup

white whole wheat flour

1/4

cup

coconut sugar

2

tsp

baking powder

1/2

tsp

kosher salt

3

eggs, lightly beaten

1/2

cup

Greek Yogurt, Plain

1 1/2

cup

milk

1

tbsp

vanilla extract

4

tbsp

butter, melted
Maple Waffle Syrup
3

tbsp

butter, melted

1/2

cup

100% pure maple syrup
Instructions
In a large mixing bowl, combine white whole wheat flour, coconut sugar, baking powder, and salt. Whisk until well combined. In a second mixing bowl, combine eggs, plain Greek yogurt, milk, vanilla extract and melted butter. Whisk until uniform. Add wet ingredients to dry ingredients and mix just until combined. Do not overmix.

Pour waffle batter into your waffle iron based on your waffle iron's recommendations. We have used this recipe in our Belgian waffle maker and our regular waffle maker and it works beautifully in both.

For the Maple Waffle Syrup, melt butter in a small sauce pan. Add syrup and whisk until combined and syrup is warm. Pour into a serving dish. You may need to rewhisk if the syrup sits for a while. DELICIOUS!!!

Stack cooked waffles, pour over the Maple Waffle Syrup. Be happy!