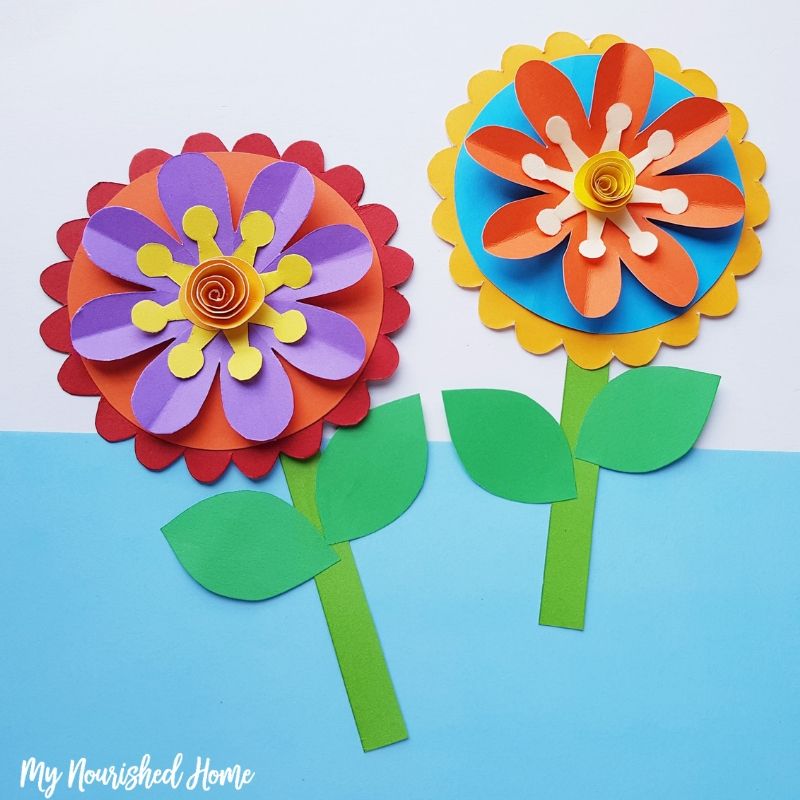 Here is a whimsical paper flower craft that is bright, colorful, and loads of fun. This flower papercraft is crazy easy to make, and kids will love sitting down to craft together.
This is a quick spring craft for kids to enjoy the bright colors. Or if you are like me, you want to bring color into the cold winter days. A classroom-friendly kids craft for all ages.
Paper flowers are always my go-to craft when it is a rainy day outdoors and we need something to keep little hands busy! Why? Because minimal supplies and the creating limit is endless.
Whimsical Flowers
A papercraft for kids that can work for all ages. If you have a toddler, you can help with certain steps, or if older you can guide them through each step.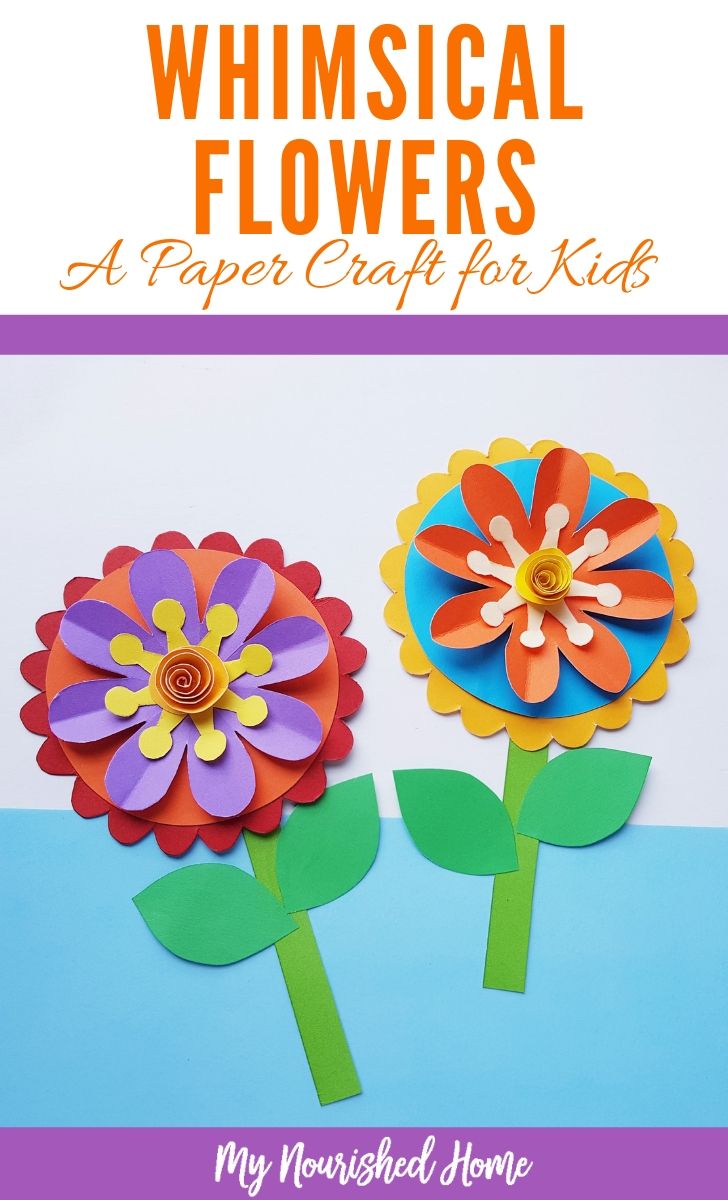 Best Paper For Paper Flowers
Reach for a construction paper or even craft paper, for making paper flowers. These are great because you want to have a stiff enough paper that folds and holds its shape.
If you use too thin of paper you will find it won't hold the shape properly. So reach for a thicker paper that when you create a crease you will find it holds the shape.
How To Make Paper Flowers
You will find all the step by step images below to help you walk through how to create the perfect paper whimsical flowers. These step by step instructions will help you to find exactly how to make them.
Free Printable Template for Paper Flowers
Here is the printable template for paper flowers. Go ahead and download and print this paper flower, and use that to trace and cut out your flowers.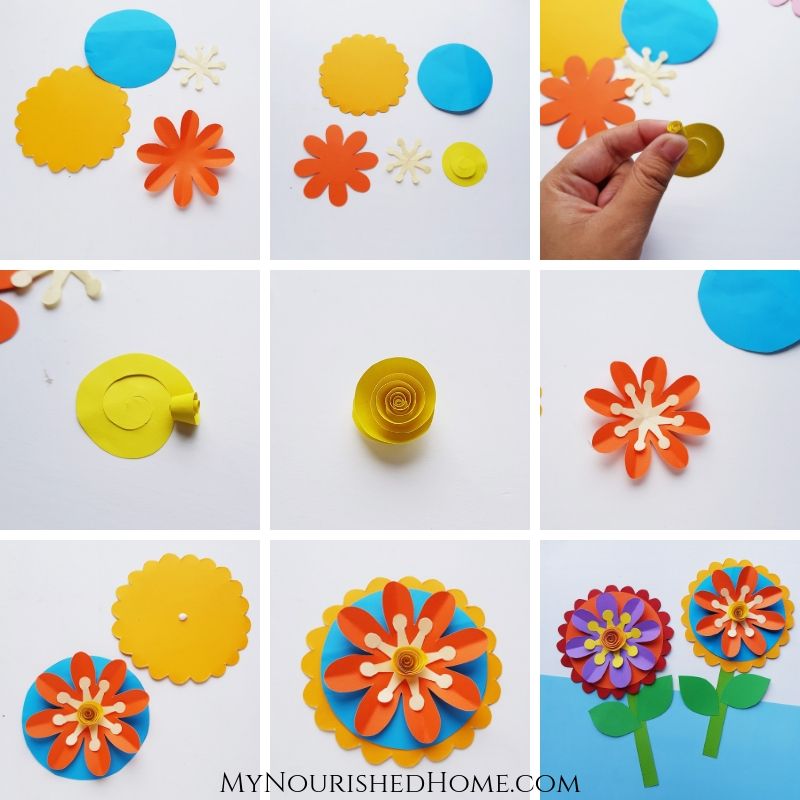 Searching for more Crafts for Kids
Unicorn Bookmarks for Kids | Here is a magical unicorn bookmark you can let your child make to keep track of what page they are on. This is a fun way to make reading fun.
Halloween Puppets | A fun craft to let kids make and spend hours of fun with imagination play after it is created. I love creating crafts for the holiday season.
Paper Pinwheels | Here is a paper pinwheel craft for you to check out. This paper pinwheel craft is so easy to make, and they will have watching it spin.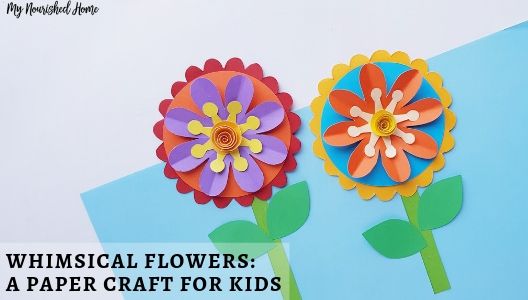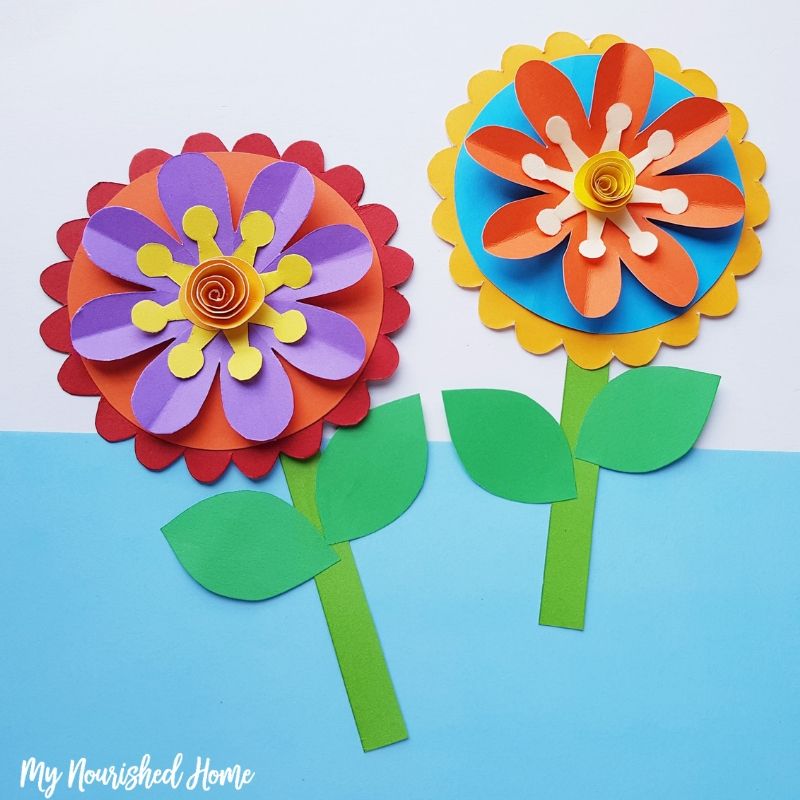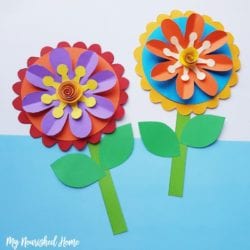 Whimsical Flower Paper Craft for Kids
Brighten up your day by making some whimsical flowers out of paper!
Ingredients
Colorful construction or craft paper

Pencil

Scissors

Glue

Template
Instructions
Select 4-5 different colors of paper. Print out the template. Trace the template patterns onto the construction paper and cut them out.

Take the spiral pattern cut-out and start to roll the spiral from the outer edge. Continue to roll the spiral pattern towards the center. Once the rolling reaches the center, allow the spiral to loosen up a bit. Apply a drop of glue on the center to secure the spiral roll.

Take the flower pattern cut-out and create a crease the tip of a petal towards the center of the flower pattern. Repeat for each petal.

Glue the snowflake pattern cut-out to the center of the creased flower pattern.

Glue the rolled spiral pattern onto the center of the snowflake pattern.

Glue the flower pattern in the circle-shaped cut-out.

Apply a drop of glue on the scalloped border. Place the round paper on the center of the scalloped border cut-out.

Cut out a stem and leaf pattern from green construction paper and attach them to the flower.

Done! You can add more layers if you want to, just make sure to adjust the size and pattern.