Celebrate the windy day with this adorable printable paper pinwheel craft for kids!
Pinwheel Craft for Kids
After we made the Patriotic Pinwheels for 4th of July, my girls wanted to make more later in the summer. While the patriotic theme is always a good one – especially since we live in a military town – we wanted to try something a bit different. So, we tackled these fun printable paper pinwheels and now have a house filled with colorful pinwheels!
My girls like making them because they just make us smile. They're easy, fun, and perfect for those days when everyone just needs a little bit of crafting fun. I like them because they don't require a lot of different materials and we usually have everything needed on hand. It's a great, quick craft!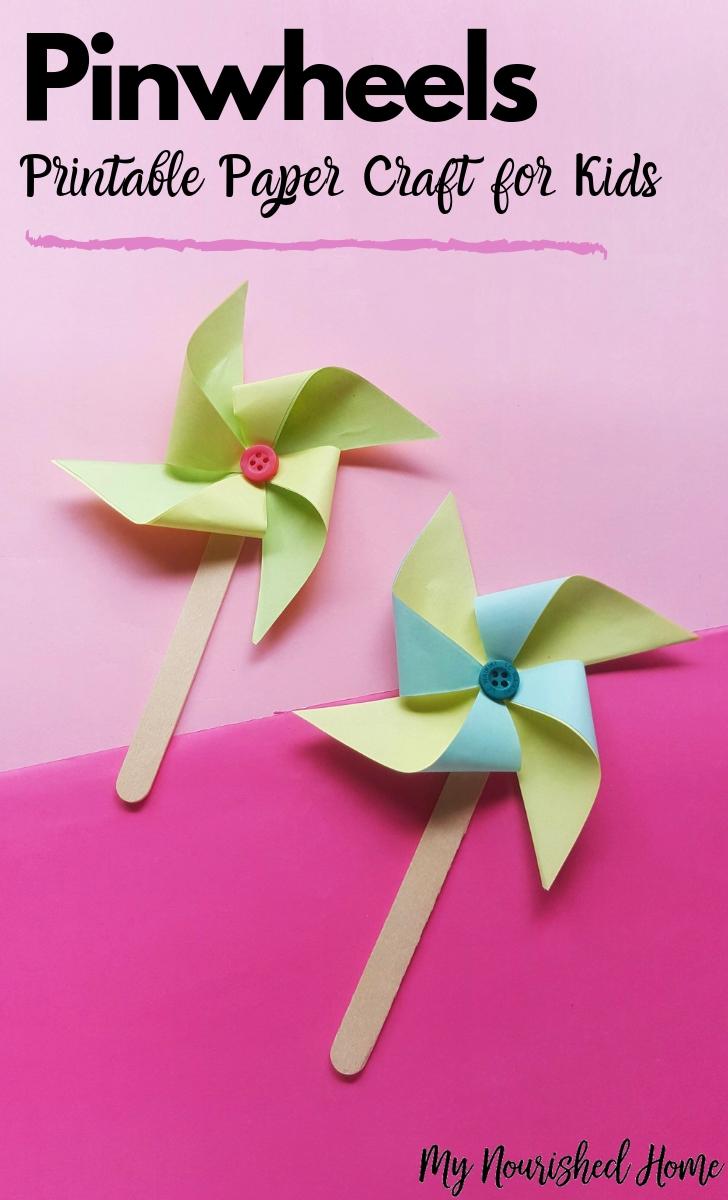 How to Make Pinwheels
So how do you make these paper pinwheels? It's easy! Open up your craft cabinet and grab the following things to get started:
colorful paper
a button
a wooden stick
a ruler
the printable pinwheel template
That's it! Once you have those five things, you're ready to make your very own pinwheel!
I also recommend having a flat, hard surface to work on. For some crafts, it doesn't really matter, but we have found that working at a table really makes it go more smoothly for the pinwheels.
You can match the papers that you use to the holidays or season coming up, or just use colorful papers to match your home or favorite colors. There's no right or wrong colors or patterns to use. Just use what you like or what you have available.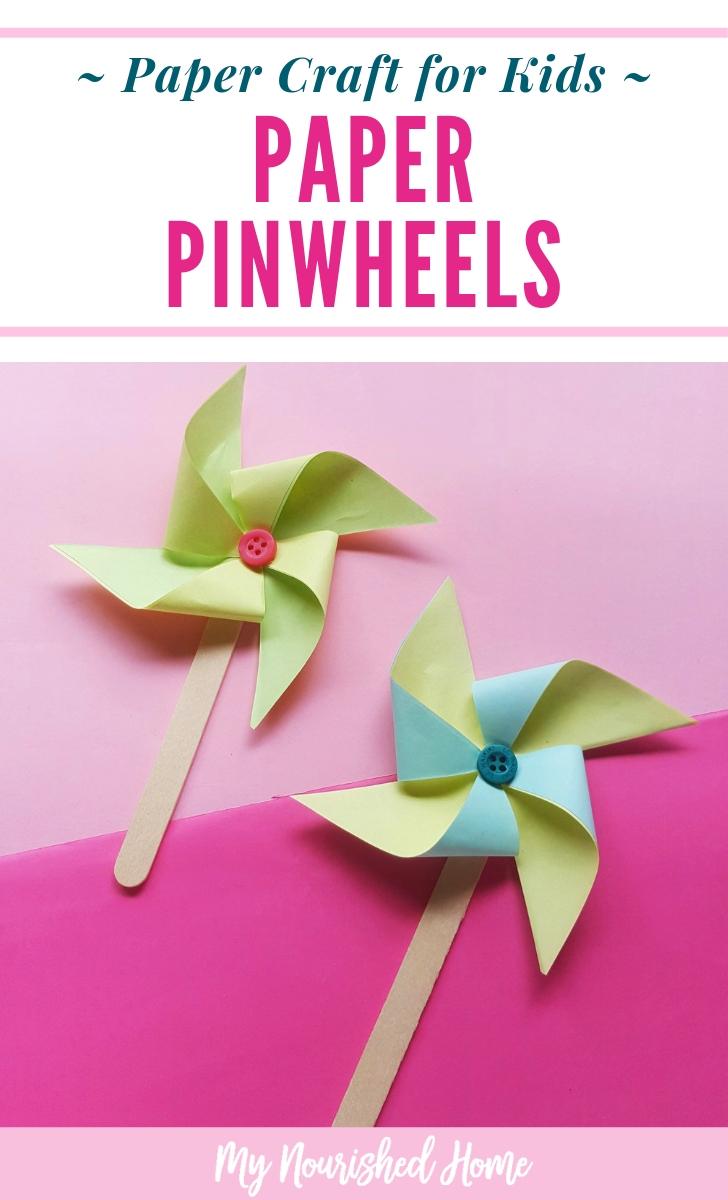 Pinwheels Craft for Kids
We love kids crafts and love sharing them with you. Drop your best email address in the signup box below and we will send you the password to our Premium Crafts for Kids page where you can download your free pinwheel template.
Don't worry, you don't have to sign up all over the place every time you need a free template. Keep your password and you have access to all of our craft templates in one place.
Learning How to Make a Pinwheel
The directions for making the pinwheels are below in both printed and picture form. My girls love to follow the pictures to make theirs, but I prefer to print out the instructions instead. Having the step-by-step instructions available in picture format also makes it easy for them to follow along and do the craft independently if they want to – or I need them to while I'm making dinner.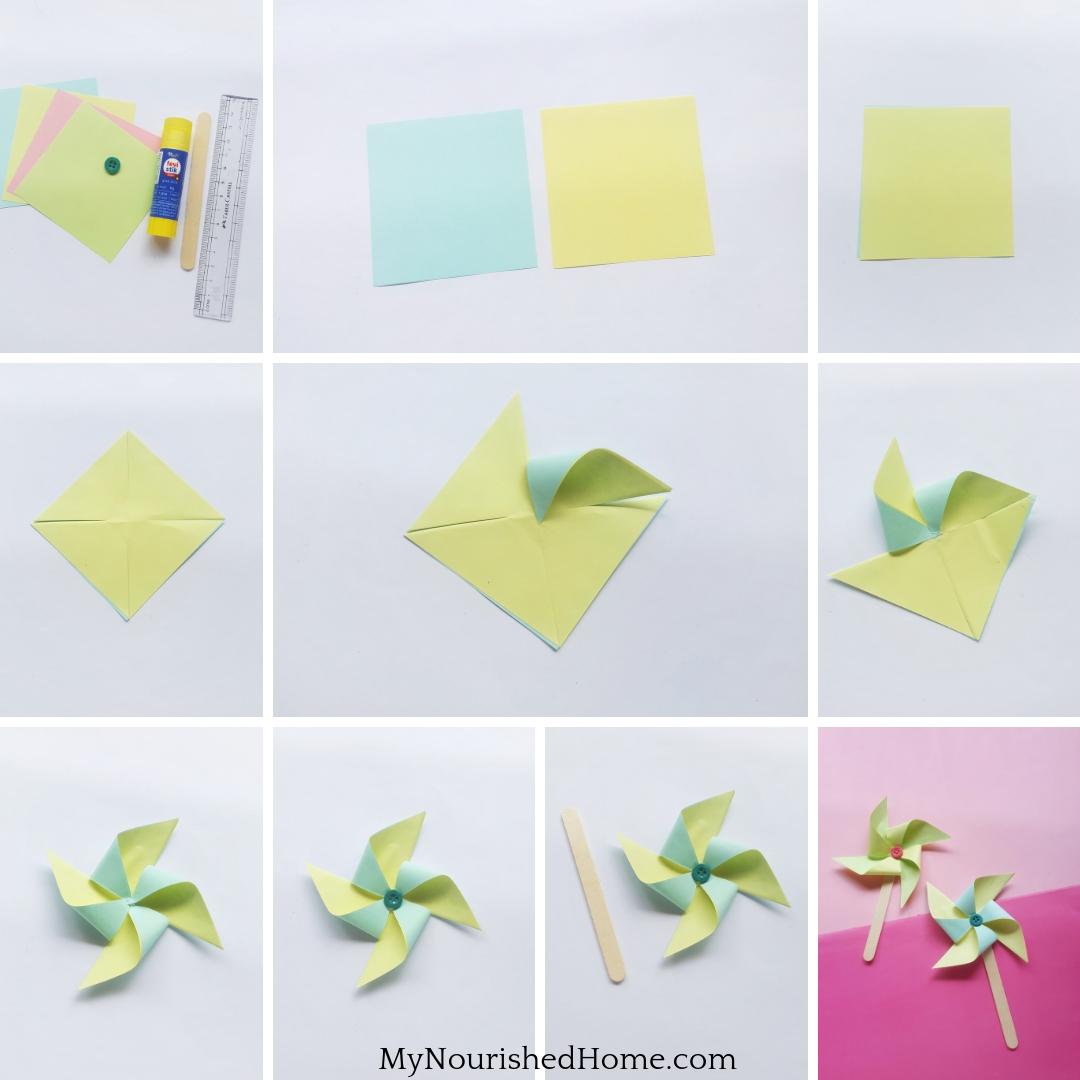 Printable Pinwheel Craft for Kids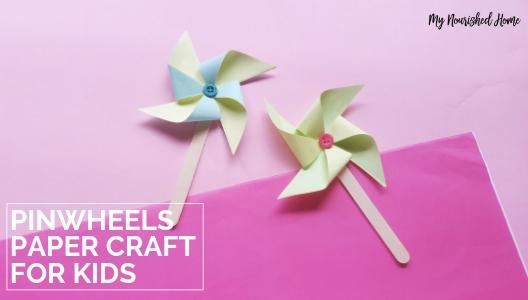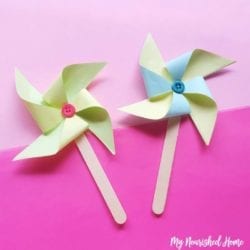 Paper Pinwheels Craft for Kids
This printable paper pinwheel craft for kids is a fun summer activity!
Ingredients
2

pieces

colorful, square paper OR printable templates

1

popsicle stick

1

colorful button

scissors

glue
Instructions
Take 2 equal sized-square papers or print from the printable templates to make the
pinwheels. Cut out templates if using them.

Glue the papers together, back to back, and allow to dry completely.

Hold the paper diagonally. Fold it in half horizontally, then open the fold. Now fold it in half again - this time vertically. These folds will help you to make the pinwheel look accurate.

Now make cuts halfway towards the center on all four points, along the creases.

Take the top points in the upper right corner and bring them towards the center. Glue in place.

Repeat the gentle folding in and gluing for the remaining three corners.

Glue the button to the center of the pinwheel covering the four points.

Glue a popsicle stick to the back of the pinwheel.
You Might Also Like These Other Kids' Crafts and Activities!