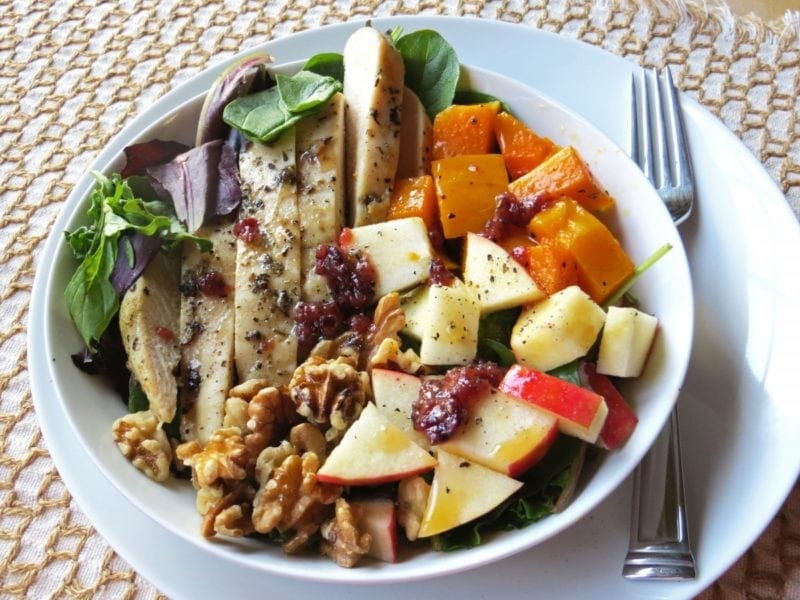 When the weather first starts to turn towards cool (which means something totally different in the heat of Savannah, Georgia than it does in other parts of the country), I start fantasizing about the smell, taste, and texture of herbed turkey. Because turkey is not in season yet – I could buy one at the grocery store but who wants a turkey that has been frozen since LAST Thanksgiving – I start baking chicken with the same blend of herbs that I use on Thanksgiving day. This salad is classic fall harvest salad. Apples, butternut squash, walnuts or pecans, and cranberries.
Though it is totally worth making this salad as a first meal. It becomes an simple second meal if you make Roasted Chicken with Fall Herb Blend earlier in the week as a standalone dish. Just add a few extra chicken breasts when  you are cooking and stick them in the fridge. A few days later, recycle them into this gorgeous salad. I have even been known to put away butternut squash from the first meal to make it super easy. I generally slice up the chicken and  pop both the chicken and squash back into the oven just long enough to get warm and then assemble the salads.
The hardest part of this meal is just peeling and dicing the butternut squash. It is a bit ridiculous that something that so resembles a rock when uncooked turns into such a sweet, delicate dish when roasted. After peeling and dicing, I always feel like I need an aspirin and a nap. So I am all about eating twice from one night's effort – even though the squash isn't quite as neat the second time around if you don't treat it gently once it is cooked.
Looking for another beautiful and easy dinner salad? Check out this Coriander Crusted Steak Salad. So full of flavor and goes on the table in less than 30 minutes. Perfect for weeknight meals. Or try this Chicken Salad made with Strained Greek Yogurt (called Labneh) instead of mayo.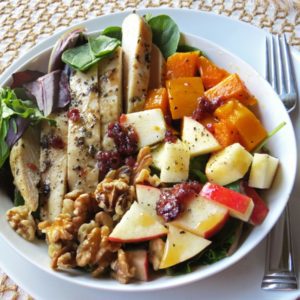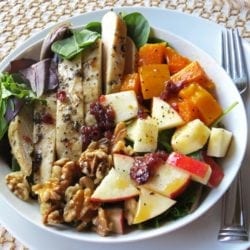 Welcome Fall Harvest Salad
Consider baking Roasted Chicken with Fall Herb Blend as a first meal and reserving chicken for this salad as a second meal later in the week!
Course:
Soup, Salad & Sandwich
Ingredients
Roasted Chicken with Fall Herb Blend
4

chicken breasts or equivalent amount of turkey

1/4

cup

olive oil

2

tbsp

unsalted butter, melted

2

tsp

garlic powder

3/4

tsp

dried basil

1/4

tsp

ground sage

1/2

tsp

kosher salt

1/2

tsp

fresh cracked black pepper
Roasted Butternut Squash
1

medium

Butternut squash, peeled, seeded, and diced

olive oil

enough to lightly coat the squash, depends on the size of your squash

kosher salt and black pepper to taste
Salad
8

cups

mixed salad greens

We like 50/50 Spinach and Arugula

2

large

apples, diced

1

cup

pecans or walnuts, chopped

1/2

cup

green onions, diced
Cranberry Vinaigrette
1/4

cup

dried cranberries

2/3

cup

olive oil

1/3

cup

white wine vinegar

1

clove

garlic, minced

1

tsp

dried chives, basil or combination of both

1

tbsp

honey

(optional based on taste preference)
Instructions
Add all ingredients for roasted chicken to a jar, except the chicken, close lid and shake vigorously until uniform. Use a basting brush to coat both sides of the chicken and roast in a 350 degree oven for 25-30 minutes or until juices run clear. While chicken is cooking, peel, seed, and dice butternut squash into bite-sized pieces.

When chicken is done, remove from oven and raise the temperature of the oven to 400 degrees. Toss the squash with the olive oil and salt and pepper. Roast for 25-30, tossing occasionally, until squash is tender and golden brown.

While the squash is cooking, slice chicken into strips. When squash is cooked, remove squash from the oven and allow it to begin cooling.

Add ingredients for salad dressing into the blender. Blend until smooth.

When squash is cool enough to handle, assemble salads. Divide greens into 4 bowls, add squash, diced apples, pecans, and fan out sliced poultry. Top with salad dressing and green onions. Enjoy!