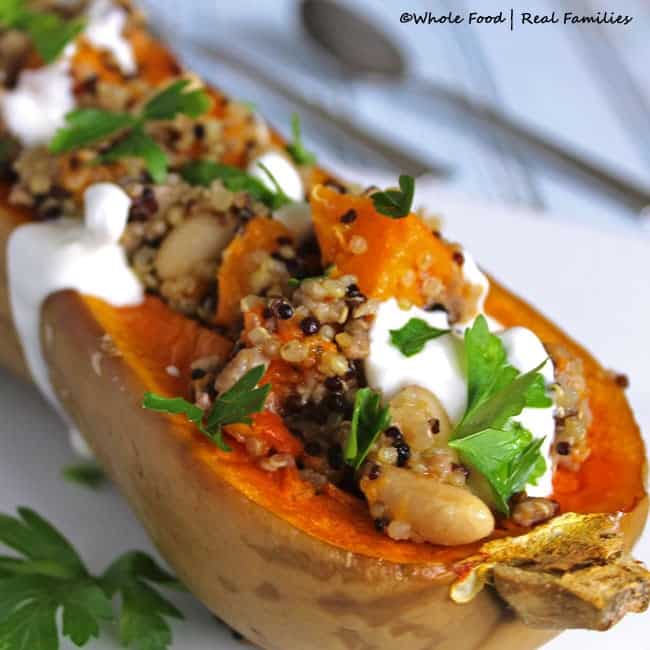 This Sausage Quinoa Stuffed Butternut Squash is savory, sweet and simple enough for a hearty weeknight meal. This dinner is truly a family favorite.
In the fall, we eat butternut squash by the crates. It is one of those vegetables that is sweet enough when roasted that even my little kids will eat it without a lecture. But for the longest time, I dreaded cutting them up for roasting. Those things are hard as a rock! And peeling them was even worse.
It wasn't until recently that I saw my friend Marion from Life Tastes Good post this recipe for a Tex-Mex-inspired Stuffed Butternut Squash that I considered not peeling it or cutting it at all – rather stuffing it full of the flavors I most love to serve with butternut squash. Brilliant!
Considering how much we love sausage sweetened with a little maple served with sweet potatoes or butternut squash, it didn't take me long to get to this combination. We recently ran across this multi-colored sprouted quinoa that we really like, though any quinoa will work. The sprouted quinoa has an interesting texture that I really liked with the creaminess of the squash and the beans.
The members of my family are always such good sports when it comes to trying new foods at dinner. They are so used to it at this point that nobody even asks what is for dinner anymore when they know I am cooking for the blog. I really appreciate that because most of the time I don't know until it is done. In the case of this Sausage Quinoa Stuffed Butternut Squash, I knew dinner was going to be butternut-something but really didn't know what this was going to be until it hit the dinner table.
I knew this one was a winner when I looked around the table and all that was left was the skin of the squash on everyone's plates. Everyone has literally spooned every last bit of squash from the corners. This one is a keeper.
If you like these Sausage Quinoa Stuffed Butternut Squash, you will also like these Stuffed Sweet Potatoes. The flavors are similar – and super good! We also really love the creamy dressing that we drizzle over the top of the squash. I always make extra so we can use it for a quick salad for lunch or dinner later in the week, like in the Chicken Black Bean Salad with Creamy Cumin Lime Dressing.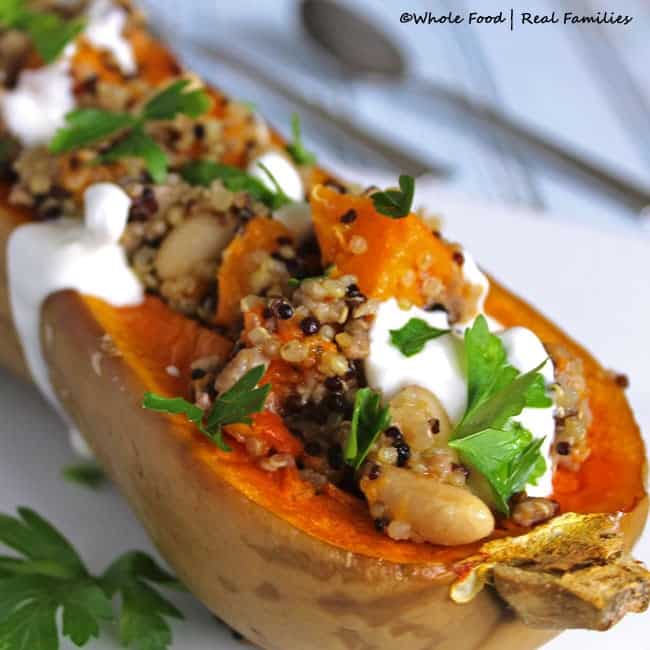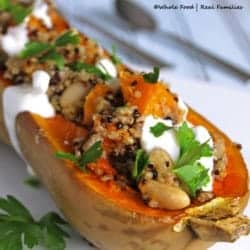 Sausage Quinoa Stuffed Butternut Squash
This Sausage Quinoa Stuffed Butternut Squash is savory, sweet and simple enough for a hearty weeknight meal. This dinner is truly a family favorite.
Ingredients
2

whole butternut squash

halved and seeded

1

lb

high quality loose sausage

1

cup

uncooked sprouted quinoa

with water for cooking

1

can Cannellini beans

1

tsp

cumin

2

tbsp

maple syrup

kosher salt and pepper

1/2

cup

plain Greek yogurt

1-2

tbsp

maple syrup

1/2

tsp

cumin

1/2

lime for juicing

fresh parsley for garnish
Instructions
Preheat oven to 400 degrees.

Cut clean butternut squash in half and remove any seeds. Poke a few holes in the top of the squash with a fork, brush with olive oil or butter and place them cut side up in a sheet pan in the oven. Roast for 50 minutes or until the squash are well cooked and tender.

While butternut squash are cooking, cook quinoa and set aside. Brown sausage and drain excess fat. Add 2 tbsp maple syrup, 1 tsp cumin, cannellini beans and cooked quinoa to the sausage and heat through, mixing gently. Salt and pepper to taste.

When squash are finished cooking, score the tops of the squash in a cross hatch pattern, careful not to push your knife through the skin on the bottom of the squash and leaving the outside edges uncut to create a bowl. Run a knife or spoon from the hollow part of the squash up through the neck of the squash and it will pop out the squash that is in the neck in rough cubes. (Don't stress! This doesn't have to be perfect. But cubes are prettier than squished squash.)

Add the cubed squash to the sausage quinoa mixture and gently combine.

Add the filling to the now hollow bowls of squash.

Whisk Greek yogurt, 1-2 tbsp Maple syrup (to taste), 1/2 tsp cumin, and the juice from 1/2 a lime in a small bowl. Drizzle over stuffed butternut squash.

Top with parsley and serve!