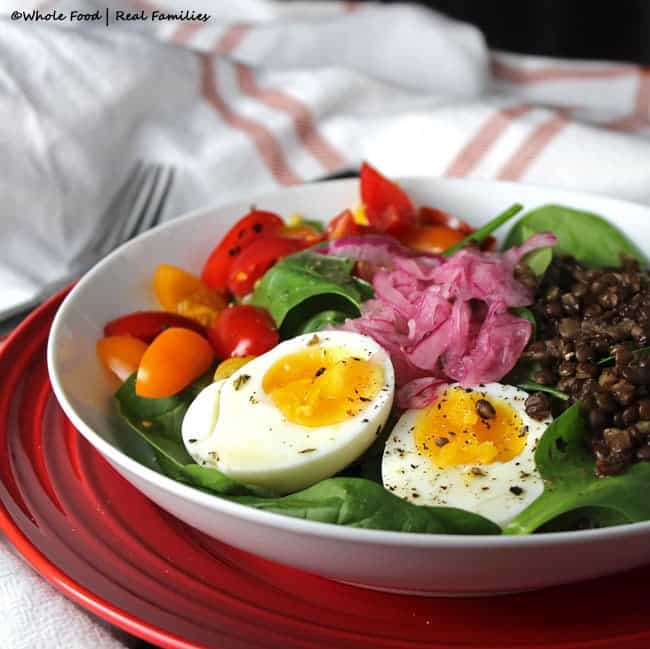 It is not often I find a salad that is interesting in every bite. But this Warm Lentil and Vegetable Salad does the trick. Warm lentils, soft eggs, fresh tomatoes and pickled onions make this my favorite salad any day of the week!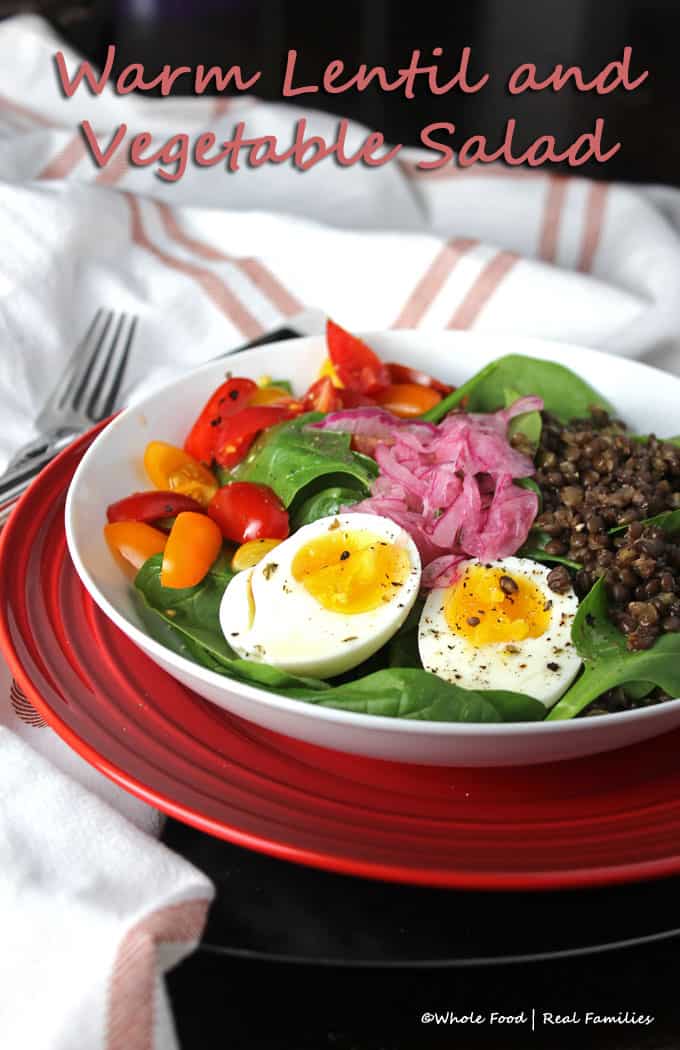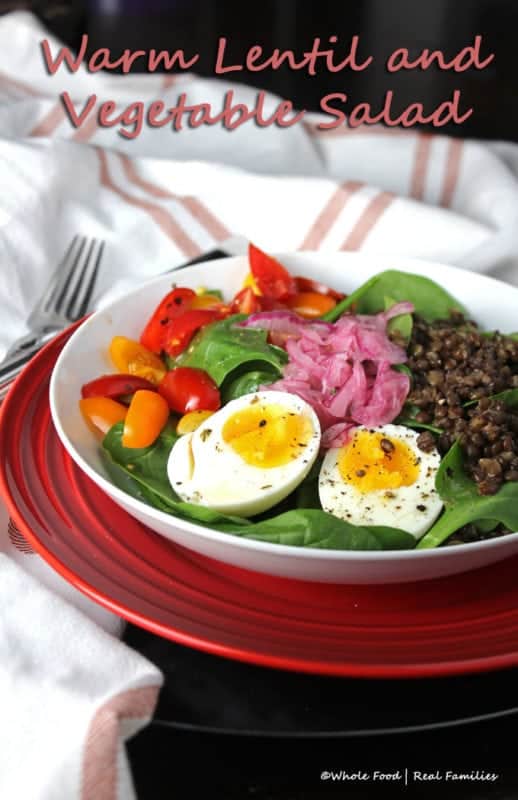 We have done our share of eating around here for the holidays. I enjoyed every bite and every splurge – and though I am not much for New Year's Resolutions – my body needs a break. Warm Lentil and Vegetable Salad is just what the doctor ordered. I don't always get excited about salad. I know it is good for me and I eat it but I love interesting food and sometimes salad lets me down. It doesn't have to be complicated to be delicious – but it should be flavorful!
Lentils are relatively new for our family. For years I didn't like them. I thought they were bland and boring. But I have learned two things about lentils that have changed that. The first is that they cook more like pasta than like beans. Use lots of liquid and drain off the excess. Don't just add enough water for them to absorb it all. Also lentils, like pasta absorb flavors while they are cooking – so you have to salt the cooking liquid, which tastes better when you use broth rather than water. And toss an onion in the broth while they are cooking, and maybe some herbs! They absorb it all.
The second thing I learned is a lentil is not a lentil is not a lentil. If you don't like red lentils, which are soft and creamy, you might still love black (or beluga) lentils. They are more firm with a different taste and texture. Much like beans, there are many different kinds and they all tastes and cook a little differently.
I love this particular salad because of all the different tastes and textures – and they all come together beautifully. I always serve the lentils and eggs warm with the cool spinach, tomatoes and Homemade Pickled Onions. That is unless they are leftovers and I am throwing this salad together for lunch from what I find in the fridge. Looking for more interesting salads for lunch or dinner? This Chicken Salad with Labneh in Melon is simple to put together but tastes amazing!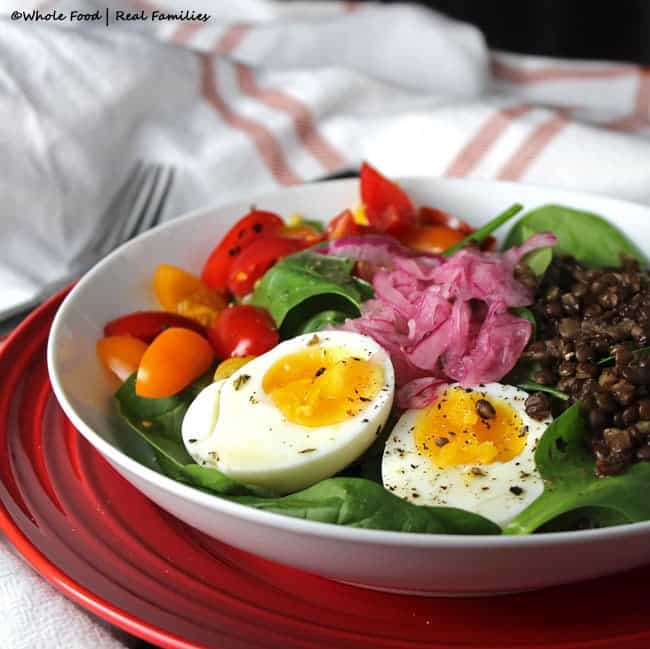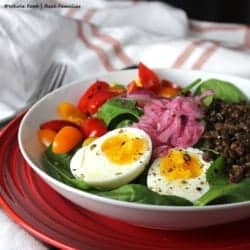 Warm Lentil and Vegetable Salad
Warm Lentil and Vegetable Salad is interesting in every bite!
Course:
Soup, Salad & Sandwich
Ingredients
Cook Lentils
1

cup

Black Lentils

also called beluga lentils

1

cups

broth

chicken or vegetable

2

cups

water

11/2

tsp

kosher salt

optional - add a half onion and a few sprigs of thyme
Salad Ingredients
8

cups

baby spinach

4

eggs

boiled until they reach a soft but set center

1

cup

cherry tomatoes

quartered

Homemade Pickled Onions

Fresh cracked Pepper
Thyme Vinaigrette
1/3

cup

white wine vinegar

2/3

cup

olive oil

1 1/2

tsp

dried thyme

1/2

tsp

kosher salt

1/2

tsp

honey

1

tsp

dijon mustard
Instructions
To cook lentils, bring broth, water and salt to a boil, add onion and thyme if using. Add lentils and reduce to medium heat. Let lentils simmer for 20-22 minutes, or until they reach a texture you enjoy. When lentils are cooked, remove from heat and drain excess liquid in a strainer.

While lentils are cooking, boil the eggs. (A soft but set center should be between 7-8 minutes if dropped into boiling water.) Remove eggs from heat. Move them to cold water to stop them from cooking.

Also while lentils are cooking, assemble dressing by adding all ingredients to a jar with a lid and shake until emulsified. Or add all ingredients to a bowl and whisk until emulsified.

Assemble 2 cups of baby spinach into 4 bowls. Spoon lentils across 1/3 of salad greens, tomatoes across 1/3 of salad greens and tuck peeled, sliced eggs into the remaining 1/3 of the bowl. Add fresh cracked pepper to salad. Drizzle with Thyme Vinaigrette. Top with a pile of Homemade Picked Onions.

Enjoy!