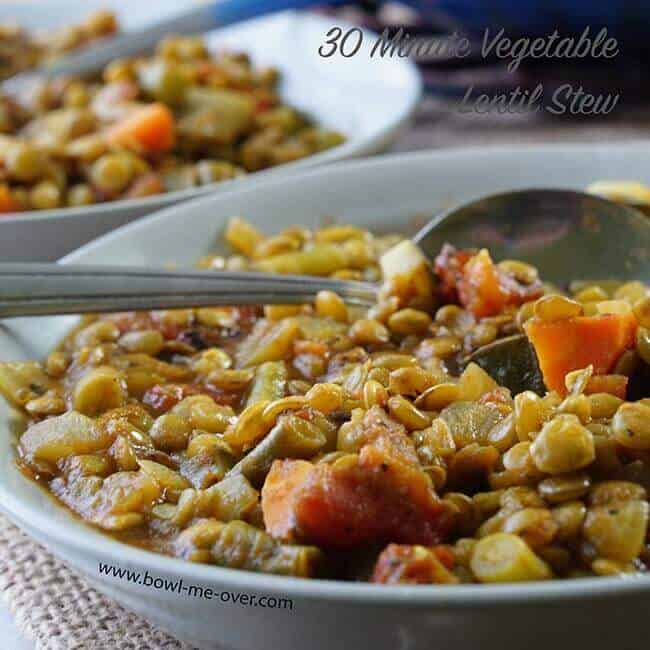 This 30 Minute Vegetable Lentil Stew is full of crunchy vegetables, lentils and it's super easy to make! This stew takes only 30 minutes and it's a healthy, hearty, delicious meal!
Hey everyone! My name is Debra Clark and I blog at Bowl Me Over and I'm here today to share a recipe, thank you Cynthia for the opportunity!
I want to start by telling you a little bit about me. Where did Bowl Me Over come from? Well soups, stews and things in a bowl are staples in my home and because of that I decided to call my blog Bowl Me Over! I live in the Central Valley of California in sunny Fresno where weather is mild right now and summers HOT!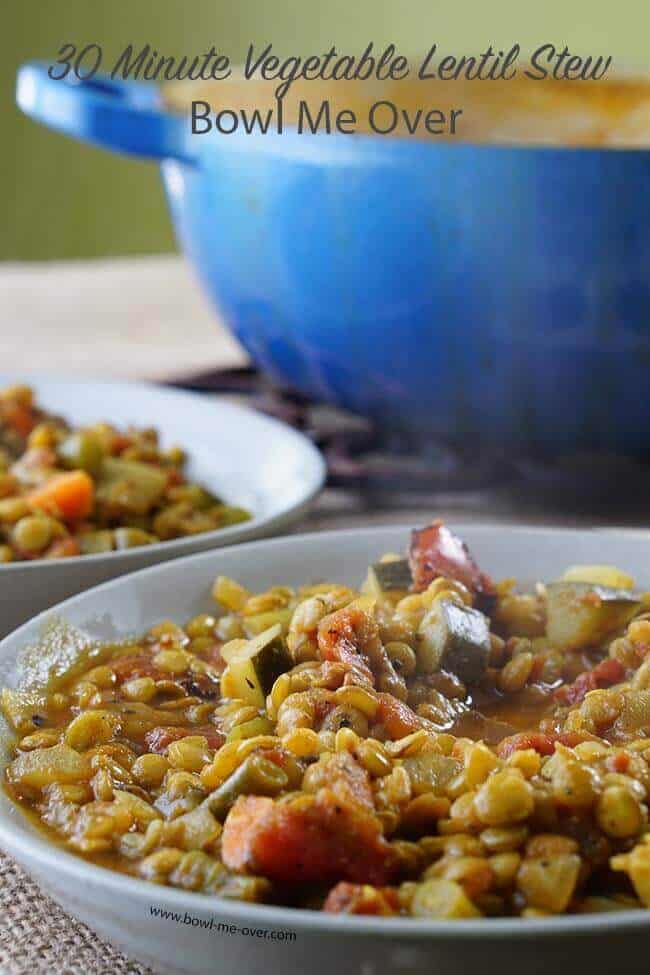 Vegetable Lentil Stew
I thought long and hard about what to share with you today. At first I was thinking a Buddha Bowl, then thought maybe a Teriyaki Bowl (both are super easy and delicious!) but decided to share my recipe for Vegetable Lentil Stew. It is full of crunchy vegetables, lentils and it's super easy to make! This stew takes only 30 minutes and it's a healthy, hearty, delicious meal!
Soups are my go-to meal. I can eat them all year long. Vegetable soups are a great choice because they are affordable, flavorful and so delicious and this Lentil Stew checks off all of those boxes!
You'll get started by chopping the vegetables – a carrot, celery, onion, green beans, zucchini. Don't have green beans? Use asparagus. No carrots? You can substitute potatoes.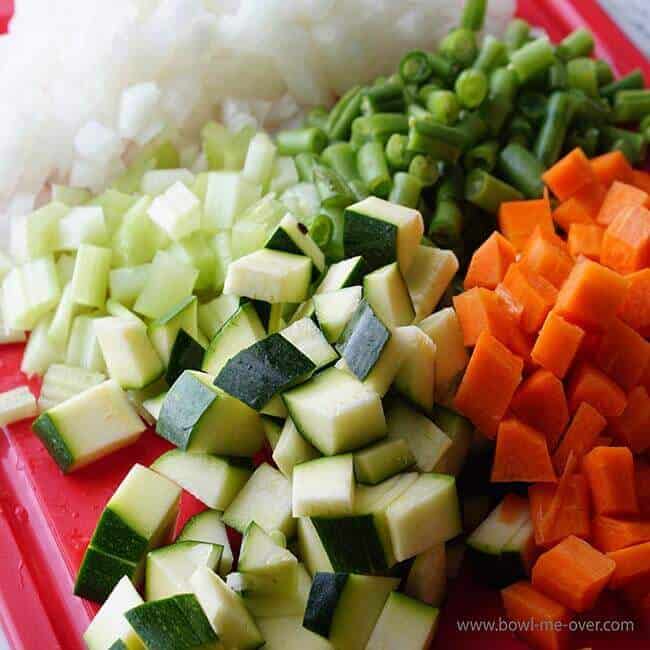 30 Minute Healthy Stew
Dice the vegetables in a small uniform dice. Being the same size helps ensure they will cook evenly and be done about the same time.
Dice each vegetable into a small 1/2 dice. Not only will they cook evenly, but that way when you scoop up a big spoonful of soup you will get each ingredient in every bite!
You'll sauté the vegetables with the spices for about five minutes, then add the lentils, next a can of fire roasted tomatoes and vegetable stock. Bring to a boil, reduce to a simmer and in fifteen minutes or so, dinner is done!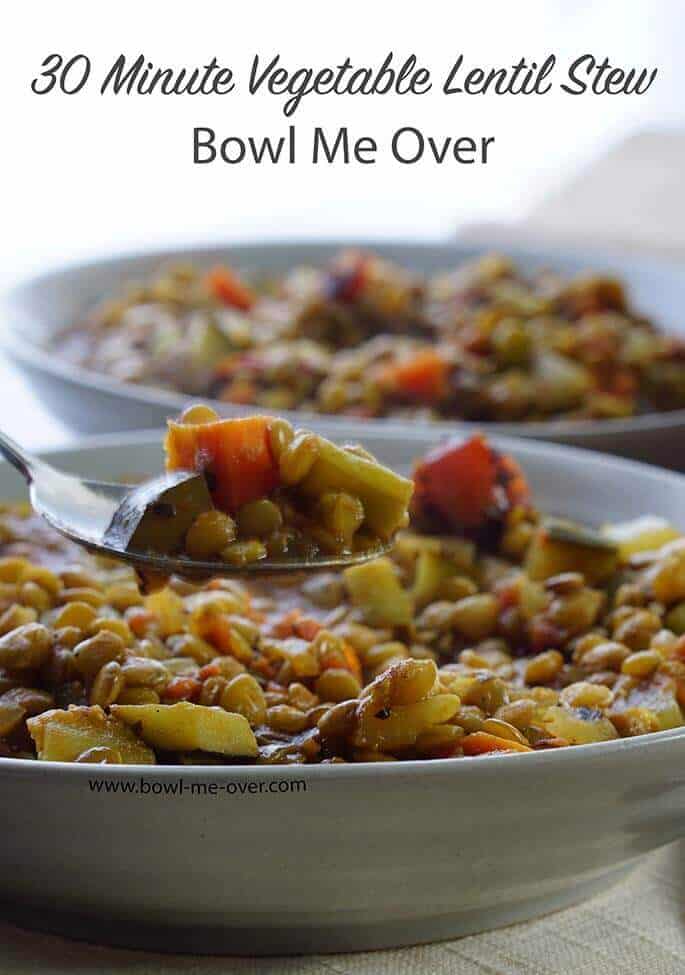 Here's a great tip – When you're at the store and purchasing lentils for your soup, check out the cooking time – green lentils take less time to cook than red lentils, sprouted lentils take less. If you have more time, then you can certainly switch it up and experiment, just pay attention to the cooking directions on the package you purchase. For this stew you'll use green lentils.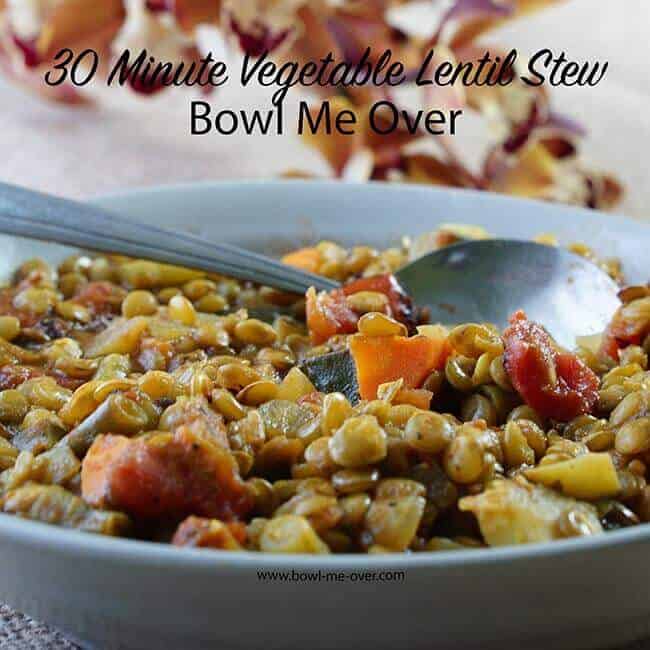 We LOVE this stew it's so hearty and delicious too, I hope you do too! Thank you again Cynthia for the opportunity to share this recipe with your readers!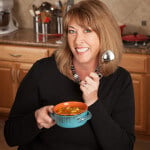 If you enjoy this recipe, please check out my blog, Bowl Me Over!
You can also connect with me at on Facebook, Pinterest, Instagram, Twitter and YouTube.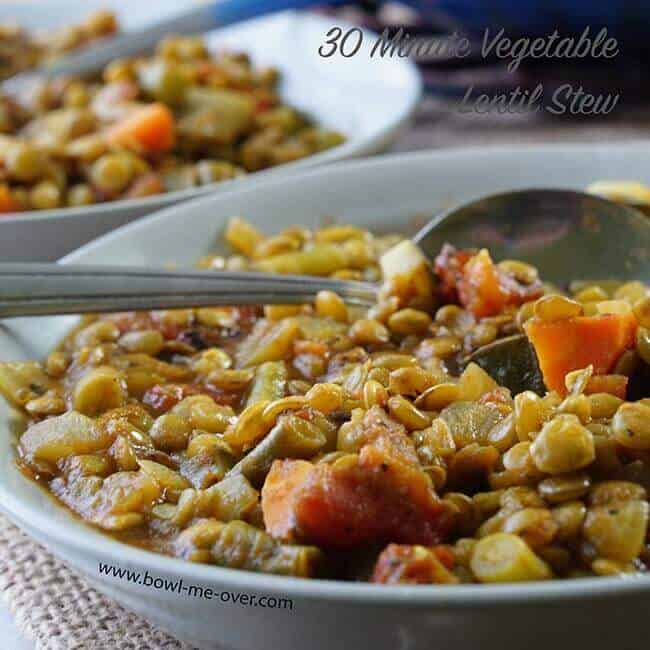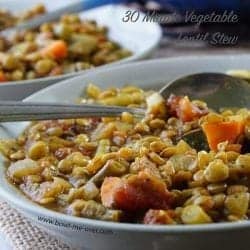 30 Minute Vegetable Lentil Stew
Course:
Soup, Salad & Sandwich
Ingredients
1

yellow onion diced

1

carrot, peeled if desired diced

1

stalk celery diced

1

small zucchini diced

1/2

cup

fresh green beans diced

3

cloves garlic minced

1 1/4

cup

green lentils rinsed and drained

1

14.5 oz can

fire roasted tomatoes

4

cups

vegetable stock

2

tsp

dried Italian Seasoning

1/2

tsp

turmeric

1/2

tsp

black pepper

1

bay leaf

1

tsp

salt

1

tbsp

olive oil

1/2

lemon (optional)

1

tbsp

diced parsley (optional)
Instructions
Start by dicing the vegetables into a 1/2 inch dice. Mince the garlic.

Heat a large stock pot over medium heat on the stove. When it's hot add the diced vegetables. Also add the Italian seasoning, turmeric, pepper and bay leaf. (Do not add the salt until the end of the cooking process. Adding it before will toughen the beans.) Saute for four minutes until the vegetable just begin to soften.

Add the lentils and the garlic. Saute for another minute.

Remove the bay leaf and discard. Add salt to taste (about 1 teaspoon). Finish with a squeeze of lemon and freshly diced parsley (totally optional) - adding these ingredients at the end brightens the flavor of the stew and is always a great finishing touch! Serve and enjoy!!

Now add the canned tomatoes - juice and all. After this addition, scrape up all the bits on the bottom of the pan. You'll want all of that flavor! Add the vegetable stock next. Increase the heat to high and bring to a boil. After it comes to a good rolling boil, decrease the heat to medium and simmer uncovered, stirring occasionally. It will take 10-12 minutes longer, cook until the lentils are cooked thru. You may need to add additional liquid during the cooking process.