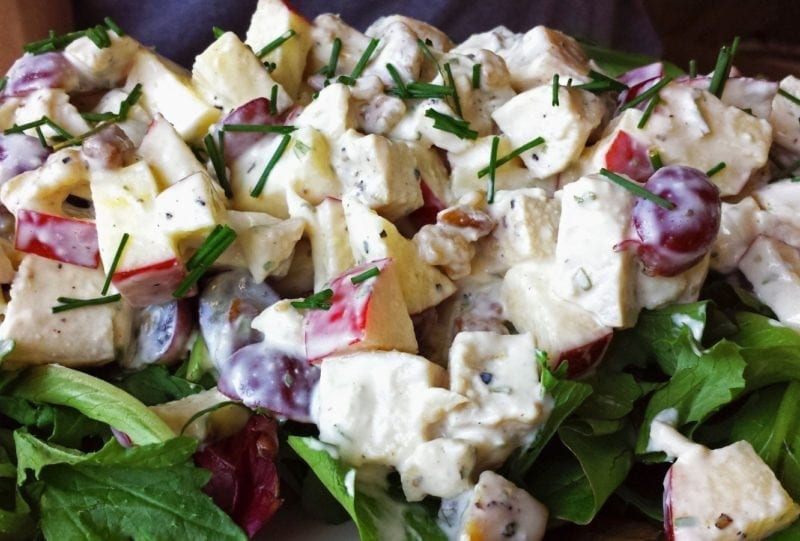 Waldorf Chicken Salad is as famous as it is delicious. Invented in the late 1800s, variations are all over the place. This is my variation, which is sans mayo – because mayonnaise is highly-processed and because I don't particularly like it.  It is also sans celery because it just saves my kids tons on time if they don't have to pick it all out – feel free to include celery in your version. Despite my longstanding lack of love for mayo (it stems from a childhood trauma that includes a mayo and cheese sandwich that stayed in the sun a little too long), I have always been willing to make an exception for Waldorf  Chicken Salad because I love the combination of well-seasoned, baked chicken with sweet grapes and apples and crunchy walnuts. This salad works very well on fresh whole wheat bread as a sandwich or on a bed of greens as a salad fitting for a main dish.
A little sweet, a little savory. A little crunchy, a little saucy. It is everything you could want in a meal. (At least everything I could want in a meal – including not having to watch my kids pick out the celery!)
Note: The amount of maple syrup in this recipe does not really make the dressing sweet  – rather it just balances the tangy nature of plain yogurt. So adjust the amount of maple based on your preference for sweetness.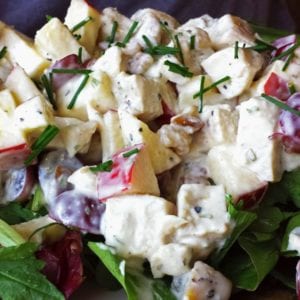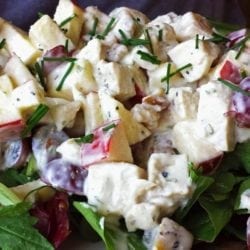 Waldorf Chicken Salad
To bake chicken: preheat oven to 350 degrees. Salt and pepper chicken well on each side and bake 25-30 minutes, or until juices run clear.
Course:
Soup, Salad & Sandwich
Ingredients
2

lbs

chicken breasts, baked and diced into bite sized pieces

2

apples, cored and diced into bite sized pieces

2

cups

seedless grapes, halved

1

cup

walnuts, chopped

1

cup

Greek Yogurt, Plain

1/2

lime, for juicing

1-2

tbsp

maple syrup

or to taste

2

tbsp

tarragon, dried

kosher salt and black pepper to taste

1

tbsp

chopped herbs for garnish

I prefer parsley or chives!
Instructions
Combine chicken, apples, grapes, and walnuts in a large bowl and stir to combine.

Whisk yogurt, juice from half a lime, maple syrup, tarragon and salt and pepper in a medium bowl until the sauce is uniform. Pour sauce over chicken mixture, stir to combine. Top with fresh herbs.

Serve with bread for sandwiches or over a bed of greens as a salad. Refrigerate any leftovers. Enjoy!