Head back to your childhood with this Homemade Oatmeal Cookie Sandwich. This version is just a little healthier and without the plastic wrapper!
When I was a kid, I love the Oatmeal Sandwiches that came in the plastic wrapper with the cream in the middle. I have since banned them from the house – mostly because I could eat a box of them alone hovering in a corner, hiding from the rest of my family. But I do really love baking with my 3 girls. And even a healthy eating household needs a treat every now and then.
I love baking these Cinnamon Maple Oatmeal Cookies – and they are healthy! Okay, healthy-ish. Even healthy cookies are still cookies. You can't make a meal on them. My 16 year old recently decided that they would be awesome as a sandwich cookie with our homemade Buttercream Frosting smeared in the middle.
While I would definitely not call this collaboration between healthy cookies and homemade buttercream healthy anymore (is it still healthy-ish?) – it is all food. No weird chemicals. When our family has collectively decided that dessert is an urgent need, I feel much better about healthier cookies and chemical free buttercream frosting. And no plastic wrapper anywhere!
What is your favorite dessert to bake with your kids? When you get them in the kitchen do you cook as usual or do you break the rules to create new treats?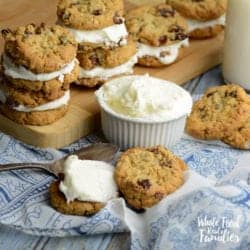 Homemade Oatmeal Cookie Sandwich
Ingredients
cup

¾butter

softened 1½ sticks

cup

¾maple syrup

2

eggs

1

tsp

vanilla extract

1

cups

½whole white wheat flour

1

tsp

baking soda

1

tsp

ground cinnamon

tsp

½salt

3

cups

rolled oats not the quick cooking kind

1

cup

chopped nuts

raisins, or chocolate chips (optional)

Buttercream Frosting:

16

oz

cream cheese

softened equivalent of two 8packages

cup

½butter

softened equivalent of 1 stick

cup

⅔maple syrup 100% pure

tsp

¼salt

1

tbsp

vanilla extract
Instructions
Preheat oven to 350 degrees.

In your stand mixer, whisk butter and maple syrup on medium speed until creamy. It might look a little weird for a second but it will come together. Add eggs and vanilla, and whisk until combined.

In a second bowl, combine whole white wheat flour, baking soda, cinnamon and salt; mix until uniform. Slowly pour into the butter mixture, mixing on low until combined.

Switch to the paddle attachment, or using a rubber spatula, add oats and additional add-ins (if using); fold into the dough until combined.

Drop dough by rounded tablespoonfuls onto ungreased cookie sheets. Bake 10-12 minutes or until light golden brown.

Cool for a minute on cookie sheets so they don't fall apart when you move them. Then move to wire rack to cool completely.

Cool completely - did I mention that?!?!

While cookies are baking, beat softened butter and cream cheese in your stand mixer (or with a hand mixer) until it is uniform. Add maple syrup, salt and vanilla and beat until smooth.

Smear a happy amount of Buttercream frosting between 2 cookies and enjoy!